It's important to build sales territories that balance area, driving distance and overall opportunity. Crafting every territory in this fashion helps ensure there is enough value in each region for all of the sales reps on your team to leverage, which boosts their chances of success. This practice also optimizes your company's allocation of accounts. An eSpatial drive time radius map can be a pivotal tool for creating better territories.
Basics of a radius map
A radius map shows the circular distance from a center point. This can be useful for seeing which other points are within the specified distance, such as customers or leads. But in truth, the map could represent any two data sets.
Creating these maps within eSpatial is a straightforward and simple process, as we'll see. First, however, we must examine why such a map is important.
Territory optimization through drive time and radius mapping
Making territories equitable isn't just a matter of value. It's equally important that the defined territories are workable – i.e., they can be easily covered by the team member to which they have been assigned. If the employee has to travel four hours to visit a key customer, that means a whole day is essentially sacrificed for a single on-site visit. This isn't the most efficient use of their time, to say the least.
eSpatial allows you to use radius and drive time as buffers to evaluate the efficiency of your territories. By checking the percentage of accounts that fall within a reasonable driving distance, you can get a sense of whether the territory is manageable for a single sales rep.
If you're creating new territories, you can also use radius and drive time buffers to ensure accounts are within a reasonable distance of a rep or technician's start point. For example, you can define your territories as ZIP codes within a 90-minute drive time of a sales rep's home, or 100 miles down the interstate from an engineer's office. By doing so, you help create more efficient working areas for your team, minimize travel costs and overnight stays, and maximize the time that your staff get to spend with customers. An interactive map will boost your team's chances of sales or service success.
---
Create a drive time radius map in eSpatial
Before you put a mapping tool to use, decide on the starting or center point for your territories. Is it the location of your headquarters or regional office? A sales rep's home or a major account could also serve as an anchor. Do you have a spreadsheet file of these locations, or have you already uploaded them to eSpatial?
Once you know this, you're ready to start building.
1: Create a new Territory
In eSpatial's Territory Manager tool, you can create an area that's entirely new or one located within an existing set of location data. Click on the Add Territory button to begin.

---
2: Selecting the Starting Point
Use any of the following methods to complete this step:
Select a point on the map: If you already have the starting point, click on it and select the Buffer button.
Add an address: Click the "Add an address point" option from the top toolbar, drop the pin marker on the desired location and click Buffer.
Search for a location: Use the Address Search functionality to find a destination and add it to the map. Once a pin drops on it, select Buffer.

---
3: Choose the Buffer Type
There are two buffer choices: With Radius, you choose areas within a given distance from the starting point, as if a circle surrounds the territory. If you go for the Drive Time option, this selects areas that are within a certain travel time.
For the former, select the territory you want to update. The areas returned will be automatically added to the area if they are not already allocated elsewhere. Then, choose the desired distance and unit of measurement. Drive Time is even simpler – just choose a length of time up to 120 minutes.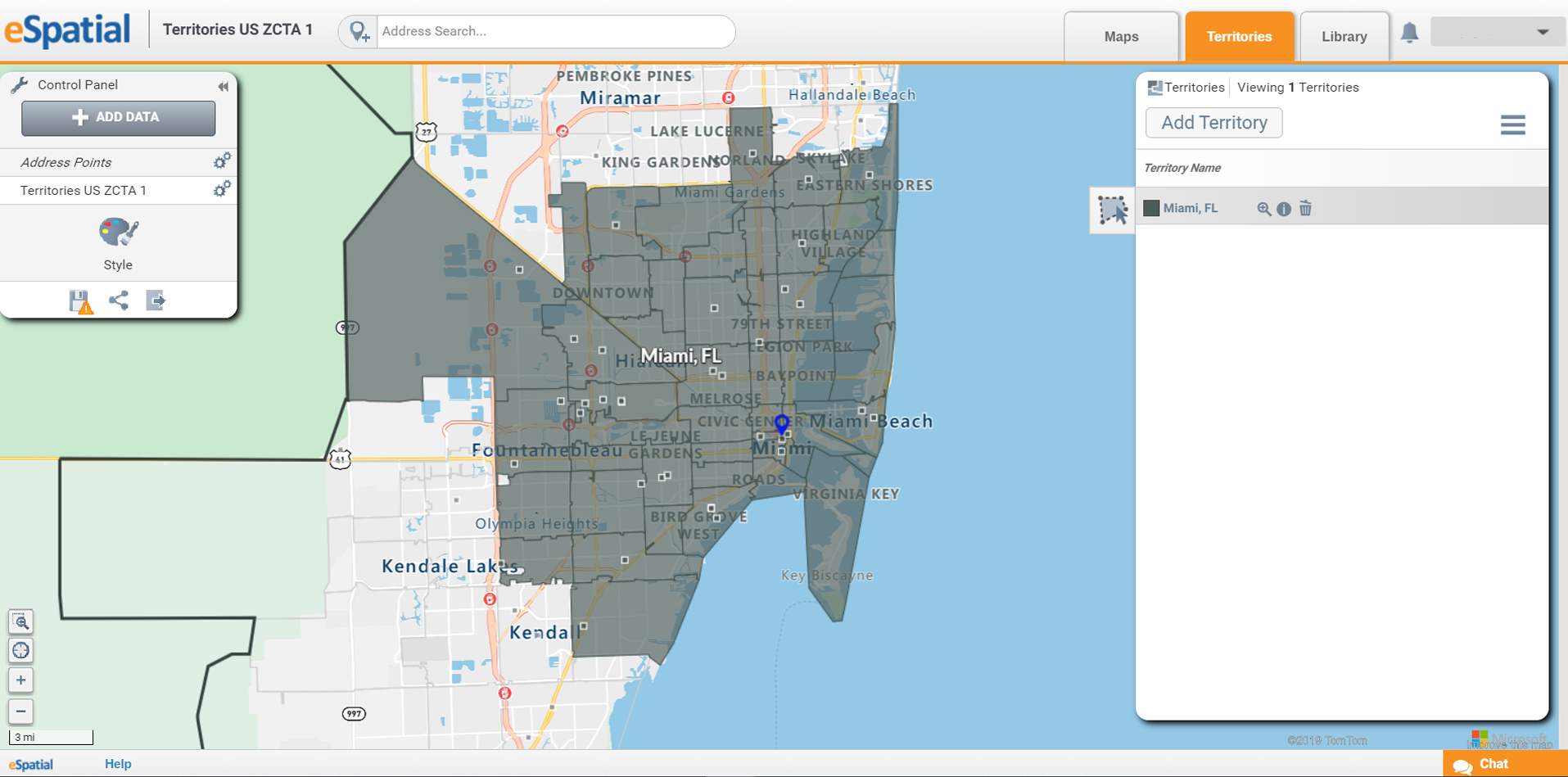 Some territory optimization strategies are better defined by distance, whereas others are best measured with time. (For example, urban areas take more time to travel through than rural areas of equivalent distance.) No matter which is best for your organization at any given time, you can determine the proper path by using eSpatial as your drive time and radius map tool. Sign up for your 7-day free trial today!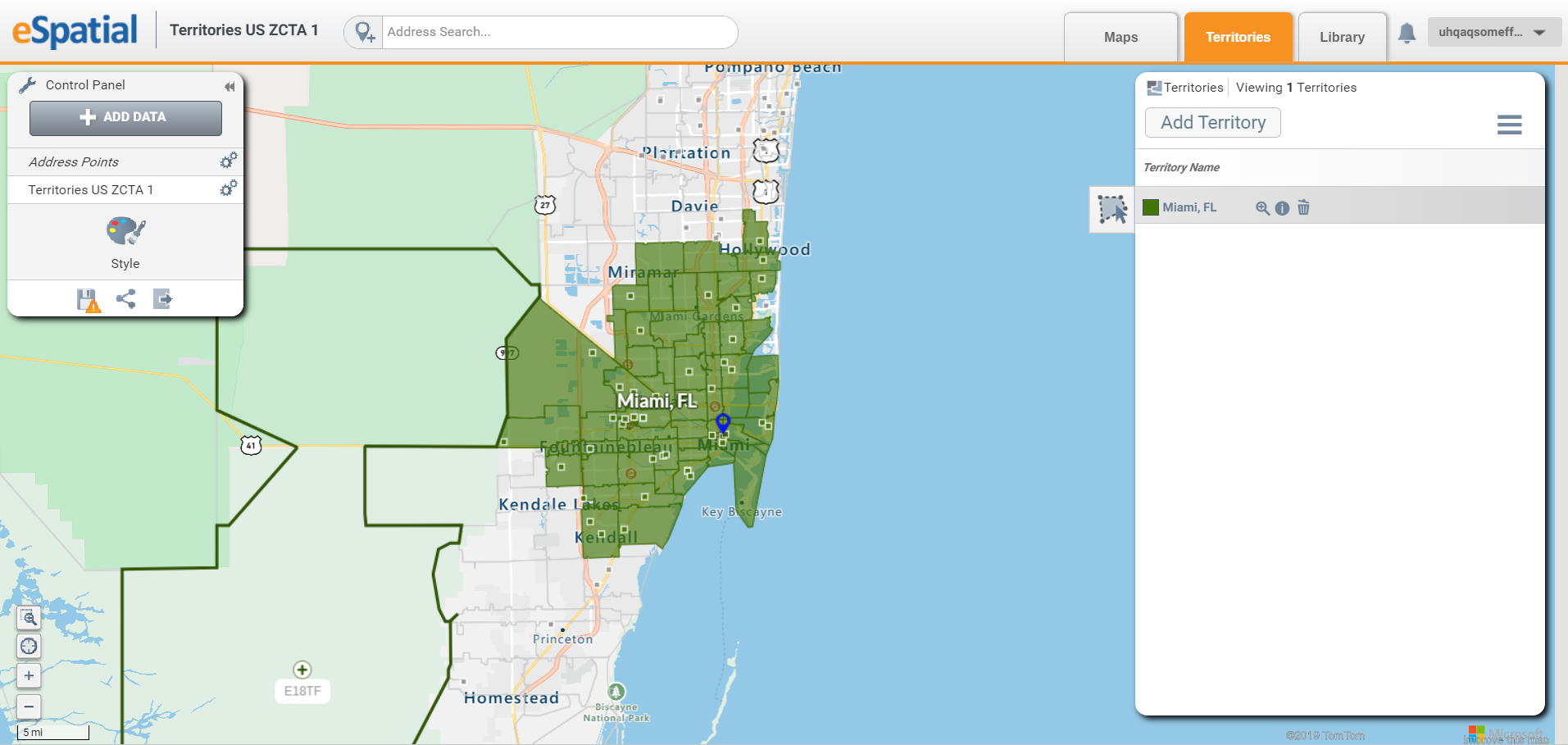 ---
Use Distance and Drive Time to Build Your Territories