The degree to which much of your organization's business is dependent on route planning and geography may surprise you if you haven't thought about it in a while. To be fair, coming out of a pandemic in which travel was limited, key performance indicators involved with route analysis – radius, measured distance, drive time area, location and driving direction, among others – likely were not your company's highest priority.
But now that things have changed for the better with the economy slowly but surely starting to reopen, it's time for these concerns to be top of mind again. The efficiency and effectiveness of your map platform will be instrumental in developing better routes for your field sales reps, service technicians or any other personnel who regularly spend time on the road. Using a driving radius map tool will help your team members get a better sense of their customer itineraries on a day-to-day basis.
The benefits of using drive time and radius buffers
For managers of outside sales, service and other on-the-road teams, understanding the time it takes your workers to travel from the office to the location of each existing or potential client on their daily route is hugely important. Knowing where your customers are is one thing, but knowing how long it can take to reach them can also help ensure your team members make the most of their valuable time.
By using the eSpatial radius map tool to conduct sophisticated drive-time analysis, managers and personnel alike can plot their itinerary data on a detailed map and optimize its value, with each stop representing a point. For this purpose, you would create a buffer around a particular location, such as an office or company headquarters, and see how many customers are within a specific driving time.
Not only is having this knowledge valuable for general determinations of travel distance and other aspects of time management, but it can also allow for impromptu adjustments. For example, if a field sales rep happens to finish a meeting early and has an hour to spare, they can quickly use a drive-time buffer to determine if any customers not on their original itinerary are within a 60-minute drive. This way more clients are served, and employees' time is more effectively spent.
eSpatial also allows for buffers to be created based on radius. Depending on where you're doing the bulk of your business, driving distance may be a more useful metric – e.g., if you operate in a more spread-out, sparsely populated region as opposed to a typical metropolitan area. Just like with drive-time analysis, a buffer to determine which clients are within a specific radius distance can be helpful for advance planning as well as off-the-cuff adjustments.
As eSpatial is cloud-based, both you and your team in the field can instantly access any drive time or radius map you create on the go, using smartphones or tablets. Together with the platform's Territory Manager feature, this buffer-based analysis tool grants you complete control of route optimization, which can help bolster your team's bottom-line KPIs.
4 simple steps for using your buffer analysis map tool
Conducting route analysis and optimization based on drive time or radius buffers is a simple, straightforward process in eSpatial. Just follow these steps:
1: Upload two sets of data
To use drive time or radius buffer analysis, you will need to have two sets of data uploaded to eSpatial, such as customer data and store location data. In your workspace, select the Add Data option from the control panel. Then click Upload New Data and follow the instructions that appear on screen. Repeat this step for the second set of data.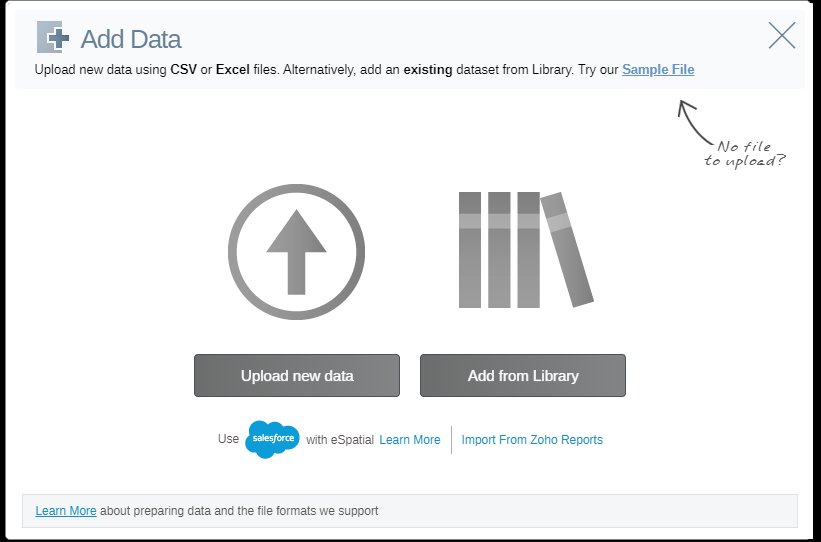 2: Choose your analysis method
Select Analyze from the control panel on the left-hand side of your screen, below your data sets. You'll be presented with several options, including Drive Time and Radius. Select whichever of these makes the most sense for the particular route optimization task at hand.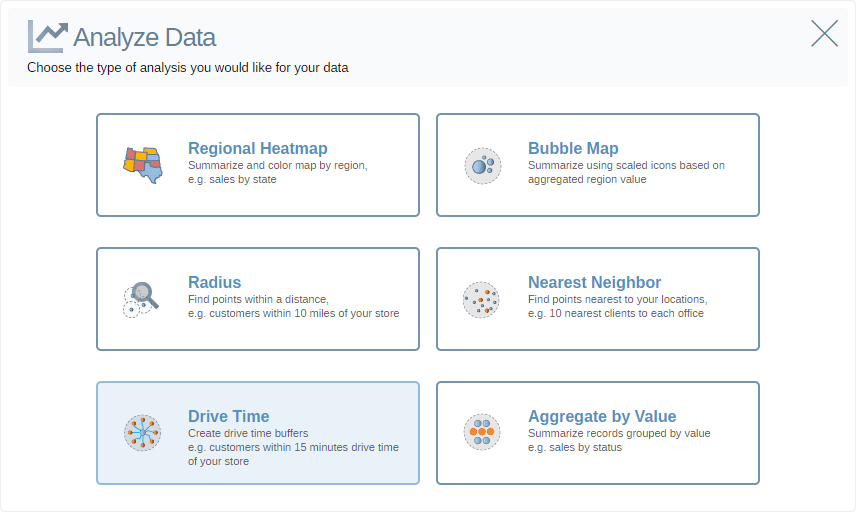 3: Select the data and buffer criteria
Select the data you wish to find (customers) and determine what the primary metric of your buffer would be. For Drive Time, you can make the distance up to 120 minutes. (Radius, meanwhile, is not limited in eSpatial, but you have to consider what distances can be realistically mapped based on the time limitation.) Then, choose the data set that will serve as your center point (i.e., office or shop locations).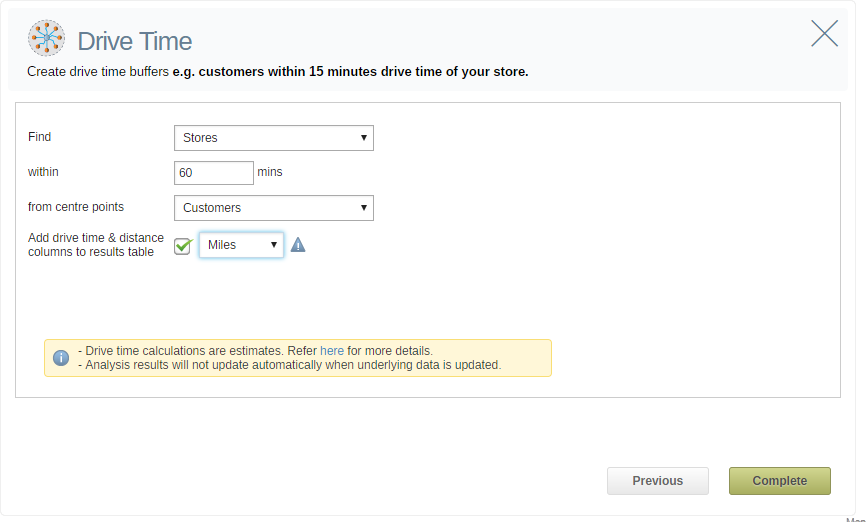 4: View your analysis
Once you've entered all of the data above, click Complete, and your map will render in under a minute! Check out our example of a drive time map below: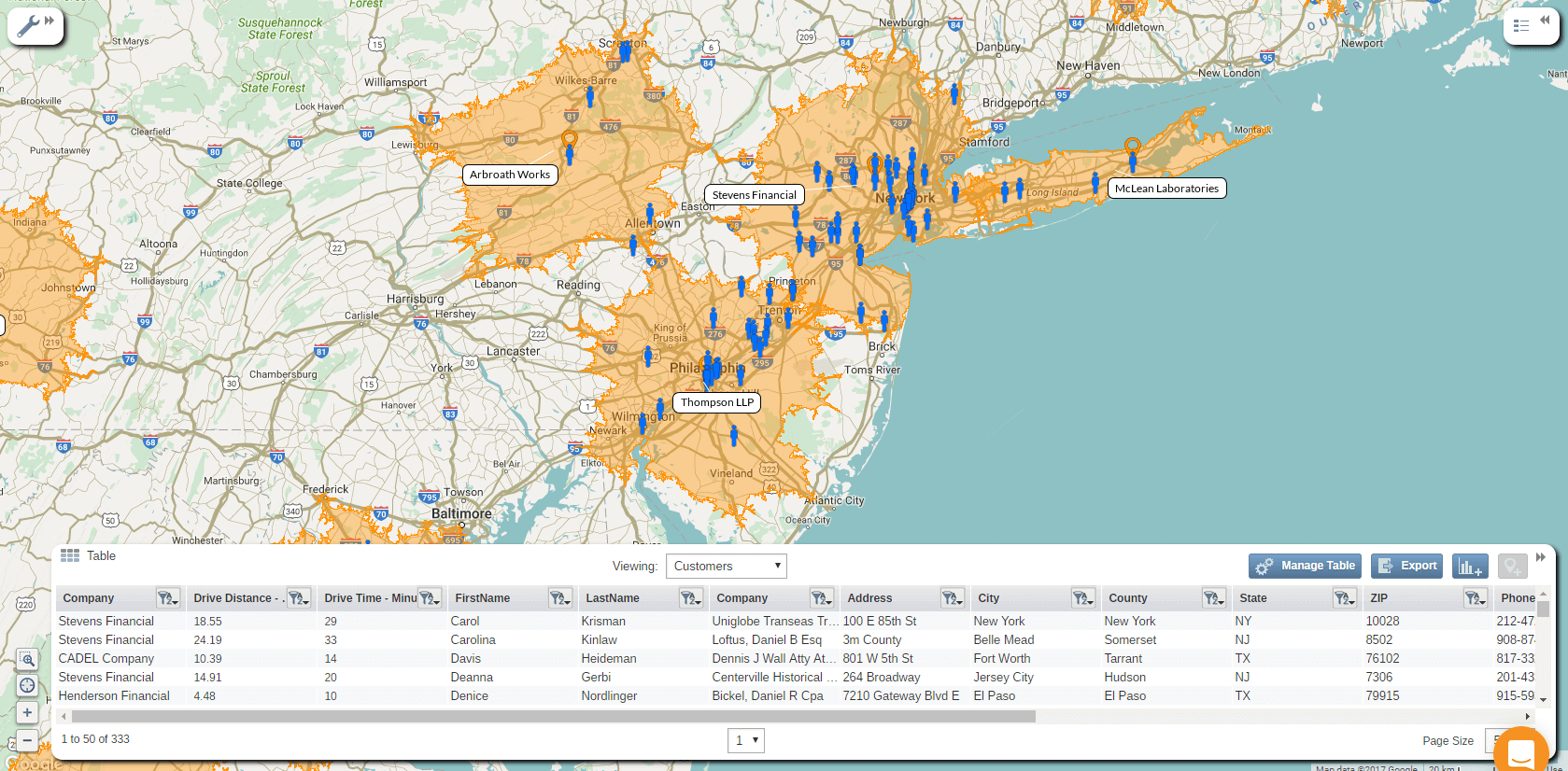 It shows a buffer emanating from the store locations to display the customers that can be reached within 60 minutes of driving. The data table will also show the specific distance and drive time to each customer location.
---
Create your own buffer maps