Use Drive-Time Analysis to find the find customers within driving distance.
---
For field sales managers, the time it takes your sales team to travel from the office to potential customers is hugely important. Knowing where your customers are is one thing, but knowing how long it can take to reach them can also help ensure your sales team use their valuable time effectively.
With Drive-Time analysis, your team members can plot their sales data on a map, then use Drive-Time Analysis to quickly create a buffer around a particular location, such as an office, and see how many of these are within a specific driving time. This kind of information can be used to quickly identify customers which could be served when time becomes available for your team. For example, if a field sales rep happens to finish a meeting early and has an hour to spare, they can use Drive-Time to see which customers are within a 60-minute drive. Meaning, their time is more effectively used, and more customers are served.
As eSpatial is cloud-based, both you and your team in the field can instantly access this analysis from internet connected devices such as smart-phone, iPads, and tablets. You can also combine this analysis with our Territory Manager.
---
5 Simple steps to using Drive-Time analysis
Creating a Drive-Time analysis is easy, just follow our steps below, or watch this quick video:
1: Upload Two Sets of Data
To use Drive-Time analysis, you will need to have two sets of data uploaded to eSpatial – For example, customer data and store location data. In your Workspace, select the "Add Data" option from the control panel. Then click "Upload New Data" and follow the onscreen instructions. Repeat this step for the second set of data.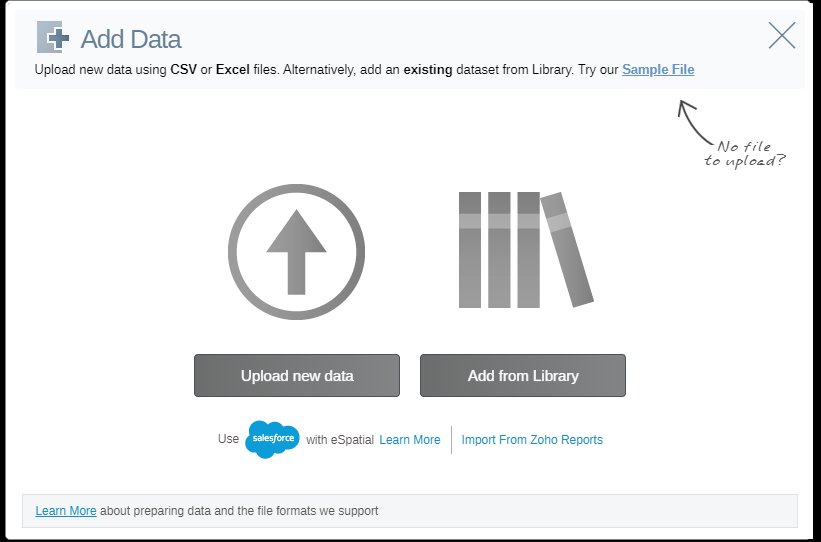 2: Select Analyze from the Control Panel, then Drive-Time
From the Control Panel on the left-hand side of your screen, select Analyze from below your dataset. You will then be presented with various analysis options, select Drive-Time from the list.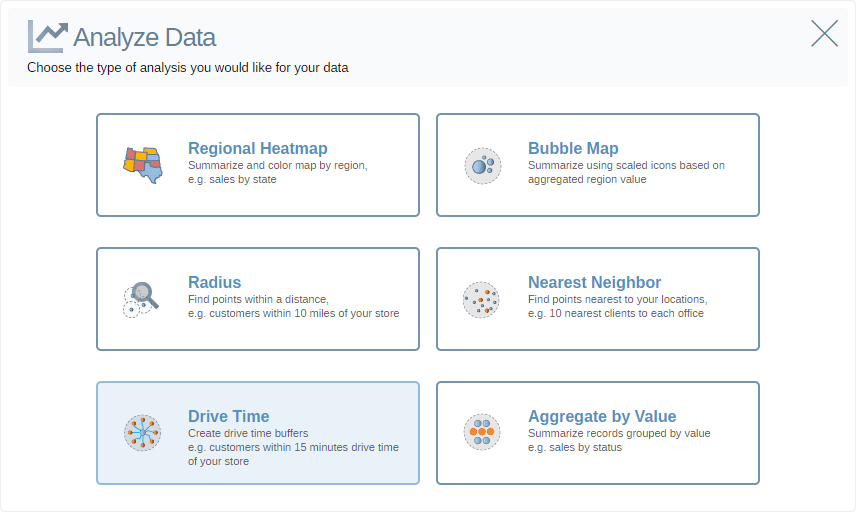 3: Select The Data You Wish to Find, and Region Dataset
Next, you will need to select your the data you wish to find, the time in minutes (up to 120 mins), and dataset and the data to be used as the Centre Point. In this case, the data we wish to find is Customers, within a 60 minutes drive from our Centre Points, which we have as Store Locations.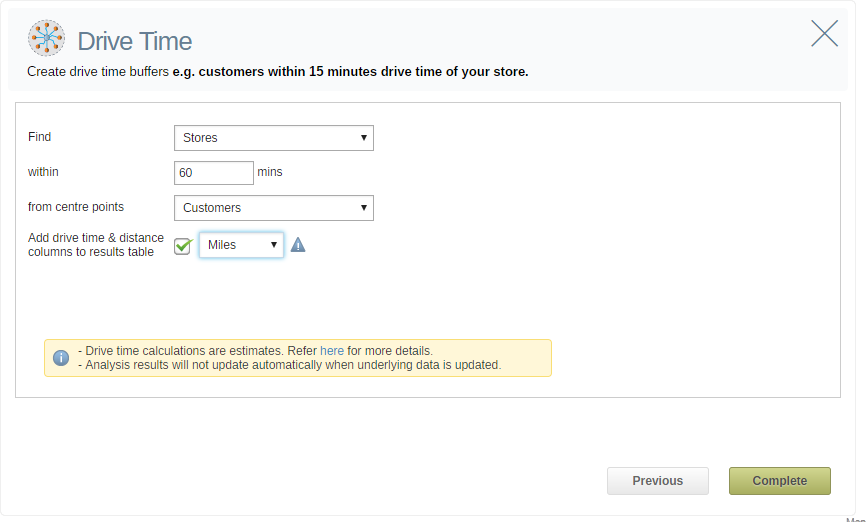 View your Drive-Time Analysis
The below map shows an active Drive-Time analysis. It shows a buffer emanating from the store locations showing the customers that are accessible within a 60-minute drive. The data table will also show the distance and drive-time to each customer.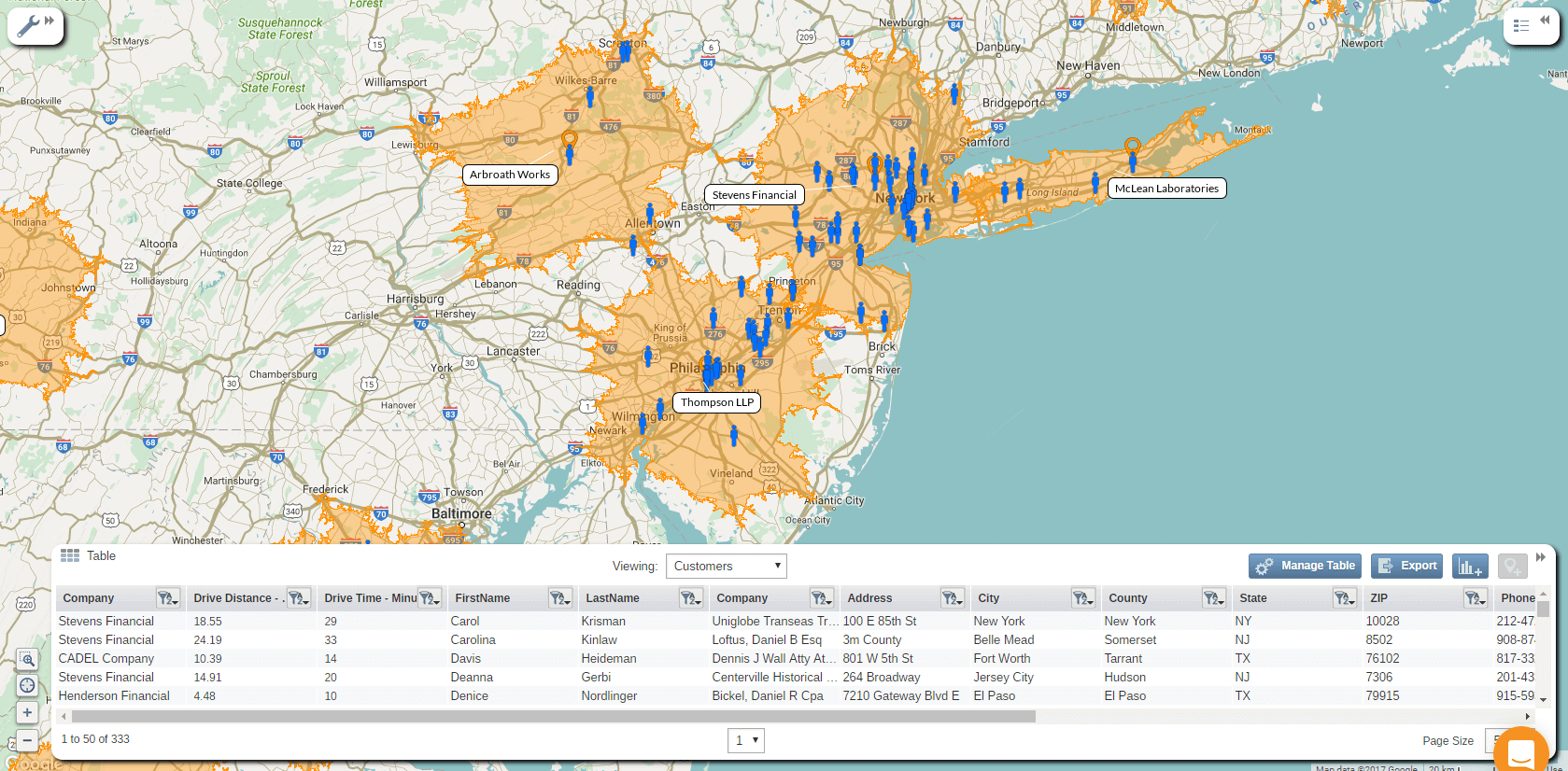 ---
Create your own Drive-Time Buffer