Route optimization is especially important for any organizations that have employees on the road. Using a cutting-edge interactive map from eSpatial, you can create an optimized route with up to 100 stops, based on the sales data you plot and a starting point and destination of your choosing. Creating a route map improves fuel efficiency, reduces travel time and increases the number of customers your team can serve. By contrast, missing out on meeting a potential lead can make or break your team's ability to hit its targets.
Our cloud-based mapping software allows you and your field sales reps to instantly communicate with one another using the desktop or mobile app version of the platform. Everyone on the team can access dynamic, collaborative maps with a smartphone, tablet or computer – anywhere, anytime.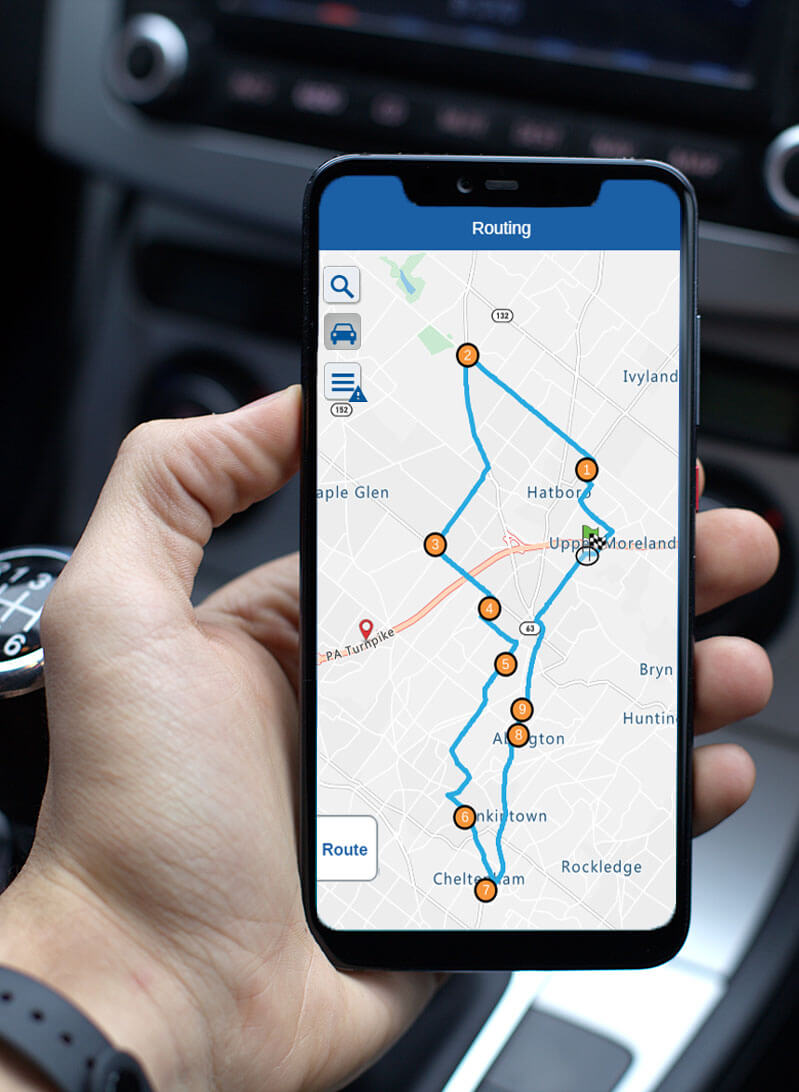 How to create a route map, step by step
1.

Select Routing from the Control Panel

With your map open and data plotted, select Routing from the control panel. This will open the routing panel on the right-hand side of your screen.

2.

Add stops to your route

From the routing panel, you can add up to 100 stops to your route in the following ways:
Click on a point on the map.
Click on Add Address. You can enter an address or place a point on the map (e.g. a hotel, a client's office, etc.) to create a destination.
Click on Multi-add. Then, click on the map and draw an area, selecting multiple stops inside that area.
By default, the first point you select on your route map becomes the starting point and the last you choose becomes the finish. However, you can edit any waypoint by clicking on its name in the routing panel or on the map. You can then change or even remove the stop to adjust the direction of your route as you see fit.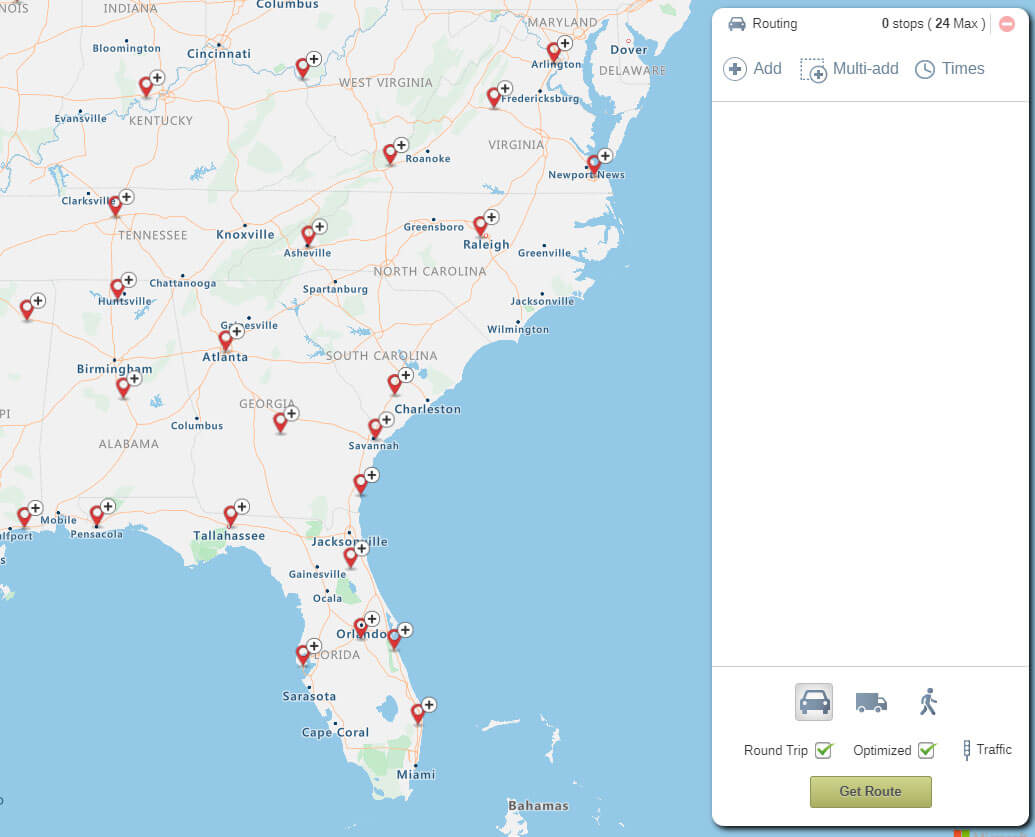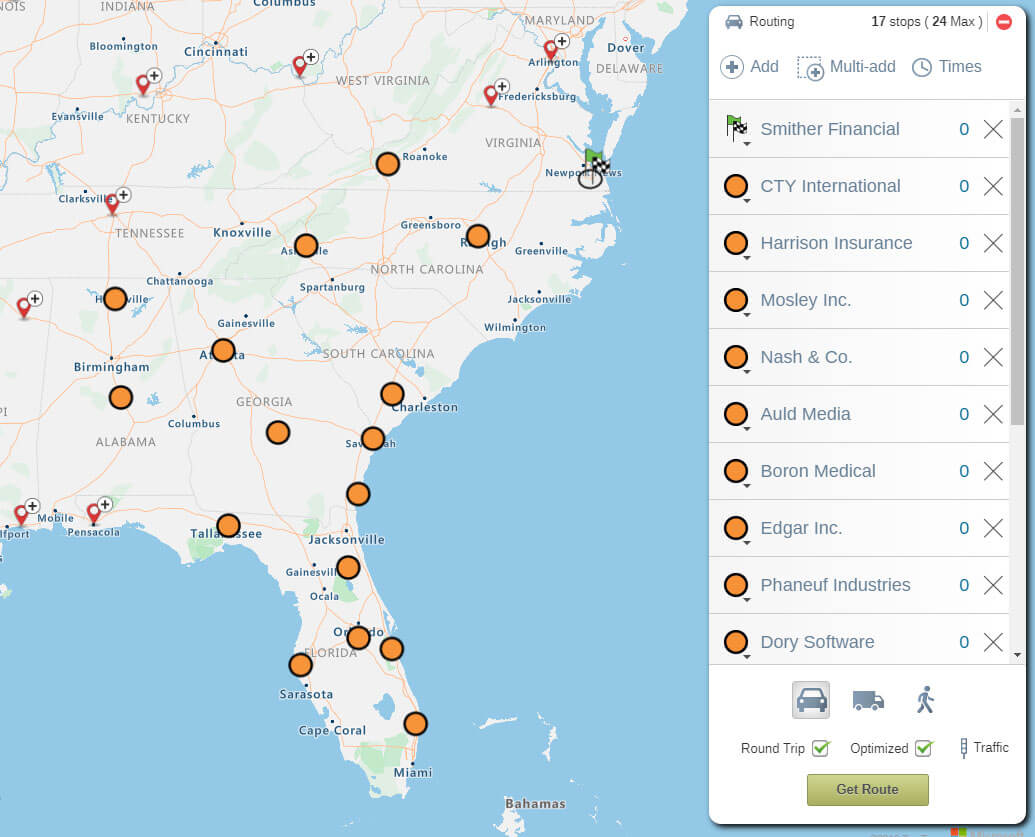 3.

Generate your route

Once you're happy with your stops, click the Get Route button. Your route will appear on the map. All the stops and turn-by-turn directions will display in the routing panel. You'll also see the distance and drive time for each leg of the trip.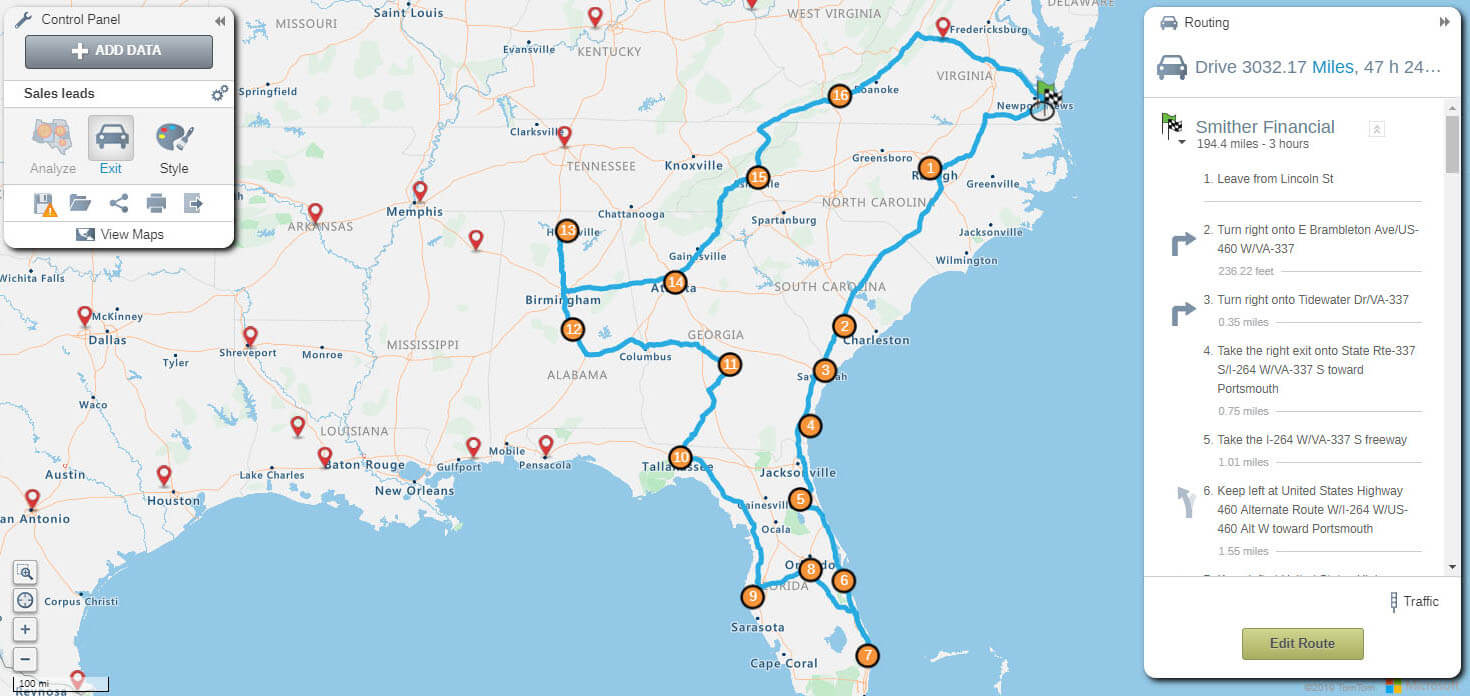 4.

Save your route

After finalizing your map, you can save it and return to it as needed. Simply go to the Control Panel and click Save. In addition to using it for personal future reference, you can share the new map with reps and other colleagues.
Why should you create a route map?
A route map allows you to boost your sales team's chances of meeting as many clients and prospects as possible while also minimizing the use of resources like fuel and time. Route planning helps you maximize the value of every trip your reps take through their territories, enabling them to pursue multiple routes toward lucrative opportunities for your organization.
When can a route map be useful?
Consider the sales rep's typical weekly routine. Perhaps they haven't visited a client in some time and need to factor them into their driving directions, but don't want to derail the pursuit of new business. eSpatial helps you keep track of customers that need attention with custom pins while also prioritizing them by sales potential.
Who can benefit from custom route maps?
Field sales reps reap the most direct benefits from eSpatial. But managers and other in-office staff can also leverage the tool, assisting in route optimization, itinerary creation and travel bookings. eSpatial is far more than a route planner – it's a tool for the whole field sales process.
Map your routes with eSpatial
Creating route maps in eSpatial is a fast and efficient solution to achieving effective route and territory optimization for your sales team. Open up step-by-step directions from Google Maps while significantly improving on that tool's bare-bones functionality. You can bulk-add waypoints to craft an extensive map in seconds, accounting for start times, meeting length and other variables, and save and share routes so the whole team is on the same page.
Interested in eSpatial's other features?
Route mapping is part of a suite of features that can help with your entire sales planning process. Check out more information about: