Get an overview of your market with Regional Heat Maps.
---
Reporting on sales performance is usually a weekly, monthly, quarterly and yearly task. When faced with reams of data in a spreadsheet, it can be difficult and time consuming to present this data in a way that will show the overall performance of your market while allowing everyone to understand and derive insight from it easily.
Regional Heat Maps use color to reveal different levels of intensity – for example, the number of customers and sales revenue within a certain region. They are a great way to provide an overview of your market.
With eSpatial, you can quickly create powerful Regional Heat Maps that highlight data intensities in geographic locations, which can be anything from states, zip codes to countries. You can even use the sales territories your team uses every day.
---
5 Simple steps to creating a Regional Heat Map
Creating a Regional Heat Map is easy, just follow our steps below, or watch this quick video:
1: Upload Your Data
The first thing you need to do is add data to your map. In your new Workspace, select the "Add Data" option from the control panel. Then click "Upload New Data" and follow the onscreen instructions. This is the data that will form the basis for your analysis and will display as points on your map. This could be sales data, service data, demographics and more.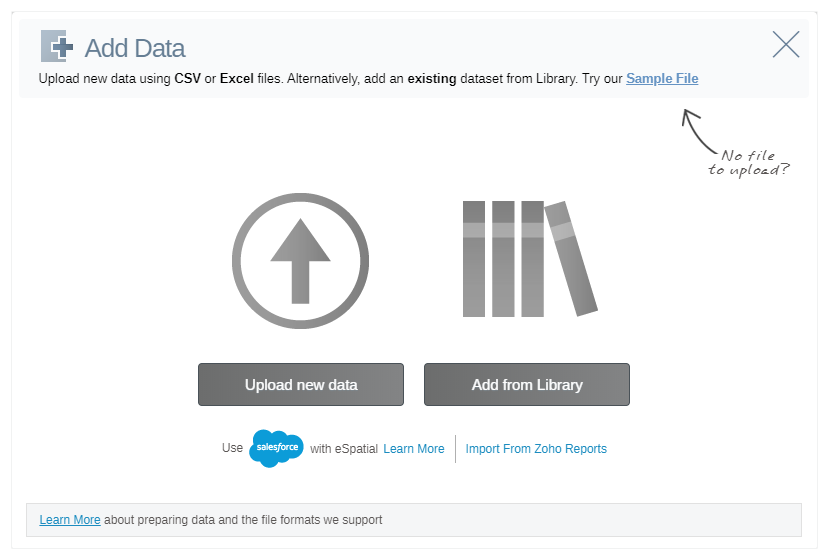 2: Upload Your Boundary Data
Secondly, you will need to add your boundary data. You can select various types of boundary data from our extensive dataset library. In your new Workspace, select the "Add Data" and then "Add From Library". Select the "eSpatial Datastore" tab where you can search for regional boundary datasets. In this example, we've chosen US States.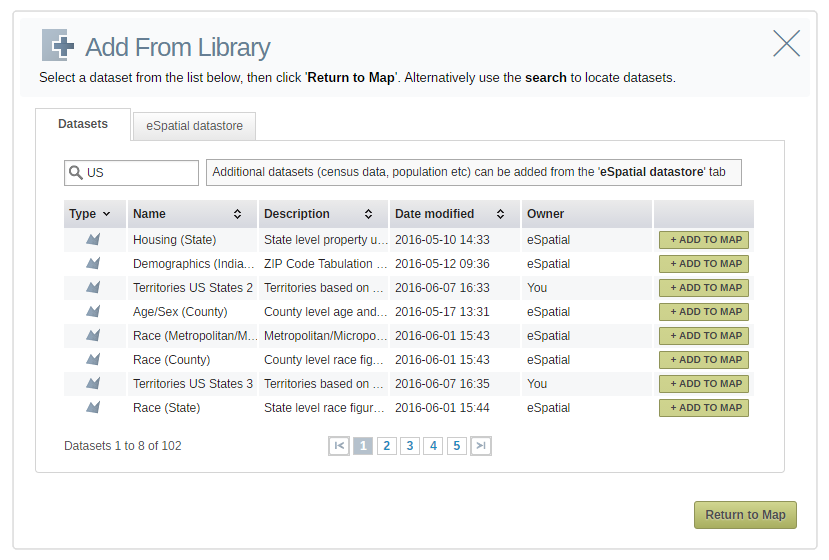 3: Select Analyze from the Control Panel, then Regional Heat Map
From the Control Panel on the left-hand side of your screen, select Analyze from below your dataset. You will then be presented with various analysis options, select Regional Heat Map from the list.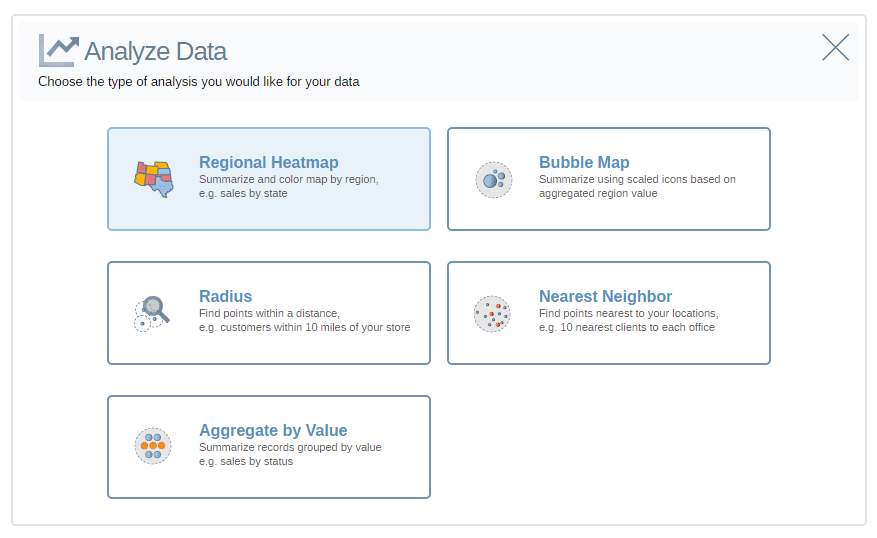 4: Select Points and Region Dataset
Next, you will need to select your Points dataset and Region dataset. In this case, the points data is the Client Accounts, and the Region data is US States. Then simply select complete to generate your Regional Heat Map.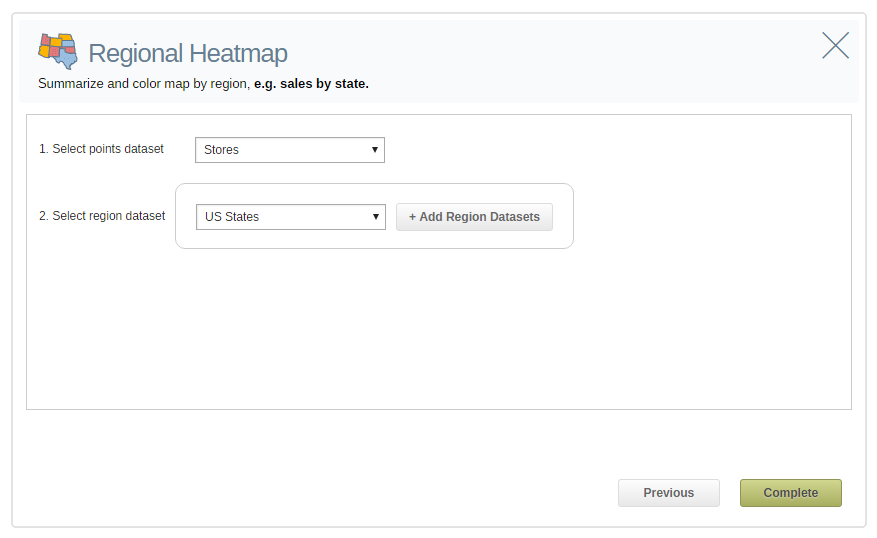 View your Completed Regional Heat Map
The below is the completed Regional Heat Map. It shows the states with the highest amount of client accounts, this can be seen in the legend on the right-hand side of the workspace. The default color range is from yellow to red. However, this can be changed in the styling options.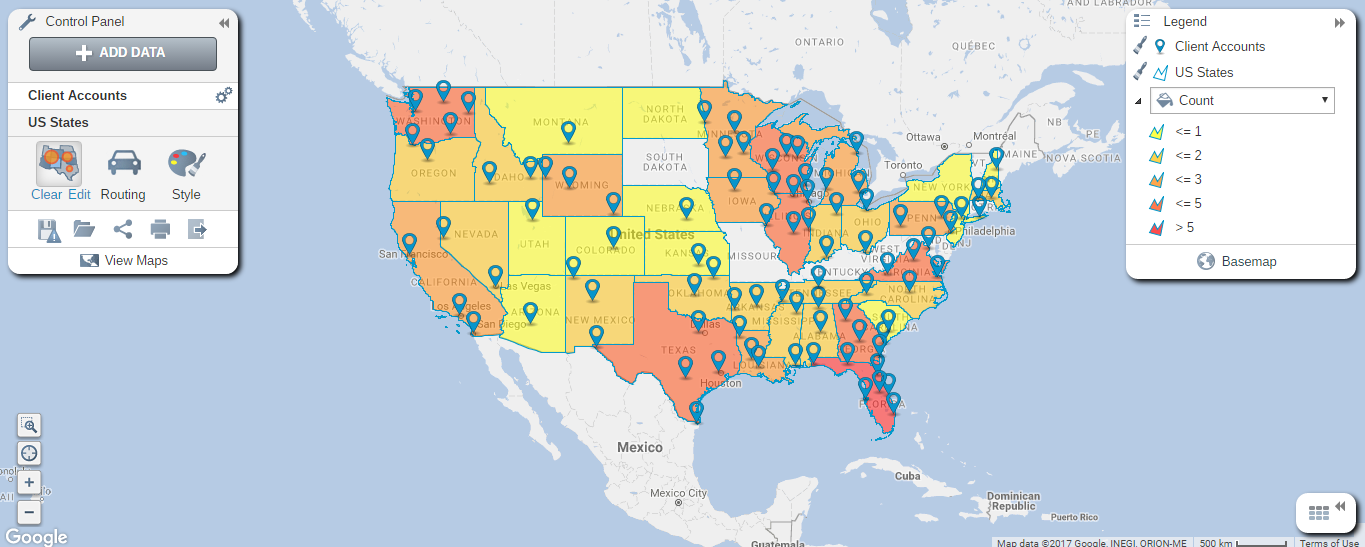 ---
Create your own Regional Heat Maps