Plot your location-based sales data onto interactive Pin Maps.
---
Identifying where your customers are located can be difficult using traditional data tools. While you may have the addresses in your sales data in spreadsheets and CRMs, it can be difficult to determine their locations in relation to each other without data visualization through mapping software.
Pin Maps are the simplest way to express your sales data using mapping software. It plots a pin wherever there is a geographic location contained in your data: zip code, street, state, country, etc. Just upload a spreadsheet with a column containing locations and it will be plotted on a map in seconds. You can then start to use the suite of eSpatial tools to gain insights.
Visualizing your data makes it far more interesting, much easier for reviewing, assessing and communicating with others. Each pin on your map contains the data contained in each row of your spreadsheet. You can also link to web pages or CRM pages, by building links into a map pin. With eSpatial, you can plot up to 100,000 points every 24 hours.
Pin Maps are one of the easiest maps you can create with eSpatial, just follow the below steps:
---
How To Create a Simple Pin Map
1. Upload Your Data
Once you log into your new eSpatial account, the "Add Data" screen will appear. Click "Upload New Data". Select your spreadsheet that contains your data, and follow the onscreen instructions. For information on how to prepare your data, click here.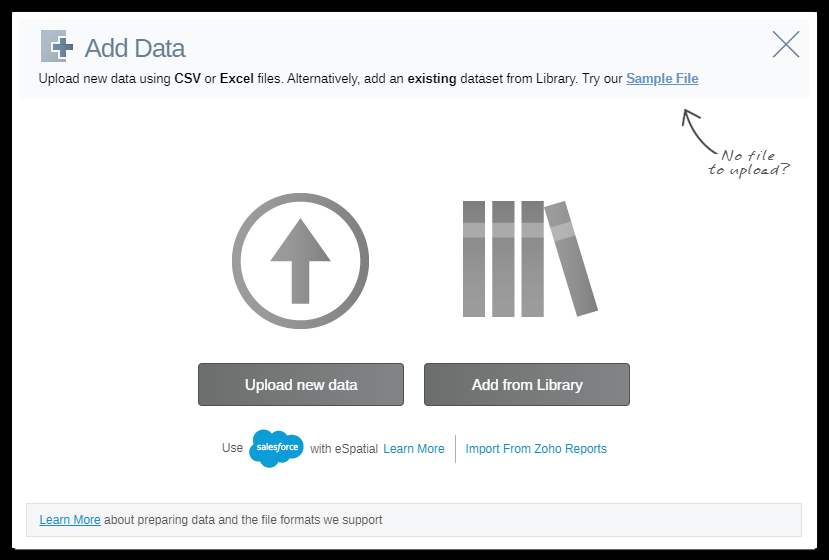 2. View Your Data as a Pin Map
As soon as your data is uploaded, it will be plotted on a Pin Map. Each pin on the map represents a row in your spreadsheet and all this data is contained within the information box which appears when a pin is clicked.
Style Your Map or Run Analysis
Your Pin Map forms the basis for your data analysis. From here, you can style your map, or run various analyses. Click from the list below for a quick How To Guide on each:
---
Create Your Own Pin Maps Today