Identify nearby opportunities with Nearest Neighbor maps.
---
Identifying customers close to your sales team or offices can be difficult. It can involve the laborious task of looking up customer's information, then your sales rep or office location, then trying to match them together.
A Nearest Neighbor map is a type of proximity map that analyzes relationships between two datasets based on 'nearest neighbors'. This type of map allows you to identify the nearest set of features in one dataset compared with a starting point in the other dataset. For instance, find the nearest 10 customers to the hotel that a sales rep is staying in.
For example, it could be near the end of the quarter and your sales team needs to pull in those last few sales. You can use Nearest Neighbor maps to quickly identify a group of potential customers that are closest to each salesperson. Allowing you not only to assign the right sales person but also to assist them with planning their route all from one map without jumping between systems and documents.
With eSpatial, you can create a Nearest Neighbor map to start identifying nearby prospects in minutes. Just follow this easy guide.
---
How to Quickly Create A Nearest Neighbor Map
Upload Two Sets of Data
In this guide, let's take an example using a chain of stores and local customers. Firstly, you will need to upload two separate datasets. In this case, the two datasets are locations of stores and customer locations.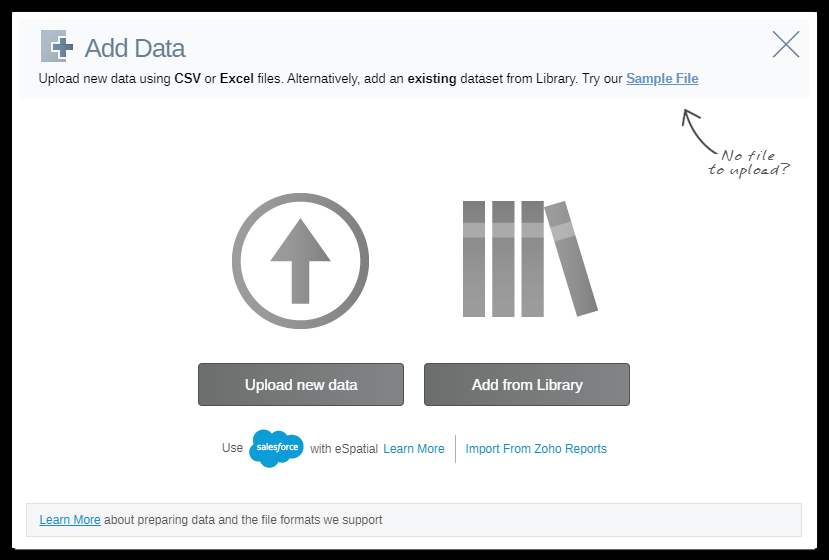 Click Analyze from the Control Panel
From the Control Panel on the left-hand side of your screen, select the Analyze option. You will then be presented with the various analysis options available in eSpatial.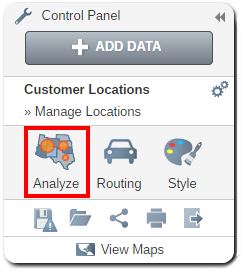 Select Nearest Neighbor 
In the analysis menu, select Nearest Neighbour. This will present you with a panel to enter the criteria for your analysis.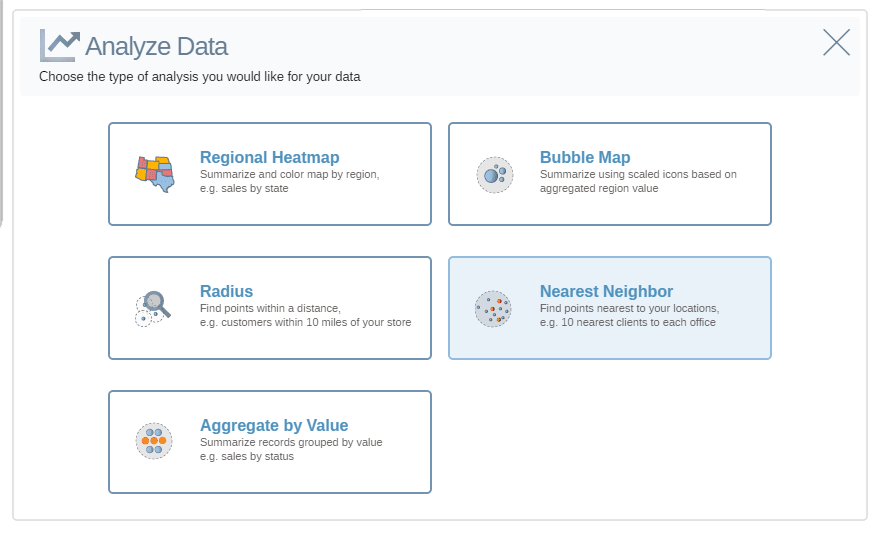 Select the Criteria for your Analysis
In the Nearest Neighbor Panel, you have the option to edit the criteria for your analysis. You can input the number points from dataset 1 (Customer locations) you want to be found near dataset 2 (Airport). You can also input the distance type, e.g. miles, kilometers, etc.  In this example, we want to find the 10 nearest Customer Locations to the O'Hare International Airport within 20 miles.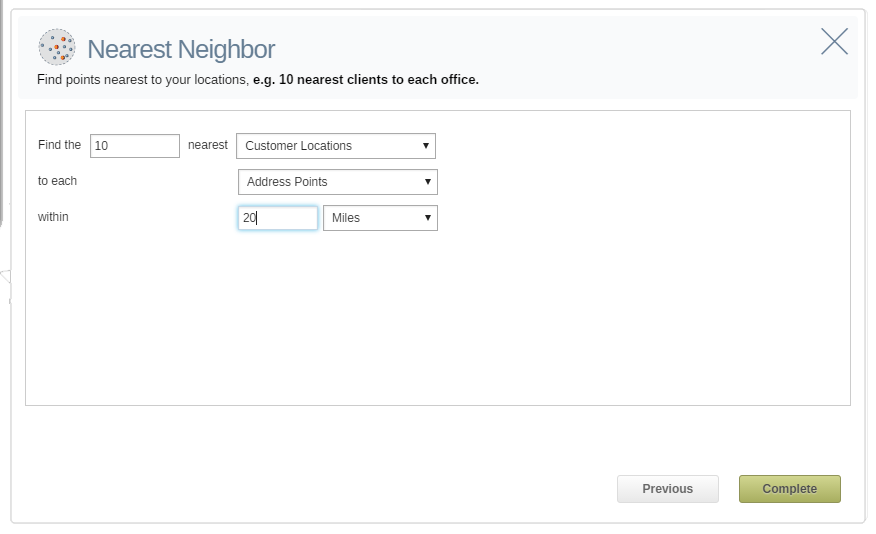 View Your Completed Nearest Neighbor Map
By following the steps above, you will end up with a map similar to below:
---
How to Drill Down Into Specific Data
Single Out Specific Pieces of Data
If you have run a nearest neighbor analysis on all your store or office locations and want to see the customers within 100 miles of one location, you can discover this by drilling down into the data. To do this, open the data table and find the store you want to single out. Click on the store, then select Drill Down.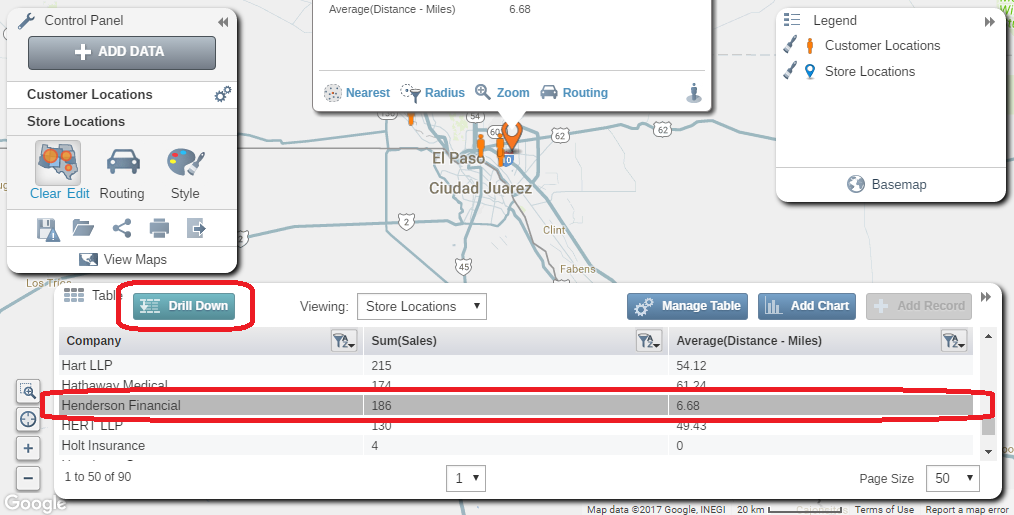 See Results on your Map and Table
The result is a tabled list of all customers within 100 miles of the store you selected. This can be seen in both the map and the data table. You can also export this analysis in a variety of formats.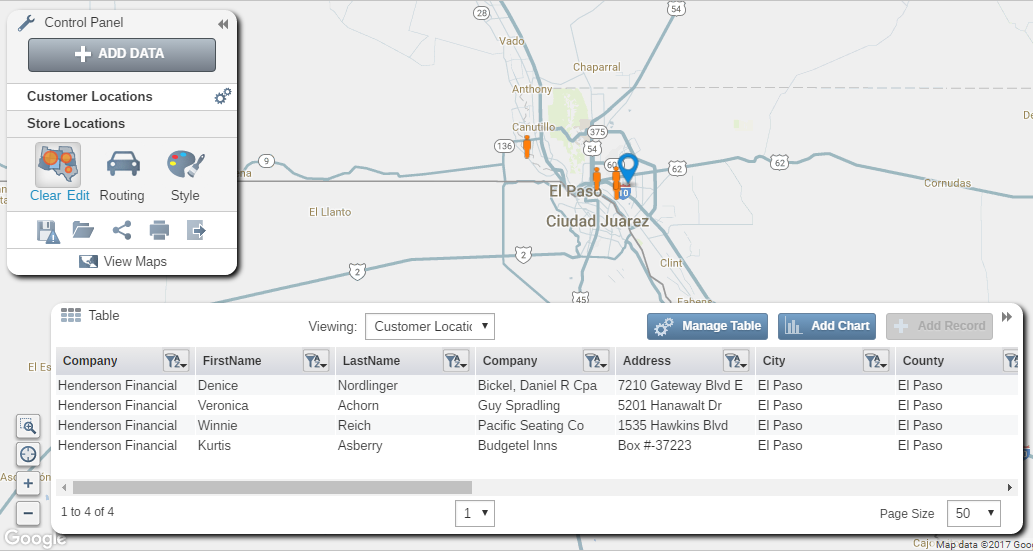 ---
Create Nearest Neighbor Maps Today