Challenges & required outcomes
The starting point to choosing the right solution for you is assessing your needs to identify the expected outcomes. Requirements can be as simple as wanting to view a small dataset on a map or as complex as managing a sales organization with thousands of reps. In the first example, free software might satisfy your requirements. In the second example, you will need enterprise-quality software with an extensive feature set, easy-to-manage administration tools, data integration APIs, and robust security as standard.
The type of outcomes you require will determine your assessment criteria. For example, a sophisticated territory management module will be of little interest if you are only interested in route planning. If you are looking to identify market opportunities or select new sites, you will be looking for high-quality buffer analysis. Assessing regional performance will benefit from thematic mapping.
The number of people you want to share and collaborate with within your team or organization impacts your assessment. You will need to look at the quality of the collaboration and sharing tools –how easy is it to set up and administer groups and users, can maps be shared quickly, is the collaboration interactive, does the system have world-class notification methods?
In the second chapter, we outlined fundamental mapping concepts. Understanding these will help you identify the features you need. When you have identified your desired outcomes, you will then be able to list the features that you need to help you assess which software to use. A complete list would take several pages, but the following table sets out some more important ones.
Mapping features
Create regional and hotspot heatmaps
Analyze data with color-coded, pin, or bubble maps
Choose an ideal location for an office or rep with proximity maps
Layer multiple datasets
Job allocation
Advanced styling
Analyze drive time
Secure sharing
Integrates with CRM
Route mapping features
Optimize sales and services routes
Mobile ready
Easily re-optimize when you get a cancellation
Share routes securely
Get turn-by-turn travel instructions
Lock priority appointments
Access advanced recommendations engine
Calculate and compare mileage
Analyze route plans
Territory features
Create, realign, merge, and close territories with ease
Analyze territories for overlaps
Identify inefficient territories
Identify new opportunities to add territories
Easily move accounts between territories
Lock priority accounts
Use heatmaps, pin, and color-coded maps to analyze data
Getting started - Training
As part of your overall selection process, emphasize the supplier's training programs and onboarding process. As a minimum, your supplier should offer different levels of training, depending on your previous usage of mapping software. Look for an onboarding process that starts with understanding your desired outcomes and your current skill level in using mapping software. The table below outlines four recommended steps to getting started on mapping software.
| Understanding your desired outcomes and workflow | Focus on the key features you need to know | Review your progress after 30 days | Regular reviews every 3 months |
| --- | --- | --- | --- |
| What business outcomes are you trying to achieve? What are your workflows? | The supplier delivers a tailored course, ensuring you know the key features to get mapping successfully. | Supplier checks in with you after 30 days to review your progress and deliver appropriate coaching. | Every 3 months, your supplier has a regular review with you. Your supplier should offer any additional / refresher training where necessary. |
When choosing which mapping software to purchase, ensure you understand what level of support you are entitled to as part of the cost.
Some mapping software suppliers only offer limited support. One of the critical factors to look for is the ability to get help when you most need it. Another is talking directly to someone who understands your business and what you are trying to achieve.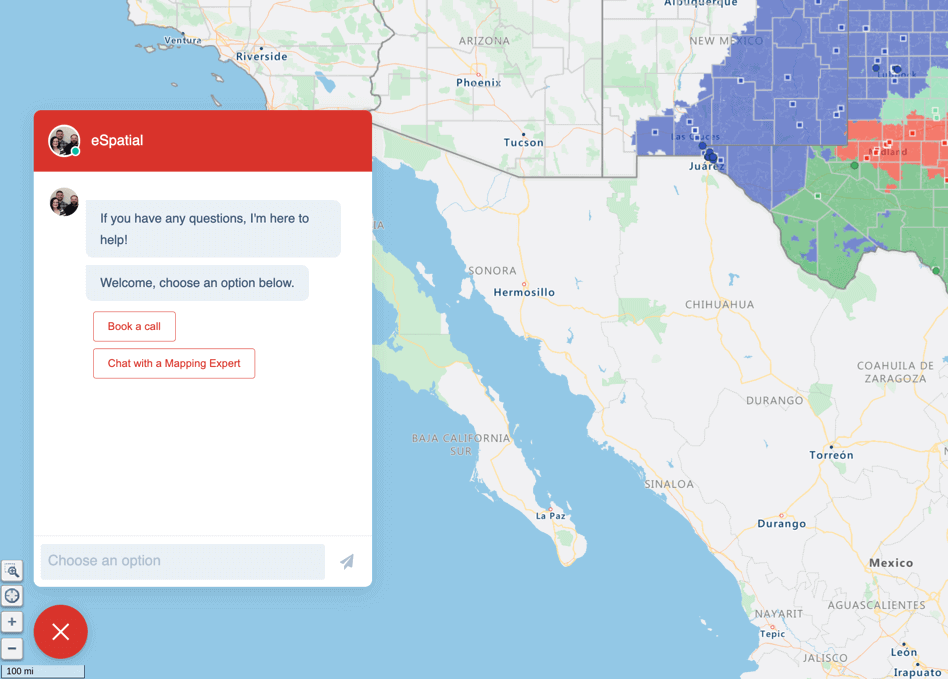 At a minimum, you should confirm that the following support requirements are included in your mapping software cost:
Direct access to Customer Success Managers/mapping expert
Telephone support
In-App Support and chat
Email support
Online Resources

FAQs
Blogs
Best Practice advice
Video tutorials
Out of the five listed above, In-App Support can be very powerful in solving problems quickly. With In-App Support, end-users can access mapping experts who can advise on solutions within seconds (rather than wait for email responses).
It's not always easy to compare the cost of different solutions, mainly if mapping software options are available for various installation and licensing models. The two main options are:
1) On-premises software that you will install on your hardware and, usually, pay an up-front license price.
2) You will pay an annual subscription (software as a Service or 'SaaS'). You need to consider some cost items when comparing ownership costs. The most obvious comparison will be between the upfront licensing fee for the desktop software and the annual subscription fee for the SaaS solution. Generally, SaaS annual subscription fee covers everything you need to be productive, but on-premise software will incur extra costs:
Annual support & maintenance fees that most on-premise software will charge.
Many on-premise solutions require yearly or semi-annual data updates, usually offered as a priced option. With SaaS, the data updates will be automatically available.
You may need dedicated hardware, network, backup, and development systems to manage your on-premise software.
Consider whether you already have the required IT skills to manage databases, servers, firewalls, security, backup, and help desk resources. Will you have the resources to cover evening or weekend work to install emergency hotfixes, hardware repairs, or security issues? SaaS solutions will run on any computer with an up-to-date browser, so you will always have availability. The SaaS provider will manage all the updates and fixes and usually have a backup policy.
Upgrading on-premise software can be time-consuming and risky. The supplier will look after SaaSproduct updates –all you will see is the new version of the software. Whether you are comparing on-premise or SaaS solutions, you will also need to consider the following:
How easy is it to be productive with the software? You can consume many hours working with poorly designed software. Trialing the software before buying is an excellent way to assess this. Another option is to read any customer reviews you can find:
Does the license or subscription include training, or is this a priced option?
What level of support does your license fee or subscription cover?
Does the software come bundled with worldwide data, or do you need to pay extra for additional countries or regions?
What are your geocoding or data limits - will they meet your needs?
There are a few other items you may also want to consider before you make your final choice:
Security – can the supplier produce evidence that their system is secure –have they had any audits carried out on security?
Performance – how does the system perform; what are map refresh times; how quickly can a thematic be run; can it handle extensive data volumes?
Scalability – you might want to start with a small project but expect to scale your usage –will the system scale with your needs?
Future-proofing – how often does the supplier make new releases; are they automatically available; are they keeping up to date with new technologies?
Application Program Interfaces ('API') – does the system provide an API for data integration with your other business systems.
Mobility - You can only access desktop solutions from a single workstation. They cannot be accessed from multiple devices while working from home or traveling. Modern web-based solutions are available securely anywhere from any device and are designed for productive modern ways of working.
Single Sign On – If you currently use single sign-on to manage software users in your organization, it is essential to find out if the mapping software you choose will allow you to log in that way.
You can also check out our:
5. Choosing the right mapping software
Current page