Territory changes can have a real impact on an organization's bottom line. To ensure that the changes you want to make will produce the best possible outcome, it is useful to be able to view multiple versions of the territories to assess the impact that a change will have on field reps, regional managers, and national managers. eSpatial allows you to easily save multiple versions of your territories so you can present stakeholders with a range of options to choose from.
Territory scenario planning can be used on both operational and strategic levels.
Strategic Scenario Planning:
Many of our customers use Territory Manager is for strategic planning. Looking to the future, expanding into new territories, or even merging existing territories to align with the objectives of the organization. This is especially helpful in the case of mergers and acquisitions, as you can run through many "what if" scenarios to ensure you've taken everything into consideration before committing to a strategic change.
Operational Scenario Planning:
A common time when organizations make updates to their territories is when there is a fluctuation in the number of sales or services reps. In these cases, only short-term impacts are considered. Using the eSpatial Territory Manager for operational scenario planning allows you to quickly make fully informed decisions to ensure business continuity in the case of staffing changes. By preventing staff gaps, you ensure your customers are always satisfied with their service, reducing the risk of customer churn and lost revenue.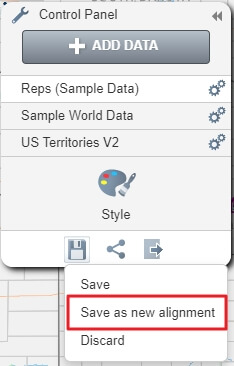 ---
Ready to build your territories in eSpatial? Sign up for a free trial with 7 days access to our Pro License features to visualize and analyze your data on a map.