This summer, we will release a new update focused on improving eSpatial's Territory Manager. We want to make it easier for you to get the exact results you need, so these changes will give you more insight and control over how you align and optimize your territories.
This update will span both standard and advanced territory features and will make it possible to use Territory Optimizer in Canada and the UK, in addition to the US. A few of the major changes include:
1. Work index for balancing your territories
Many companies need to take workload into account when balancing their territories. Whether workload is the sole metric or just part of the picture, this option is important for creating balanced, manageable territory alignments.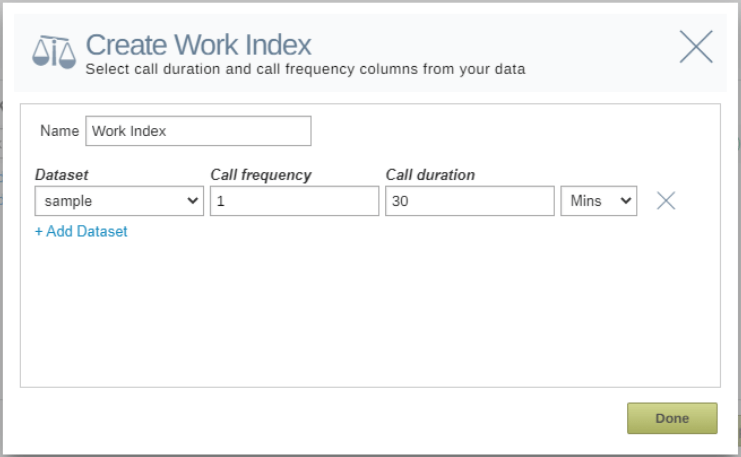 To help you accomplish this easily and accurately, we've added a new balance option called work index. This metric reflects the amount of effort required to service each territory, and is calculated based on call frequency, call duration and travel time. You can set the call duration and frequency, while eSpatial provides the travel time. By splitting your accounts into A, B and C datasets, you can customize the frequency and duration even further.
Work index can be used combined with other balances to create the territory alignment model that works best for your business.
2. Detailed selection and assignment
To streamline the territory management process, we're adding a new selection and assignment system. The new tool will allow you to bulk select points, see a detailed breakdown of what you have chosen, and re-assign them to a new area. You'll no longer have to select "allow reassign", and will be able to remove individual accounts, ZIPs or other areas before assigning the rest.
This new workflow gives you increased visibility and control over your accounts and territory alignments.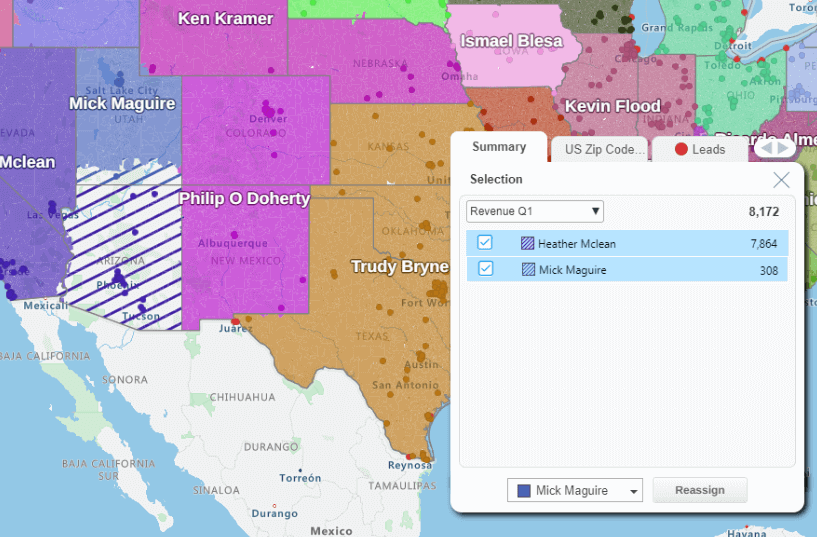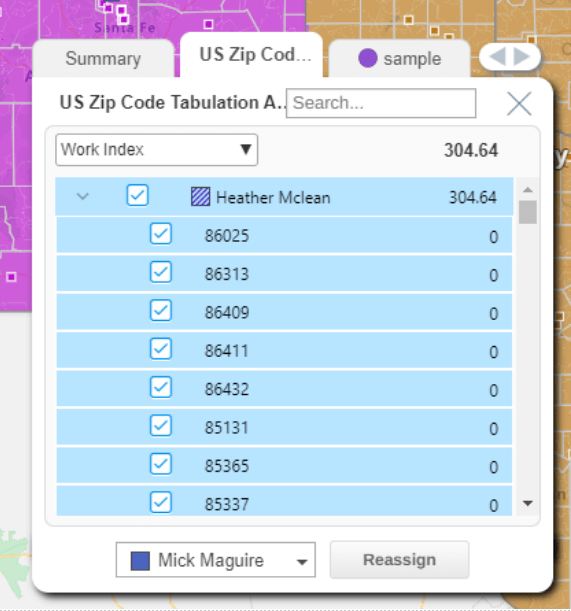 We're also introducing a new sortable and customizable territory panel. This will allow you to view multiple balances at once, sort your territories and the included columns. Customizing this panel will allow you to see exactly what you need in a glance.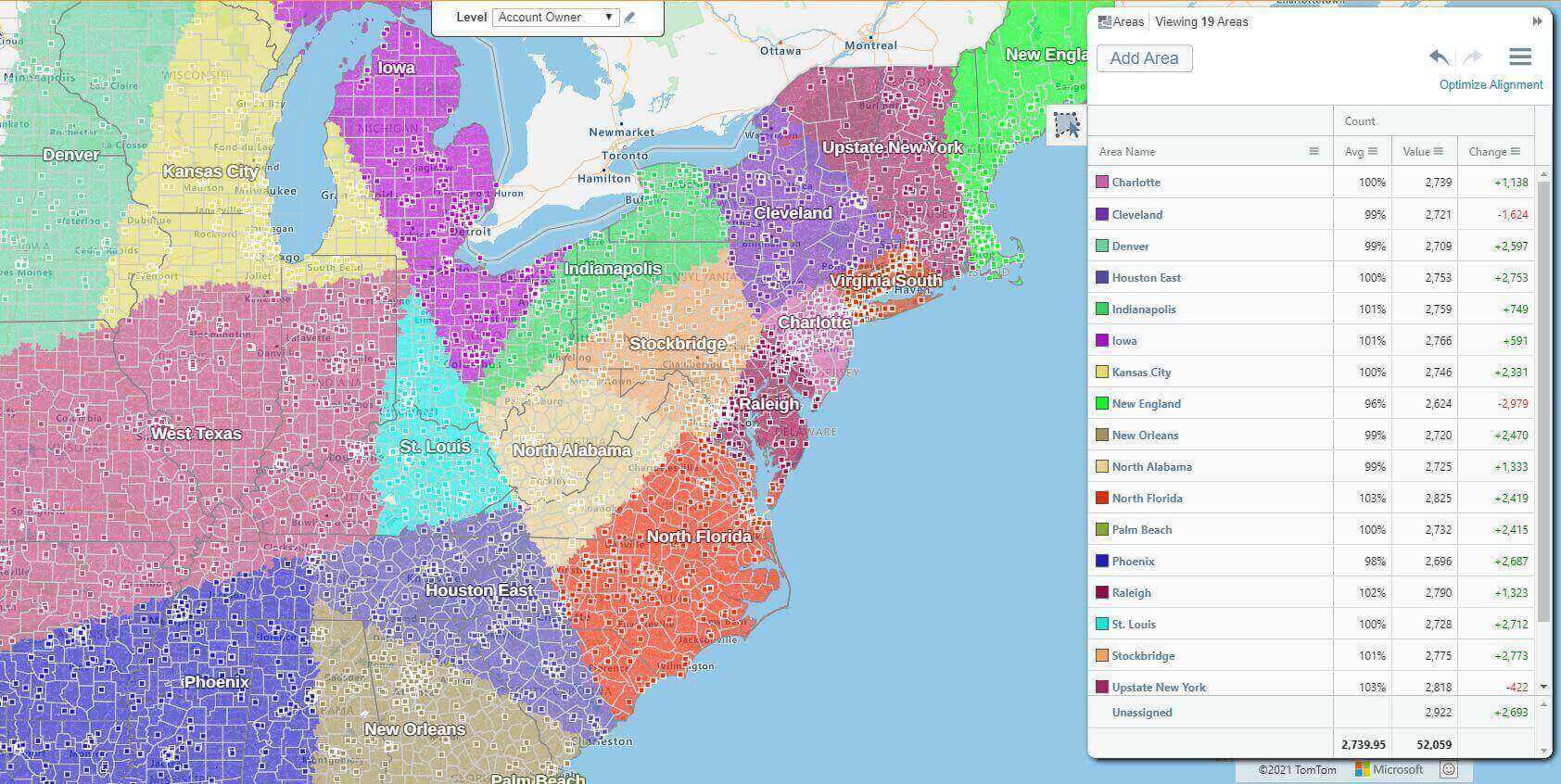 Undo and redo buttons
By popular demand, we have also added undo and redo buttons to Territory Manager. This will allow you to go backwards or forwards up to five actions, making it easier to tweak, change and get the best results.
3. New territory optimizer options
Territory Optimizer is a premium feature, and we've added even more functionality to streamline your territory alignment process.
Use optimizer in the UK and Canada: It will now be possible to use Territory Optimizer in Canada and the UK, in addition to the US. We've expanded our available optimizer datasets to include UK postcode sectors, districts and areas, as well as Canadian Forward Sortation Areas (FSAs) and Canadian Census Divisions.
Additional hierarchy capability: You will now be able to optimize your territory alignments on up to three hierarchy levels.
Calculate territory centers: This new feature will generate a center for each territory. The center can be calculated as the geographic center of the territory or influenced by your balance data such as value of accounts or work to service the territory.
4. Salesforce reports – Scheduled updates
We already support all the standard Salesforce objects including leads, account opportunities, reports as well as any custom objects that include location information. In this release we are adding the ability to schedule the update of your Salesforce datasets, primarily your Salesforce Reports, so that they can be updated daily or weekly to keep your maps up to date.
5. Updated datasets
We will be adding a new ZIP code dataset for use in you maps and territories. This will be updated more frequently that our current ZIP Code Tabulations Areas (ZCTA) option. However, ZCTAs will still be available for those who prefer to use them.
We update eSpatial several times a year, and your feedback helps us continue to improve. If you have any thoughts about this update or what you would like to see in the future, let us know through the in-app or website chat.
---
---