Looking for the best sales territory mapping software? You're looking for eSpatial
There are many benefits to mapping your sales territories geographically, such as identifying hidden patterns and trends in your sales performance, reducing conflict between salespeople, and ensuring a fair and profitable workload for your sales reps. Once you know that you want to map out your sales territories, your next job is to ensure that you're choosing the best sales territory mapping software for your organization. We believe eSpatial is the best choice, whether you have a sales team of 10 or 1000. Let us tell you why!
1. Load existing files or build sales territories from scratch
Having a starting point that is straightforward and easy to use is a key factor in choosing the best sales territory mapping software for your team. eSpatial's Territory Builder helps you to get started in minutes, whether you want to import your existing geographic sales territories or build them from scratch.
If it's your first time using eSpatial, sign up for a free seven-day trial. Once you've logged in, click the "Create Territories" button to get started.
If you already have territories outlined in your CRM or a spreadsheet, you can use these to quickly and easily create a territory map. Match the territory definition — such as state, county or ZIP — with eSpatial's regional dataset. Set your territory identifier such, as Territory Name, and complete the process to see your current territories on a map. You can then realign and balance your sales territories as required.
Building from scratch is equally as straightforward. Just select a region dataset to build on. For example, state, county or ZIP are datasets that can act as the base layer for your territories. You can add regions to your sales territory either individually or in bulk using the Polygon Draw tool. If you accidentally add a region to the wrong territory, you can fix it by clicking the region in question to remove it from the territory you're working on.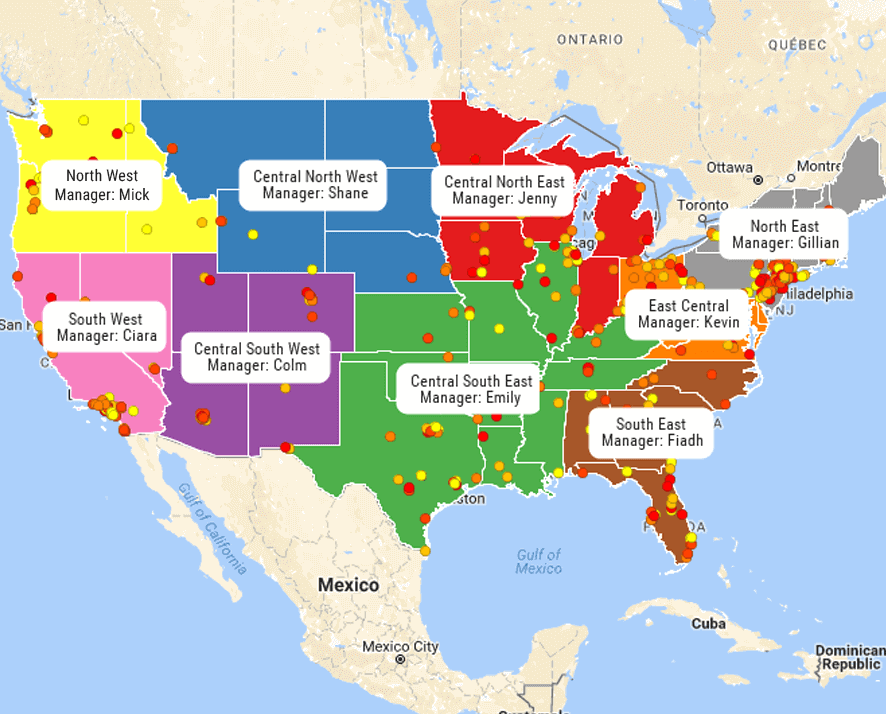 2. Global third-party boundary and demographic data
eSpatial has a library of third-party boundary and demographic datasets to help you build and balance your territories. In fact, every account comes with nearly 200 boundary and demographic datasets you can overlay onto your territories for further analysis and better sales territory assignment. For example, use the boundary datasets to help you create and define your sales territories. Or use demographic datasets along with your own customer and sales data to ensure those territories are aligned, balanced and assigned based on available and potential markets.
We currently have datasets for the USA, Canada, UK, Ireland, Europe, Australia, Asia and Latin America, in addition to global data. We have boundary datasets at ZIP, postcode, county, state and worldwide level. Also, our demographic datasets include age and gender data as well as income, housing and education datasets.
3. Sales territory balancing
A regular source of frustration for sales people is the unbalanced assignment of sales territories or workload. This can lead to sales team members feeling irritated or undervalued. By using ongoing territory management, you're helping to ensure your sales reps all get equal opportunities to show their potential. Additionally, balancing territories will help with spotting gaps in coverage as well as problems with territory definition.
eSpatial has taken this frustration into consideration and has built-in balancing functionality that helps you align sales territories so your sales reps get an equal and fair share of available and potential markets. You can balance your sales territories by factors such as area, population and value. Also, you can balance your territories on your own datasets, such as sales value or sales volume.
4. Editing sales territories
Building and defining sales territories is often an iterative process. You'll dip in and make changes as team members come and go, or as business objectives change. The last thing you want is to be going through the same process of creating territories again and again. With eSpatial, editing your sales territories is quick and easy. For moving regions from one territory to another, you can edit from within the table on your map. Simply choose the territory you want to move the region from, select the regions you want to move, and choose the new territory from the "Move To" drop down.
If you want to make changes to your sales territories but maintain a historical visual record of your existing territory, you can export your territories to a CSV and create a new one using the exported file. You can then edit, balance, and reassign territories as you see fit. Being able to edit territories will allow you to quickly update and customize your territories as the sales landscape changes.
5. Sales territory styling
One of the most common sales territory styling types is simple color coding. Each territory is assigned a different color so that each sales representative will know at a glance which territory is theirs. In addition to color coding your sales territories, you can also style your territory with multi-line labels. These labels can contain important information such as territory name, territory owner, and territory potential revenue. By having well designed, clear, color-coded sales territory maps you ensure that presentations and sales maps are easy to understand.
eSpatial provides a vast range of styling options to add color and clarity to your sales territory maps. You can customize the pin style, size and color of the data you're overlaying on your territories. You can use our color palette storage function to save the color palettes you use to differentiate each sales person's customers. This makes it easy to maintain consistency from one map to another, allowing your reps to comprehend the data much quicker.
6. Add your sales territories to a map
Sales territories can also be used outside of the eSpatial Territory Builder. For example, you may want to create a regional heat map to analyze sales performance or create radius buffers to examine scenarios for expansion.
Luckily, this is easy to do and you can add your sales territories to a map in seconds. These territories can then be combined with your existing customer or competitor data to generate maps for deeper analysis. It also means that your territories can be used in multiple different types of maps that communicate different information to different audiences. This will save you time by quickly transferring territories instead of recreating them for each map.
7. Export your sales territories
Many sales teams have sales territory maps printed and posted on the office wall or displayed on a screen so that team members can see at a glance how their territory is performing. Many sales reps like to have a printed copy on the wall of their cubicle or home office for the same reasons. That's why at eSpatial we've ensured you can create high-resolution printable versions of your sales territory maps. You can print at three different sizes up to A1 (22 x 34 inches) at 300dpi.
Additionally, you can export territories to MapBook, which will allow you to keep all your territories in a handy printable booklet. This can be a helpful prop to have at meetings and presentations to hand out. Also, the MapBook is exported as a PowerPoint presentation so it can be easily edited and or inserted into your other documents, reports and presentation decks. Each page highlights an individual sales territory, with an index page to make it easy to find the right information.
Conclusion
From building your sales territories to sharing those territories and everything in between, eSpatial has you covered. We help our customers define, build, delegate and analyze their sales territories every day so we are confident that eSpatial is the best sales territory mapping software for you and your organization. Don't just take our word for it! Sign up for a free trial and let us prove we're the best sales territory mapping software!
Are you looking to replace MapPoint with a modern, complete mapping solution? Try eSpatial for free and step into the future of mapping with fully supported, cloud based mapping software.
Are you a Salesforce User? Check out eSpatial on the Salesforce AppExchange!
Written by
Stephen Curran
Stephen Curran is a graduate of Carlow Institute of Technology. Through his natural curiosity and continual interactions with our customers, Stephen gained many insights into their needs and wants when it comes to geographic analysis and mapping software.