Points based optimization empowers you to think differently about your sales territory design. It is designed for those with eSpatial's Advanced Territory package and those with complex territory design assignments.
What is points-based territory alignment?
Points-based territory alignments are also known as named accounts or accounts-based territory alignments. Organizations can assign individual accounts to a rep on criteria other than location. With area-based territory alignments, you allocate zips to reps and accounts located in those zip belongs to the rep.
Why use points-based optimization?
Some organizations have more sophisticated needs than zip-based territories. Accounts are allocated to a vertical or industry. You may have Healthcare, product or Government specialists and named accounts you allocate based on rep's skillsets.
You may need to allocate customers based on the size of an account (Enterprise accounts managed by reps with Enterprise selling skills). Zip codes level territory designs can inhibit you from achieving your goals. Points-based alignments excel in these areas.
Above. A common challenge is overlapping or crisscrossing sales territories. It affects sales effectiveness and sales efficiencies. Organization can find zip-level design is not granular enough and need the flexibility to design on points or accounts.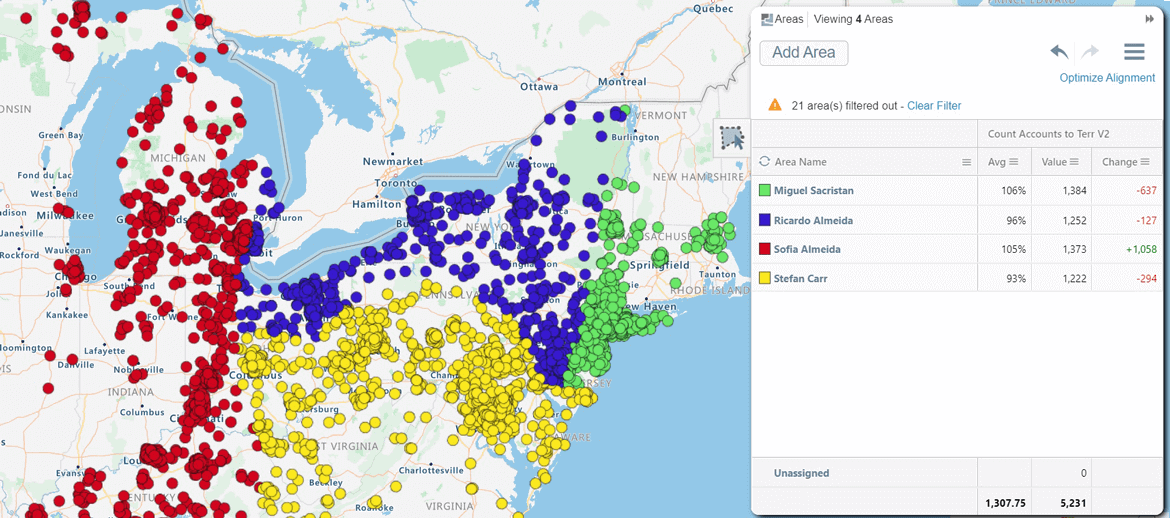 Above. Territories have been optimized and the impact is immediate. Customer count is balanced and the overlapping crisscrossing is eliminated.
eSpatial is proud to introduce to you Points-based territory alignment optimization. Using eSpatial you can automatically optimize territories on points, areas, or a combination of both. You can also balance on criteria like:
Number of accounts.
Account value.
A combination of metrics.
Workload.
Global optimization on points
When allocating accounts across multiple countries, and don't want to be restricted by country borders or different country boundary definitions. Points-based alignments, and now points-based optimization, allows you to manage, balance and optimize your sales territories across different boundary types and across country borders.
You can use these capabilities anywhere in the world.
Best Practice – regularly review alignments
1.

Balance territories

Your market, environment and customer base are in a constant state of flux. Over time territories (and associated workload) can become unbalanced. Regular realignments to rebalance your territories ensures that you give every rep opportunity to be successful. You benefit, reps gain, and customers get better service.
2.

Realign

Over time territories evolve. Eliminating reps crisscrossing areas or accounts is inefficient. A more effective approach using points-based alignments is a powerful alternative.
3.

Scenario planning

Using an optimizer, you instantly see the impact of increases or decreases in headcount. In minutes you can produce multiple visual scenarios you can analyze. And make changes on the fly, share securely with key stakeholders, and get feedback.
4.

Rep turnover

When reps leave you can leverage the optimizer and work out how best to allocate their accounts to other reps. And minimize the impact on customers and revenue.
Watch out for multi-day scheduling
Our next major upgrade will be multi-day scheduling which has a target launch date in early Q2. The application is perfect for field trip planning, allowing you to schedule up to 4 weeks in advance. You will easily be able to prioritize who you visit based on your criteria to help you visit more of the right people. We are also working on a new mobile application to give field reps even more visibility and capabilities and get the most from their day.
---
---