Last year, we added route mapping to eSpatial. This allowed users to create routes from existing mapped data, which they could access from a variety of mobile devices. Now you don't even need a device – you can just print out maps complete with a list of directions! Just follow the steps below.
Create your route map

Click on the print icon in the control panel and select the Print Steps option:

This will generate a page in your browser with a map and directions.

Access the print options in your browser (in my case, this is Firefox).

Select the page setup and then tick the background printing option (the image below is taken from Firefox – but it's the same process whatever your browser). Click OK.

Finally, click Print and your route map with directions is ready to be outputted from your default printer. Click OK to finish.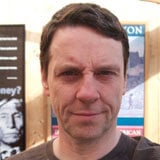 Written by
Patrick Butler
Patrick Butler joined the eSpatial marketing team from 2013 to 2015. With a Masters in Journalism and experience in a variety of organizations, Patrick brought a wealth of commercial knowledge to the eSpatial team.