Holly chose a career in sales because she shared a passion for business, technology and working with people. She relished the freedom and variety a selling role offered her. She was a keen student of selling and the sales process, but like many in that role, she had to overcome severe challenges to gain the success she craved. Learning to manage her sales territory proved to be one of her most challenging.
Her first role was working with a US heavy machinery rental distributor. She loved the products and her customers but struggled with:
Sales planning
Route planning
Time management
Prospecting
Like many salespeople, Holly was assigned to a sales territory but had little territory management training and knowledge. She lacked the industry and the geographical know-how. And because the organization was in growth mode, training and coaching resources were unavailable to help her onboard effectively. She learned the hard way by making avoidable mistakes, learning, iterating and carrying on.
Holly talks about each challenge and how she overcame each, and we will outline some best practices as we progress to help you succeed faster.
1.

Know your sales territory

Holly's first challenge was that she lacked knowledge of her geography, customer and prospect locations, and ideal customer profile. She had a list of customers, construction projects (her prospects) and historical sales information. She knew she had to make sense of the data and narrow her focus to her region's highest-priority and highest-sales potential customers. She wrote her action plans:
Talk to three colleagues and identify the best customer sectors to target
Understand the sales process and sales cycle
Understand the competition and how to win
Craft her Value proposition by industry sector (her differentiators)
Market dynamics - how to research projects and activities
Her organization's marketing department used eSpatial for market research (heatmaps and color-coded maps), so she leveraged mapping software to plot customer locations.
Seeing existing customer locations on a map helped her figure out an initial journey plan. It was a starting point. She needed to map prospective projects and identify those areas with the highest concentration of customers and prospects. She would prioritize time in those areas.
2.

Setting goals

Holly knew the importance of setting some personal and activity goals. She had a revenue quota of $5,000,000, but her challenge was to break it down into meaningful activities she would measure.

She used historical information as her starting point to understand:
The average size of a deal
The average number of quotes needed per month
The conversion rates from enquiry to quote and quote to closed deal
The lead time from initial enquiry to a closed deal
Holly quickly realized that sales cycles were short in her industry and learned from her colleagues that face-to-face time with customers was critical as loyalty to a brand was rare. When they needed equipment, speed of response won over the strength of relationships.
She set herself some goals:
$20,000,000 in sales pipeline (assuming a conversion rate of 25%, which she was determined to improve)
$5,000,000 in total revenue
$2,000,000 from new sales to existing customers
$3,000,000 from new sales to new customers and projects
40 sales quotes per week (2,000 per year)
20 project or site visits per week (there were multiple contractors on each site)
3.

Segmenting the territory

Holly divided her sales territory into segments to help her prioritize her workload. Her priority segment was civil construction projects, which offered the highest sales potential and were easier to manage (so her colleagues led her to believe).

She developed a loose plan for her field-based days every Monday, Tuesday, Wednesday, and Thursday. Fridays were for unplanned project visits, administration and calls, which she made from her home office. Fridays were also for her lower potential or less important opportunities. Those that could be managed over the phone and didn't need face-to-face management.
She visited her head office monthly for a sales meeting and to catch up with colleagues. Her plan was loose as she needed to build flexibility to cater to the inevitable emergencies. But she was determined to offer some structure for her customers, so carving out a region for each day enabled her to tell customers, "I'll be back in your area next Tuesday". She learned quickly that a level of certainty for customers would lead to more business for her as they knew "Holly will be around soon".
4.

Prioritization

The machine rental market is a growing, dynamic industry. There are unlimited potential markets with rental capacity. Holly learned from colleagues and over time that some segments offered the most sales potential with the least effort. So she prioritized her week around her chosen segment.

She also graded accounts and set some call cadences:
Star performers: Weekly onsite call
High performers: Bi-weekly calls
Medium potential: Monthly calls
Low potential: Phone calls and a quarterly face-to-face visit
She leveraged a route optimization tool when planning her four-day schedules. She set her priorities by accessing the recommendations engine, and the system optimized her days in minutes.
She followed a simple prioritization process.
She locked her priority stops first.
She locked in time for breaks, follow-ups (calls and emails) and admin (which she did in her car or over a coffee) second
And then, the software optimized her schedule around those, ensuring she got the most from her days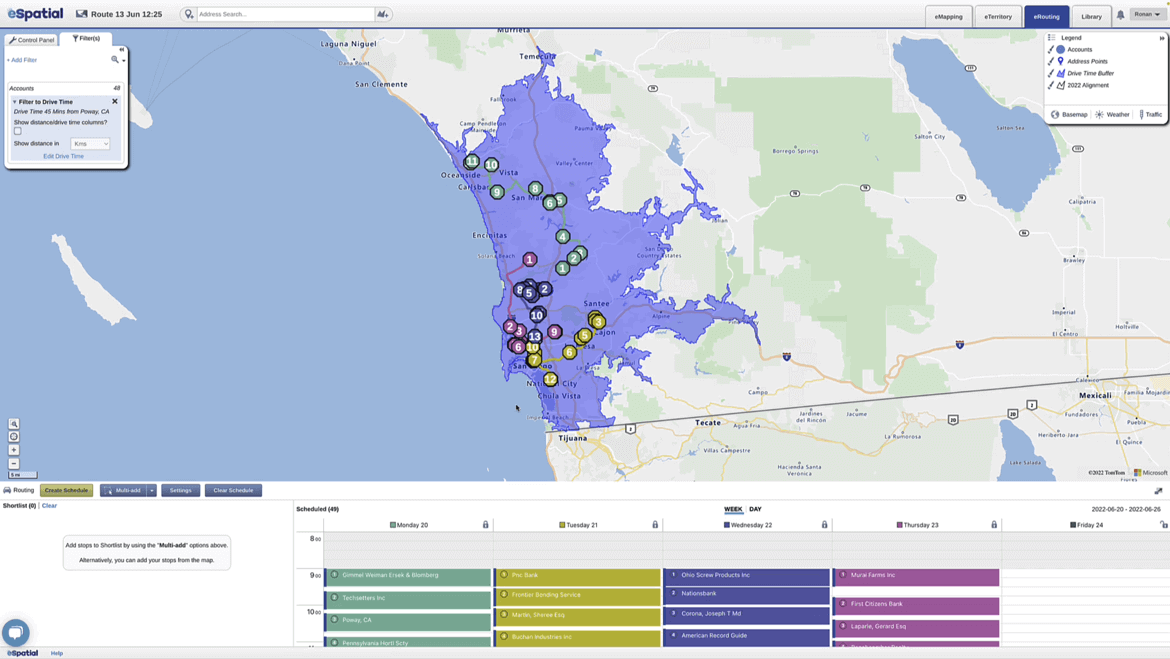 5.

Managing time

Having optimized her schedules from Monday to Thursday, her field-based days, Holly blocked out time on Friday mornings to book appointments for the upcoming week and process quotes.

She also completed a weekly review:
What are my priorities for next week?
What are the priority sales calls/opportunities?
Prepared agendas for her meetings and emailed confirmations.
6.

Account mapping

Holly knows the importance of relationship building and its impact on her long-term success. She spends a lot of time on "account mapping". Here is her process using her CRM:
Creates a head office account for all customers
Create a hierarchy of parent (Head office) and child (projects) accounts so she can map out who does what and on which projects
Links people together to create an organization chart in her CRM. For example, she will link project managers to the project director, creating a visual "chain of command". When researching who and when she needs to build relationships, it makes life a lot easier for her
By linking projects to customer accounts, she can easily see which projects she is not working with and ask for referrals from those contacts she has relationships
7.

Referrals

As discussed above, Holly's primary lead-generation tactic is via referrals. She never stops asking existing contacts to introduce her to new connections in their organization. When onsite, she will ask for a referral with a prospective contractor.
8.

The competition

Holly uses her CRM to track all competitors by project and customer. She records competitor activity. And regularly talks to customers about competitors' value propositions and activities.

She updates marketing on her findings in the monthly sales meetings, and in turn, marketing updates the team on competitors.
Above is a map showing competitor locations in Portland.
9.

Know your numbers

Using sales analytics (from her CRM) and pipeline management, she reviews her weekly numbers (per her goals) and tracks her progress.

She focuses on the trends in her numbers first, as they predict her future success. There may be some new hotspots of opportunity to exploit by analyzing the data.
10.

Outlearning

Holly is a continuous learner and schedules time for:
Sales training
Product Training
Workshops
Conferences
Books and webinars
Meeting and sharing ideas with her colleagues
11.

Technology

A key advantage is using the best available technology as an enabler. Holly is a power user of:
Mapping software: For analyzing her territories, data, and routes
CRM: For managing all customer interactions, tasks, and events
Trello: For creating a task management system for her goals
Miro: For customer presentations and project ideation.
It never stops
As a successful salesperson who has learned on the job, Holly knows managing a sales territory is a never-ending task. She is on a continuous improvement journey but has a solid foundation built on:
Planning
Process
Prioritization
It works and we hope some of these ideas will work for you.
---
---