Technology has developed rapidly over the past decade, and mapping software is no exception. With modern platforms like eSpatial, anyone can map their sales or marketing data. Cloud-based mapping software allows sales operations and sales and marketing teams to enhance their data analytics affordably and quickly. Over 75% of all business data is estimated to contain geographic information. The importance of efficiently and effectively analyzing your business data geographically is evident.
You will learn
How to identify the regions with the best sales opportunities
How to find gaps in the market and create new sales opportunities
How to increase the efficiency of your prospecting & competitor analysis
Market conditions across your active regions
How to boost the performance of your sales teams on the ground
How to review individual performance effectively
Benefits of cloud-based mapping software
Modern cloud-based mapping software is no longer physically confined to desktops and can be accessed anywhere. It is a significant change that provides many benefits to sales professionals:
Ease of Access
Maps can be accessed anywhere with an internet connection across multiple devices
Ease of use. No installation or special plug-ins are required, just an up-to-date internet browser.
Sharing and collaboration. Maps can be shared and embedded online, and collaboration features allow teams to work remotely to produce and analyze maps together.
Realtime updates. Online mapping software is continuously and seamlessly updated with regular improvements and added functionality.
Secure. Using cloud-based software means your data and visualizations can be saved and backed up in real-time, ensuring peace of mind. Furthermore, advanced firewalls and protocols can protect your data from external threats. No need for IT support, backups, installations, patches, and data transfer.
Realtime support. For example, eSpatial assigns a Customer Success Representative who provides customized training along with real-time and live chat support.
Mapping your sales data
Why map your sales data?
Having clearly defined and aligned sales territories is a crucial driver of success. Good sales territory alignment enhances customer coverage, increases sales, and reduces costs. Mapping your regional sales data offers distinct improvements to your sales performance.
Data mapping enables you to develop a comprehensive sales strategy and allocate your resources effectively. Managers who use visual data discovery tools are 28% more likely to find timely information than those who rely solely on managed reporting and dashboards:
Analyze sales performance instantly
Ability to allocate sales teams more effectively, leading to higher profits and greater efficiency
Plan a more effective sales strategy to reduce costs
Reduce risk by identifying re-alignment opportunities
Find new sales-ready leads
Realign sales territories
Rapidly report on critical sales data
How can you map your sales data?
There are many ways to map your sales data to produce valuable visualizations for analysis. Here is a basic outline of how a sales professional can use mapping software to map data and find valuable insights.
Define your sales territories with Territory Mapping tools like eTerritory. Creating a territory map by stitching existing geographic boundaries or drawing customized areas. Once created, the territories can be given unique names and used as base maps where you can place other relevant data—design sales territories on ZIP codes, county, state, or point-based alignments.
Upload your sales data associated with each region and can assign different areas to sales teams or reps. Adjustable color-coding lets you easily define and visualize individual regions.
Optimize your sales territories using a workload index or a weighted balance. You'll want all territories to share equal workloads and opportunities.
Finally, there are several ways in which you can analyze your sales performance.
Tools like territory comparison tool can instantly show the effect of boundary changes, and aggregate by value lets you combine a map, table, and chart to track and compare the performance of your sales team.
Assessing regional sales performance
Why use mapping software to assess your regional performance?
Monitoring your regional sales performance and realigning is central to effective sales management. Staring at row after row of excel sheets does not give you the insight to make the correct assessment and calculated decisions. Using mapping software is proven to improve the performance of sales managers in activities such as sales forecasting and territory management.
How to assess sales performance with mapping software
The heat map is the most helpful mapping feature for assessing your regional performance. A heat map uses colors and shades to reveal data concentrations in a geographic area.
There are two primary forms of heat maps that can help you in your analysis of regional sales performance.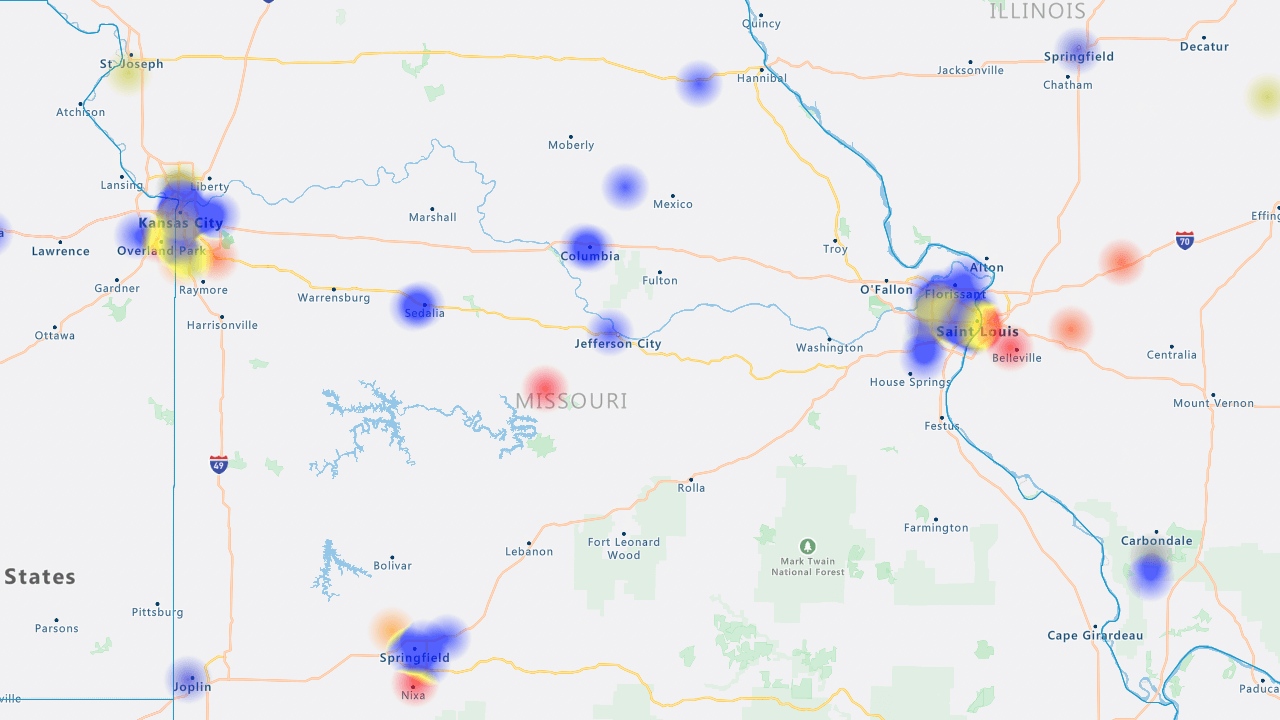 Standard heatmap
The raw heat map above outlines the occurrences of data points (e.g., sales numbers). The red demonstrates the areas where the most sales have occurred, the yellow indicates areas where there were moderate sales, and the areas with no color have seen no sales.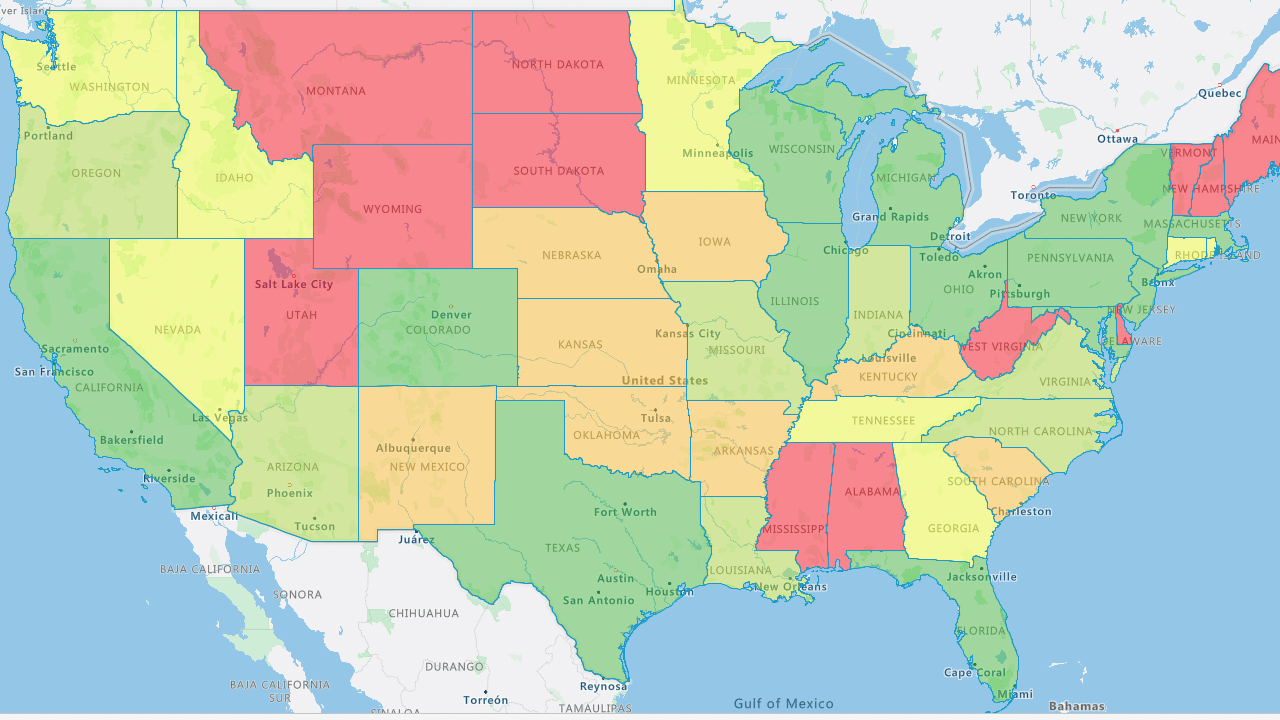 Regional heatmap
The regional heat map outlines the sales data occurrences segmented strictly by state, but you can also segment by county, ZIP code, or custom territory. The heat map can clearly show you which regions outperform others in sales.
Enhancing your sales performance Analysis
Sophisticated mapping software can segment and filter data, isolate critical sales areas, and relate them to other relevant data. For example, you could develop a regional heat map outlining the sales performance by state and use a filtering tool to isolate sales above or below a certain level.
You could then layer and filter similar data from the previous year. You visually represent sales performance by region over a two-year period, which is challenging to convey through excel sheets and quite frustrating to comprehend through text. And this is only an example of the insight that mapping software can provide.
Beyond the standard heat maps, sophisticated mapping software has features such as "Aggregate by Value," allowing you to combine maps, tables, and charts to monitor your sales team's performance.
Use this to aggregate the data by salesperson, campaign, or product type, offering instant insights into each performance, supported with visuals that provide additional insight. The image below shows the same dataset, but we applied a filter to show only those states with more than $500,000 in sales.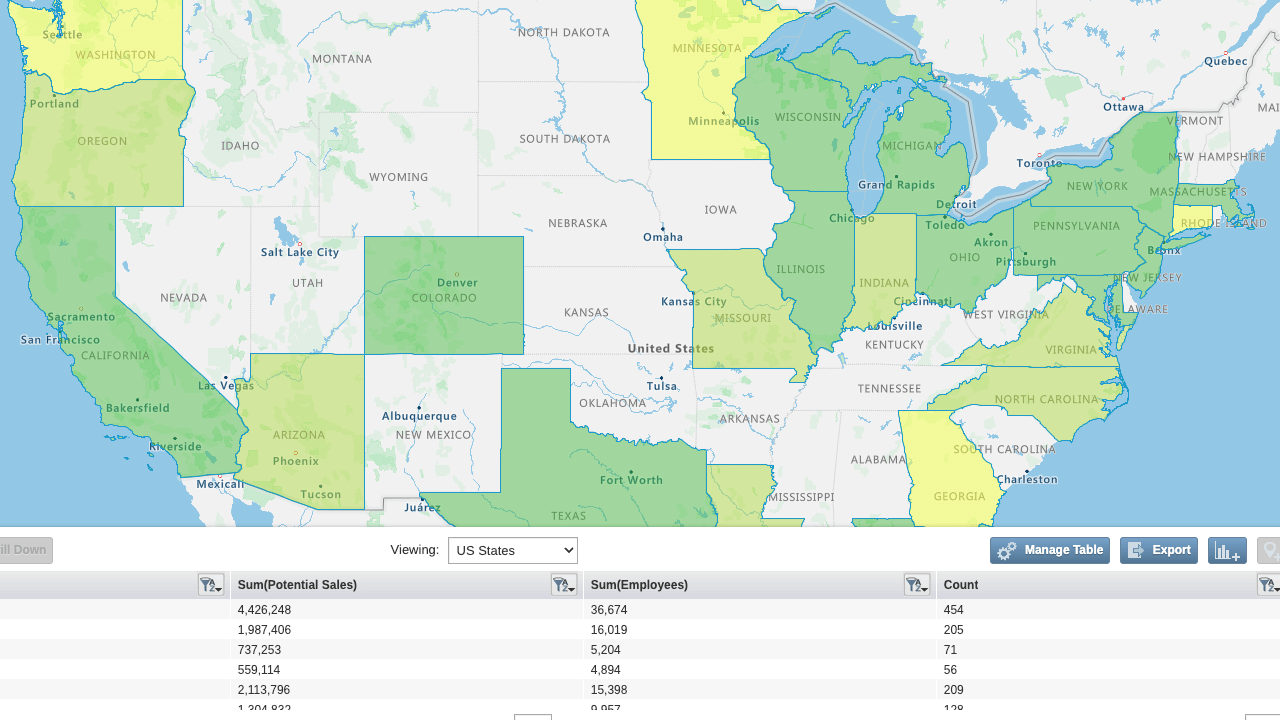 Create and optimize your sales territories
Why Mapping Software is essential for territory management and optimization
Visualizing your territory sales data is essential for effective territory management and optimization. Mapping software enables you to manage your territories by allowing you to:
Create territories based on your existing customer base and target market
Build your territories from predefined locations or draw your own areas
Allocate sales teams more effectively with optimized territories and earning potential
Improve sales team efficiency, resulting in greater profits
Create and control your territories without external consultants
Improve decisions about market expansions
Visualize the extent of your coverage and overlay data about customers, prospects, teams, and other resources
Share maps remotely to communicate effectively with your sales teams
Quickly divide a large target area into more manageable assigned regions
Manage franchises - publish locations and illustrate the availability
How territory mapping software transforms territory alignments
Sophisticated sales territory mapping software will enable you to optimize sales territories on a critical metric, like sales potential. Or you can use a workload index to optimize sales territories to ensure maximum customer coverage with minimal travel time. And even workloads for your sales reps.
Once created, the territories can be named and used as base maps where you can place other market-related data. You need capabilities to build and optimize territories at ZIP code or points-based (account level).
Overlay other data: Once you have created your territories, use it as a canvas to plot different data. You can make simple pin maps, radius maps, or bubble maps on your customized territory map. It can be the starting point for in-depth, focused, and new market analysis.
Link data to territories: Territory mapping software allows you to link critical data to your territory map. For instance, it can link population density, educational levels, and age census information. Using demographic data in conjunction with your business data can be a powerful motivating tool, inspiring better planning and faster decision-making. Use it with your latest market, lead, or sales information to create up-to-date balanced territories.
Create balanced territories: When linked to data, territory maps can instantly picture the division of work across territories. You can even rebalance territories so that workloads are equitable. For example, the number/value of customers per salesperson's Territory.
Adjust when necessary: Markets constantly change – and so do territories. eSpatial makes editing customized territories easy by automatically updating maps linked to new data.
Worldwide mapping: eSpatial is not limited to the U.S. and can support the expansion of your business into new territories.
Communication and information sharing: Many companies print out wall-sized maps illustrating their territories. With eSpatial, this is easy to do, and you can also share live interactive versions of maps.
Visualizing market coverage and competitor analysis
Understanding your market coverage and the competitive landscape is essential to managing a sales strategy effectively. Combining sales data with its location during analysis directly improves sales strategy, consequently improving the company's revenues.
Trying to comprehend the issues of market coverage and competitor analysis by staring at excel data is too complex.
Visualization helps analysts gain more insight into a problem's nature and develop a new understanding of issues such as customer churn. There are a variety of ways in which modern mapping software can help you understand the market coverage of your business and your competitors:
Radius maps
Radius maps take two sets of data and let you focus on their spatial relationship. Your company may want to investigate issues such as:
How many customers are within 5 miles of your business?
Are there any significant coverage gaps in your network?
Who is the nearest rep/technician to each account?
Which areas are most lucrative for expansion?
What significant trends or patterns can we exploit?
How can I minimize transport and distribution costs?
Use radius maps to gain an accurate perspective of market coverage by visualizing the density of clients and customers. It lets you devise a more organized sales strategy and run a more effective sales team.
Heat maps
You can identify gaps in the market by using heat maps. Heat maps use color schemes to allow you to identify high-performing zones and the potential in those lucrative untapped markets. You can upload your specified color scheme. This visualization allows you to gain crucial sales insights and guides how you can adjust your sales approach and strategy.
Territory mapping
Rapidly divide a large target area into more manageable regions in order to analyze competitors and current performance, allowing for better planning and faster decision-making. It enables you to allocate sales teams more effectively, leading to higher profits and greater efficiency.
Mapping your customers and prospects
How can you map your prospects and customers?
Sales managers who want to keep their sales team motivated and productive can make use of a "Within Distance Report" and Radius Map. This report is a dataset of prospects and a dataset of existing customers. Once these datasets are combined, you can create a radius map where your field sales operatives are the center point.
If a meeting falls through for a field sales operative, they can keep productive by looking at the radius map to find the nearest lead or existing customers and pay them a courtesy call.
Creating optimized routes for the sales team
The principle of mapping software is to connect routes in an optimized way – so you get the most out of every sales or business trip often adding up to one extra sales call a day is achievable.
Optimize your time and stay connected
When plans change en route for sales team members, they can use this type of Route Map to find the nearest available customer. Information on a route map can also inform your field sales team of when a client is available on a proposed day. Instantly validate mileage reports from your field sales team. Client records and tips on reaching hard-to-find locations can be updated by multiple users.
Cloud-based route maps help field teams and managers communicate with each other using shareable maps and editing options.
Advantages creating optimize routes for your sales team
Cloud-based mapping software route maps are regularly updated to provide accurate, up-to-date directions
Mobile friendly
Route optimization is built into eSpatial and works with existing data. No additional third-party software is required to generate routes
Route plans can be changed or updated on the go. Maps will update to generate alternative or new routes
Create routes across multiple layers of data. Upload a list of hotels/airports to use in conjunction with your accounts when creating routes
Optimized routes can be printed as hard copies or sent to mobile devices and opened using Google Maps or Wayz
Why use mapping software to combine datasets & visualizations?
The real power behind data mapping and visualization is the ability to overlay and combine various datasets to uncover critical insights. Combining the different elements of your data can provide a comprehensive visual representation of customer data.
How does mapping software enable this?
1.

Combining datasets

A heat map can be beneficial as a base to layer more data. For example, a clothing brand that targets males aged 20-35 could use census data to create a regional heat map showing the occurrence of their target market by state. Then, they could overlay their business data to see if their sales are performing in line with the market size by state. It would enable the brand to identify the regions where they should serve better in sales and assess market conditions.
2.

Combining data visualizations

Sophisticated mapping software allows you to combine and incorporate collective data into one visualization. For example, eSpatial's "Aggregate by Value" combines data and presents it through a mixture of a map, table, and chart. It enables sales managers to quickly manage large amounts of data and track how sales executives, products, and campaigns perform across regions.

For example, a sales manager could combine data on prospects, leads and opportunities to develop a quick overview of their distribution and value across regions.
Working as a Team: Sharing and Collaborating
We all know the importance of teamwork in a successful sales force. Some studies have shown that 70% of interactive data visualization adopters improved collaboration and knowledge sharing. Being able to share and collaborate is a critical factor in this. Some of the benefits of this include
Sharing sensitive data securely with specific team members
Supporting strategic decision-making in important meetings
Sharing essential information quickly and professionally. Improving the performance of teams through interaction and working towards a common goal.
There are 5 essential mapping features for successful collaboration
1. Sharing maps within your team - Easily share maps, directions, charts, reports, and tables directly to specific team members.
2. Multiple user support - Members of a sales team can add their data – opportunities or leads to a dataset daily, creating a complete, up-to-date picture of the market. Therefore, this map type is an excellent way of disseminating up-to-date, mission-critical information to a broad audience:
Sharing sensitive data securely to specific team members
Supporting strategic decision-making in important meetings
Sharing essential information quickly and professionally
Improving the performance of teams through interaction and working towards a common goal
3. Export in multiple formats - Sometimes, you need to create a professional, visually-aided report or presentation. Exporting maps and charts to PDF or JPEG is essential to producing outstanding reports.
4. Embedded maps – These are great for telling a business story on a webpage. Add interactive maps to websites, posts, and blogs that help to highlight locations to customers or show the scope of your operation for whatever purpose.
5. Printing maps - There are times when only printed maps will do. You might, for example, want to print maps to include in a paper presentation. Or you may want to print maps and post them on your office wall to motivate a sales team. Whatever the reason, a printed map can be a great resource. Key to this are the printing options offered; the mapping solution must provide small (A5) to XL (A1) printing options and the ability to print accompanying charts and tables conveniently and compactly.
---
---