Territory management is a crucial element of a successful sales or service team. Ensuring your customers have coverage and your field reps have a manageable workload reduces lost sales and resource wastage. In this blog post, we're going to look at why you should care about territory management for your business. Good territory management helps you to:
Save money and increase sales by optimizing resources
Give sales reps the best chance at success
Delight your customers with efficient service
Onboard new employees faster
Identify new franchise opportunities
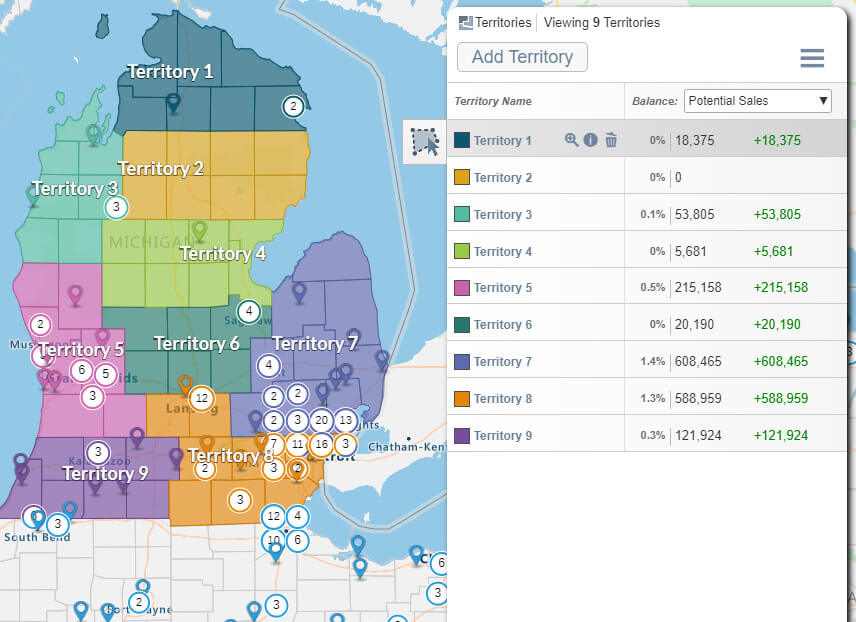 1. Save money and increase sales by optimizing resources
The primary goal for any sales organization is to maximize the amount of time field reps spend with customers and leads, which helps them hit their sales or services quotas. Well managed territories result in balanced workloads for field personnel, providing them with greater earning potential, improved morale, and career satisfaction.
Higher career satisfaction results in lower staff turnover, which saves organizations an average of $15,000 per lost employee. In addition, ensuring a territory is manageable for an individual rep leads to reduced operational costs such as fuel, flights, and hotels.
2. Give sales reps the best chance at success
Successful sales reps keep your business going. The more they hit their quotas, the more they'll want to maintain that streak. If your sales reps are given territories that are too vast to manage, and quotas that are too high to reasonably achieve, it can demotivate your workforce.
To give your reps the best chance at success, you'll need to consider travel distance, the volume and value of the current customer base in that territory, and the opportunity in that territory.
3. Delight your customers with efficient service
Proposing and sticking to service level agreements (SLAs) with customers can be the difference between a customer returning or churning. Often the key clause in your SLA is the time it takes for an engineer to get onsite. To meet these agreements, you need to ensure service engineers don't spend most of their time travelling to appointments. Territory design and assignment becomes a critical factor in meeting these agreements. A visualization of the engineers and the territories they cover can also reinforce your organization's commitment to service during the sales process.
4. Onboard new employees faster
Having well designed and defined territories makes it much easier for new employees to get up to speed with their own territory. Providing a visual representation of their accounts within the geographical boundaries allows them to draw connections between accounts and to plan out their introductory visits much quicker.
5. Identify new franchise opportunities
When looking to expand your franchise business, one of the first things you need to look at is territory design. It's going to be the first question a potential franchisee will ask and may be the deal-breaker for many. If you're a long-established business, you may already have your territory criteria defined and if you're a new franchise you may be setting that definition. Either way, geographical territory boundaries play a massive part in identifying new franchise opportunities.
If you're ready to take a second look at how you manage your territories, why not sign up for a demo? Our mapping experts will show you how eSpatial Territory Manager can make the process faster, easier and more efficient. Submit your email below and we'll be in touch to schedule a time that's convenient for you.
I'd like a free Territory Manager demo