Building sales territories based on data, rather than gut instinct, is hugely valuable. According to the Harvard Business Review, just optimizing your territories can increase your sales revenue by 2-7%. With that much on the line, you can't afford to guess when it comes to sales territories.
Even when you know how important it is, sometimes building territories is a pain. It can take weeks to create a full set of balanced territories. That's why the eSpatial team has built a new feature: Territory Optimizer.
You can easily:
Create and design new sales territories in minutes instead of days
Balance and optimize sales territories
Create multiple scenarios and see the impact instantly
Send us your feedback
We want to make this new tool as easy and useful as possible. To do that, we need your help. Starting today, our existing customers will have three months of free access to Territory Optimizer.
We want you to use it to build territories faster than ever and optimize existing territories with ease. However, this is currently a beta feature, and we'd like to hear from you about how we can make it easier and better.
You can find Territory Optimizer in the right panel within Territory Manager.
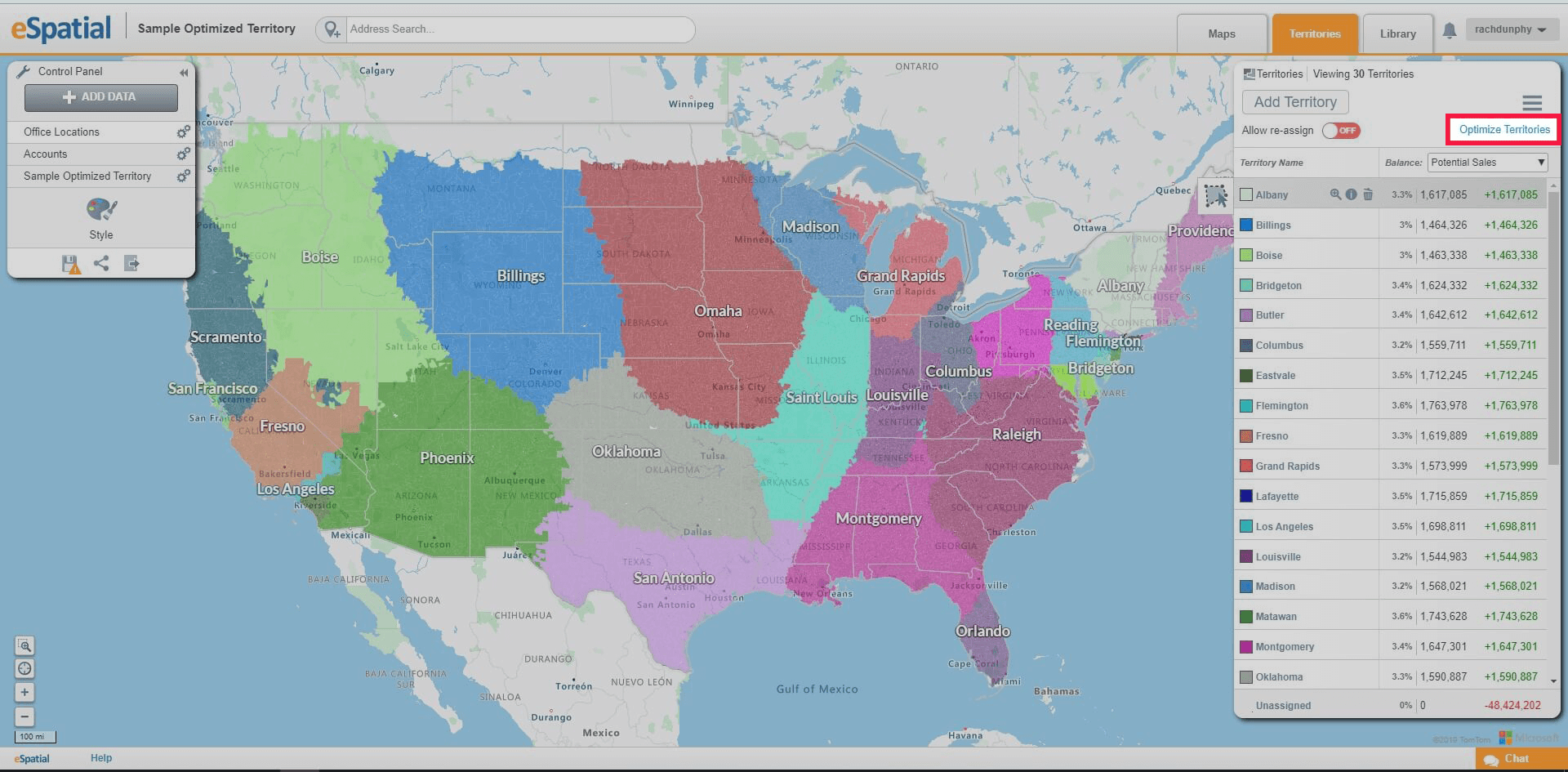 Use it, play with it, and let us know what you think! You can use our in-product chat system to let us know your thoughts (it's in the bottom right corner) or fill out a feedback survey.
If you'd like your Customer Success Manager (CSM) to demonstrate the new feature, feel free to sign up for a training and feedback session using the form at the bottom of this blog. Once you've registered your interest, your CSM will be in touch to set a date.
After the three-month free trial, Territory Optimizer will be available as an add-on to all eSpatial packages. Only customers who signed up before May 10 will be part of the free three-month trial. If you're new to eSpatial and would like to hear more about territory optimization, one of our mapping experts would be happy to chat with you about it.
As a thank you, companies that fill out the feedback survey will be eligible for an exclusive offer of 20% off Territory Optimizer after their free trial. Your help allows us to continue making eSpatial better. Thank you!
Want a Territory Optimizer demo from your Customer Success Manager? Fill out the form below!
Once you've signed up, your CSM will be in touch to arrange a date and time for the demo.
I'd like a free Territory Optimizer Demo