Having worked with hundreds of sales leaders and thousands of salespeople, there's a definite problem holding them back: Unclear or non-existent sales process. This leads to a lot of challenges, but sales leader don't always make the connection between these problems and their broken sales process.
When you clearly define a sales process, many of the challenges your sales team faces will start to evaporate.
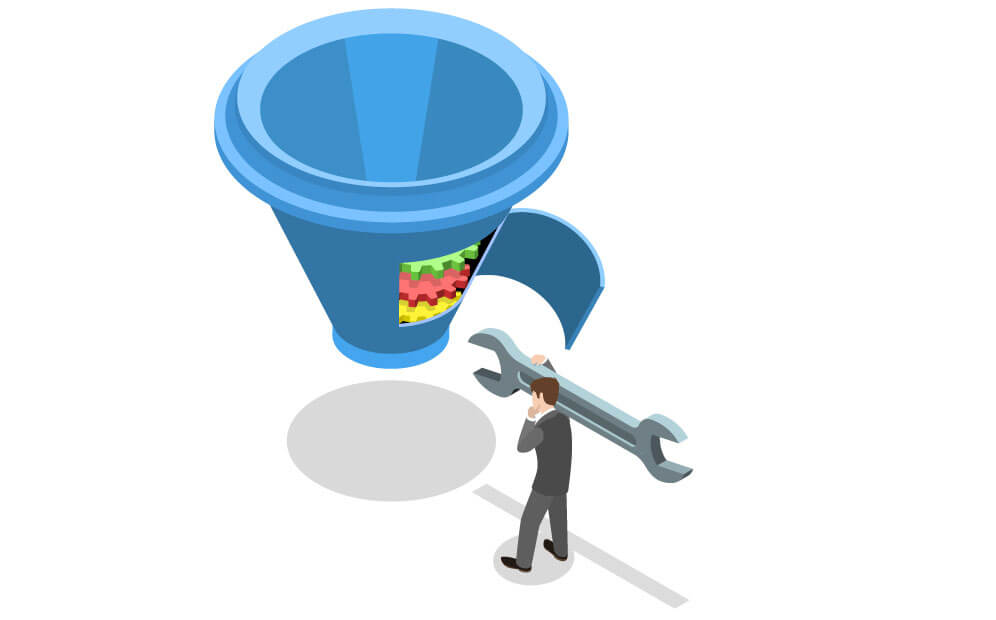 How do I know if I have a sales process problem?
Every week, we hear the same things from sales leaders, and they're all indicators of a sales process problem:
We don't have a defined sales process mapped out for our team. Our sales reps follow their own process. It works well for some, but for the majority, it holds them back.
We have too many tools in place. We've invested in tools like CRMs to try to solve our problems, but they haven't helped and now we have too many systems that don't work together.
Our salespeople don't actively track sales activities. And our sales leaders don't prioritize leading sales metrics, they focus on lagging numbers like last month's/year's sales. (Think of leading metrics as predictive. For example, if you know you win one in four sales proposals, measuring the number of proposals can help you predict future win rates.)
We spend too much time on administration and non-selling tasks. For many, it's up to 70% of their time weekly. That means just 30% of time is spent selling.
Our onboarding process takes too long, so we lose productivity every time a new salesperson starts.
It's not always easy to identify, but all these issues point to a broken sales process. Going through the process of planning and documenting your process can lead to drastic improvements. So, let's break these down into some general, and then we will get into the weeds a little to give you detailed steps to simplify your sales process dramatically. And, more importantly, increase selling time and sales.
Best practices for creating a sales process that works
Sales process is a broad term, but it can be broken down into concrete action pieces. In this guide, we'll take you through six key steps to creating a sales process that works for your business:
---
1. Identify your target customer
You may have a beautifully crafted value proposition, a fantastic sales playbook, and a focus on sales activity levels, but it will all go to waste if you don't have a clearly defined sweet spot client.
Be 100% clear on who your customer is and write it down. Time and time again, we see examples of well intentioned salespeople who are waste time and resources because they treat all customers and prospects as equals. But here's the secret: Not all customers are made equal.
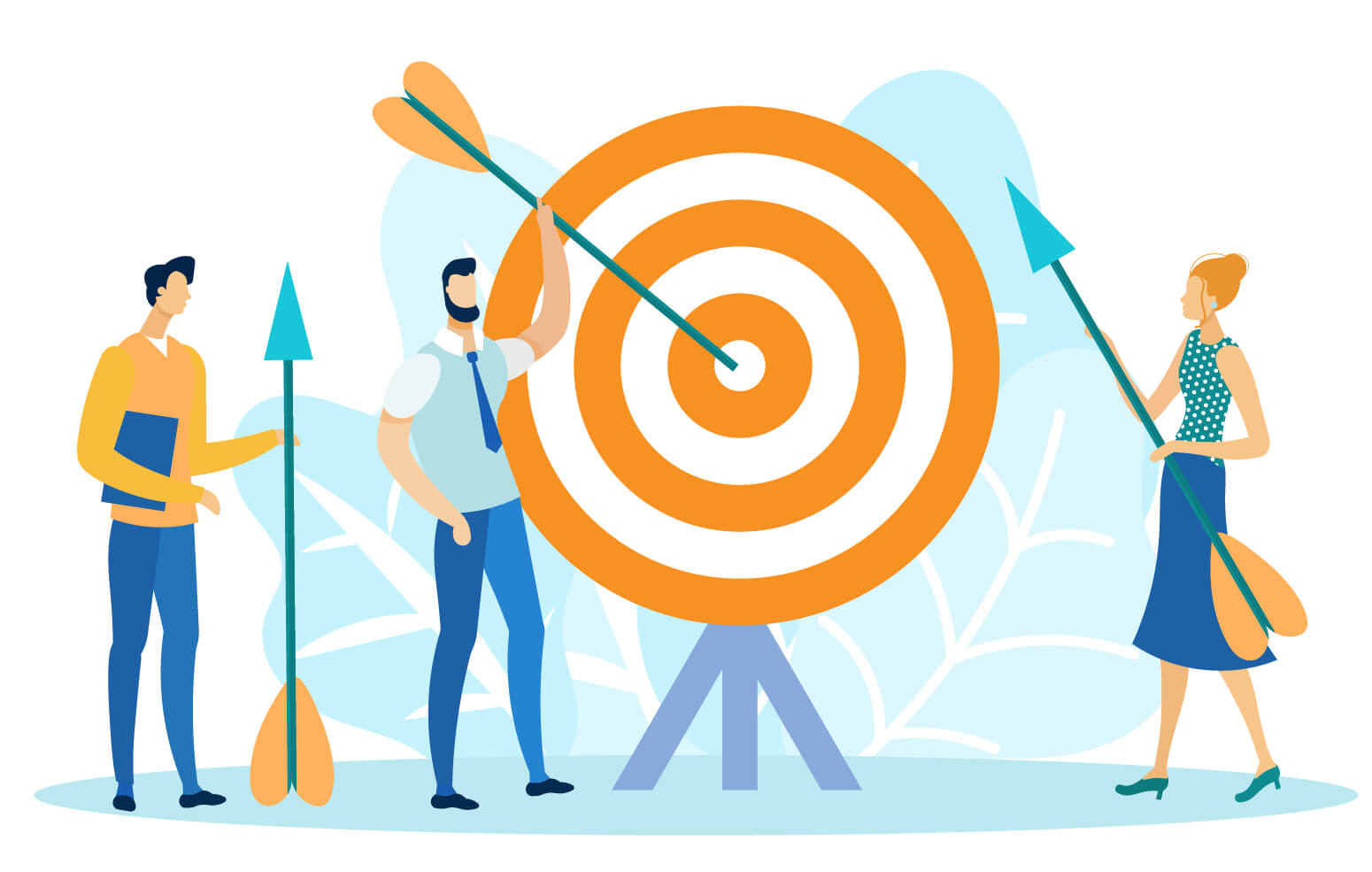 To get started, ask yourself these questions:
Is our sales team spending too much time with low value, low potential customers?
Is our average conversion rate too low?
Is our selling time below our expectations?
Are we servicing all customers with equal levels of attention?
Many of you will reflect on these questions and come to the same conclusions. The evidence is clear. Your bottom 30% of customers are losing you money right now!
So, when you analyze your call frequencies and see that too much time is spent on low value, low potential customers, what do you do?
You overhaul your sweet spot client profile.
How to overhaul your sweet spot client
Now that you know you want to overhaul your sweet spot client, answer these questions:
What size is your sweet spot client? (Revenue, staff numbers, locations, number of potential users)
Who is your sweet spot decision maker? Who specifically should you be talking to, NOT who are you talking to now? Remember, there are two types of buyer. An economic buyer, who will buy on price, and a strategic buyer, who will buy based on the perceived value you can deliver. Who are you targeting and is it working? In some cases, targeting an economic buyer can cause a race to the bottom on prices. If you're not careful, you could be eating into your profit margins by selling based on price rather than value.
How many people will you have to influence? And what are their positions?
What do they value most?
What are the key drivers that will enable them to say yes to you? Your value proposition should specifically address their pain points or drivers that initiate change. More on this later!
How will you reach them? And where will they go to reach out to you? Be specific. Think this through from an onboarding perspective. If you were starting a new salesperson today and you were providing specific guidance on how to target new customers, what guidance would you offer?
Are there enough sweet spot clients to justify your sales efforts?
What level of competition will you face?
What are the strengths and weaknesses of your competitors, and how can you differentiate yourself?
TIP: Invest your focus now
Spend more time on this exercise than on any other part of your sales process simplification. It will deliver the highest level of sales growth and sales potential.
Allocate time every month and "inspect what you expect." Yes, get into the weeds and ensure that your sales team has broken old habits and implemented new habits by focusing on high potential, high value, high reward customers. It's what top performers do.
---
2. Create a visual sales process for your team
When was the last time you reviewed your sales process? Do you have a sales process? Is it consistent across your team or, like most organizations, informal and hard to monitor for performance?
We recommend visually plotting your sales process so that all team members can understand and adhere to it. Remember, your sales process shouldn't be how you sell. It should reflect your customer's buying process.
Here's an approach to creating a visual sales process that we've seen impact hundreds of companies. All you need is a whiteboard and some markers.
Get physical: Draw it out
Draw out the journey of a sales lead in your organization. Every step. These can include things like:
Exploring your website
Interacting with your chat
Downloading some content
First conversations
Qualification by marketing or sales
Sales opportunity creation
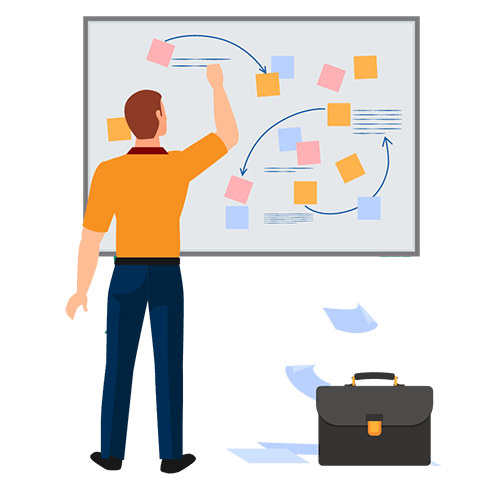 Include the negotiation and closing steps as well as post-sale onboarding, servicing and training if required.
Focus on your buyer's journey, NOT your internal sales process. Avoid the trap of using standard stages you often see in CRM systems, like call, meeting held, proposal sent, and negotiation. These are the steps you take, not your customer. Focus on their key actions instead. For example, I can send a proposal to a prospect (my action). But if the prospect doesn't open my email, read my proposal and confirm receipt of the proposal (their actions), then I have no meaningful way of measuring intent. You must design your sales process around the steps your buyers take that demonstrate intent. Intention creates forward momentum.
Let it cool off
Once you've mapped out your sales process, leave it aside for a couple of days. Use that time to think about ways you can improve and simplify the process.
For example, you could implement an appointment confirmation email process or a template that all salespeople use in advance of their appointments to ensure the customers are ready for their calls. The email could include a call agenda and prompt your lead to ensure that all necessary stakeholders are present.
Start your review
Next, review your sales process and focus on the steps that show buyer intent. Ask yourself what you can do at that specific point in time to deliver more value to the buyer. A great way to think about this is to consider your buyer's FEARS at each stage of their buying process. So, for example, in the early stages of the buying journey, they may have some fear about working with a new company. What specific steps, tools and content can you leverage to show your prospect that the risks are low and you can be a trusted partner to them? Case studies, references and industry accreditation can all be highly effective at this stage.
Finally, highlight the steps in the process you would eliminate or automate. Fewer steps will result in faster execution. Investigate some sales enablement tools that could automate actions, like proposal writing, emails and appointment setting.
---
3. Create your value proposition
You may already have a business and a marketing value proposition. But you need to have a sales value proposition. Your sales Value Proposition should translate to simple language for your audience focused on their specific pain points. You will need multiple versions for each of your sweet spot client profiles. A pitch to a CEO can't be the same as the pitch to the CFO or CTO. You must have a tailored value proposition that meets their needs. So, how will you know which pitch is right?
You do your research. You spend time "walking in their shoes" and ask, if I was a CEO, CTO or CFO (or any profile), what message would make me stop and pay attention? What specific terms, pain points, problems in my world leave me open-minded to new ideas and opportunities?
As a decision maker, I don't care about features. I care about me and spend all my time thinking about me and how I can get the results expected of me.
As a seller, you must deliver what your customers value.
You value proposition should be short, clear and easy to understand. Once you've nailed that down, embed and reinforce this message through training and coaching with your sales team.
TIP: Focus on real people
Create a simple, conversational style value proposition focusing on real people in real roles, with real problems. Value propositions can lose sight of the audience. Even highly sophisticated people need simple messages that are easily understood, not complex messages. Sell the value and worry about the technicalities after they've opened their minds to a new possibility first.
---
4. Create a sales activity plan
Hand in hand with your sales process is your sales activity plan. Here is where it gets super critical. Sales leaders should ensure they have a sales team focused on sales activities that drive sales pipeline. They may differ by sales role, but some examples of activities that drive sales pipeline are:
Number of prospecting sales calls
Number of new sales opportunities created
Number of new sales presentations held (in person or online)
Number of new proposals or quotations generated
Number of new prospecting emails sent
Is your team obsessed with these metrics? If not, they should be. They predict the future health of your sales pipeline.
So, which sales numbers matter? Let's look at the main areas in depth. Every business is different, so a mix of these can be appropriate. Focus on the actual numbers that are important to your business.
Key sales numbers
The critical issue as a sales leader is to compile a list of at least five key sales numbers that align most with your overall goals, vision and mission. Once you have, measure them often. We suggest a minimum weekly review of your key sales numbers to understand the pulse of your sales pipeline.
For the sales team, consider measuring things like appointments with qualified leads, new customers, average sales values and conversion rates. These key metrics will vary by business, so make sure to choose the ones that fit for you.
Now that you have the key numbers you want to measure, get everyone on the team to commit to a sales activity plan.
An outline sales activity plan
Your Sales Narrative: (Write your sale narrative here. For example, I plan to hit $5,000,000 in sales revenue this year. To achieve my plan, I intend to meet all of my sales activity milestones.)
Sales targets
 I will average 1 new client per month from January to December
The target average spend per client is €100,000
My target prospect base is 48, and I will prospect on 4 per month.
My key sales activity metrics
48 prospect calls by the end of the year
24 sales opportunities with prospects
50% conversion rate from opportunity to a new client
12 new clients closed
Now, I cannot continue without mentioning eSpatial or a similar mapping tool if you want your team to eliminate unnecessary travel and decrease windshield time. Your team's ability to plan and work their sales territories effectively directly affects performance levels and sales revenue. When you optimize your sales territories and balance your sales team's workload, you free up more time for salespeople to spend face to face with customers. Just using a routing tool alone will transform field sales productivity.
Personal best key sales numbers
Sales is a numbers game, but to stretch yourself personally, you may enjoy this approach. Set yourself some personal best goals to motivate you. By taking this approach, you move from just focusing on sheer activity quantity to setting self-improvement goals. They're a great way to keep motivated, focused and improve your skill levels.
For example:
Call to connection ratios: What percentage of your phone calls convert to a conversation with a decision-maker? Take a baseline measurement, then set yourself a goal to improve this key number.
Calls to online demo ratio: Again, what percentage of calls lead to a demo? Take a baseline measurement, then set yourself a goal to improve this key number.
Sales call made to face-to-face meetings booked: What percentage of your calls result in a meeting with a qualified prospect? Set yourself an improvement goal.
Meetings to proposals: What percentage of your meetings result in a proposal?
Closing ratios: What percentage of opportunities result in a sales deal? How can you improve this?
Lost deals: What is your percentage of deals lost? What do you want it to be?
---
5. Capture everything above in your sales playbook
This last part almost completes itself if you have committed every step above to paper. Capture everything above in your sales playbook. It's a crucial component for your onboarding and ongoing training of your sales team. It will cover:
Sweet spot client profile and clear definition
Visuals of your sales process
Value proposition and critical messaging
Competitor analysis: Their strengths, weaknesses and how you win
How to handle objections
Listening and questioning skills. Go deep here and get your team involved. Create a list of the best questions you can ask prospects on calls and in meetings. In our experience, the knowledge is available in the team, you just haven't captured it in a system.
All documentation and sales tools a salesperson needs to be successful
CRM best practice: A clear process for using your CRM system is critical if you want to measure performance better. It's also a valuable tool in eliminating unnecessary administration.
Remember, as you implement the best practices, learn from your best performers. What are the steps they take that lead to better performance? What's their secret sauce? How can we get our team to develop the sales process or skills?
---
6. Finally, hold weekly sales reviews
It's time to transform weekly sales meetings into dynamic conversations that focus on the implementation of your sales process. Weekly meetings should focus on sales activity levels, NOT deep-dive sales pipeline reviews. You can hold those once a month.
A simple 30-minute format that transforms sales team engagement. Every week, you should ask:
What were your wins last week?
What were your key sales activity numbers last week?
What is your performance versus your goal for the month?
What is your sales forecast for the month?
Where did you get stuck this week?
What did you learn this week (about the competition, or about selling) that the team should learn too?
What are your three priorities for next week?
That's a wrap.
---
Key Takeaways for sales process simplification
Sales process should be dynamic. The sales process should be formalized across your organization to create a consistent selling strategy, but don't be afraid to evolve the process as you and your team discover what works best.Your new sales process should include:
Clear value proposition and messaging
A step-by-step visual roadmap of your buyer journey and the specific steps you take to create forward momentum. A sales activity plan that focuses on maximizing selling time. It should outline the specific, measurable sales activity numbers you will achieve by the team member.
A sales playbook that captures all of the above, and outlines every step in the journey of a sales lead
Finally, embed your sales process through your weekly sales reviews and regular "inspect what you expect" reviews.
By following the steps laid out in this guide, you'll be well on your way to turning a broken or non-existent sales process into one that's measurable, repeatable and successful.
Get started with our free resources
Want to fix your sales process? Start by downloading our free resources here: