In a recent blog, we looked at how eSpatial's new Territory Manager can be used for operational scenario planning. Our hypothetical regional sales manager had to quickly cover a territory after a sales rep left the company. Now we'll look at how Territory Manager can be used for long-term strategic planning.
Territory Manager allows you to save multiple versions of your territories. This is helpful during strategic planning because you can easily share them with key stakeholders, giving everyone the information needed to make a decision. Providing multiple options at once helps to speed up the decision-making process and ensures the team can fully consider the impact of each strategy.
So, let's look at how you can use Territory Manager to streamline your strategic planning by creating three possible scenarios for sales territories in southern California.
Evaluate the status quo
First, let's look at the current territories and how well they're balanced. To do this, we can create a weighted balance that considers both the projected pipeline value and existing account value in each territory. This new feature allows you to give a weight to each of your chosen metrics. For example, we'll give existing account value a 70% weight and potential pipeline value a 30% weight. Territory Manager combines this information to create a single balancing metric.
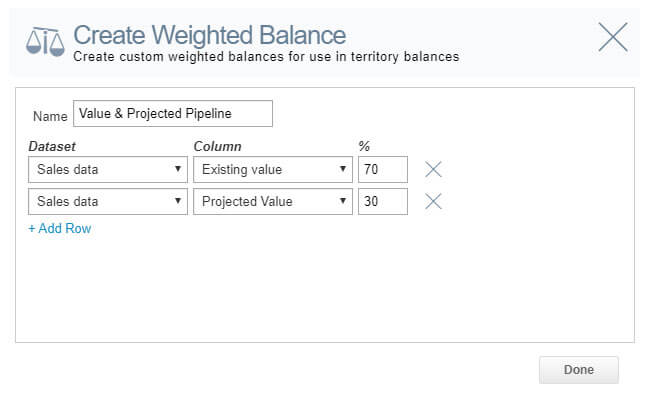 To create the weighted balance, we'll click the hamburger menu, then select balance. Using both the potential and existing value helps to create fair territories that provide sales reps with equal opportunity.
With the balance applied, we can see in the map below that these territories have fallen out of alignment over time. This is normal and it's why you need to regularly review your territories. As customers churn, new sales close, or staffing levels change, territories can become unbalanced.
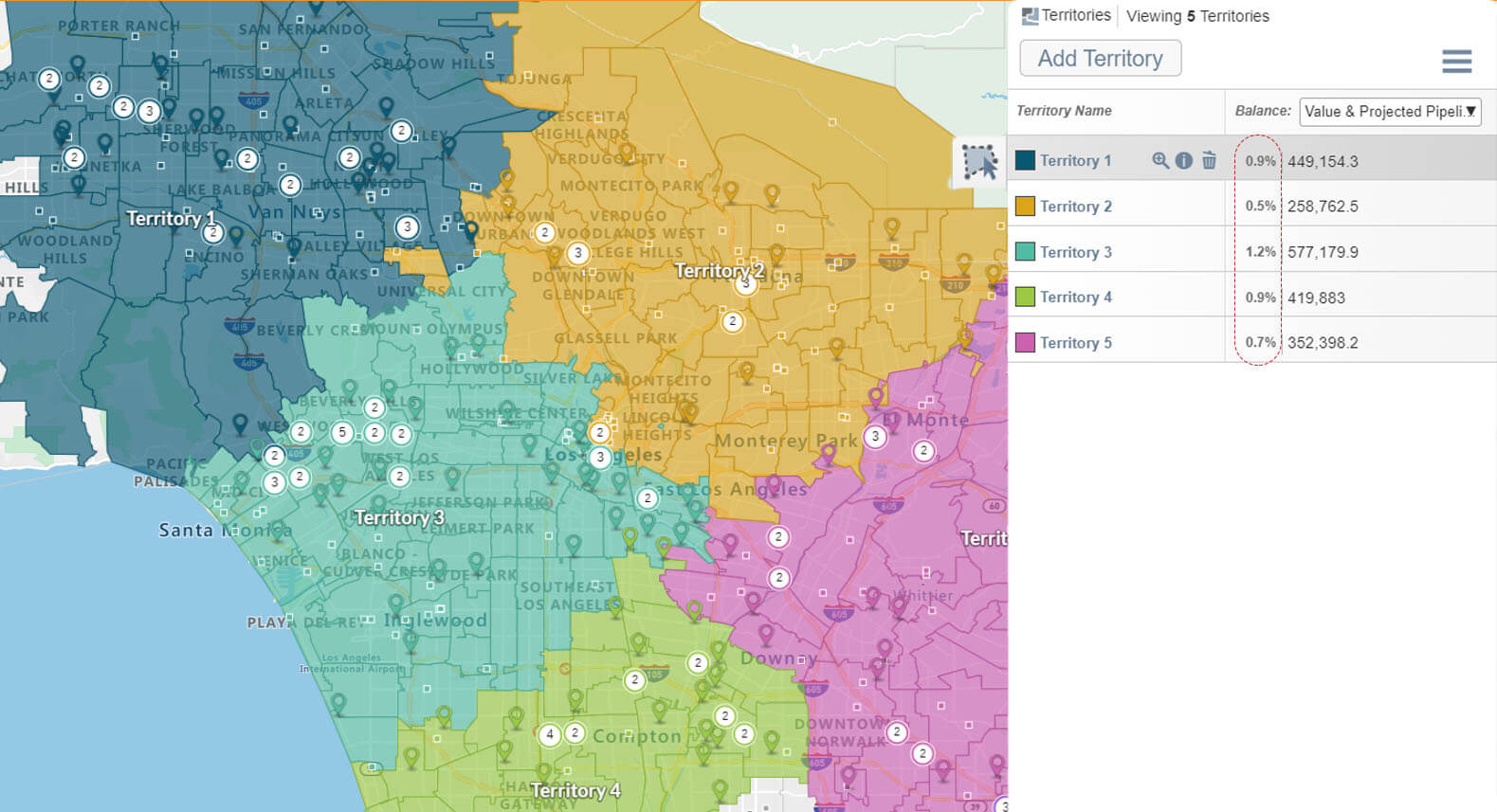 Create and analyze alternate scenarios
Now that we have an overview of the current territory configuration, we can start making changes to balance them. To preserve this version, we can hit the save button on the Control Panel. Then, to start working on the new version, click Save As and give it a new name, such as Southern California Territories – Version 2. This lets us create a second territory proposal without overwriting our current territories.
Once we have a fresh save, we can start adjusting the territories. To reassign areas individually or in bulk, you need to flip the "Allow reassign" toggle on under the hamburger menu. As ZIP codes or counties switch between territories, you'll instantly see how that change has impacted your territories before you commit to those changes.
Scenario 1: Balanced for current and projected revenue
For our first alternate scenario, we'll take the existing territory formation and balance it based on current account value and pipeline value. This spreads out both the workload and opportunities, creating a fairer environment for sales reps and ensuring you're using your resources effectively.
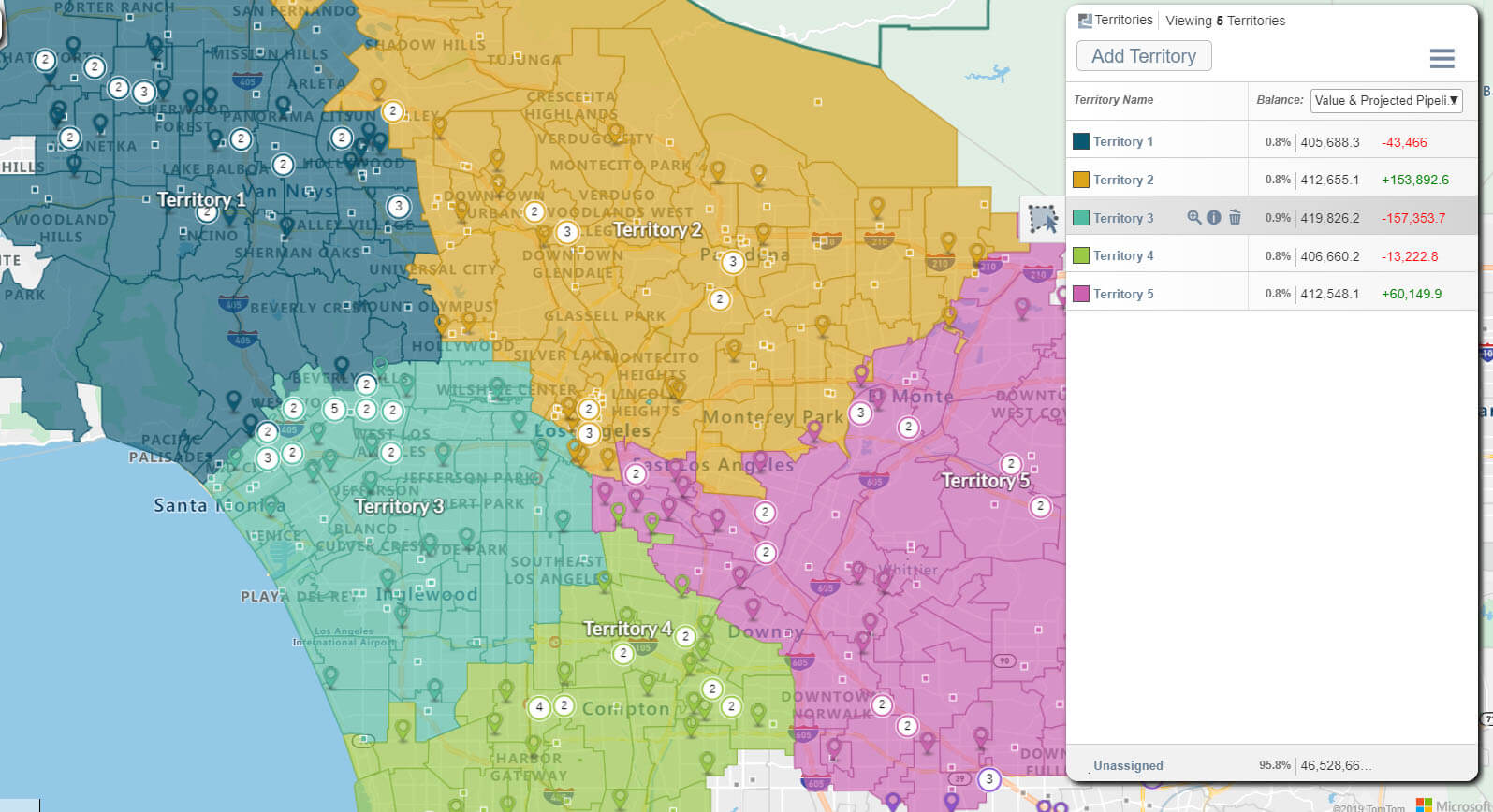 In the above, we've used the weighted balance to re-distribute accounts throughout the region. Before the re-alignment, Territory 3 had higher existing accounts and pipeline value, leading to a major advantage. In this alternate option, Territory 3 and Territory 4 still have the benefit of smaller geographic territories, but their value is now more even with the others.
Scenario 2: Eliminating a territory
Just because you've had five sales reps in this region for years doesn't mean it's the ideal number. In fact, business activity may have drastically changed if you haven't reviewed the territories recently. And if your sales reps have too many accounts or leads to follow up with, you're probably missing out on sales. On the other hand, if things have slowed down, you may be able to save on expenses by reducing staffing levels.
After crunching numbers on the meeting capacity of your sales reps, you can see there aren't enough leads for reps to fill their schedules. To address this, you can reduce the number of territories. With four territories instead of five, you'll save on expenses and give your sales reps more opportunity to hit their targets.
Download your free Sales Rep Capacity Calculator
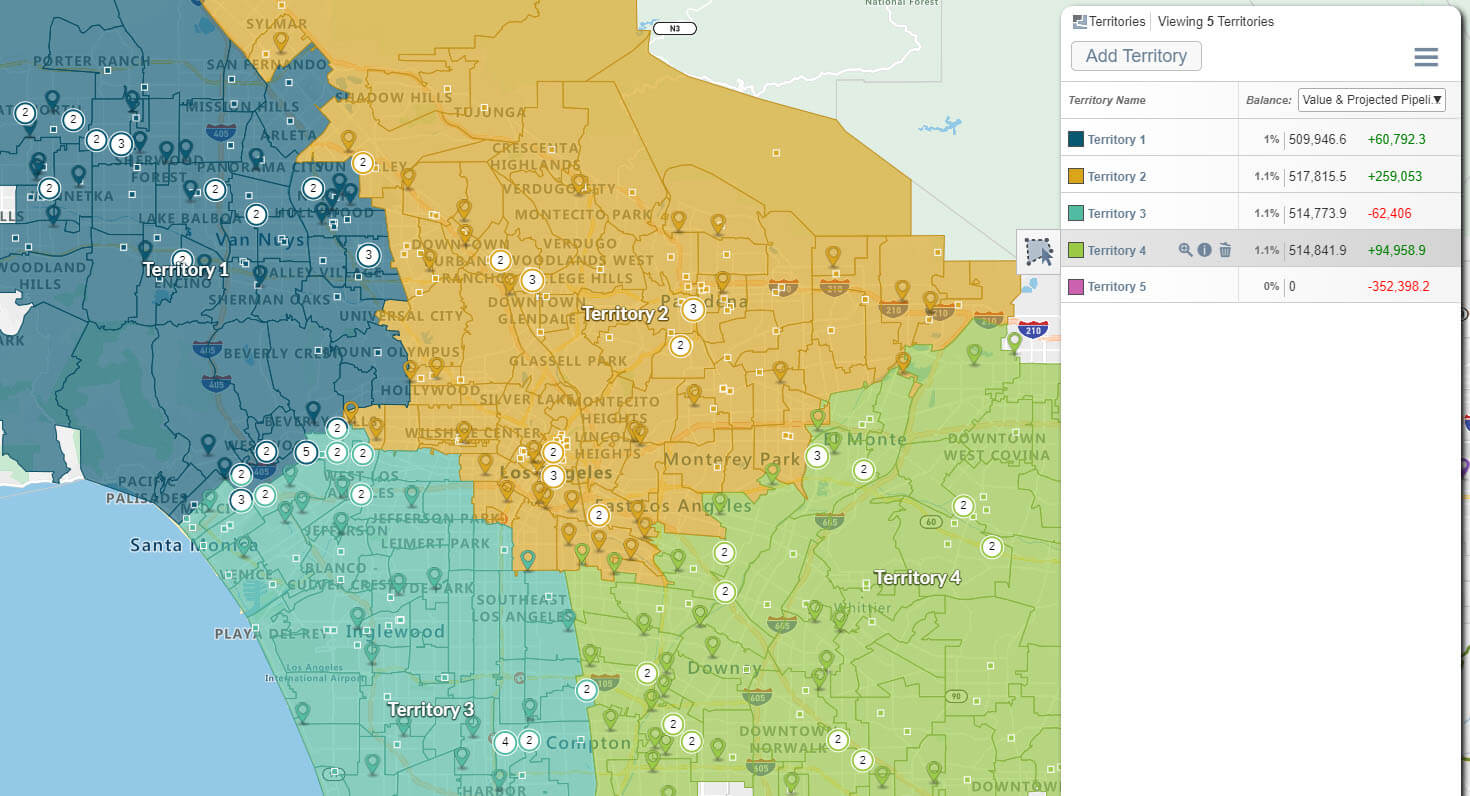 Using the weighted balance, we've eliminated Territory 5 and evenly distributed the opportunities among the other four. Based on that analysis, we now have a scenario that reduces overhead and uses your sales team more efficiently.
Scenario 3: Defining territories on drive time
If you're considering a drastic shake up of your territories, it's worth reviewing how much time you want your sales reps to spend on the road. The less time they spend travelling, the more time they can spend selling. Territory Manager can help you assign all ZIP codes within a drive time zone to a territory. Overlay the balancing and you can make small adjustments to ensure your sales reps have enough opportunity within a reasonable driving distance.
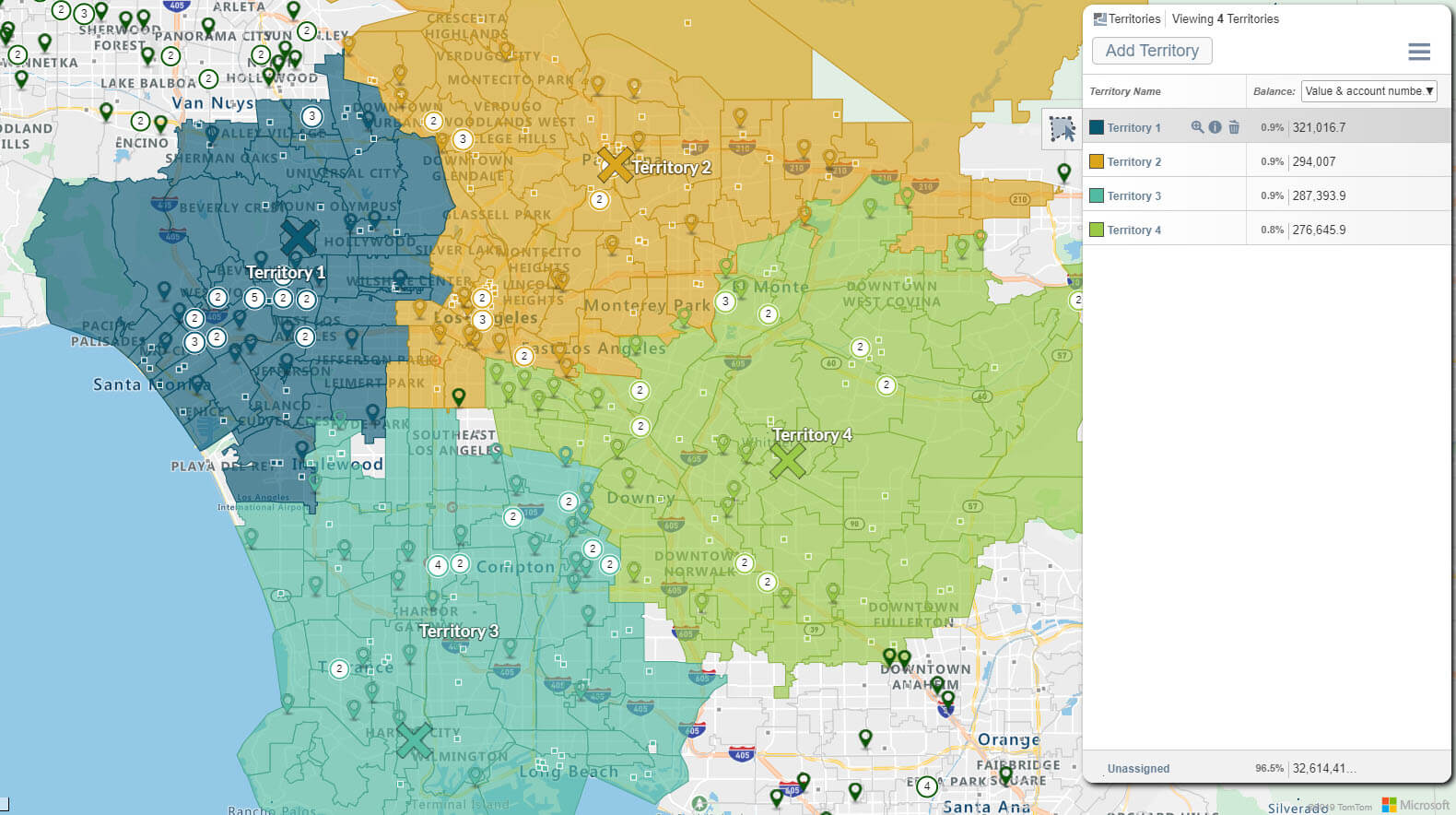 In the map to the right, the territories are based on a 20-minute drive-time buffer centred around the sale rep's home base. With this method, we've created balanced territories and have shown that there are several accounts outside the reach of current reps. This can help justify recruiting sales reps north of Territory 1 and south of Territory 3.
Easily share and evaluate the options
You now have three sales territory scenarios to consider: balance your existing territories, eliminate one, or expand your current coverage area with more reps. Since you've saved separate versions, you can share them all with everyone involved in the decision-making process. They'll be able to view interactive versions of your territories and, if they have their own eSpatial licence, collaborate and make their own iterations. This makes the process of finalizing new sales territories faster, easier and more transparent. In fact, Engel and Voelkers were able to create their territories 32-times faster with eSpatial.
Would you like to try making your own territories? Sign up for a seven-day free trial or book a one-on-one walk-through with our mapping experts.