Maintaining and operating a fleet of vehicles is a major expense for any business, and it can fluctuate significantly based on fuel costs, insurance premiums and much more. So how do you reduce fleet costs? There are many strategies that can reduce the cost and ensure you're getting the most out of your money. Whether your fleet delivers services or transports goods, using data to make decisions is the best way to keep costs down.
Fleet costs fall into several areas, including capital, operating and staffing expenses. Optimizing your operations in a few key areas can lead to savings in all these categories. Let's use the example of a fleet of mobile service vans to review some of the methods that can help you lower your fleet cost.
Review your coverage areas
In our example, let's say the service technicians park their vans in distributed locations overnight. Since they're distributed rather than all starting from the same depot, you can estimate the areas they can efficiently service. This is important for rightsizing your fleet. You may need to adjust your fleet distribution to fix gaps in service or areas with unnecessary resource overlap.To create service territories for your fleet, you'll need the overnight location of all your vans as well as a list of client locations. Once you have this data plotted on a map, you can use eSpatial's drive time buffer to see the area each van can cover in a given amount of time.
In the example above, you can see that the two fleet vehicles, marked with red vans, are able to reach most of their clients within an hour. However, the vehicle on the left is covering only a handful of clients. Meanwhile, the vehicle on the right is nearly an hour away from a large cluster of clients in downtown Boston.
Moving the left vehicle to the east allows it to cover more clients and less empty space, despite causing more overlap between the two vehicles. You can then move the right vehicle further into the city, where it can service a significant cluster of clients more quickly.With this change, both vehicles can cover more clients. It also provides redundancy that will lead to faster and more reliable service. Having more than one vehicle covering a large portion of clients protects against unforeseen issues, like a break down or employee illness. This configuration also means more clients can receive service on any given day.
Whether to remove a vehicle to save on fleet costs
By experimenting with the position of a single vehicle, nearly all the clients can be covered by one service van. This is where you need to consider your priorities – is it better for your business to provide faster service or save on fleet costs by eliminating a vehicle? A few other things to consider include:
Total cost of ownership (TCO): When making these decisions, it's useful to know how much the vehicle is costing you. TCO is calculated by considering a number of factors, including depreciation, financing, maintenance, administration and licensing costs. This number will help you understand how much you stand to save by reducing your fleet size.
Balance: While eliminating the second vehicle will save on insurance and possibly bring in a bit of money if it's sold, the remaining vehicle will have to pick up the slack. It will in turn drive more miles, resulting in higher fuel and maintenance costs.
Workload: Also consider how many appointments you expect to have each day. While one fleet vehicle could technically cover the entire area, you may prefer to plan for the territories to overlap if there are too many appointments for one person to reach in a day.
Emergency redundancy: Having some redundancy in place can also be beneficial if one of your vehicles breaks down or a staff member is sick. Being able to service your clients during these times means you don't lose revenue and can keep customers happy.
Create optimized routes for your fleet
Once you've established your fleet vehicle territories, optimizing their routes can help lower your costs. Driving unnecessary miles adds wear and tear to your fleet, which can increase long-term maintenance costs. You'll also spend more on fuel and labor, which can have an immediate effect on your bottom line.Depending on your business model, route optimization may need to be done regularly. For instance, in our example above, route planning should be a daily occurrence to account for new appointments. Having the right tools and knowledge in place to create the most efficient routes will save on the cost of vehicle wear and tear, fuel and labor, both for drivers and office staff who do the planning.
Some mapping software, like eSpatial, can connect directly with a customer relationship manager (CRM), so you always have the most up-to-date records available. In this case, you can filter clients who have an appointment booked that day.
By mapping the day's appointments, office staff can quickly and easily see which appointments should be assigned to which vehicle. With eSpatial, you can then select the start and end point, select all relevant appointments, and let the software create the most efficient route.You also have the option of adding time at each stop. In the map above, we allotted 40 minutes at each appointment. It's easy to see that the travel and appointment time totals six hours and 46 minutes, which allows time for food and rest breaks during the day.
Preventative fleet maintenance
While preventative maintenance may feel like an additional cost, it can actually keep your overall expenses down and help you avoid some major headaches.If one of your fleet vehicles suddenly breaks down, this can be a major added cost. You'll have to pay for towing and repairs, but there's also the cost of lost productivity. The driver may not be able to make their appointments and the fleet manager will have to spend time arranging the repairs. Time can drag on if the mechanic needs to order a part, and you can lose customers and revenue if you don't have a plan to cover appointments. Beyond the cost of a break down, failing to keep up with regular maintenance can open your business up to lawsuits and penalties in the event of a crash.
Most vehicle manufacturers provide preventative maintenance schedules based on miles, hours run or dates. This is a great starting point if you own your fleet vehicles, but remember that preventative maintenance is more than just replacing fluids and filters. It should include a plan to repair or replace parts before they wear out or break.In some cases, if you lease your fleet, you may be able to get full-service plans that will manage preventative maintenance, provide replacement vehicles and more.If you own your fleet and are managing your own preventative maintenance schedule, you can use radius mapping to quickly see which of your fleet vehicles are due for maintenance, where the nearest approved garage is and, if you need to cover a region where a vehicle is off the road, the location of the closest alternative van.
Replacing fleet vehicles
As fleet vehicles age, they rack up higher maintenance costs and depreciate in value. While it may seem sensible to drive fleet vehicles for as long as possible to save on capital costs, there are other factors to consider when making this decision.
Beyond the cost of frequent repairs, a fleet vehicle that's at high risk of breaking down or is often out of service has a knock-on effect to your business. As discussed above, it can lead to lost productivity, customers dissatisfaction and more.There are several methods of estimating the best time to replace your fleet vehicle. These include:
Age/mileage: One of the most common strategies is to set an age or mileage ceiling for each vehicle. Since wear and tear on vehicles will vary based on conditions, driving style and more, there's no number that will be exact for all your vehicles. Instead, vehicles that hit this milestone should be considered for replacement, rather than automatically replaced, according to Fleet Financials.
Economic lifecycle analysis: A more complicated method is to create an economic lifecycle analysis. This means taking into account: acquisition, maintenance, operation, fuel, downtime, financing and obsolescence costs, salvage value and age or miles to date. Some of these costs are likely to decline over time, such as insurance rates and interest payments on financing. However, others will increase, like maintenance and fuel costs. By forecasting these factors, you can estimate when the total operating cost of a vehicle will start to spike.
Repair cost ceiling: Good record keeping will allow you to keep a running tally of the ongoing repair and maintenance cost for each vehicle. You can then compare this running tally to the vehicle's depreciation. With this information, you'll know when the cost of repairs is more than the fleet vehicle is worth. When the cost of maintenance and repair approaches the residual value of the vehicle, it's a good time to consider replacement.
Insurance premiums and collision costs
The 2018 Driver Safety Risk Report, found that US collision insurance claims have steadily increased over the last five years, reaching a 10-year high. Up to 40% of crashes were work related. Collisions can have a significant impact on your insurance premiums and cause employees to miss work. Beyond that, it exposes your business to additional risks, like lawsuits and other penalties.
Keeping up with your regular maintenance helps, as does hiring experienced drivers with clean driving records. But once you've hired your experienced drivers, you should still be running safety programs that include regular training. According to the report, only 42.6% of companies require driver safety programs for employees using company-owned vehicles.To start improving safety, you should create a driver safety policy. This document outlines a commitment to safety and addresses issues like distracted driving and circle checks. Both management and drivers should review and agree to the policy.
Even with experienced drivers, ongoing training sessions will reinforce good habits and keep everyone up to date on risk reduction and crash avoidance. These coaching sessions should be held on a regular basis with all drivers.
You can also keep a running hot spot heat map that shows all safety incidents, including minor collisions. This allows you to easily see areas where further investigation or more in-depth retraining is required. Alternatively, you could create this map using the value of repairs to give more weight to serious incidents.
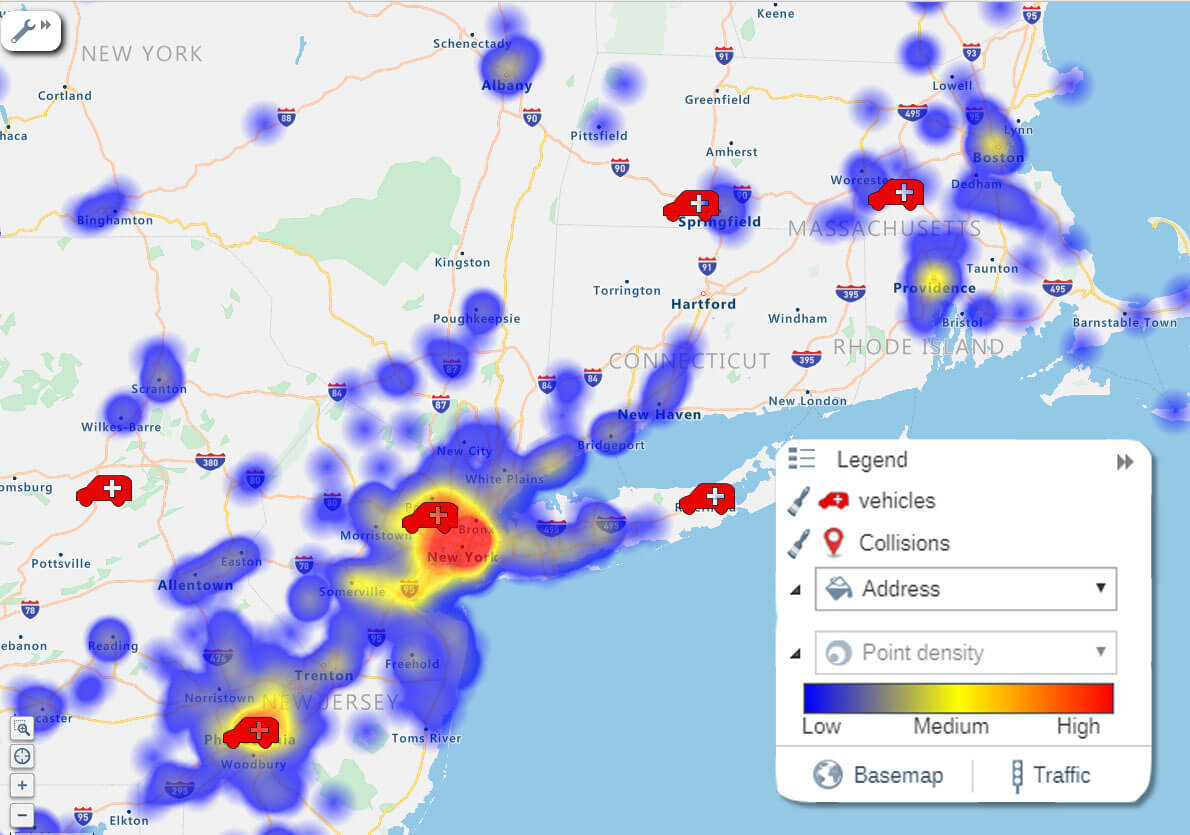 Arranging re-training
Once a hotspot has been identified, you can use radius mapping to decide where to hold the classroom portion of your retraining. Once the location of all the relevant drivers has been mapped, you can use a radius to see which locations will be convenient for the most drivers.
Choosing the right tools
As wireless technologies have grown, so have the options for monitoring and managing your fleet. There are now systems that you can hardwire into your fleet vehicles. These real-time monitors provide a wealth of data about location and driver behaviour.
For companies with large fleets, these systems can be useful, particularly for managing risks around driver behaviour. However, these technologies often require a complicated installation and are expensive, making them less suitable for medium and small fleets.
Much like rightsizing your fleet, choosing the right tools to meet your needs is an important part of keeping costs down. When reviewing your options, consider what you need to accomplish and how your potential tools will help. Will it help you efficiently manage territories for each vehicle, plan routes and use your existing data effectively?
While having a wealth of detailed data can be useful, it can also add more noise. Before committing to a system that will continually track many additional data points for each vehicle, consider how you will use that information. Who in your organization will be responsible for tracking and analysing this data? How will you turn it into valuable insights? Is having access to that information worth the additional cost?
Most small and medium-sized fleets already have lots of data, but need help visualizing and interpreting this information. That's where mapping software can help, turning existing data into easy to understand visuals so you can plan quickly and efficiently.
Those are just a few strategies to reduce your fleet costs. Fleet management is an ongoing process that requires a lot of attention, but using data to make decisions ensures you're getting the most bang for your buck.