Virtually every organization that relies on teams that have to travel on a regular or even merely an occasional basis can benefit in a significant way from the eSpatial data visualization and mapping platform. In a post-pandemic landscape (and one affected by the looming realities of climate change), it's important to ensure that travel is always as efficient as possible.
Neutralizing common pain points
Professional route optimization software is well-equipped to solve some of the most common issues that may arise for you and your team members. Take a look at just a few of the most frustrating issues:
Poor ratio of effort to reward
Sometimes team members fall into a rut. They start following the same route over and over, without much analysis – a pattern sometimes known as "the milk run."
For a new employee, this can result from not knowing where else to go. They may not know who they should target for best results, or how to find more leads. In the case of a veteran team member, it can be a matter of habit. In any role, it's easy to find a comfortable pattern that you keep repeating. But a sales rep who is seeing the same clients on the same schedule every month isn't maximizing results.
Mapping software with advanced route optimization features can help. It puts all necessary information in front of new personnel, which alone can cut down on the complications of learning a new territory. While the new rep is learning the ropes, a manager can help prioritize targets. Whether that means meeting more often with high-value customers or targeting those within a certain industry as the ideal buyers of a new product, mapping software can better align team members with business goals.
For someone more experienced, a mapped-out territory can help them see things in a new light. Filtering by important factors, like potential sales, can reveal a disconnect between effort and results.
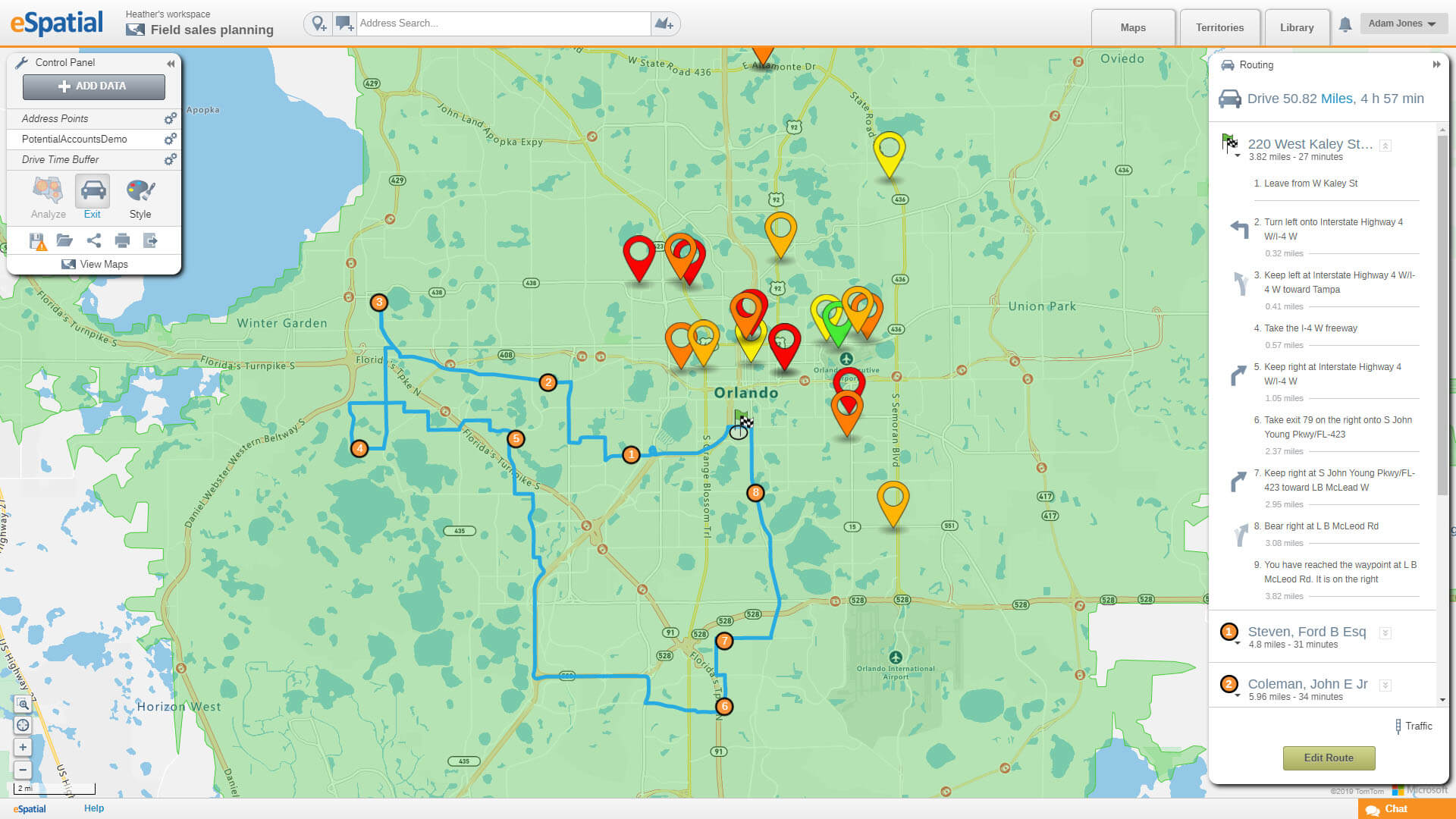 Time and scheduling pressure
One long meeting can throw off a whole day's schedule, forcing a salesperson or technician to push or cancel other appointments. When the unexpected happens, being able to adjust routes in real time is a major advantage.
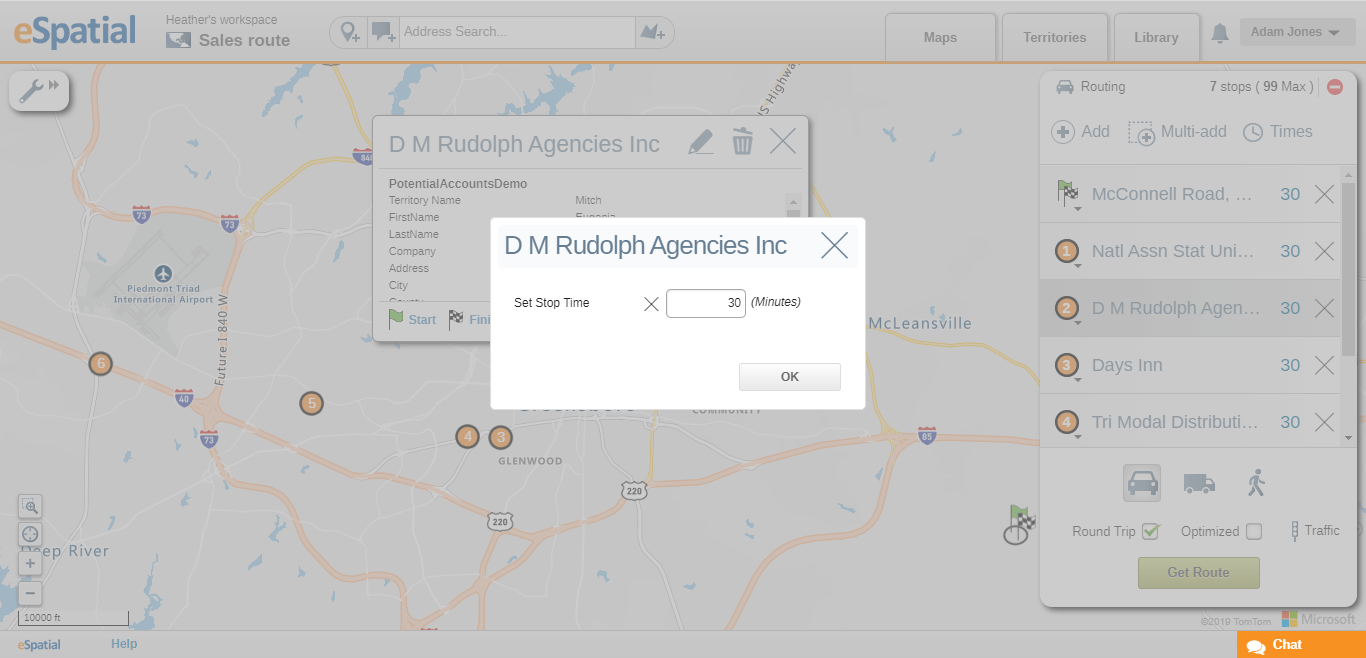 Less-than-spectacular customer satisfaction
When traveling sales reps need to make lots of stops in a day, it can be difficult to prepare for each meeting. One customer may need contract clarification, while another may be looking for a new product demo. But when sales reps show up under-prepared or foggy from the drive, it can impact their ability to perform.
A solution that can optimize driving routes to avoid inefficiency and display details from your company's own CRM data can be a game changer here. Include any relevant information from your CRM, like name and purchase history. With these features, sales reps can reduce their driving time and use these valuable minutes to prepare.
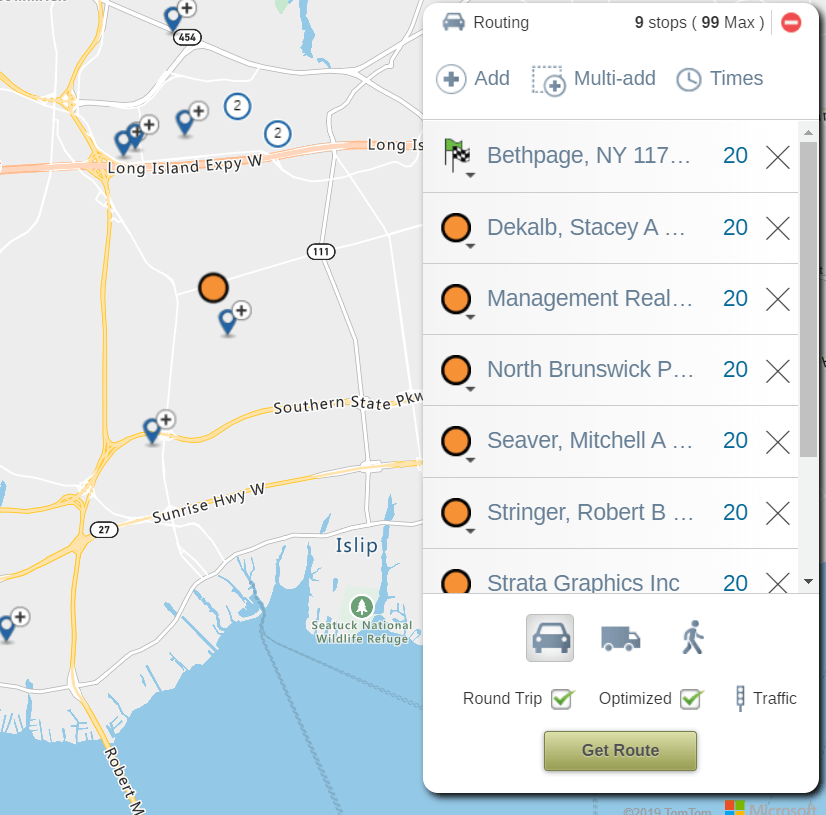 Too much time spent on manual planning
Route optimization can be time-consuming and clunky when done by hand. Although it's important for traveling sales reps and field personnel, it takes time away from meetings and other direct customer interactions. Intelligent route planning software can take the heavy lifting out of the equation. With automatically optimized routes, reps can spend more time on activity that actually drives revenue.
Lack of visibility for managers and support staff
When there's a disconnect between field and office staff, your organization has a problem. To solve this, administrators, supervisors and support staff should have access to route plans.
eSpatial makes it simple to share information among team members. With that data in hand, managers can make more effective decisions about territory management. And if a particular customer needs immediate attention, office staff can quickly and easily contact the closest employee. This not only supports decision making and planning for office admins, but also improves efficiency for sales staff while facilitating better client service.
Imbalances in resource management
When workloads aren't even, managers run into several problems. Some sales reps might not have enough opportunity to meet their quotas. This affects their earnings, can lead to pressure from managers and ultimately causes stress. On the other hand, too much work can cause burnout for any sales or service employee and lead to lost opportunity for the company.
Mapping data allows for the creation of more balanced territories, offering opportunity without overwhelming personnel. When paired with route optimization, it helps ensure team members are spending more time focused on customers and less on the road.
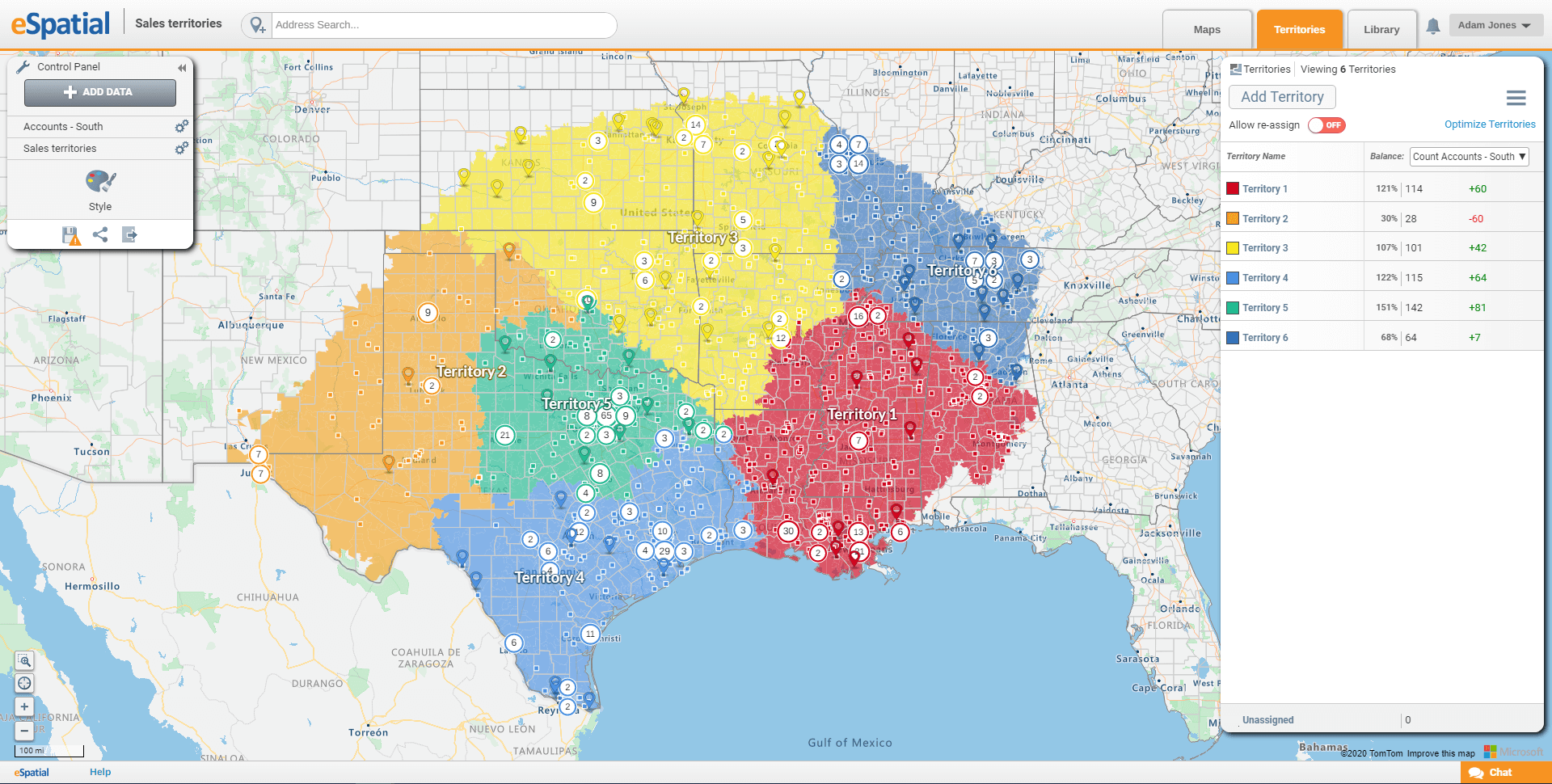 4 potential wins from route optimization
It's important to note that eSpatial doesn't just help you phase out your routing problems. The platform can also put your business on the road to successes it might not otherwise have been able to achieve:
Efficiency – without manual legwork
Route optimization for traveling team members is quick, streamlined and automatic in eSpatial. This means no one has to manually plot routes – or worse, rely on consumer-grade GPS tools for this purpose. Processes that go slowly in Google Maps require only a few minutes when using the eSpatial platform.
Kristen Eldridge, operations support analyst for Motiva and an eSpatial user, noted that the tool has saved her as much as 25 minutes per lead. Because she evaluates and plots routes for up to 30 leads a day, that's no small number of opportunities to save.
"eSpatial saves me so much time," Eldridge said. "I use it to investigate and target high potential leads, then plan routes for the salespeople on the ground. I used to do this with Google Maps, and it was tedious. With eSpatial, it takes only five minutes each."
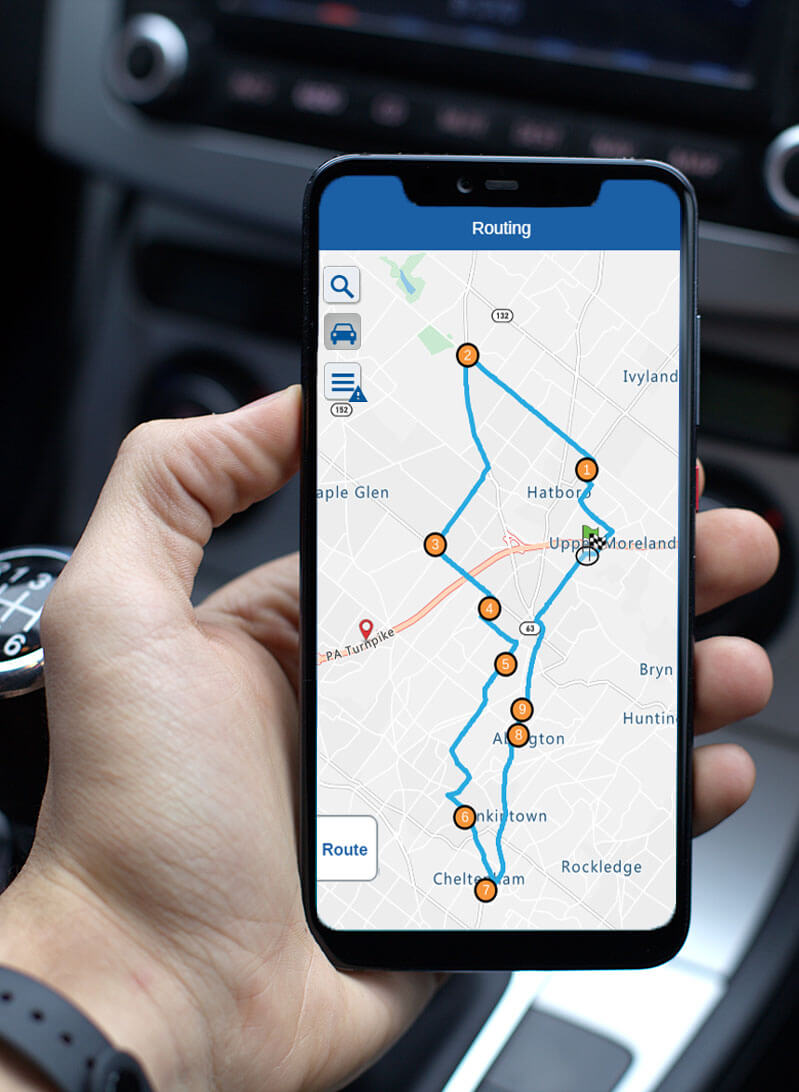 Fuel cost savings (and sustainability)
Intelligent route optimization can also reduce driving time and fuel costs. Considering how much your company spends for fuel and vehicle maintenance on-the-road personnel, you'll realize that the savings quickly add up. Efficient driving routes can also help to lower your enterprise's carbon footprint – an increasing concern for businesses.
Improved resource management and customer service
With more efficient driving routes for field personnel and visual data for team supervisors, resource planning and workforce management becomes an easier task. Sales reps receive equal workloads to prevent overloading or burnout.
"Since we can plan optimized routes for the salespeople on the ground, they can get more done and make more sales," Eldridge said.
Users can also benefit from eSpatial's filtering features to help prioritize accounts. Color coding helps managers and sales reps see which accounts along their route are the highest value, and which leads are the most recent. Prioritizing accordingly can help boost efficiency – not to mention sales.
Andres Delacruz, deputy director of business continuity for NorthStar and another eSpatial user, explained his use of the material: "We have a complete, up-to-date view of our clients, staff, and resources. This enables us to mobilize our staff and resources to the best location to support our clients and quickly react to incidents. eSpatial is an absolute game changer, helping us make better decisions."
Agile planning, on the go
eSpatial enables users to plot multiple stops and include start and ending times for each meeting. Should a stop take more or less time than expected, team members can adjust the rest of the route to match. This helps put an end to scheduling problems and missed appointments, and can even enable staff to squeeze in an extra stop when they have the time.
To find out more about the difference route optimization can make, talk to a mapping expert about your mapping software needs today.