eSpatial has been the top choice for many organizations that needed to replace their existing Microsoft MapPoint mapping software. We've helped migrate thousands of users and shown them how eSpatial makes their current workflows much faster and easier. You can do everything you do in MapPoint and more. For sales reps out on the road, you can plot your accounts and plan your day with optimized routes to make the most of your very valuable time. For sales managers, you can build out your sales territories, analyze your market coverage, and identify new markets or opportunities by overlaying your customer data with third-party demographic data. That's what you can do with MapPoint, we make it easier and faster for you to do.
You're probably wondering about the "and more" we mentioned earlier. Have you ever struggled with collaborating on maps with your colleagues? Do you have to wait until the other person has completed their part for you to get your work done? eSpatial has built in collaboration so not only can you work on the same data or same map as your colleagues at the same time, but you will be notified when they have made a change. You can save multiple maps in the cloud that can be accessed across multiple devices as long as you have an internet connection. And that's really only the tip of the iceberg. At the end of this post, you will find a list of additional features that makes eSpatial the best choice for replacing MapPoint in your organization.
In the meantime, lets show you how quick and easy it is to do what you currently do in MapPoint with eSpatial.
---
Account Visibility
Many sales managers and sales representatives use eSpatial to visualize their accounts on a map. Those accounts are then color-coded to help them quickly see what their pipeline looks like. We'll show you how quick it is to do this in eSpatial. In fact, if you have your data ready to import, you can have a filtered and color-coded map in less than 90 seconds. Now that's impressive, right?
---
Day Planning
Your sales reps spend quite a bit of time planning which clients they are going to visit that day, week, month. They most likely have one or two high priority clients to visit and want to highlight others nearby that they can use to fill in the time between meetings. In MapPoint you'll have used radius or drive time buffers to highlight other clients within a certain distance or drive time of the key clients. You can do this too in eSpatial and again, it is really easy and quick to do.
---
Route Optimization
Once your sales representatives know who they are going to visit, they need to figure out a route that will ensure they make the best use of their time by spending as little of it on the road as possible. The eSpatial routing feature has been built with the sales rep in mind so you can set start and finish locations, start and stop times, and optimize it for the shortest time spent on the road. You can then print your route or open each leg in Google Maps for turn by turn navigation in the car.
---
Territory Management
If you used MapPoint for sales, you likely used their territory visualization features to build and assign your sales territories geographically. While you can build territories from scratch in eSpatial Territory Builder, you don't have to as you can import your existing MapPoint Territories in CSV format and balance, align, or reassign the territories based on criteria such as sales volume or value. In addition to that, you can structure your territories in hierarchies to match your organizational structure and add your territories to other maps for performance analysis.
---
Market Coverage Analysis
Many MapPoint users have come to eSpatial to ensure that they can continue to analyze their sales and service coverage. They are used to doing this with proximity or buffer analysis. In eSpatial, you can continue to do this with both distance and drive time buffers. In the video to the right, we overlay our sales rep locations on top of our customer and territory data. Filter it down to focus on one area and run buffers around the sales rep locations to see which customers may not being getting the best service as they are not covered by a local sales rep.
---
Market Analysis
One of the common use cases for MapPoint was for market analysis to identify new sales opportunities by overlaying their sales data with third party demographic data. This may be one of the reasons you are looking to move away from MapPoint as that data is quickly losing currency and accuracy. eSpatial provides you with over 100 third party datasets to enhance your market coverage analysis. Take a look at our extensive dataset library here.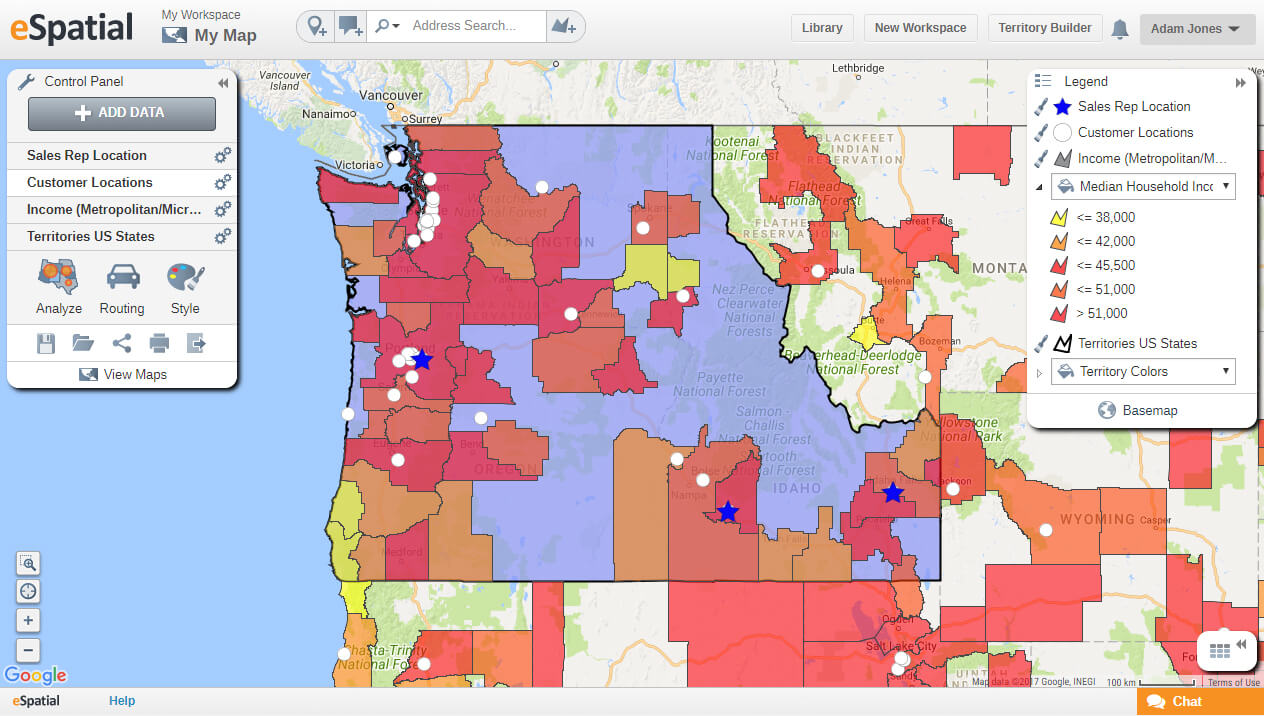 ---
Now that you have seen that you can quickly and easily do all of what you do in MapPoint with eSpatial too, here's a list of additional items that make eSpatial a better mapping solution for your organization.
Data Visualization Features
Extensive Styling Options
Radius and Drive Time Buffers
Nearest Neighbour Analysis
Regional Heat Maps
Hot Spot Heat Maps
Data Filtering
High Resolution Print Outs
Easy Sharing Between Team Members
Enterprise Features
Future Proofed
Cloud Based with Regular Updates
Single Sign On
Mobile Optimized
Accessible on the Road
Seamless Collaboration for Teams
High Security Standards
Integration with Salesforce
Try eSpatial As Your MapPoint Replacement Today
Are you a Salesforce User? Check out eSpatial on the Salesforce AppExchange!