2018 has been a year of significant product releases including our new Salesforce application and mobile solution for iOS and Android devices. We're thrilled to announce our Q4 release this November.
The updates and improvements to eSpatial mapping software in this release are centered around ease of use for our customers. We have compiled all the feedback we've received about how to make eSpatial the most user-friendly product in the market! This has resulted in no less than 15 new features and improvements. These are broken into four categories;
1.

Extended Analysis Capability
Outside Point Analysis
You may be used to running a buffer analysis and upon completion, see the results that are found within each area or buffer. With our new "Outside Points" feature, you can choose whether you want to be able to see points outside the buffer as well. This is beneficial when you want to be able to see which customers are not being served sufficiently by a store, sales rep, service engineer, or distribution center. These points that are outside your coverage areas can then be exported or saved as a dataset for further analysis.
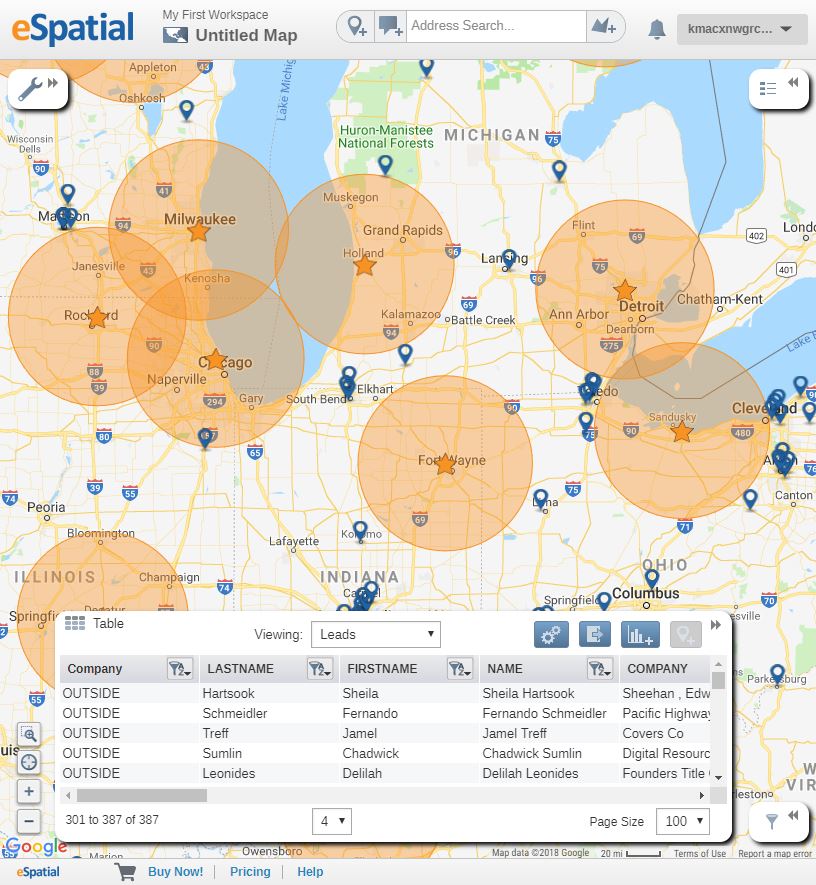 Date Format Support
eSpatial now supports date formats in tables. This allows you to import date columns into eSpatial and use those columns and values to filter and color code your data.
Configure the Legend drop downs
The drop-down feature in the legend in eSpatial is a really powerful feature. It lets you color code your map by different status and attribute information. In this release, you can now limit the available fields and change the order of what's listed for your users. This helps your users to analzyze only the data that is important to the purpose of the map.
Filtering Directly From The Legend
The legend is a quick and easy way to see what is being represented, but we wanted to make it more powerful so that you could also control what you are seeing. You can now visually filter your data from the legend. Up until now, you could hide whole datasets on your map. Now you can hide cohorts of data points from your map, simply by clicking the eye icon next to the cohort you want to make invisible. In the image to the right, you can see the data is color-coded by value. I only want to be able to see data points on the map with a value below $8,000 so I clicked on the eye icon beside the grouping of >$8,000 to hide those points from my map. It is as simple as that. This allows you to quickly test filters visually before filtering the data in the table.
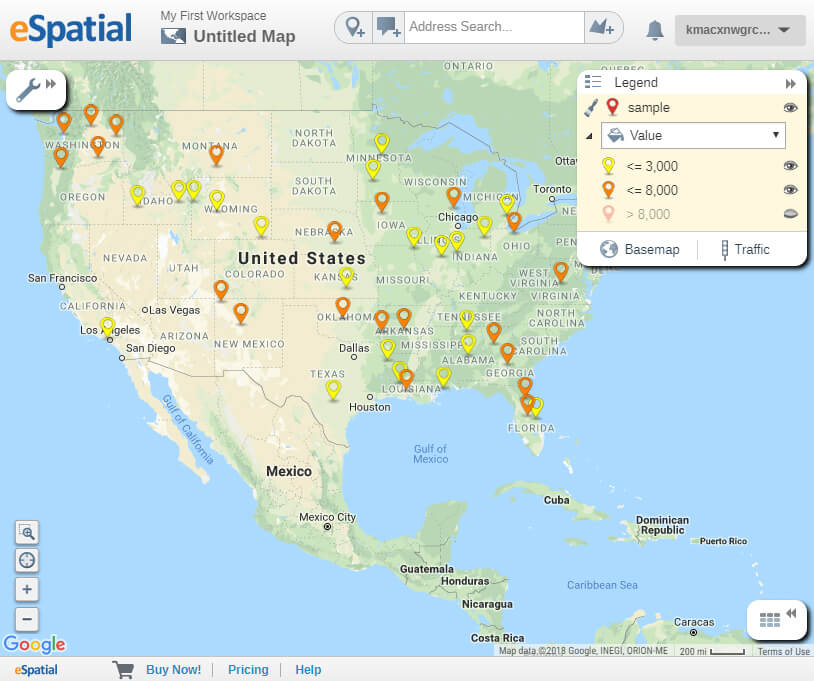 More Capabilities With Shared Maps
Working with shared eSpatial maps is now easier than ever before no matter what your permissions are. You can analyze the data on the map using buffers, filter the data, and you can create routes; all without disturbing the original map. If you want to independently save what you have done, simply save a copy of the map as one of your own!
Default Addresses For Routing
Are you always putting in the same start point when planning your routes for the week? Now you can set that as your default home or office location for use in routing!
Refresh Your Territory Balances
eSpatial has introduced a new button in our Territory Builder. It is called the Balance Refresh button. When the underlying data you use to balance your territories is updated, you can pop into Territory Builder and click the Balance Refresh button. This will allow you to quickly refresh any balancing analysis you have done based on the most current data available.
2.

Administration Feature Additions
Library Maintenance
By the time you are a seasoned eSpatial user you will have accumulated dozens of datasets, workspaces and maps and you'll find that over time. Your library may have gotten out of hand, making it difficult to find the datasets or maps you are looking for. When it gets to that stage it is time for a clearout and our new library usage features are there to help. You can now bulk delete maps and datasets from your library. And don't worry, you won't be able to delete a dataset that is attached to a map. You will get a notification of all the maps a dataset is being used on and you would have to remove the dataset from that map or delete the map to be able to delete the dataset.
Usage Reports
If you're the admin user for your eSpatial account, you can now download a usage report for your account. In this report, you will be able to see the number of logins, datasets, maps, and workspaces associated with each user in your account. This will help you in two ways:
When onboarding users, you can identify those that are accessing and not accessing eSpatial, allowing you to identify any roadblocks in your onboarding and increase adoption.
You can identify how your balances are currently being consumed among your account users. This is important as it can assist in your sharing of resources.
3.

Refined Salesforce Integration

Our biggest release of 2018 was our integration with Salesforce and our availability within the Salesforce AppExchange.Since then we have been garnering feedback from our customers on what we can do to make it even better and some of those changes are coming in our Q4 Release.
Sync For Non-Salesforce Users
One of the best things about eSpatial for Salesforce is that you don't have to have a Salesforce License to use it. This is great for organizations that use Salesforce for their Sales Reps, but Marketing don't have licences. Marketing can access eSpatial and data can be shared between the two departments using eSpatial. And now, the Non Salesforce Users can sync data that appears on their shared map to ensure that they are working from the most current data available.
Address Field Defaults
Many people use different address fields to populate the addresses of their Leads, Accounts, and Contacts. This could be Shipping, Billing, Mailing, or simply Address. eSpatial for Salesforce now allows you to set your Default Address Settings for your Organization so that you can be sure that everyone using eSpatial is mapping based on consistent address fields.
Update Datasets
There really is nothing worse than when you import all your data and begin to filter and analyze, only to realize that you're missing a column. Now with eSpatial for Salesforce you can quickly add in new columns of data. This saves you from re-uploading your data every time you realize you've forgotten something!
4.

Mobile Centered Improvements

eSpatial Mobile was our other massively successful release this year and we are continuing to improve it in line with your feedback.
Mobile Login
When you login to eSpatial on mobile, your session will stay active on that device for two weeks so that when you're on the road, you don't have to log in every time you want to use it.
SSO for eSpatial Mobile
If you use Single Sign On in your organization, you can also use it with eSpatial Mobile by logging on using your mobile browser.
Mobile Legend
We have introduced a new legend for eSpatial Mobile. You will see a legend at the bottom of your mobile screen. When you swipe up, you will see more detail and be able to do things such as visually filter your data and turn on and off datasets.
Export to Waze
You can now export a location in your route map to Waze. The Waze App will open with your current location as the start location and the stop as the target location.
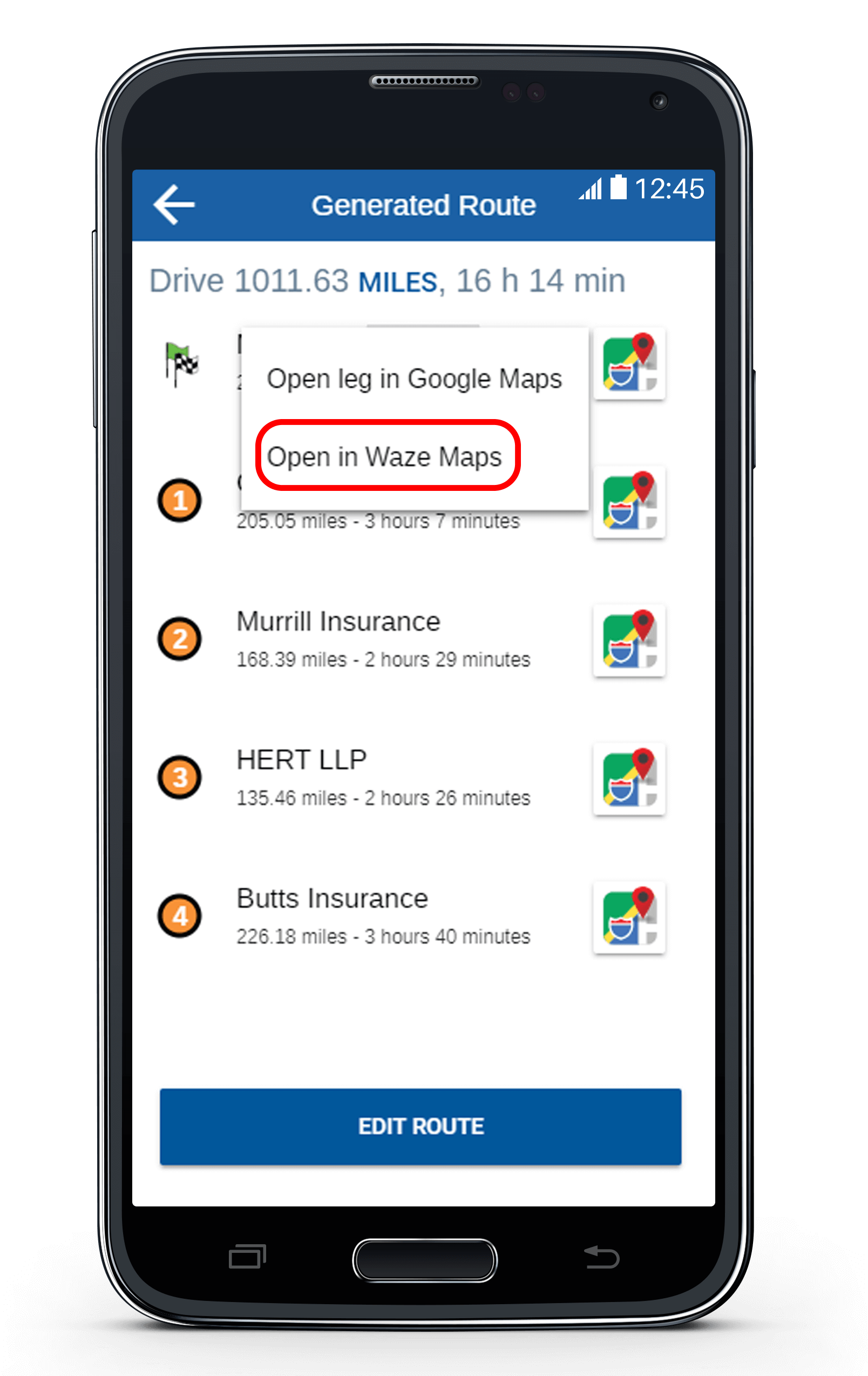 ---
These additions will make your experience with eSpatial even more positive and we look forward to hearing your feedback!If you're an existing customer, you will have been notified of the update via email and if you're not a customer yet, sign up today!