According to the Insurance Information Institute, insurance fraud accounts for approximately 10% of the property insurance industry's incurred losses and loss adjustment expenses each year. These fraudulent claims are most often catastrophe-related property fraud. In these instances, the fraud comes from inflated or opportunistic claims.
For example, Hurricane Katrina in 2005 resulted in insurance fraud where claims were made for expensive home appliances that were never purchased or people were making claims for damage that never occurred. This has led to many insurance companies to enlist the help of forensic meteorologist who can verify weather conditions for an exact location and time to help validate claims.
While forensic meteorologists can verify weather conditions for an exact location, it can be quite a time consuming and expensive effort to validate every claim that comes in. There is a more efficient way of validating and verifying these weather-related property insurance claims using mapping software, which takes less of the forensic meteorologist's time. So how can you do it?
1.

Choose A Mapping Software Solution

You need a mapping solution that will allow you to do the following –
Upload Datasets From Multiple Sources
Overlay Multiple Datasets on One Map
Style Data In Various Ways
Draw Custom Areas
Filter Data To Those Inside or Outside The Custom Areas
Export Data To Excel or Map To PDF
2.

Enlist The Help Of A Forensic Meteorologist

You need the meteorologist to help you identify the following –
Extreme Weather Incidents During A Particular Time Frame
The Path Of The Extreme Weather Incident
The Maximum Reach Of The Impact of The Extreme Weather Incident
What Map Can Help Detect Fraudulent Property Insurance Claims?
The most popular map analysis that our insurance customers use to detect fraudulent claims is a radius or buffer map.
For example, Storm X has just blown over and we have seen an influx of claims for property damage due to the storm. We want to be sure that all claims are valid based on their location and their proximity to the storm path before sending out a claims adjuster to investigate further.
We've liaised with our forensic meteorologist and they have provided us with the latitude and longitudes of the storm path from start to finish, along with dates and time stamps.
Below you will see three datasets on the map.
Path of Storm X

indicates the data provided by the meteorologists on the Storm.
Radius Buffers

indicates the expected distance from the storm path that damage is likely to have occurred.
Post Storm X Property Damage Claims
indicates damage that is unlikely to be caused by Storm X.
indicates damage that is likely to be caused by Storm X.
indicates damage that is highly likely to be caused by Storm X.
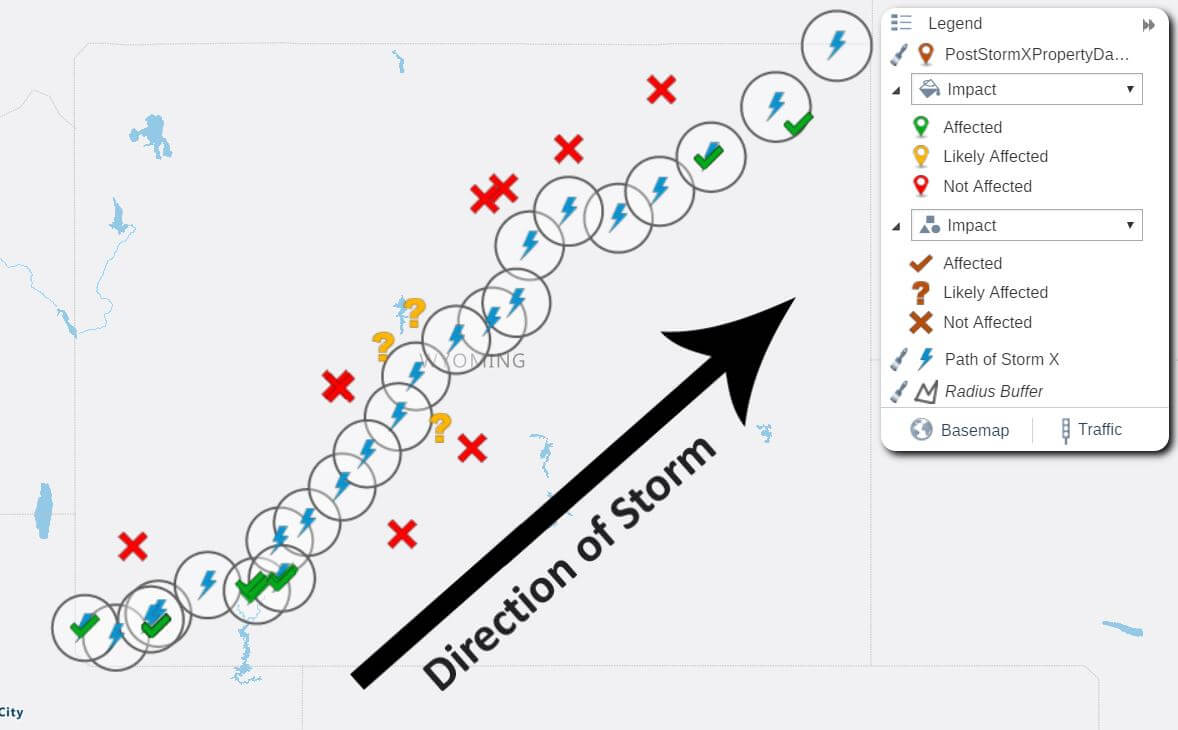 After running the analysis, we can then export the claim data for those that are not likely to have been impacted by the storm and hand that over to a fraud investigator to investigate whether property insurance fraud has been committed or not. The other claims can be addressed by the claims adjuster.
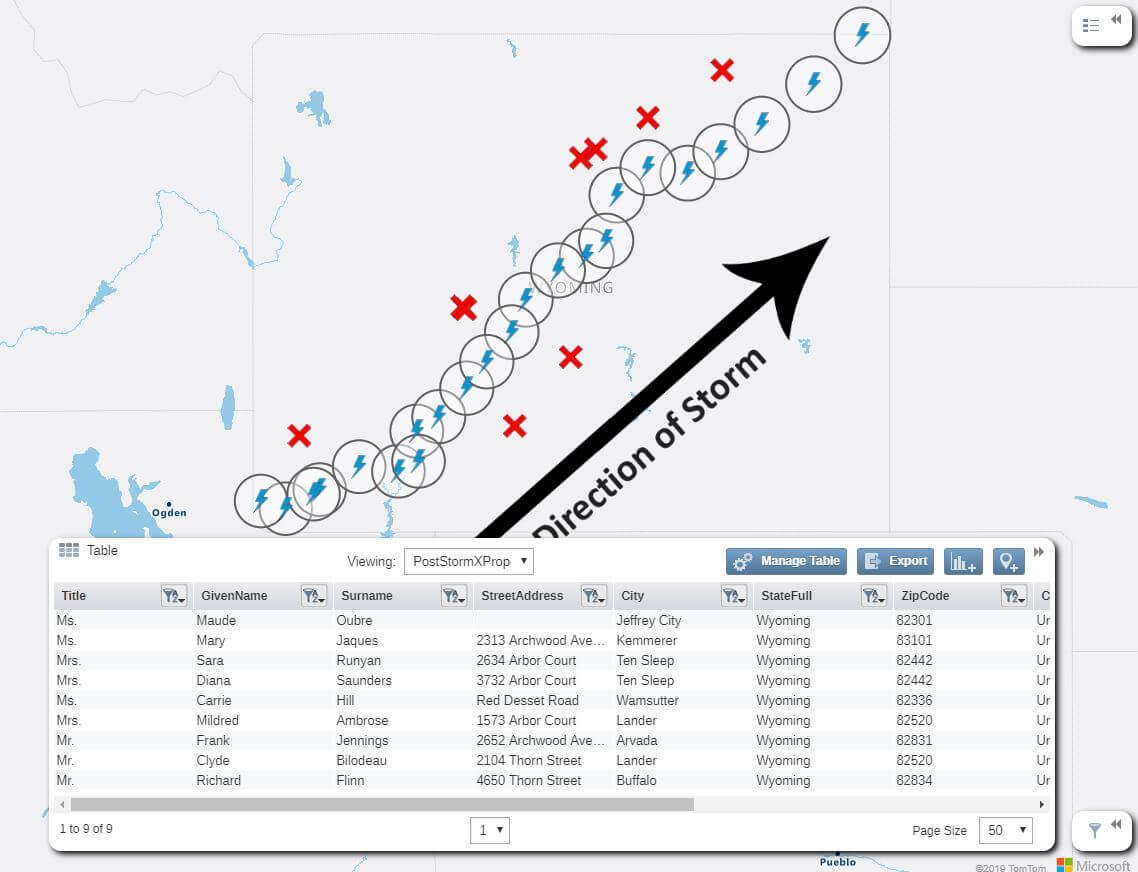 ---
Check in next time for Auto Insurance Fraud – Detect It With Mapping Software. Follow us on Twitter to get notified or chat with us to learn how we can help you with mapping software today.