As COVID-19 spreads, frontline health care workers are increasingly stretched thin. While much of the focus has been on hospital staff, home care workers are another essential service that still need to visit patients. About 12 million patients in the US, in fact. And as people return home to recover after a serious illness, they may also need additional home support.
While facing this crunch, home care companies need to maximize their resources. In such a fluid situation, they also need to make quick adjustments to cover new patients or compensate for staffing changes. Here's how visualizing data can help home care companies be fast and flexible as things evolve.
1. Understand your resources
The first is to map where your patients and staff members. For home care workers, this should be the location they start their day from, whether that's home or a central regional office.
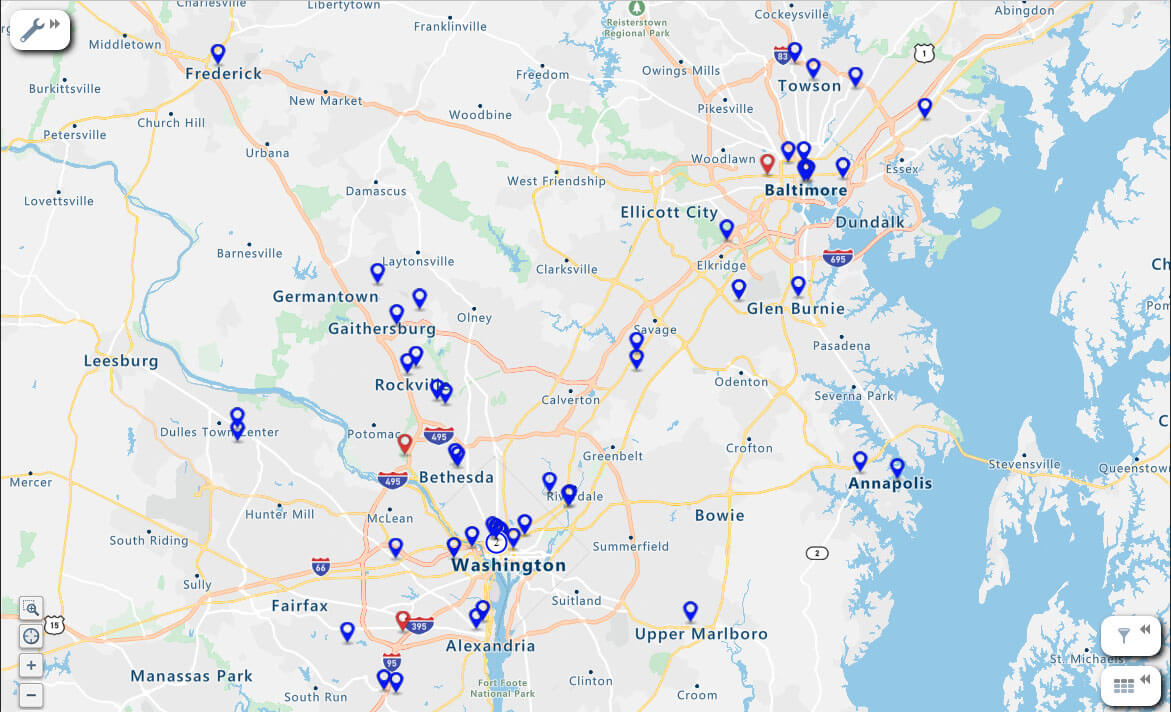 Create a coverage area using drive-time buffers
By creating a pin map with this information, you can efficiently match patients to nearby support workers. Start by creating a drive-time buffer around each of the care givers on the map. This buffer allows you to set a maximum drive time, then draws around the central point.
By taking this structured approach and matching care givers to clients nearby, you ultimately reduce time on the road and maximize the time available for patient care.
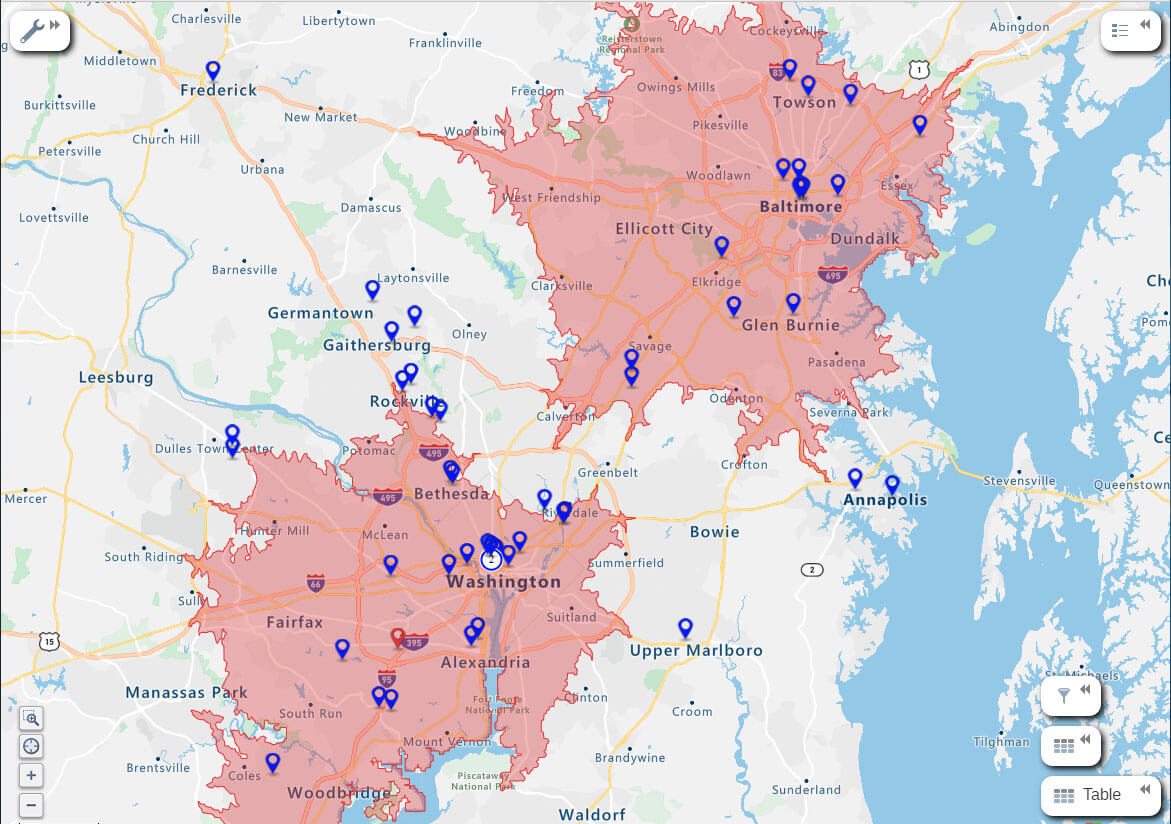 Instantly see where you need more coverage
Now that there are drive-time buffers on your home care workers, it's obvious there are several clients outside of the coverage area. There are also too many clients in the Washington D.C. area for a single person to cover. This suggests that you need to hire additional care workers and shows where you should focus your recruitment.
These adjustments can be made in minutes and updated as new patients require home care or staffing levels change.
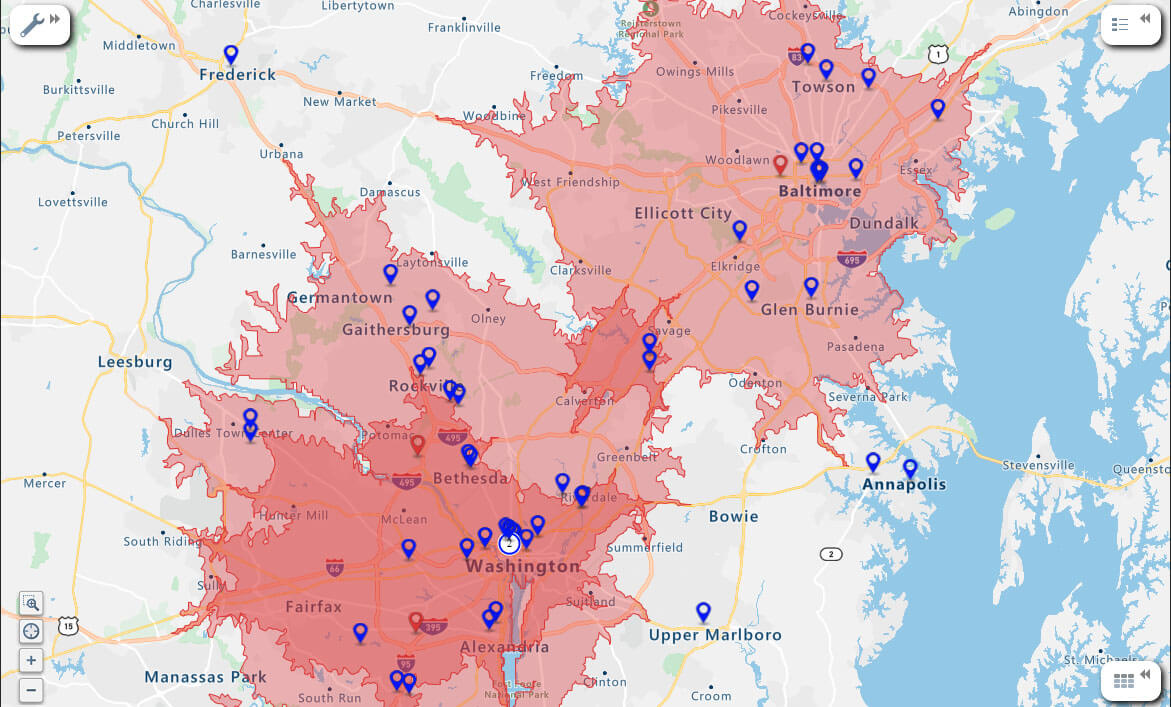 Plan routes for the week
Now you can easily see which clients fall within each care giver's coverage area. If you include columns in f the days each client needs a visit, this can help you plan out the care giver's week.
For example, you can use filters so that only clients who need a visit on Monday are shown.
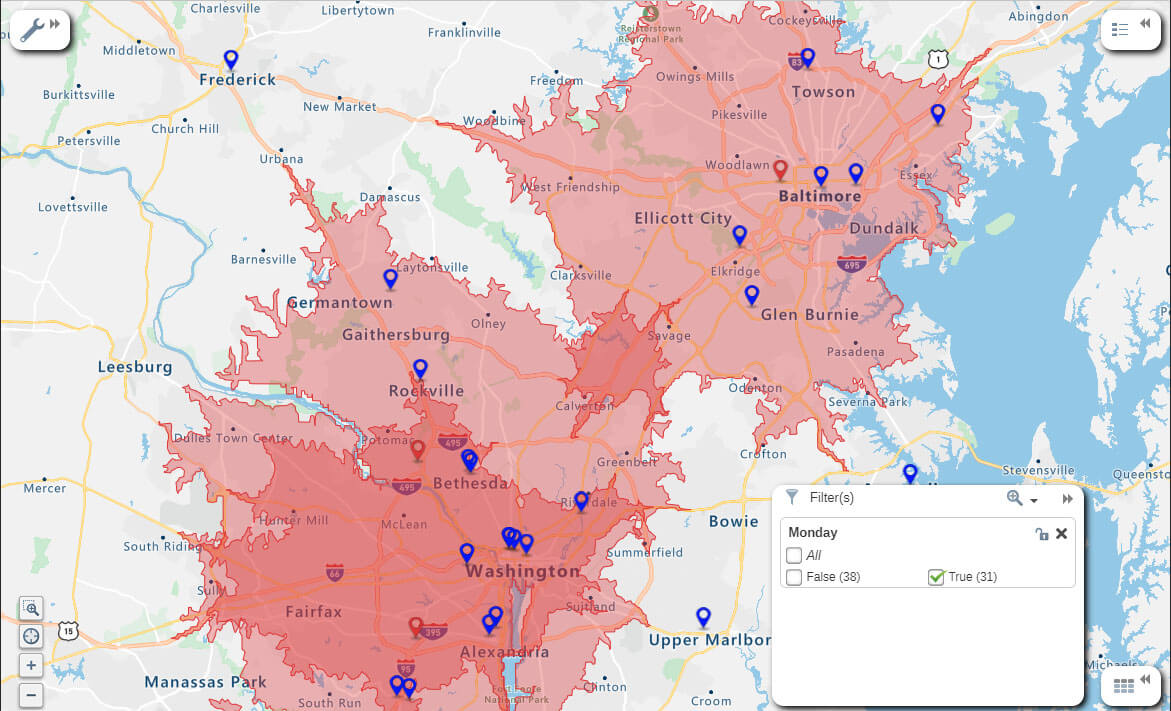 Once you've filtered your clients, you can use route planning to quickly create the most efficient route for your care giver. You can add all the points in seconds and eSpatial will automatically order them and find the fastest route. You can also enter the amount of time the care giver will spend at each appointment. Remember to leave some buffer time to allow for appointments that run long and any paperwork or notes the support worker must fill out after the visit.
You can repeat this process for every day of the week, creating a visit schedule that makes the most of your home care worker's time. Once you've mapped the routes, you can share it directly with your home care workers to use for navigation. If you need to reassign a client to balance the workload, you can instantly send out updated maps.