We are excited about our upcoming Q2 2017 release which includes some frequently requested new features. The two primary areas are buffer capabilities and SSO (Single sign-on). The buffer enhancements include drive-time areas, multiple ring buffers, and buffers within our territory builder (territory management tool). There are a number of routing enhancements and other improvements based on user feedback. The current release timeframe is mid-June. As a cloud solution, our users will automatically get these new features as soon as we release.
---
Buffers
Whether you call it a buffer map, coverage map, or radius map, this is by far the best way to visualise your current sales coverage or service coverage. Businesses' use these maps to highlight gaps in coverage, relocate existing locations, create new locations and merge where there is oversupply and overlap. The additional buffer functionality will give our users greater capabilities in this area.
Within Drive-Time
The new within drive-time functionality lets you create a buffer from a single point or from all points (up to 200 points) in a dataset. You can set the drive-time between 1 and 120 minutes. Please note that the drive-time features will be available in our Power Analyst and Enterprise plans.
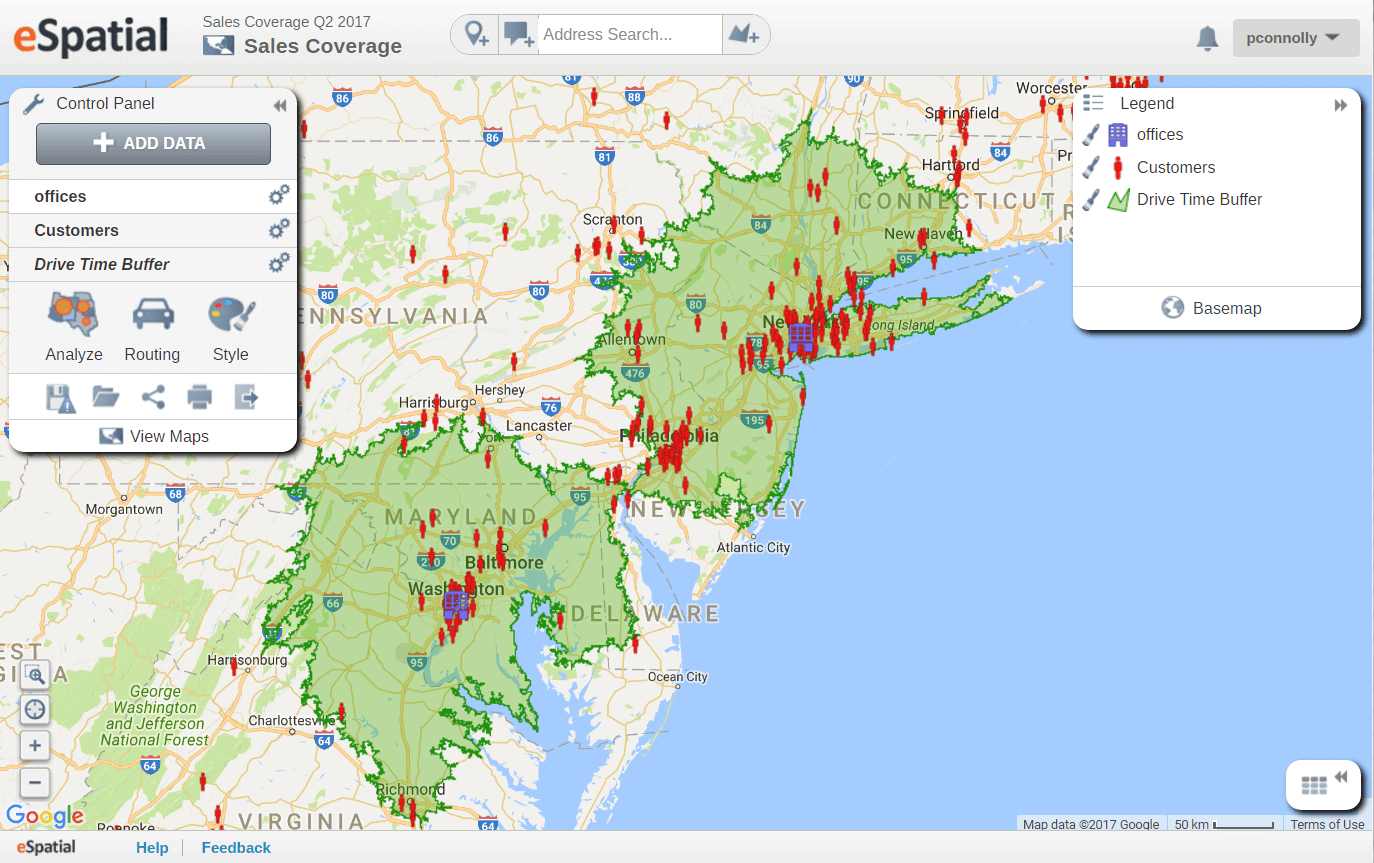 Multiple Buffers
A number of our customers have been looking for the ability to create multiple buffers around a location. This covers a number of use cases including pricing (differentiate call out charge based on distance band from service centre) and scenario analysis.
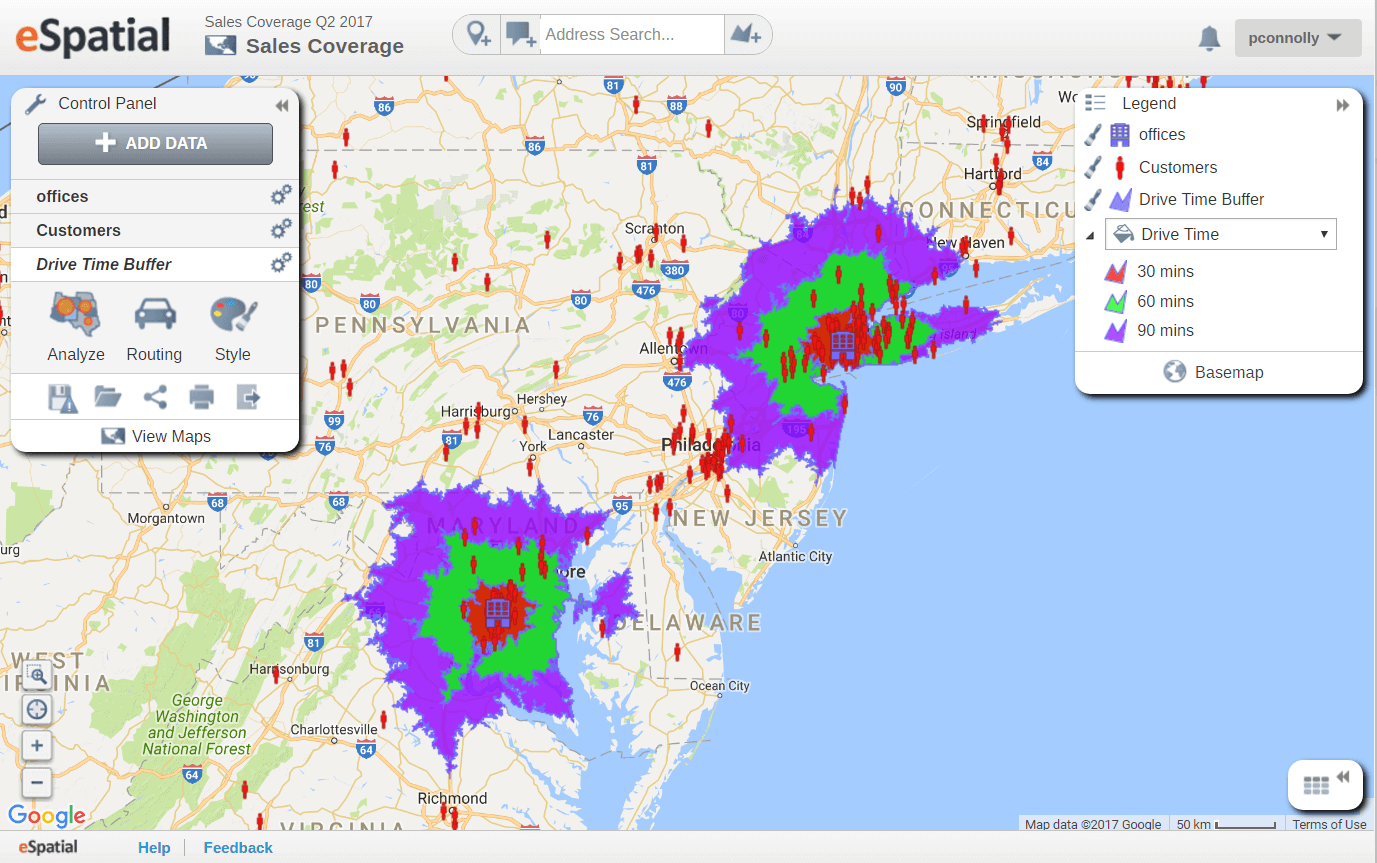 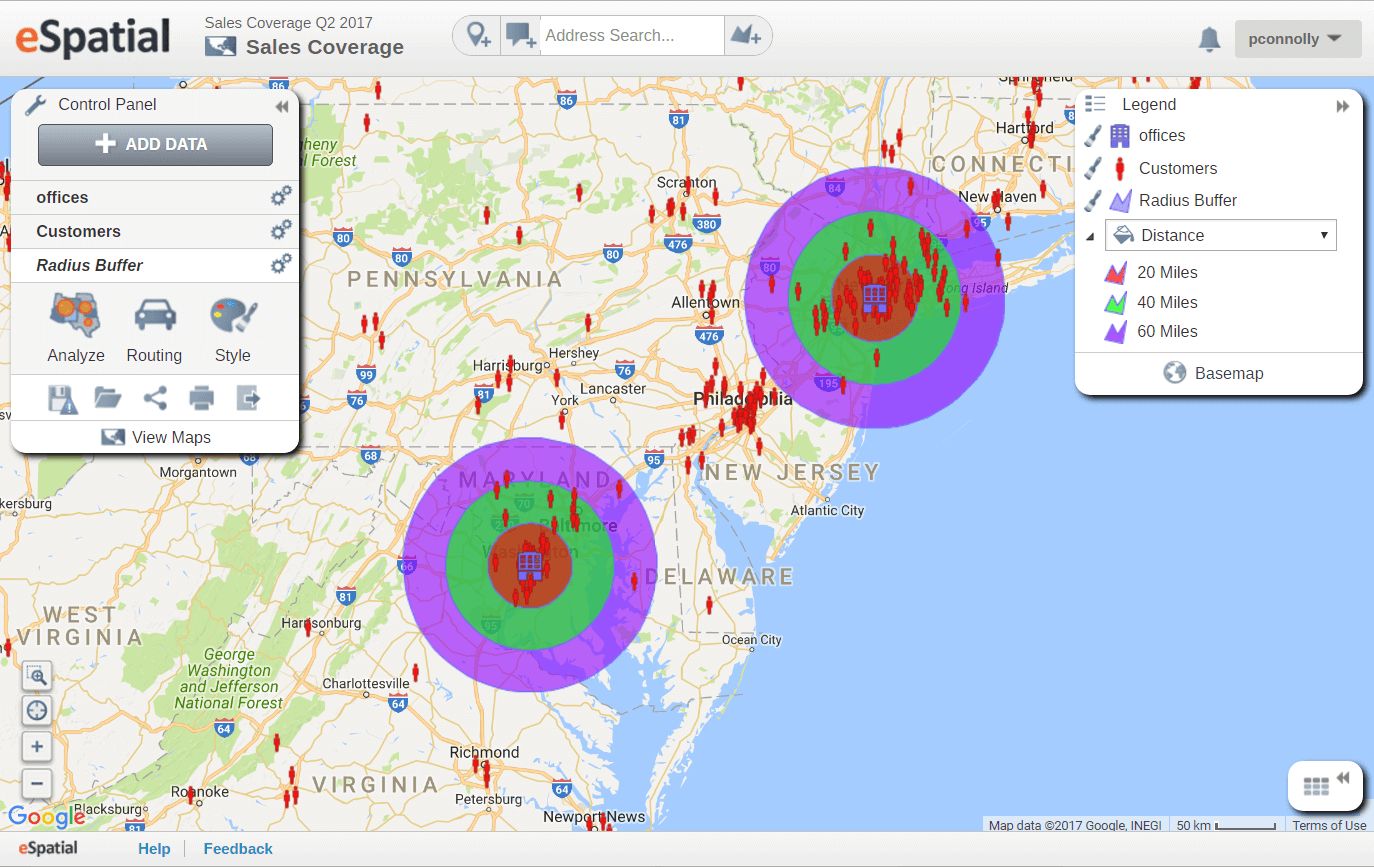 Inside Filter on Buffers
Once you have produced your buffers, radius or drive-time, you can then filter our data from another dataset (e.g. leads or prospects). You can filter the data that is inside a buffer (all prospects within a 45-minute drive of our office).
Buffers From Single/All points
From a map, you will be able to run a radius or drive-time buffer from a single or point or from all points (up to 200). The option to create a buffer from all points is a great way to visualise, understand and communicate the coverage (and gaps) of your business. Overlaying this with other data such as customer data generates a single view of how well your business operation is aligned with your customers. These maps highlight discrepancies and can immediately highlight current inefficiencies and opportunities for business improvements.
Radius/Drive-time Analysis
Radius buffers have always been available in eSpatial Analysis. In this upcoming release, drive-time buffers will also be available in the analysis section. As well as a great visualization tool, using radius and drive-time in an analysis creates aggregate values for each buffer so you can see the volume and value of business in each buffer.
---
Territory Builder
Radius/Drive-Time Time Buffers
Mapping software makes it easy to visualise and better understand your sales territories and franchise territories in a way that you cannot get from a CRM or spreadsheet. Ensuring that territories have fair and similar potential is important for balanced territories and optimum performance. It is equally important that a territory is a manageable size. Are territories too large geographically? Will your team spend the bulk of their day in a car instead of in front of your customers?
You will now be able to use radius and drive time buffers to add as a reference layer and to define your territories ensuring they are manageable.
Territory MapBook
eSpatial's Territory MapBooks are a great way of producing a slide deck of your latest territory definition to present or share. This powerful feature generates a full PowerPoint presentation of each territory on a single or hierarchical territory definition. Currently, this is limited to 100 pages. We have found that companies using hierarchies can hit this already large limit as the MapBook produces a map for every territory in every tier of your hierarchy. With this upcoming release, we will support much larger territory definitions.
---
Routing
Routing is used by our customers to plan their day, to minimize the time they spend travelling, and maximise the time they spend with the right people. In this release we've added a number of enhancements based on customer feedback. These changes include:
Add points from polygon: You will now be able to add all points within a free hand drawn polygon, geographic boundary, drive time boundary or territory boundary.
Export Stop List to CSV: You can export the stops in your route to a CSV file.
Color By Value: You can style your data by colour and include this styling on your data in routing until the point is added to a route.
---
Business Search
We will be introducing new Business Search capabilities in this upcoming release. In the address search bar you will have the option to switch between address search (search for a postal address or location) and Business search that will allow you search for a business type in the current map view. This will return up to 20 results and add them to a table. This is great for prospecting and looking up hotels and restaurants for your trip. This functionality will be available in our Analyst and Enterprise Plans.
---
Single Sign-on (SSO)
Single Sign-on is used by organisations to simplify the management of staff and access to the many applications that an organisation use. Using SSO, an organisation can manage their users in a single location without having to manage each application separately, simplifying both user and application management. From this upcoming release, eSpatial provides enterprise SSO capabilities supporting SAML 2.0 and will be available in our Enterprise plan.
---
Additional Enhancements
Label Control: You can turn labels on and off from the legend without having to enter styling.
Basemap control: The basemap control no longer closes down after you select a basemap. We found that users iterate through the basemaps as they look for the best basemap for each map. This makes it easier to try out multiple basemaps before selecting the most appropriate.
Export to CSV: You can select the dataset you want to export by selecting from the control panel or by clicking on the new export button directly from the table.
Switch measurement unit: You can now click on the map scale bar to switch between Miles and KM.
Are you a Salesforce User? Check out eSpatial on the Salesforce AppExchange!