Have you ever made plans to a visit a list of places and meet people, only to realize half way through the day that you won't get a chance get to half of them?
Its one thing to not be able to meet friends because of a busy social calendar – But missing out on meeting potential clients is a different matter. Missing that meeting could affect your relationship with that client negatively, or result in losing a deal with a prospect.
Route Optimization Helps You Reach More Prospects


Most people who work in field sales will have a list of clients and prospects they are planning to meet that particular day. You may think that having this list is all you need, but to really maximize your time, you need to know the fastest route. Sure, you can calculate the directions to the next client each time, but that is a tedious process and you will only be calculating from client A to client B. You may not be aware that it is more efficient to visit client C, D, E first.
That's where our route optimization software comes in. Our route planning software allows you to make turn-by-turn directions to multiple stops. Simply select a start point (such as your office), and end point, and the stops you want to have included and the most efficient route will be calculated for you for you in seconds.
You can also mix your stops with different types of data. For example, if you're planning to meet prospects, there may be an opportunity to also meet on of your current customers nearby. This can help increase the amount of face to face meetings you can have with your clients, something they will always appreciate.
Route optimization will help your field sales team make the most of their time on the road – meaning less time travelling and more time selling. It not only saves time, but money too, as fuel is saved in more resourceful trips.
Save time
Save on fuel costs
Meet more prospects
It's not just sales teams that can benefit from route optimization. If you're in the distribution and logistics business, our route optimization software can become the backbone of your scheduling and delivery service – ensuring faster deliver times and happier customers.
Share Directly with Mobile Devices
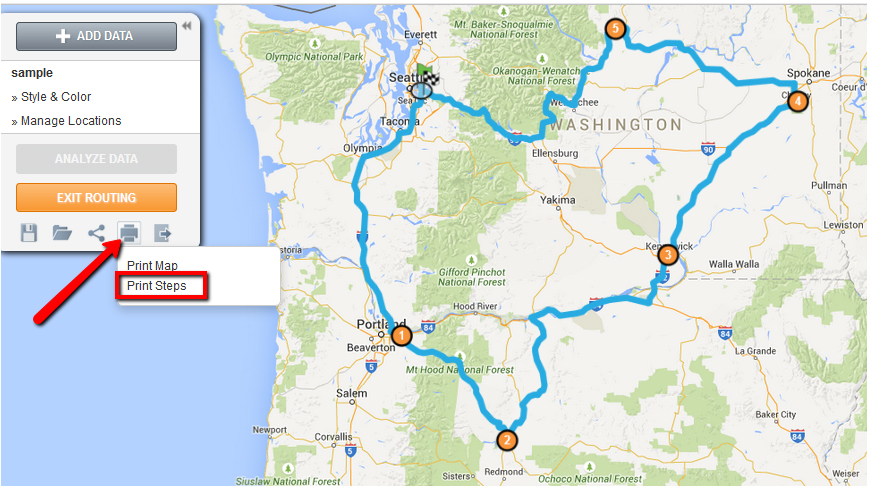 Finally, our route maps can be directly shared with mobile devices such as smartphones and tablets. That way, you can send your team a link to the route directly from you office.
For walk-throughs and help resources on Route Optimization, click here.
Why not try our route optimization software today
Thousands of users are already using it to save time, save on fuel, and most importantly, meet more prospects