Mapping software for sales means more deals, higher revenue and lower costs. This is how to pick the right solution for your sales team.
Today's field sales teams have their work cut out for them. They have to keep up with rising customer demands and tough competition. And they can struggle to make the best use of their sales data.
Sales managers are always being told about the importance of data. This is the 21st century's oil. The most valuable commodity on the planet.
If you can capture and understand your data, you can streamline your sales operation and increase sales revenue.
In this article, we look at how mapping software helps sales teams get more value from their data.
With mapping software designed for sales, managers can quickly visualize data points. This can:
Inform better resource planning decisions
Help you set more realistic targets
Ensure your salespeople get an even distribution of leads
While you can analyze important metrics in a spreadsheet, using mapping software built for sales is faster and easier. It also introduces you to new functionality and new ways to look at your data.
Beyond that, it can be beneficial for your bottom line. Businesses that use specialist mapping software achieve, on average, 7% higher sales.
So, let's get started.
Sales mapping software: What is it, exactly?
Mapping software lets you create sales territories and overlay them with data. It's about visualizing your key metrics and making geography a lens to examine your sales operation.
Common uses of mapping software for sales include:
Where are our best accounts located?
How are different territories split by leads and existing customers?
Where are the best / weakest leads?
What is the travel time between my best rep's accounts?
Are accounts evenly spread?
Are there new sales territories we could expand into?
Has there been a big change in recent performance in a particular sales territory?
If you have the right sales mapping software, you can upload your data and start getting these insights right away.
What can sales territory mapping software do for today's sales teams?
Mapping software can help any sales team, but it's especially powerful for outside sales — or field sales.
When reps are out on the road, top mapping software features can make a huge difference to their performance. Here are some examples:
1. Creating a sales territory map
One of the biggest challenges outside sales teams face is a lack of visibility on the geographic areas they cover.
Territory maps help address this pain point. They enable sales reps and managers to clearly see all the areas the business covers.
With eSpatial, you can load existing territory information from your CRM or spreadsheet. If you don't have territories yet, you can build them from scratch. Each territory is color coded and clearly identified, including the name of the territory and sales rep.
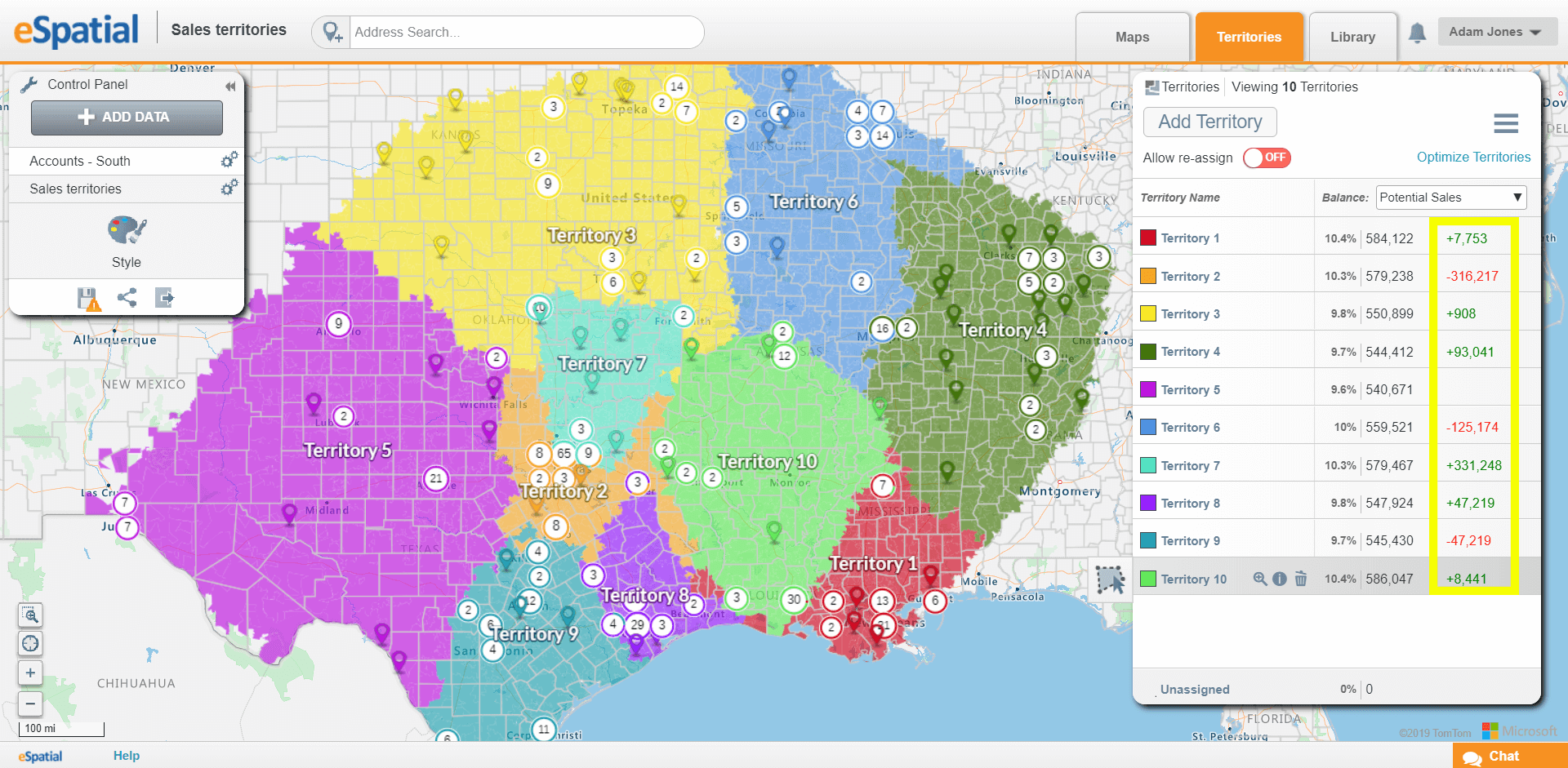 2. Heat mapping for deeper insights
Mapping software for sales can shine a light on your data with heat maps.
eSpatial allows sales teams to create regional heat maps or hot spot heat maps.
Regional heat maps display the value or volume of sales in a particular area or territory. Hot spot heat maps, on the other hand, are helpful when boundaries aren't important. They can help identify peak areas of sales activity and overlooked corners.
This feature is a powerful way for sales team managers to visualize the number of customers and amount of sales revenue in each sales territory.
Sales teams can also use heat mapping to identify the ZIP codes or territories with a high number of potential target customers.
This information is useful for sales reps, but it's especially helpful for sales ops and sales management. Heat maps quickly flag potential problems. For example, a rep with too many accounts or a territory with all low value leads.
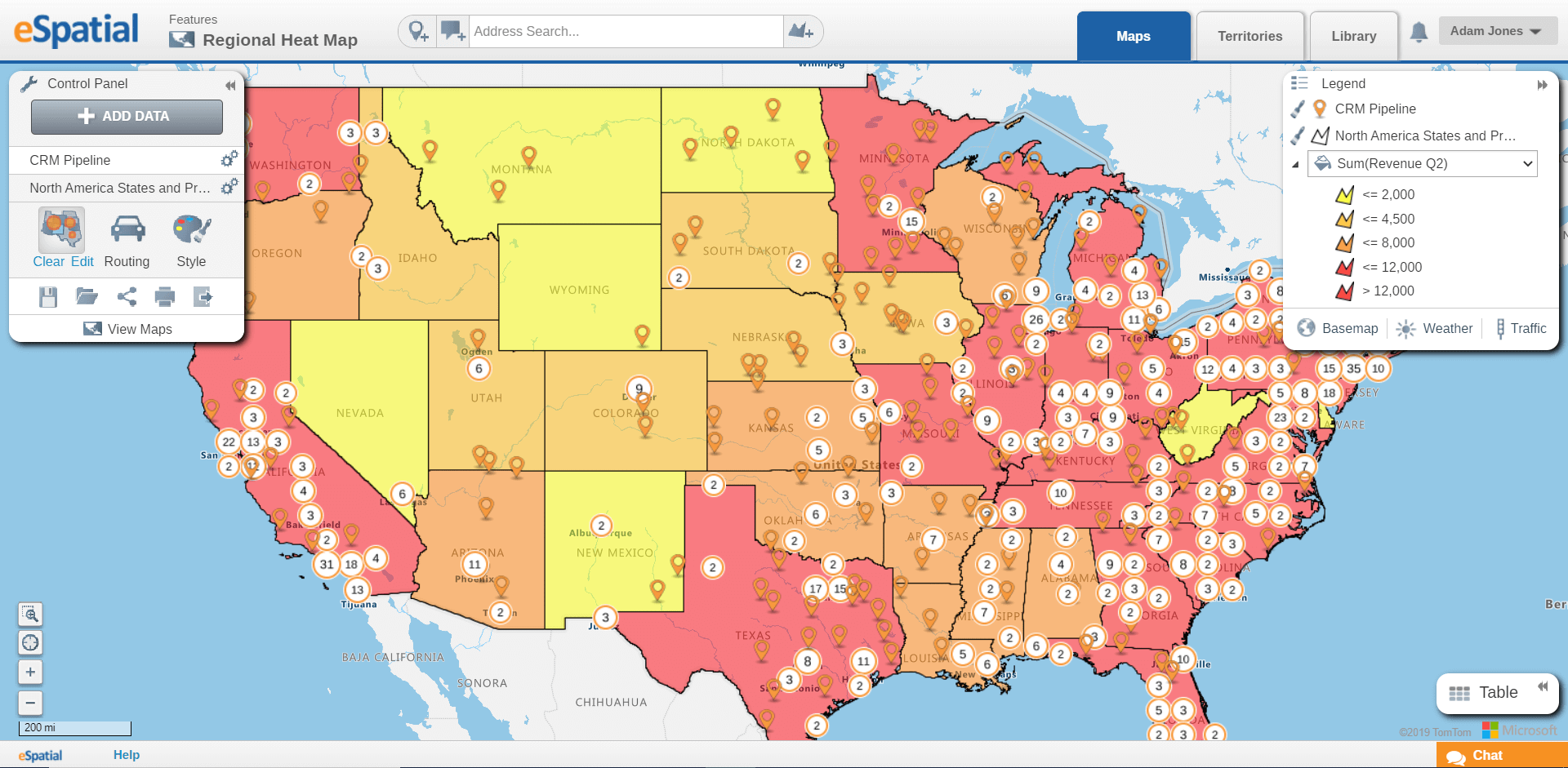 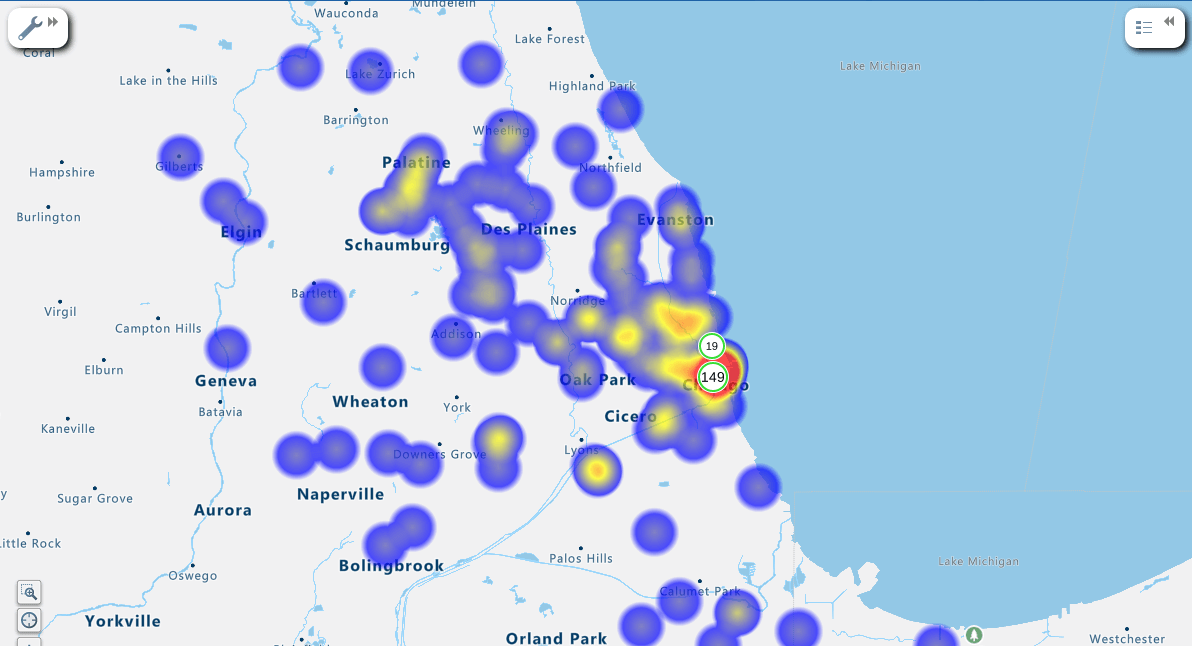 3. Adding in third-party data
As well as using your own data, the best mapping tools for sales provide access to third-party datasets. This data can help fill gaps in your understanding of your territories, customers and leads. With this extra insight, managers can make better decisions and set fairer targets.
With eSpatial, you can gain access to third-party demographic and sales boundary datasets. This includes areas of the US, Canada, the UK, Ireland, Europe, Australia and more.
4. Route optimization for sales meetings
Field sales people spend a lot of their time on the road. But "on the road" doesn't just mean "not in the office." It can literally mean driving between meetings. Time spent in the car — also known as windshield time — is time taken away from closing deals.
If you can optimize routes between meetings you can claw back some valuable time and boost your efficiency.
In addition, route optimization can reduce wear and tear on company vehicles. It also limits your impact on the environment by keeping your sales people on the most efficient route.
You might think you can get all this from a consumer mapping app. But reps who rely on Google Maps miss out on a powerful feature of sales-first alternatives. That is the overlaying of key customer data on your route map.
So, rather than just colored pins, your destinations are real companies or people with useful information right there at your fingertips. This means reps get to their sales calls prepared and ready to sell.
5. A fresh look at your old data
One of the top benefits of the best mapping software for sales teams is the chance to see old data in a new light. A common trap for sales leaders is putting too much weight on what you think you know.
The most successful sales teams are data-led.
And mapping software can help you visualize your data for the first time. Seeing new leads, customer demographics or popular sales routes on a map can make new insights suddenly obvious.
This might prove what you already knew. Or lead to you ripping up your sales plan and starting again.
Sales territory mapping software: Essential features
If your business is ready to sell more and spend less, there are a few critical capabilities you need. Look for these features when choosing your mapping partner:
1) Pull in data from several different sources
Your business probably has multiple platforms for capturing and analyzing data. These might include Excel spreadsheets, your sales automation tools, your CRM or your ERP systems.
With so many data sources, it can be difficult to ensure your sales team has accurate, real-time information. Look for sales mapping software that can bring data from all these places into a single source of truth.
2) Fill in the gaps with third-party dataset
Tracking and analyzing your own data is critical to success. However, you should choose a solution that also offers third-party datasets. It's particularly important to have the right boundaries and demographics. And everyone has some gaps in their data.
3) Establish and balance sales territories
Mapping software for sales must allow you to create well-defined territories. However, they also need to be flexible. Territories naturally fall out of alignment over time as your customer list, sales force and target market change
To see the full benefits of territory management, you should be able to easily adjust, redefine or add to sales territories. Doing this manually can be time-consuming, so look for an option that offers automated territory optimization.
4) Use data styling and visualization
Sales mapping software should offer a range of data visualization options. These might include pin maps, bubble maps, heat maps and radius maps that work with your location data.
The best tools allow users to customize and style these visualizations. eSpatial, for example, offers custom icons and colors, labels, graphs and notes.
5) Secure access through mobile devices
Sales mapping software that's tethered to on-premise infrastructure won't do traveling sales reps much good. It's critical to find a mapping tool with secure mobile access. This lets sales reps leverage powerful features from their desk, on the road, or anywhere in between.
To find out more about how a sales mapping software solution can make the difference for your team – including features and pricing information – connect with us at eSpatial today.