Mapping software for sales holds the key to more deals, higher revenue and lower costs. This is how to pick the right solution for your sales team.
Today's field sales teams and sales managers have their work cut out for them. They have to keep up with rising customer expectations and increasing competition. On top of that, these teams struggle to make the best use of their sales data, particularly when it comes to territory mapping.
However, gathering and analyzing sales data could be the key to addressing your sales team's most pressing challenges. After all, data-backed territory mapping and customer demographics can improve resource allocation. And pairing sales rep performance with sales territory analytics helps complete the puzzle. Without both pieces, you may think a sales rep is under-performing when the real issue is territory design.
Without the right software, this type of data analysis and resource management is all but impossible. To reap the benefits, you need a mapping software for sales. Designed for the needs of businesses, this type of software helps you balance resources and opportunity. On average, businesses that use territory mapping see a 7% bump in revenue.
Sales mapping software: What is it, exactly?
Mapping software for sales is a powerful solution. It does more than just lay out geographic boundaries. A robust and comprehensive software helps sales teams delve deeper into their data. With it, they can gain deeper insight into:
The locations of their accounts
Their area of responsibility
How to prioritize their efforts to get the best results
Areas of growth opportunity
A complete mapping software for sales also features trip planning. It can help traveling sales reps plan their weeks and make the most of their time. They can easily see which accounts they need to prioritize and create the most efficient routes to visit them.
But while route mapping and optimization features are beneficial, they're just one piece of the puzzle here.
Territory mapping technology enables businesses to leverage internal sales data. Depending on the mapping software you choose, you can input data from your database, customer relationship manager (CRM) or spreadsheets. From there, you can use your own data to create an interactive and actionable sales territory map.
What can sales territory mapping software do for today's sales teams?
Once you've uploaded your sales data, your team can unlock the powerful benefits of mapping software, including:
Creating a sales territory map: One of the biggest challenges sales teams face is a lack of visibility into the geographic areas they cover. Territory maps help address this pain point. They enable sales reps and team managers to clearly visualize all the areas that the business covers. With a robust sales territory mapping software like eSpatial, you can load their existing territory configuration from your CRM or spreadsheet. If you don't have territories yet, you can build them from scratch. Each territory is color-coded and clearly identified, including the name of the territory and sales rep.
Heat mapping for deeper insights: Visualizing sales territories can help managers better understand the workloads of their sales reps. Mapping software for sales can also shine a light on customer demands through heat maps. With a powerful tool like eSpatial's mapping software, sales teams can create regional heat maps or hot spot heat maps.
Regional heat maps display the value or volume of sales in a particular area or territory. Hot spot heat maps, on the other hand, are helpful when boundaries aren't important. They can help identify peak areas of sales activity and overlooked corners of existing sales territories.
This feature is a powerful way for sales team managers to visualize the number of customers and amount of sales revenue in each sales territory. Sales teams can also use heat mapping to identify the ZIP codes or territories with a high number of potential target customers. That way, sales reps can get the greatest return for their efforts.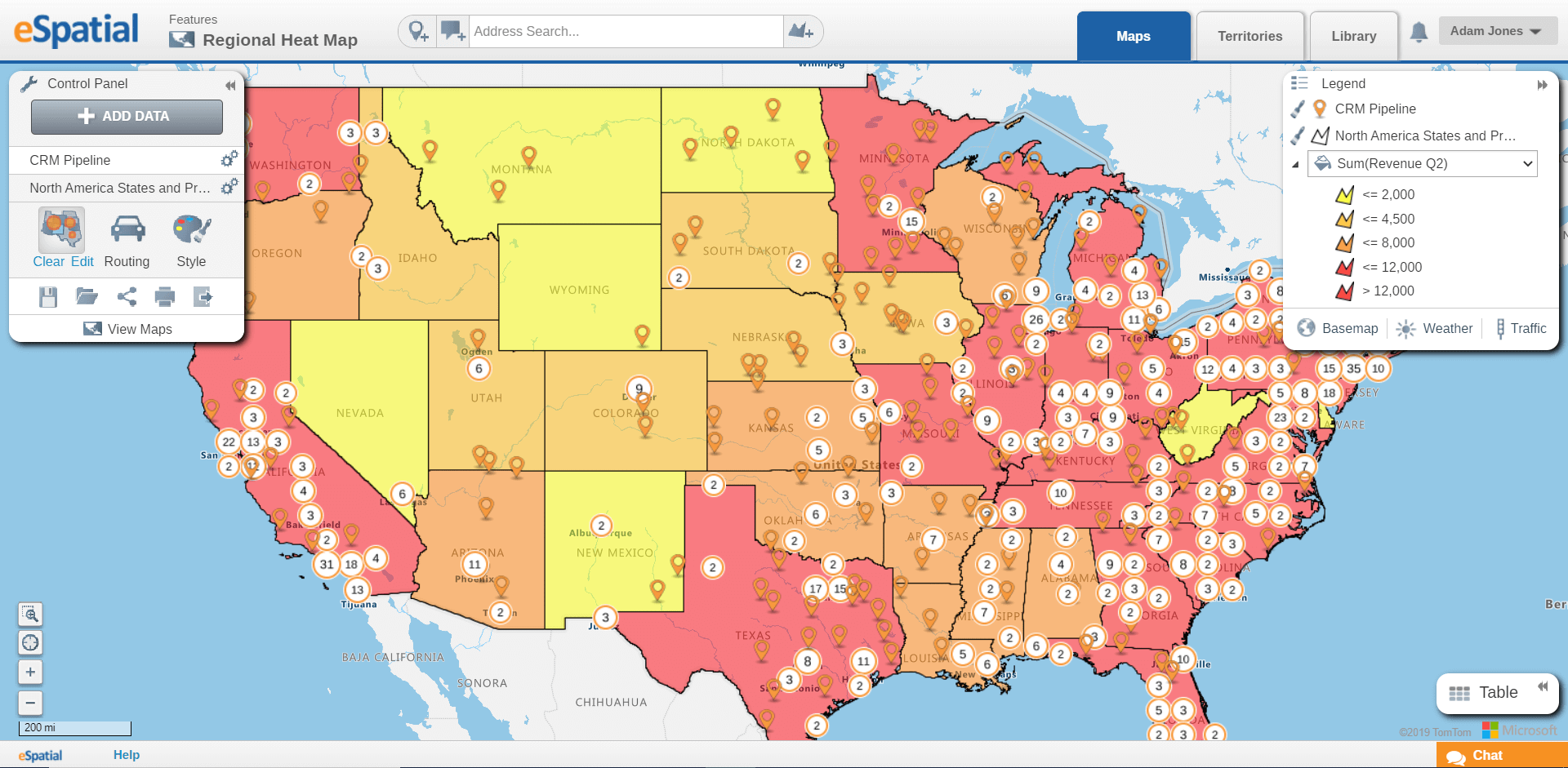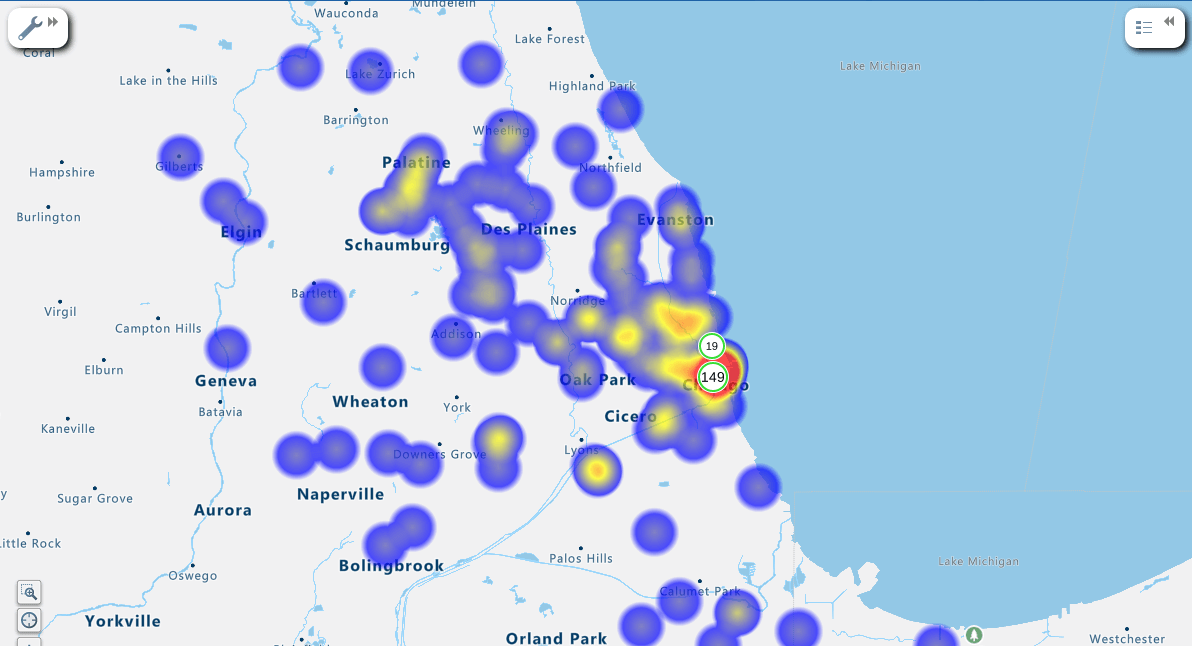 Incorporating third-party data: In addition to leveraging your own data, powerful territory mapping software for sales provides third-party datasets. This data can help fill gaps in your understanding of your customers and market. With this extra insights, managers can better target areas of opportunity.
With a sales mapping software partner like eSpatial, users can gain access to third-party demographic and sales boundary datasets, including for areas of the U.S., Canada, the U.K., Ireland, Europe, Australia and more.
Overall, mapping software for sales can help you win in a competitive sales market. With territory management, data visualization and route planning, you can boost sales and cut costs.
Sales territory mapping software: Essential features
If your business is ready to sell more and spend less, there are a few critical capabilities you need. Look for features that enable users to:
• Aggregate and integrate data from several different sources: Many businesses have multiple platforms in place for capturing and analyzing data. These might include Excel spreadsheets, CRM or ERP systems. With so many different data sources, it can be difficult to ensure your sales team has accurate, current information. Look for a sales mapping software that can take data from all these systems into a single source of truth.
• Fill in the gaps with third-party datasets: Tracking and analyzing your own data is critical to success. However, you should choose a solution that also offers third-party datasets. It's particularly important to have the right boundaries and demographics.
• Establish and balance sales territories: Mapping software for sales must allow you to create well-defined territories. However, they also need to be flexible. Territories naturally fall out of alignment over time as your customer list, sales force and market change
To see the full benefits of territory management, you should be able to easily adjust, redefine or add to sales territories. Doing this manually can be time consuming, so look for an option that offers automated territory optimization.
• Use data styling and visualization: Sales mapping software should offer a range of data visualization options. These might include pin maps, bubble maps, heat maps and radius maps that work with your location data. The best tools allow users to customize and style these visualizations. eSpatial offers custom icons and colors, labels, graphs and annotations.
• Secure access through mobile devices: A sales mapping software that's tethered to on-premise infrastructure won't do traveling sales reps much good. It's critical to find a mapping software for sales with secure mobile access. This lets sales reps leverage these powerful tools from their desk, on the road, or anywhere in between.
To find out more about how a sales mapping software solution can make the difference for your team, check out our website and connect with us at eSpatial today.