Overlay your franchise locations with demographics and sales data to design fair and profitable territories that existing and future franchisees will want to be a part of.
When looking to expand your franchise business, one of the first things you need to look at is territory design. It's going to be the first question a potential franchisee will ask and may be the deal-breaker for many. If you're a long established business you may already have your territory criteria defined and if you're a new franchise you may be setting that definition. Either way, mapping plays a massive part in deciding on where to expand.
See where your customers are
Making the decision on where to expand your franchise should be based on facts and figures after much analysis. A quick way to identify areas for further analysis is using mapping. Upload your customer data from a loyalty system along with your current franchise locations. You can also upload your current franchise territories if they're based on geographic markers such as ZIP or postcodes. When you have this data uploaded, you can run analysis to identify areas where customers are traveling to a franchise location from outside the franchise territory. This will give you an indicator of the sales potential of a new franchise location.
The map below shows an example of this in Dallas County in Texas. The stars represent current franchise locations. The orange map pins represent customer locations and blue circles represent a one-mile radius around the franchise locations. In addition to this, the grey lines are ZCTA (ZIP code) boundaries and the red lines are county boundaries. From this, you can clearly see where there is the opportunity to expand the franchise with multiple new locations to cover the existing customer base.
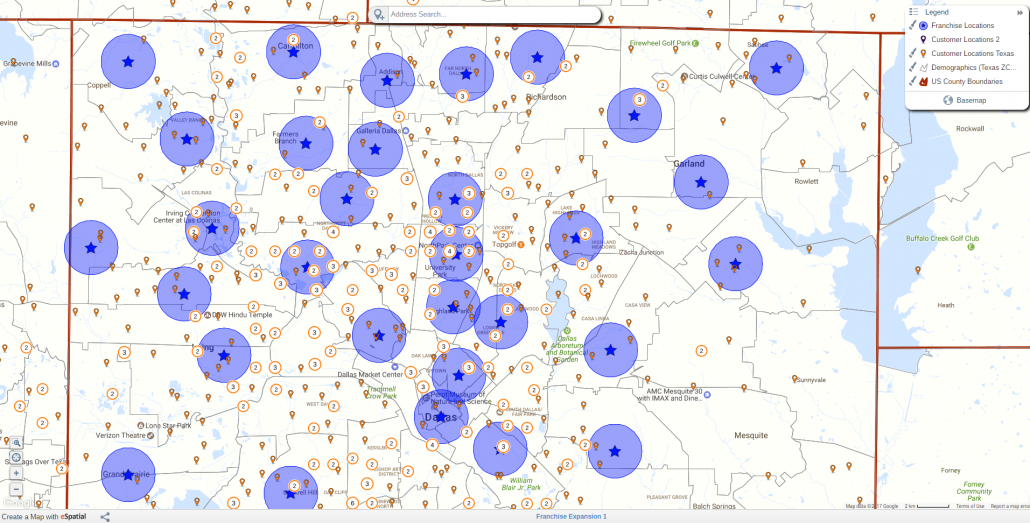 Enhance your analysis with third-party demographics
Based on your own customer and franchise location data you can easily identify new areas for the expansion of your franchise. By overlaying that data with third-party demographics such as age and gender, you can prioritize which of the new locations needs to be filled first to achieve revenue targets for the year. For example, in the map below we've overlaid the above map with age demographics and color coded the map to help identify areas of a high percentage of 40 – 49-year-olds, which is the target demographic for our franchise. It is color coded from yellow to red to show low to high percentages respectively. Immediately there are areas that stand out and warrant further investigation. Based on this data, I would be recruiting new franchisees in the north-east, northwest, central, east-central and southwest regions.
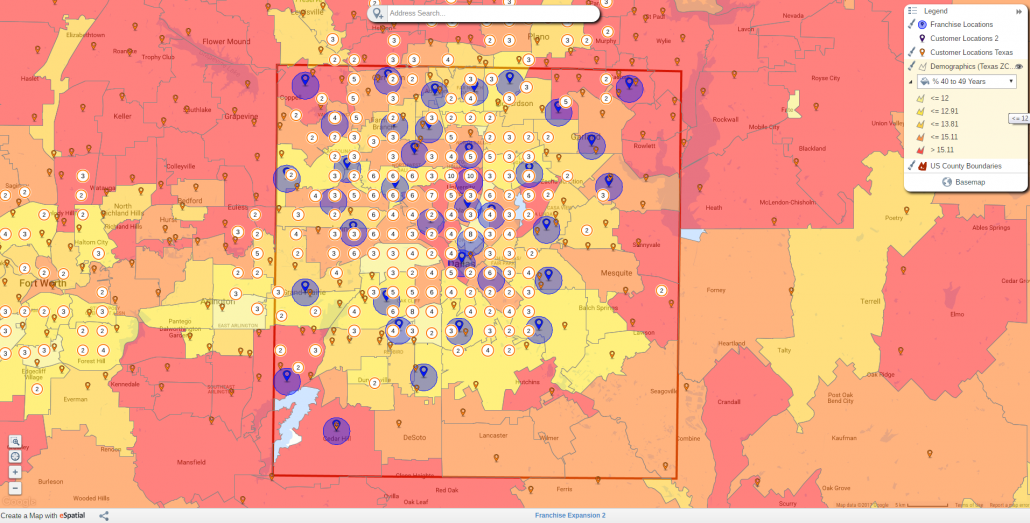 Know where your competitors are
Competitor locations are a deciding factor for many franchise operators. You may want to locate your new franchise in an area that already has competitors to really disrupt the market or on the other hand, you may want to choose a location with no direct competitors but lots of opportunity. Mapping your competitors on top of your customer and franchise location data allows you to identify what that potential may be.
For example, in the map below we have identified a location with a similar demographic profile to our other high performing stores (white map pin). Around this, I've run multiple radius analysis. The purple radius is a distance of one mile and the white radius is a distance of five miles. We can see that there are no direct competitors (red X) within a one-mile radius of our proposed location. However, there are 10 competitors and three other franchises located within five miles of it. Depending on the license agreement you have in place for your franchisees, this may or may not be a good location.
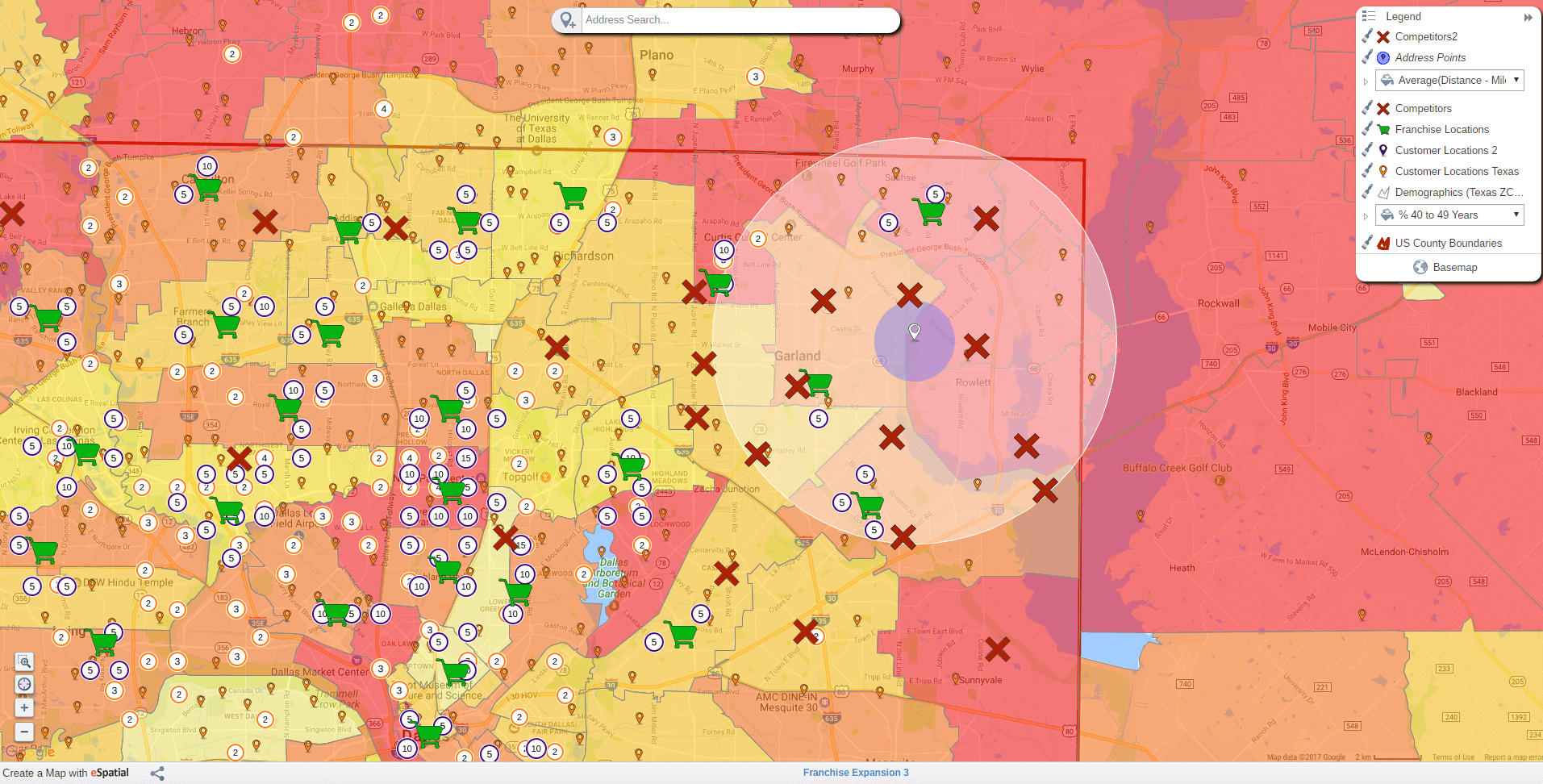 Mapping your franchise expansion plans is quick and easy to do with eSpatial. From uploading your data to running a radius analysis, you can start getting deeper insights from your spreadsheets in a matter of minutes.
Are you looking to replace MapPoint with a modern, complete mapping solution? Try eSpatial for free and step into the future of mapping with fully supported, cloud based mapping software.
Are you a Salesforce User? Check out eSpatial on the Salesforce AppExchange!
Ready to Map Your Own Franchise?