We have just released a wealth of new features and functionality built to make mapping even easier than it already is. Our latest updates will bring you advanced analytics with our multiple buffers, drive time analysis, routing enhancements as well as single sign-on functionality to facilitate our larger enterprise customers. There's a lot of new and improved parts to our new release so we'll take you through them quickly in today's blog post.
Drive Time Analysis
Our brand new Drive Time Analysis feature allows you to create drive time buffers from a starting or center point. The biggest benefit is that you save time and increase the productivity of your field sales and service reps by providing them with accounts that are within an acceptable driving distance of their base location. A secondary benefit is when your rep is on the road and has time to spare, they can quickly run a drive time buffer to identify customers nearby to visit. The new within drive-time functionality lets you create a buffer from a single point or from all points (up to 200 points) in a dataset. You can set the drive-time between 1 and 120 minutes. Please note that the drive-time features will be available in our Power Analyst and Enterprise plans.
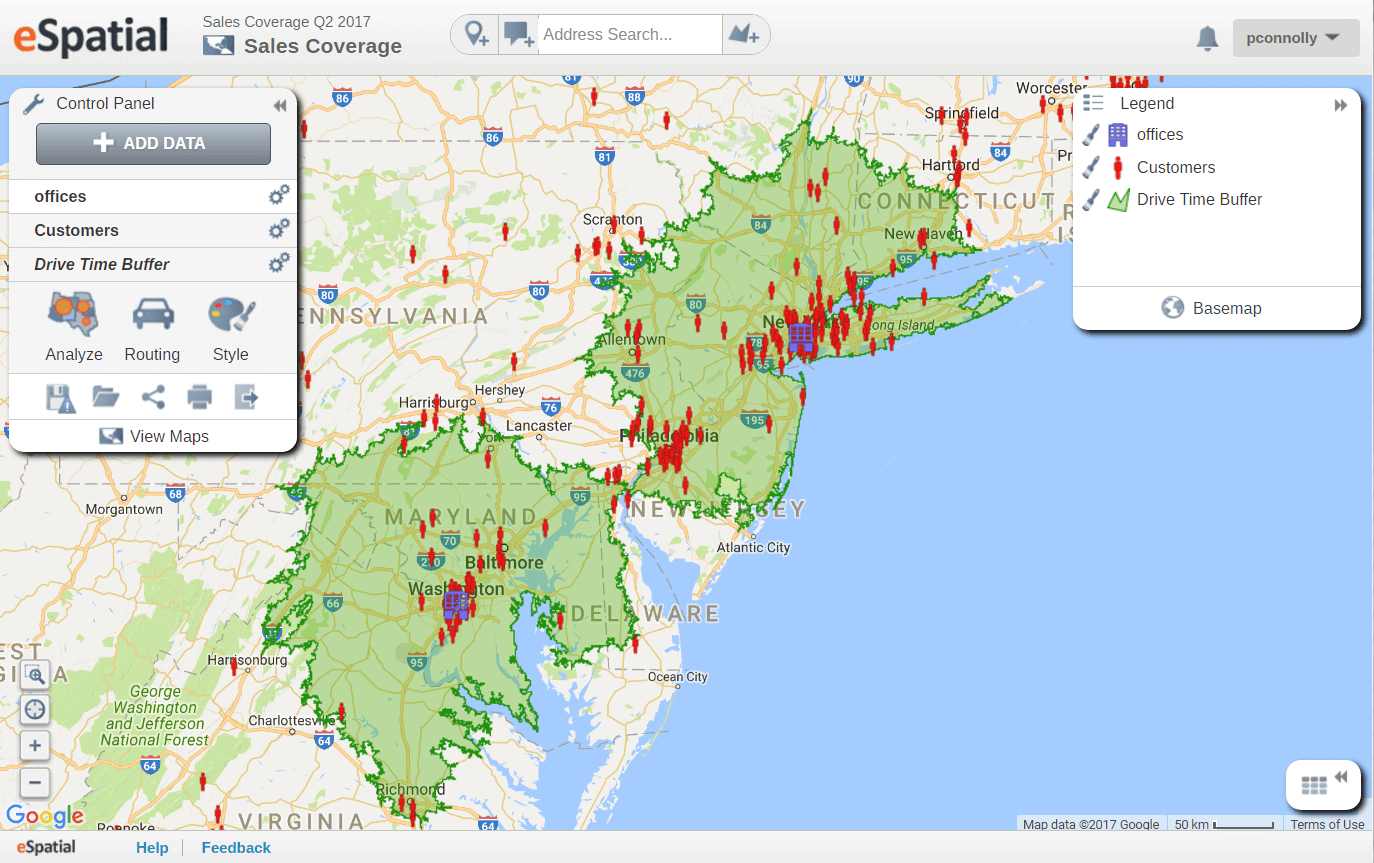 Multiple Buffer Analysis
You may be used to using our radius analysis feature to identify customers or opportunities within a certain distance of a sales rep or warehouse location. While this feature has proved useful to many of you, we have enhanced it to allow you to apply multiple within distance buffers. Multiple buffers are also available on our new drive time buffers. This is particularly useful when trying to plan for new sales or service staff. When ramping up recruitment, you need to be sure that you hire in the right locations for maximum productivity and output. Multiple radius buffers highlight not only how many customers or opportunities lie within a recommended distance from your reps, but also how many are outside that catchment area, highlighting any gaps in coverage that exist in your organization.
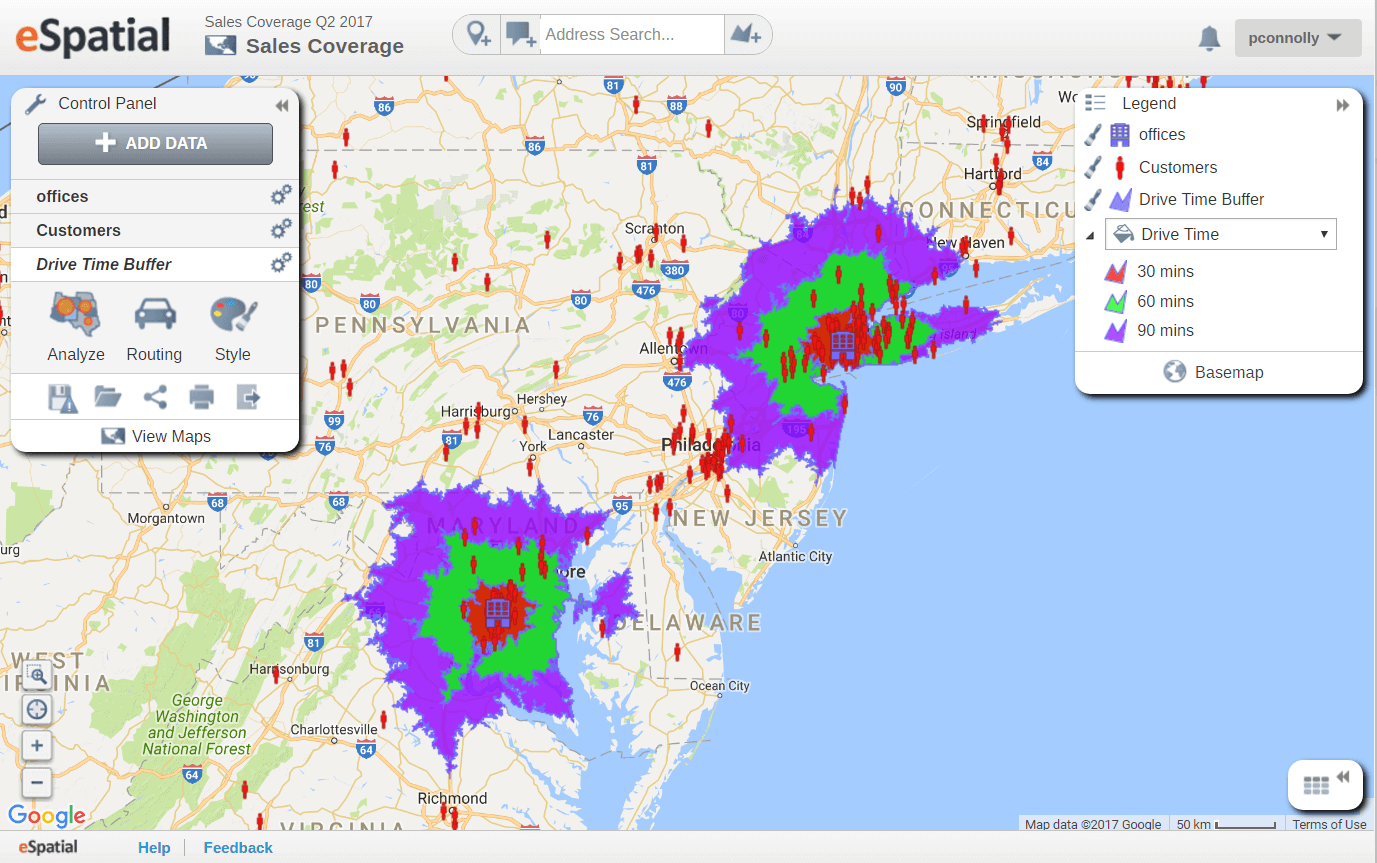 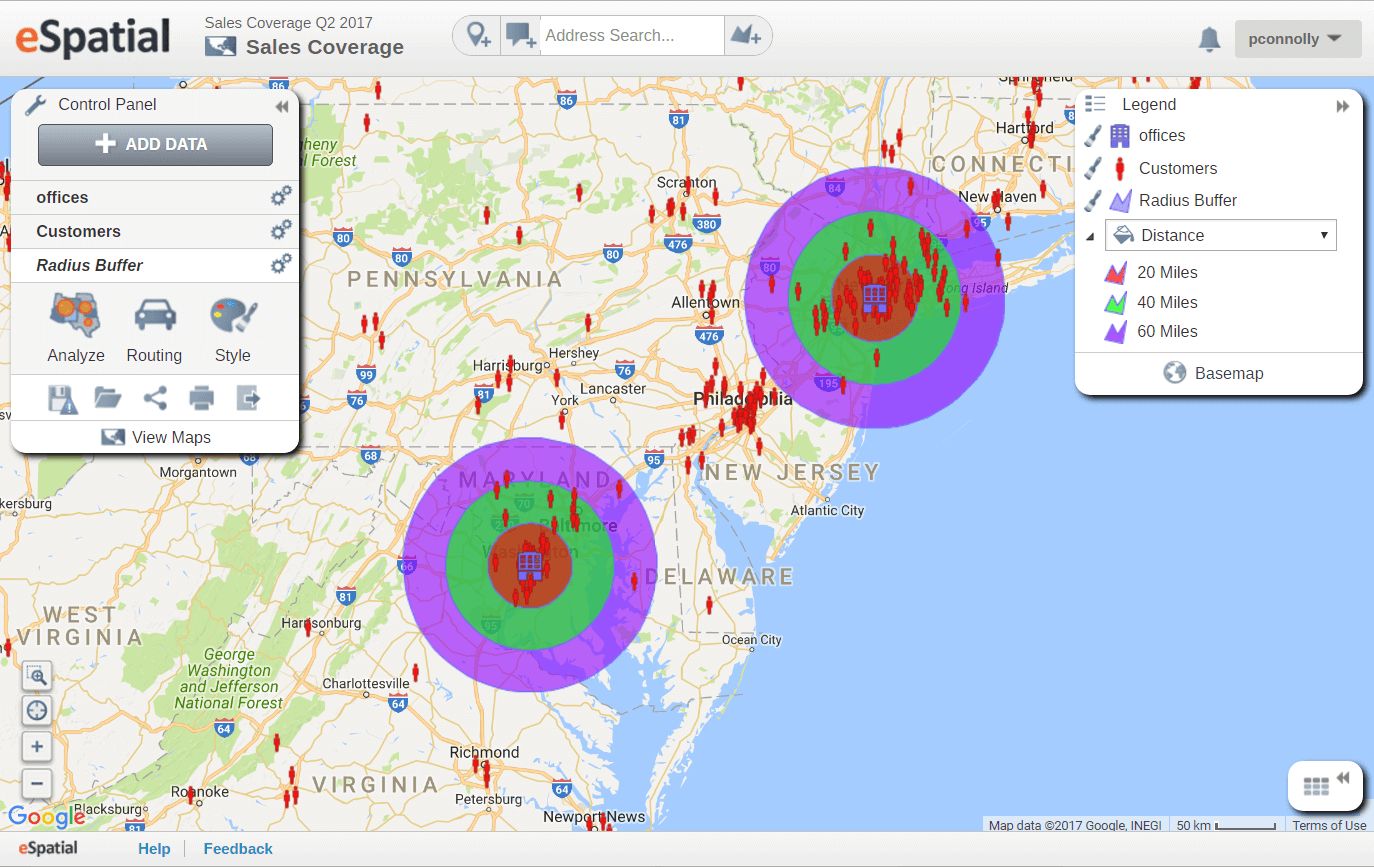 Territory Builder
Mapping software makes it easy to visualize and better understand your sales territories and franchise territories in a way that you cannot get from a CRM or spreadsheet. Ensuring that territories have fair and similar potential is important for balanced territories and optimum performance. It is equally important that a territory is a manageable size. Are territories too large geographically? Will your team spend the bulk of their day in a car instead of in front of your customers? Our latest release provides significant enhancements to our Territory builder allowing you to use radius and drive time buffers to add as a reference layer and to define your territories ensuring they are manageable.
Routing
Routing is used by our customers to plan their day, to minimize the time they spend traveling, and maximize the time they spend with the right people. In this release, we've added a number of enhancements based on customer feedback. These changes include
Add points from polygon: You will now be able to add all points within a free hand-drawn polygon, geographic boundary, drive time boundary or territory boundary.
Export Stop List to CSV: You can export the stops in your route to a CSV file.
Color By Value: You can style your data by color and include this styling on your data in routing until the point is added to a route.
Territory MapBook
eSpatial's Territory MapBooks are a great way of producing a slide deck of your latest territory definition to present or share. This powerful feature generates a full PowerPoint presentation of each territory on a single or hierarchical territory definition.  With this product release, we support much larger territory definitions than before allowing companies with lots of territories and hierarchies get the most from their maps.
Business Search
We have introduced new Business Search capabilities in this latest product release. In the address search bar, you have the option to switch between address search (search for a postal address or location) and Business search that allows you to search for a business type in the current map view. The Business Search will return up to 20 results and add them to a table. This is great for prospecting and looking up hotels and restaurants for your trip. This functionality is be available in our Analyst and Enterprise Plans.
Single Sign-on (SSO)
Single Sign-on is used by organizations to simplify the management of staff and access to the many applications that an organization use. Using SSO, an organization can manage their users in a single location without having to manage each application separately, simplifying both user and application management. eSpatial now provides enterprise SSO capabilities supporting SAML 2.0 and is available in our Enterprise plan.
Additional Enhancements
Label Control: You can turn labels on and off from the legend without having to enter styling
Basemap control: The basemap control no longer closes down after you select a basemap. We found that users iterate through the basemaps as they look for the most suitable basemap for each map. This makes it easier to try out multiple basemaps before selecting the most appropriate.
Export to CSV: You can select the dataset you want to export by selecting from the control panel or by clicking on the new export button directly from the table.
Switch measurement unit: You can now click on the map scale bar to switch between Miles and KM.
Are you looking to replace MapPoint with a modern, complete mapping solution? Try eSpatial for free and step into the future of mapping with fully supported, cloud based mapping software.
Are you a Salesforce User? Check out eSpatial on the Salesforce AppExchange!
Try out our new features today