It's going to be a busy year for us at eSpatial. We have lots of exciting news coming your way in 2018. And to kick it all off, our January release is coming this weekend! This mapping software release focuses on bringing you, our customers, some of your most requested features and improvements. This includes improvements to importing data, a new Live Traffic layer, bulk updating of points and a number of significant enhancements to our routing capabilities.
Data Import Improvements
We have listened to your feedback and as a result, there are a number of improvements made when you add data to your map:
Importing data is now quicker than it ever was before.
We have improved our error handling with better messaging highlighting problematic data.
For automated uploads, a detailed email will be sent if an error occurs.
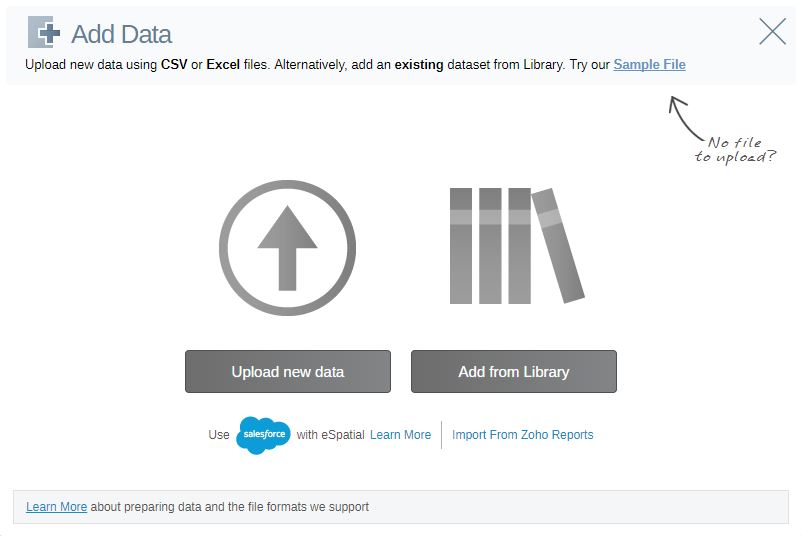 Routing
Routing continues to be one of your favorite eSpatial features! We've worked hard to take this feature from strength to strength and in this release, we've included:
A Start Time so you can choose the time of day you want your journey to begin.
Default Stop Time to include time spent filling the car and meeting clients.
The ability to update individual Stop Times for those meetings that take just a bit longer than usual.
Departure and Arrival times included when routes are calculated.
The ability to set a date for your trip so you can then Export to Calendar (ICS file) to get your routes in your personal calendar.
Live Traffic
This has been one of the most requested features we've received here at eSpatial and now it's here! Before you set off on your planned route, hit the Traffic button on the Legend to see if you should consider changing your route that day.
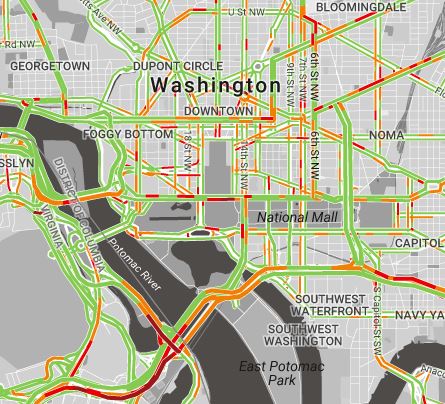 Bulk Update
This is a very handy feature that will help save time and cut down admin work. You can now select an area and Bulk Update multiple records such as Status, Owner etc. This can be done from a Custom Area, Territory, or any buffer.For example, you're a field sales rep and at the end of the day you now need to update the "Last Visited" field in the records of the prospects you saw that day. This can be a painstaking task at the end of a long day. With Bulk Update, you can select all of the visited prospects using by drawing a Custom Area around them and Bulk Update from the pop up information box in one go!
This feature will also be of benefit to Sales Managers responsible for territory alignment. Following a realignment of territories, the Sales Manager can now select a newly defined territory and change the owner of all records (leads, accounts, opportunities) and assign them to the owner of that territory in one action.
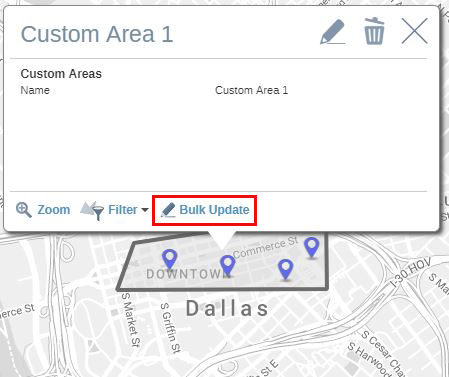 Coming Soon
In the next few weeks, we will be announcing the launch of eSpatial on the Salesforce AppExchange. We can't wait to be part of the Salesforce Ohana. This will be followed up by the launch of our eSpatial Mobile version. As you can see, it's going to be a pretty exciting year ahead!
We hope these additions and improvements continue to help you get the most out of eSpatial. If you have any questions about our January release, don't hesitate to use in-app chat or to get in contact with your Customer Success Manager today. Follow us on LinkedIn, Twitter, and Facebook to see all the latest information on eSpatial.
Are you a Salesforce User? Check out eSpatial on the Salesforce AppExchange!