On Nov. 10, we released our brand-new Territory Manager. With many new and improved features, we've taken our territory builder to the next level to give you, our customers, the capability to efficiently manage your sales, service and franchise territories.
If you're an existing customer, you may be familiar with our current Territory Builder, which helps you convert spreadsheet territories into a visual map. This has allowed for faster territory definition, as seen by Engel & Volkers, who now agree on territory definitions 32 times faster than before using eSpatial.
Our new Territory Manager streamlines territory management, so your sales or service teams are always running at their most efficient. It's faster and easier to make operational and strategic updates so that you're never losing sales or wasting resources on out-of-date territories.
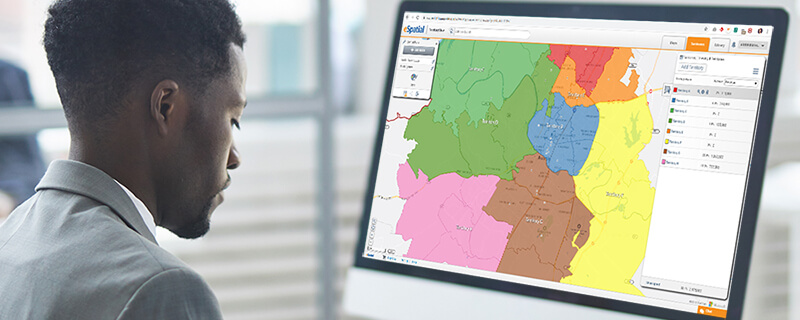 Here's what's new:
Use more detailed balancing criteria
To make comparing territories easier, the new Weighted Balance feature allows you to create a single metric from multiple values. For example, you can give existing account value a 70% weight and the opportunity pipeline value a 30% weight. eSpatial will combine these two factors to create a single metric. With this information, you have a more accurate representation of your sales reps' workload in a single view.
See impact of changes instantly
When you add or remove a region from a territory, you'll instantly see the impact in the balance screen. This helps you judge the effect of your changes before committing to them, making it easier to balance your territories.
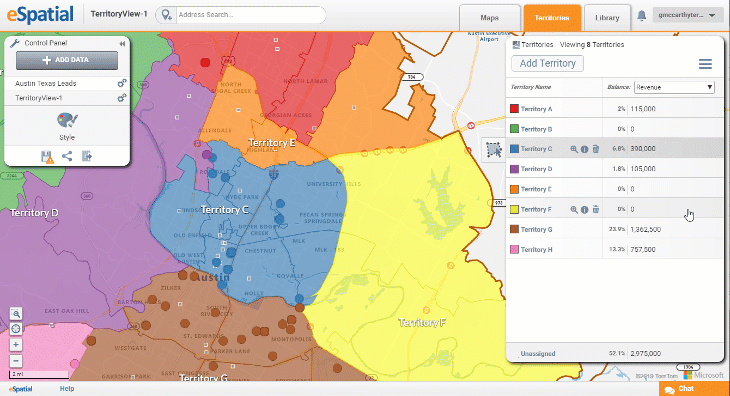 Compare current territory to the last saved version
As you work, you can compare your current territory balances to the last save version. This lets you review the overall impact before saving the proposed changes.
Create multiple versions of your territories
To speed up the decision-making process, you may want to provide stakeholders with multiple options to consider before rolling it out to your team. You can now save multiple versions and easily share them with the decision makers.


What can Territory Manager be used for?
Strategic territory management
Many of our customers use Territory Manager is for strategic planning. Looking to the future, expanding into new territories, or even merging existing territories to align with the objectives of the organization. This is especially helpful in the case of mergers and acquisitions, as you can run through many "what if" scenarios to ensure you've taken everything into consideration before committing to a strategic change.
Operational territory management
A common time when organizations make updates to their territories is when there is a fluctuation in the number of sales or services reps. In these cases, only short-term impacts are considered. Using the eSpatial Territory Manager for operational scenario planning allows you to quickly make fully informed decisions to ensure business continuity in the case of staffing changes. By preventing staff gaps, you ensure your customers are always satisfied with their service, reducing the risk of customer churn and lost revenue.
Is that all?
We thought that was loads of new features and uses to give you all, but then we figured we could squeeze in one or two more! Here are the other product updates we're including in this release.
Navigation menu
It's now easier than ever to navigate between Maps and Territory Manager using our updated navigation menu.


Territory focus
On average, a sales organization will manage up to 100 sales territories but will make changes to only a few at a time. We've introduced a Territory Focus feature to help you narrow down to the data you need to make the decisions you need to make.
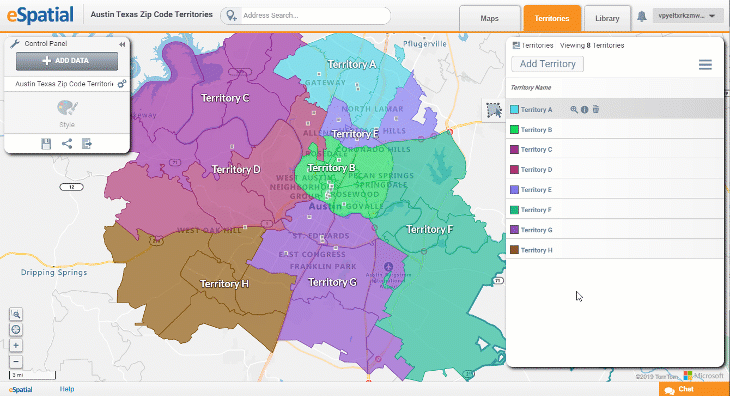 Build territories faster
If you're building your territories using ZIPs as your base boundary, you'll now experience improved performance thanks to a new method for rendering ZIP code boundaries.
Combine with non-geographical territories
Territory exceptions let you allocate an account to a territory other than the one it's geographically situated in. For example, if one rep is managing a particular vertical, product line, or customer across the country, all related accounts can be assigned, visualized and color coded, regardless of the territory it's geographically located in.
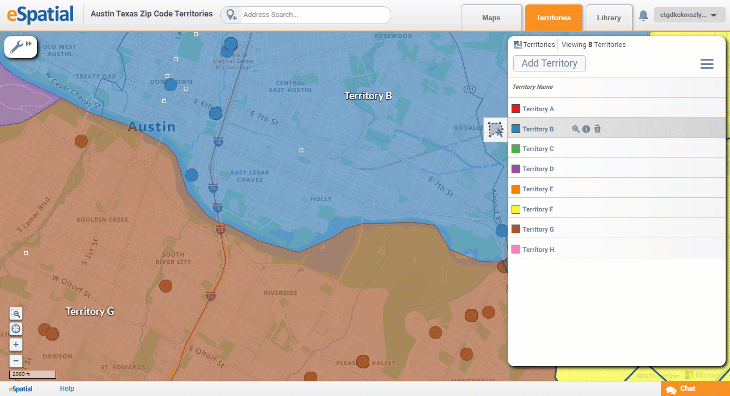 Full ZIP code support
We have updated our ZIP (ZCTA) boundary dataset with single location ZIP codes (such as government buildings, P.O. boxes, hospitals, etc.) which provides users with full ZIP assignment capabilities.
---
If you'd like to put your name on a list for an individual demo of our new Territory Manager, please submit the form below/here.
I'd like a free Territory Manager demo