The data viz story
I'm sure everyone has struggled with how to report sales data in end of month or quarter presentations. Your mission: transform boring (yet important) spreadsheet data into something colorful that paints the picture of the current year's results. Sometimes that's easier said than done.
According to research carried out by IDG Research, managers who use data visualization tools are 28% more likely to find relevant information.  That's why visualizing is critical when reporting your sales data. It quickly helps you — and your audience — see and understand patterns and insights that would otherwise be hidden.
Traditionally, these types of presentations have featured a lot of graphs. Pie charts and graphs are great. However, there's a data visualization method you're probably missing out on: Mapping. Mapping is the best way to present and understand any data that includes a location. Just about every business has this kind of information, whether it's customer locations, leads for field salespeople or franchise locations. That's why I want to show you how mapping can help you better understand and communicate your complex data.
How eSpatial can help
The map you choose depends on what you're trying to communicate. That's why eSpatial includes a variety of mapping options, including heat maps and pin maps. These powerful techniques highlight patterns and trends in your data that would otherwise go unnoticed.
With eSpatial, you can compare your sales territory trends by year, month, quarter and more. Taking a high-level view lets you see the big picture, but you can also deep dive into a micro view. For example, you could investigate how individual ZIP codes in a salesperson's territory are performing.
Performing analysis on top of territories or regions allows you to understand which areas are under and over performing. You can easily toggle between Q1 vs Q2 or different years to present your findings.
eSpatial can also help with:
Reporting your market analysis
Data analysts, sales and marketing personnel can then use these newly discovered patterns and trends to target market specific areas. Promoting more effort in these areas can increase your conversion rate and help you gain more business.
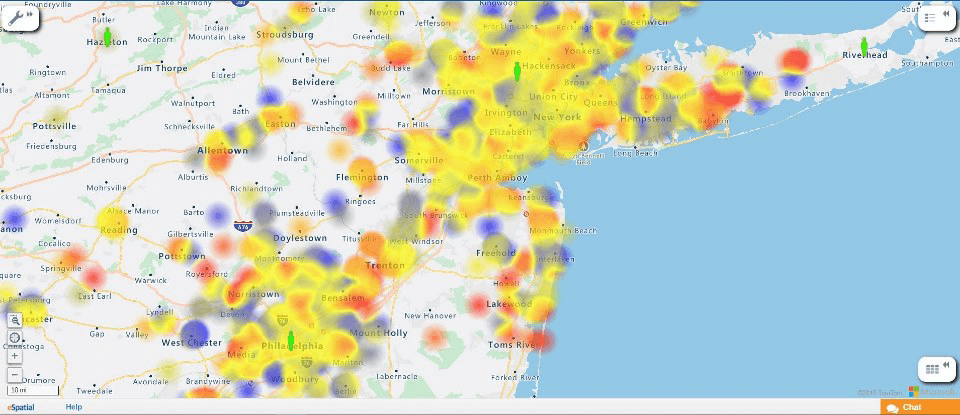 Density heat mapping is a great way to report on the hot spots or cluster areas of your market. White spaces also reveal areas that are available for expansion or targeted marketing.
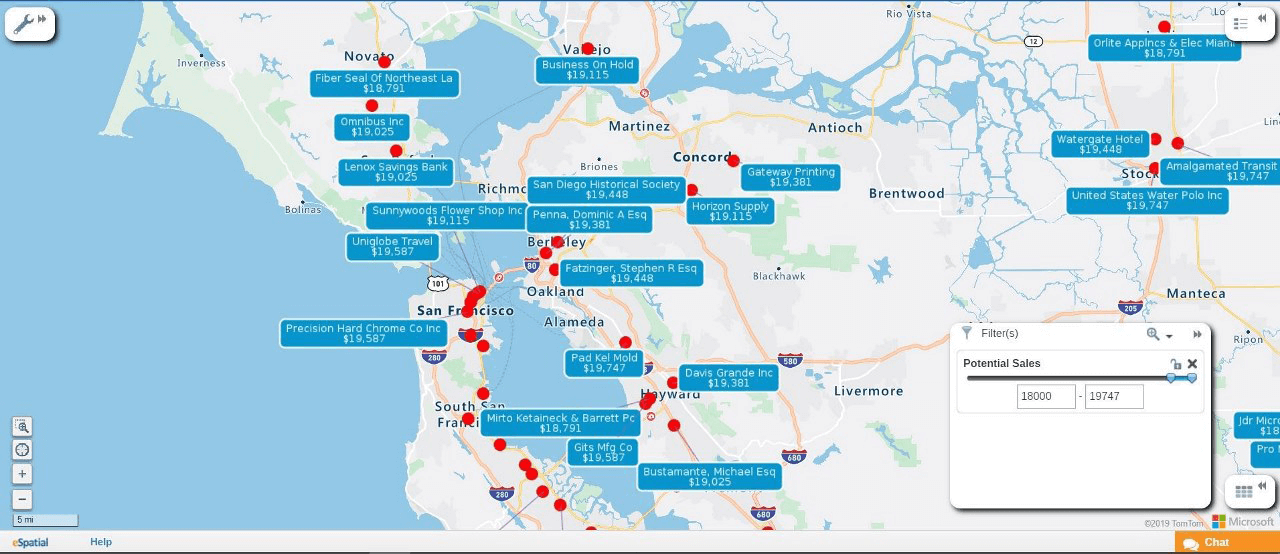 Filtering is important so you can display your most valuable customers. It can help you discover and report discoveries like pockets of high-value customers.
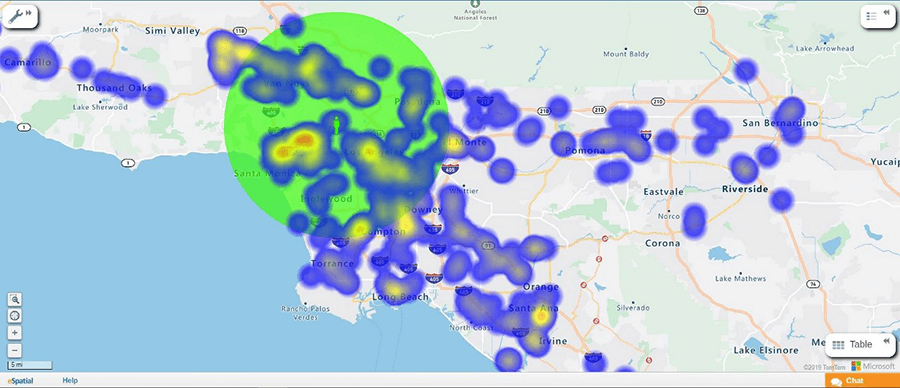 Proximity of leads/accounts to a salesperson's home location / office location is the perfect way to report on resource allocation. It helps with visualizing if you have enough people in the correct locations to best serve your market to help it grow.
Collaboration
Exporting your maps for your end of month meeting with your colleagues couldn't be easier. With eSpatial you can export all created maps directly into a pre-made PowerPoint booklet or embed individual maps in your presentation. You will also have the option to select to view your maps in a PDF or Jpeg format. Along with static map options you can share interactive maps that key stakeholders can view on the move via Smartphone or iPad or on their traditional PC/ laptop.
Want to find out how else eSpatial can help with reporting? Sign up for a free seven-day trial and try for yourself or speak to one of our mapping experts.
Find out how Nortek Air Solutions reduced time spent on reporting by a month every year