If you have read enough sales blogs you will have seen the term "do more for less" a million times. But what does that really mean? In most cases, the blog will refer to areas such as motivation, sales processes, people management, keeping pipelines full etc. But most good sales managers are aware and on top of these things. Are there any methods you can implement today that will be both revenue effective and cost-effective?
The Problem
Sales reps only spend 35% of their time selling. If you have hired someone to sell and they spend 65% of their time doing anything but selling, then this is your biggest problem. If you take the average salary of a sales rep into account, most organizations are spending $68,352 per rep per year to do tasks they were not hired to do. Talk about cost inefficiency!
The Solution
If the problem is salespeople spending too much time not selling, then the question is obvious. How do I get my salespeople selling more of the time? For me, there are two concrete tangible ways of improving time selling.
1.

Routing

One of the biggest time eaters for sales reps, and a major contributor to that 65%, is traveling. Therefore, it makes sense to focus on reducing this necessary evil as much as possible. Route optimization is how you do this. Gaining as much time face to face in meetings as possible.A good routing tool should give your sales reps more than directions. It should help optimize their day. The best routing tools will allow reps to schedule whole days and weeks. Giving them a planned break down of what they are doing, when they are doing it and how much time they have to do it.One more aspect a routing tool should help optimize is cancellations. Nothing can ruin a day better for your sales team than last-minute cancellations of meetings. A routing tool will turn this into a salvageable opportunity by presenting nearby accounts and the time it will take to visit them before continuing the day as planned.Does this drive cost-effective results? Customers Engel & Völkers doubled their sales visits since using eSpatial's routing tool.

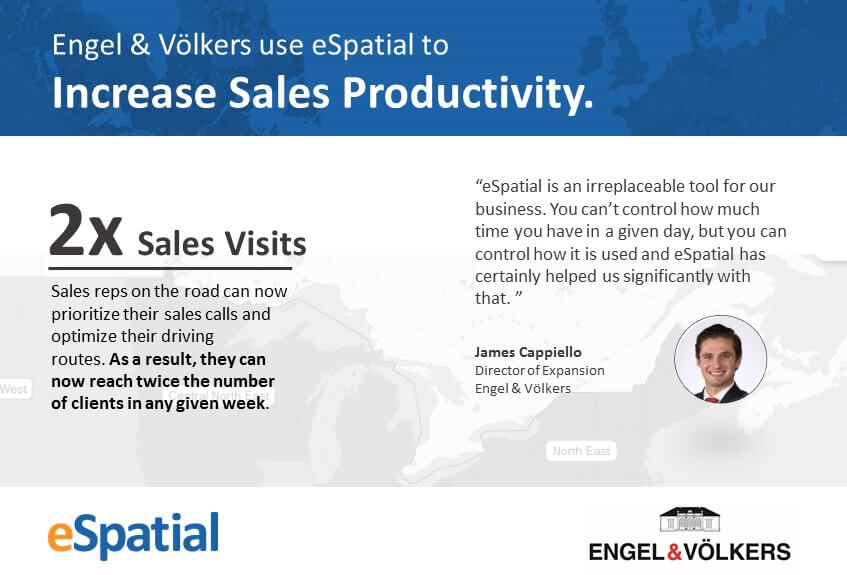 2.

Territory Design

Routing is a fantastic tool for the sales team in the field. But is there anything territory and senior sales managers can do to optimize sales performance? According to research by the Harvard Business Review, optimizing territory design can increase sales by 2-7% without any change in total resources or sales strategy.Let's take a few seconds to really think about that. It's possible to increase sales by 2-7% without hiring additional sales people or changing existing strategy? This is the definition of making your sales team cost effective.

That's great but how do you design better territories? By using a mapping software that provides a geographic overview of territories and allows for an easy redesign. This allows territory managers to quickly fix overlaps and gaps in coverage, assign reps to territories that suit them, ensure potential revenue and as a result, the commission is balanced.Does mapping software make this process quicker and simpler? Yes, Engel & Völkers create optimized territories 32 times quicker since using eSpatial.

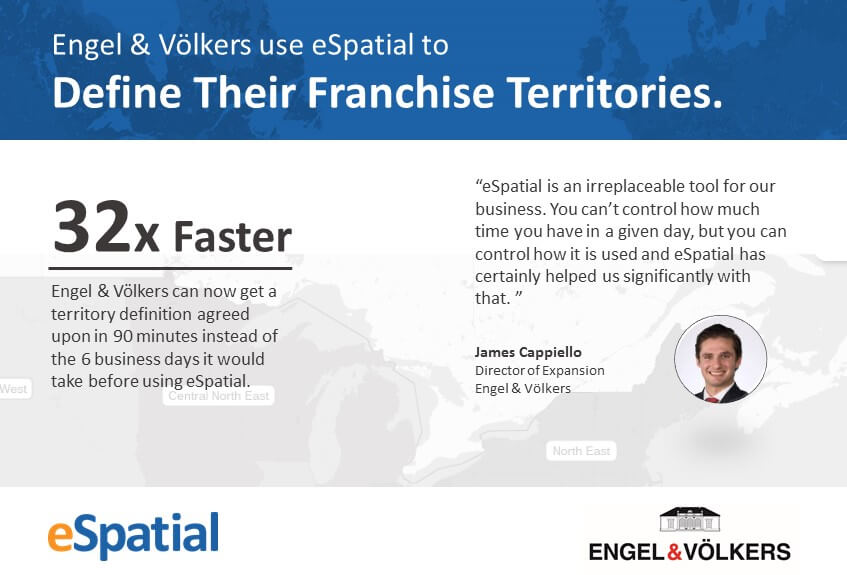 ---
eSpatial is a provider of mapping software for field sales teams. From territory management and account management on the go to advanced routing capabilities, we're certain eSpatial will increase the efficiency of your sales team. Schedule a free demo with one of our experts to find out how eSpatial can help your field sales team achieve their goals and targets.