When your company has a service level agreement (SLA) in place with clients, meeting that obligation is a top priority. The company has staked its reputation on providing an agreed level of service. If you want to maintain a good working relationship with your clients and earn new business, meeting that commitment is critical.
Whether you're providing repairs for enterprise clients, emergency services or anything else that requires you to be on site quickly, mapping software can help. It should be part of both the planning and regular review process to ensure you're always able to meet your SLA requirements as you add new customers. Mapping your resources can also help ensure you're using them as efficiently as possible.
Map your key datasets
To get started, you'll need a list with the location of all your customers, and a second list with your service depot locations. When preparing your datasets, include any information you'd like to see in your map or use to filter. For example, you can include the number of callouts required by each customer in a year and the number of service technicians based out of each depot.
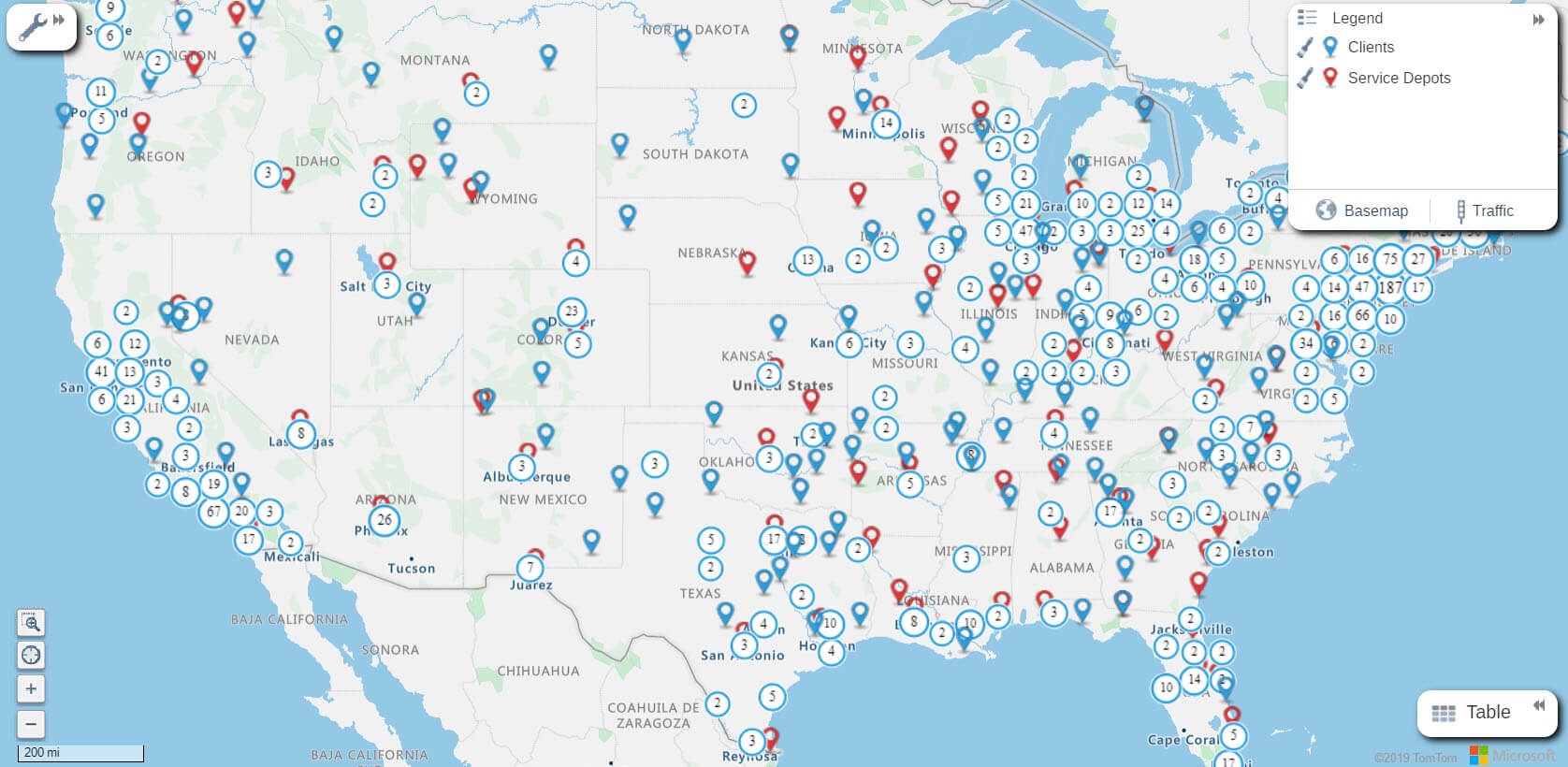 See your coverage area with drive-time buffers
Once you've added both datasets to your map, you'll be able to use eSpatial's drive-time feature. Say your SLA specifies that a service technician will be on site within one hour of a call made during business hours. You can set your service depots as center points, then set the drive time. In order to give yourself some wiggle room, we recommend setting the drive time to lower than your set SLA commitment. So, in this case, you could set your drive time to 45 minutes to allow for traffic and other unexpected delays.
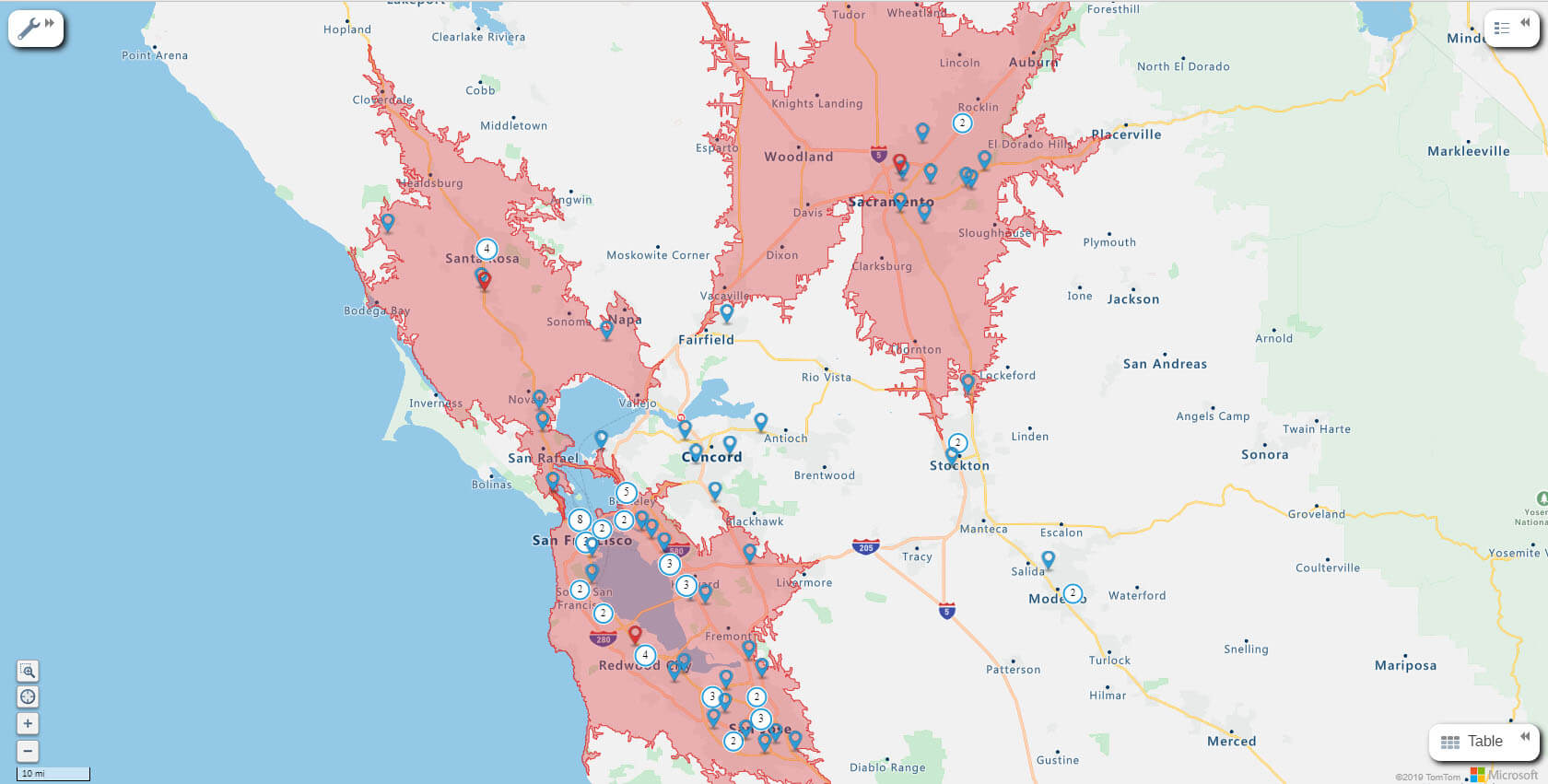 This creates a colored buffer that shows the areas you can drive within your set timeframe. You can quickly see any clients who fall outside this area, which will cause issues with your ability to meet the terms of your SLA.
In this case, clients in Concord are likely to face service delays because there are no depots within a 45-minute drive. It makes sense to add the next depot in this area to cover these clients, but also to provide backup in the busy San Francisco area.
It's important to review this every time you are preparing to sign a new client to ensure you can meet your SLA requirements.
Using your resources efficiently
By mapping your service depots and clients, you can also review whether you're using your resources efficiently. If you have two depots that are covering areas that have significant overlap, you may consider shifting some of those resources. This will partly depend on the volume of calls you receive in the overlapping areas, and whether you require those technicians to ensure someone is always available. Additionally, if you have several technicians working out of one depot that covers few clients, you could shift some of those technicians to busier depots.
Reallocate on the fly
If you find yourself in a situation where all technicians in the nearest service depot are occupied, having your resource mapped can save you a major headache. By using eSpatial's radius map feature, you can find another nearby depot and quickly dispatch a technician.
One quick and easy way to do this is to create a radius around the client you need to service and increase the size until you find the second closest depot.
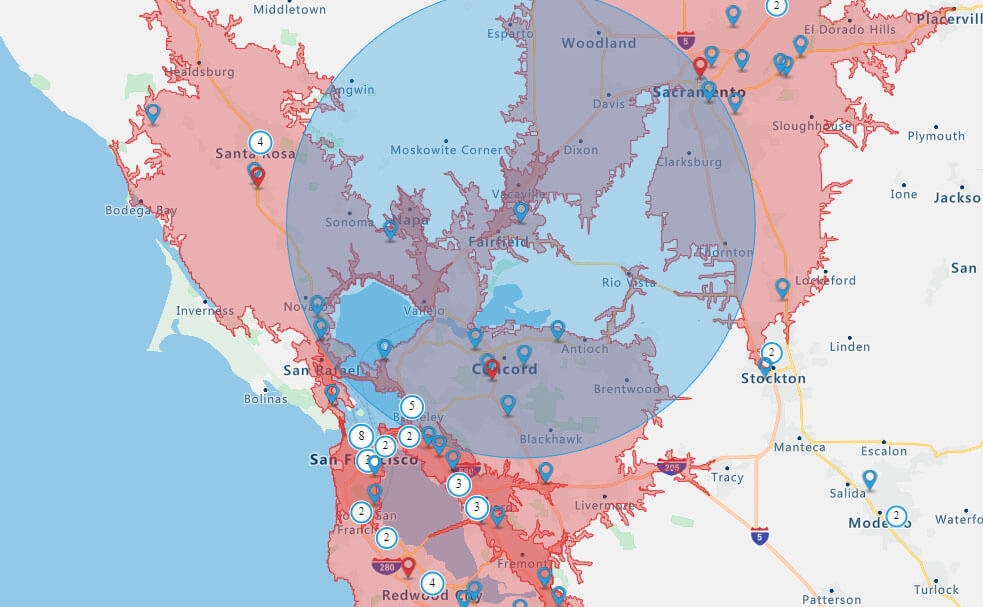 For example, the client in Fairfield has an issue and needs a technician to come to them, but everyone at the new Concord depot is already out on a call. Looking at the map, it's difficult to tell whether the Sacramento or Santa Rosa depot is closer. But when you use a radius buffer, it's clear that Sacramento is the best choice. They're closer to the client, which is just outside of Sacramento's 45-minute drive time buffer. If a technician leaves right away, the company will likely still be able to meet its SLA commitments.
Implement regular reviews
As part of this process, we recommend implementing a regular review process, whether you've signed a new account or not. Company resources and response times are fluid and can change rapidly. It only takes the loss of a few technicians or vehicles to drastically change the picture. Thankfully, mapping software makes the process quick and easy, allowing you to keep on top of the situation, meet your SLA requirements and keep your customers happy.