Have you ever wondered why certain areas perform better than others? This is a key question for any business, and figuring out the answer can help you take your results to the next level. If you're plagued by these issues, there's one place to start: mapping customer survey results.
Customer satisfaction surveys are an important tool for improving your business. You can collect valuable information simply by asking, "Are you happy with our service or product?" Viewing responses on a map will help you target areas that need more attention and can help you diagnose problems in your business.
Who should be mapping survey results?
There are plenty of businesses that can benefit from this approach, but let's look at a few examples.
Outside sales
If you have outside sales reps, mapping survey results can give you insight into why certain salespeople perform better. Once you've identified reps who provide dazzling service, you can recruit them to train salespeople who have room to improve in that area.
Services
Or say you're the cable company. You've mapped out the results of a satisfaction survey on your broadband service. With the results laid out visually, you start to see pockets of dissatisfied customers. This give you the starting point of your investigation. Is there an undiagnosed technical issue that's impacting broadband speeds in the area? Are those customers interacting with staff at one of the retail outlets in the area and receiving poor service?
Marketing
Using surveys, you can better target your marketing efforts. If you find a hot spot or a pocket of happy customers, you can focus on finding more business in that area. Since you know these customers are happy, you can run a referral or upsell campaign, leading to more revenue and a new group of product evangelists.
Analyzing your results
So you're on board with surveying your customers to improve your business. How do you make sense of the results?
Once you've compiled your survey results, you can easily import them to eSpatial and color code the answers. This allows you to instantly see patterns in your data:
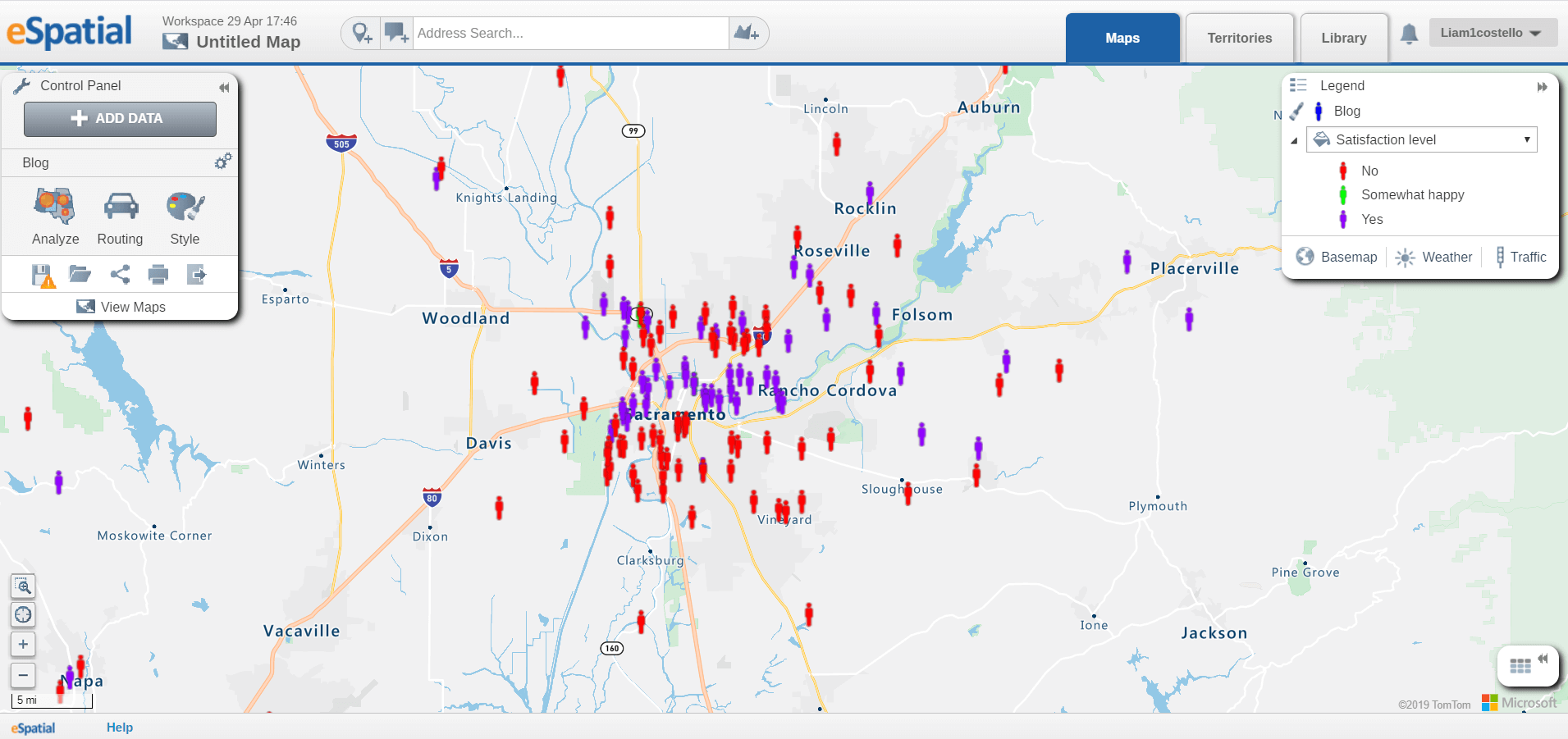 Spot trends in your data
The purple pins are happy customers and the red pins are unhappy customers.
These results show that the clients closer to the city center of Sacramento are happier with the service/ product. Customers to the south are largely unsatisfied. Maybe you deliver a physical product and this be due to longer delivery times? Being able to spot the patterns gives you a starting point for your investigation.
Improve customer satisfaction and business results
By displaying your results on a map, you can identify hidden patterns and trends. Seeing these patterns is the first step in understanding why certain customers are unhappy and how you can change it. For example, if slow delivery is the problem, do you need to hire another employee to better serve south Sacramento?
Overall, this visualization will help you:
Improve customer relationships
Grow your market
Increase efficiency in your network
Want to try mapping your own survey results?
Create a free trial account for seven days