Creating a custom territory map for your sales team is a simple and effective way to maximize your sales potential. We've found that customers who map territories with eSpatial increase their sales pipeline by an average of 6%! Can you afford to leave 6% of sales behind you?
By creating a custom territory map, you can visualize valuable information such as customers, leads, and revenue per territory. This will give you insights that you just can't capture on a spreadsheet. Having balanced sales territories will allow you to maximize your selling potential.
Balanced sales territories offer many benefits. Some of the most common we see with our customers are:
Improved customer coverage
Reduced territory encroachment
Increased productivity
Reduced travel time & associated costs
Increased sales volume/value
That looks impressive, can I really create a custom territory map myself?
eSpatial includes a territory map maker that's designed with sales leaders in mind. While simple to use, it's a powerful tool that provides high-value insights. Check out this blog if you want to learn more about how these insights can help you increase your outside sales revenue.
---
Do I need to know where my territories are before I start?
There are two ways to build custom territory maps in eSpatial. If you have existing sales territories, you can load them straight into the map from a file. But you don't have to create your territories in a spreadsheet before you start. You can build them from scratch using eSpatial. Whichever method you choose, you can create your territories by ZIP code, county or state. I'll show you how to go about both of these methods.
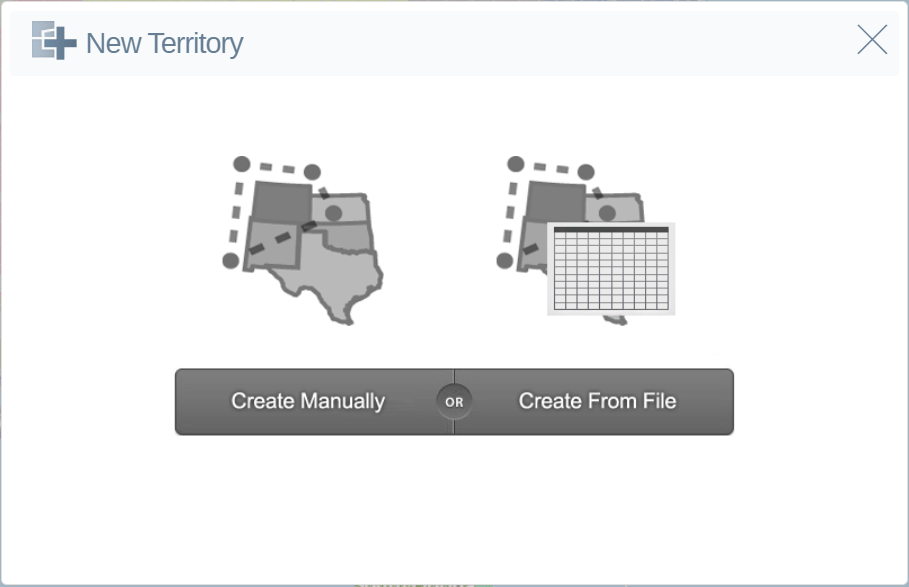 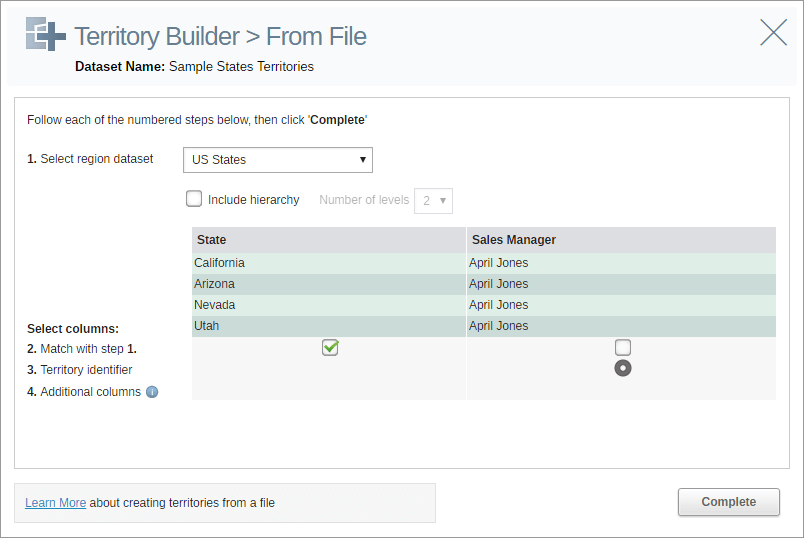 Creating territories from a file
If you already have territories outlined in your CRM or a spreadsheet, you can use these to quickly and easily create a territory map. All your dataset requires is territory names and regions, such as ZIPs, counties or states. Using this data, you can instantly see your territories on a map.
To do this, select Create From File (see screenshot above) and choose your file. Next, select which column in your data is the region column and which is the territory name.
Simply hit complete to see your territories on the map. After that, you can start balancing them.
Creating territories from scratch
Building from scratch is equally straightforward. First choose whether you want to build your territories based on ZIP, county, or state. You then create your territories by simply giving them a name and adding regions to them.
Select Create Manually to get started. Next choose a region dataset (state/county/ZIP). You can also choose to add a point dataset, such as your own sales or leads data. Then click complete to enter the map.
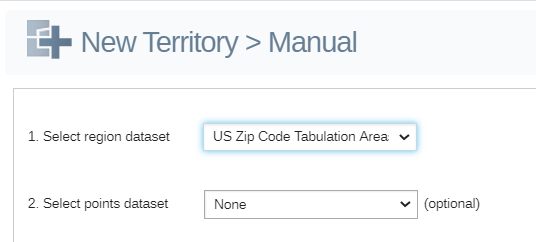 When you are in the map, click Add Territory as many times as you need. You can rename or change territory color by clicking on them directly on the territories panel on the right had side.
To add regions to a territory, you highlight it in the territory panel. Then select regions individually, or in bulk by drawing a box around them.
---
How can I get extra insights from my custom territory map?
Get more insights from your territory map by adding your sales or customer data. This allows you to see their locations relative to the territories. Any attribute in this data can then be used to balance your territories.
A balance will enable you to extract extremely valuable information. Let's look at how quickly you can see how much revenue each territory generates.
In the territory menu, select Balances. Then name the balance and choose the revenue column from your data and click complete.
This gives you an instant insight into how much revenue each territory generates, and helps you understand instantly how well they are balanced, geographically and financially.
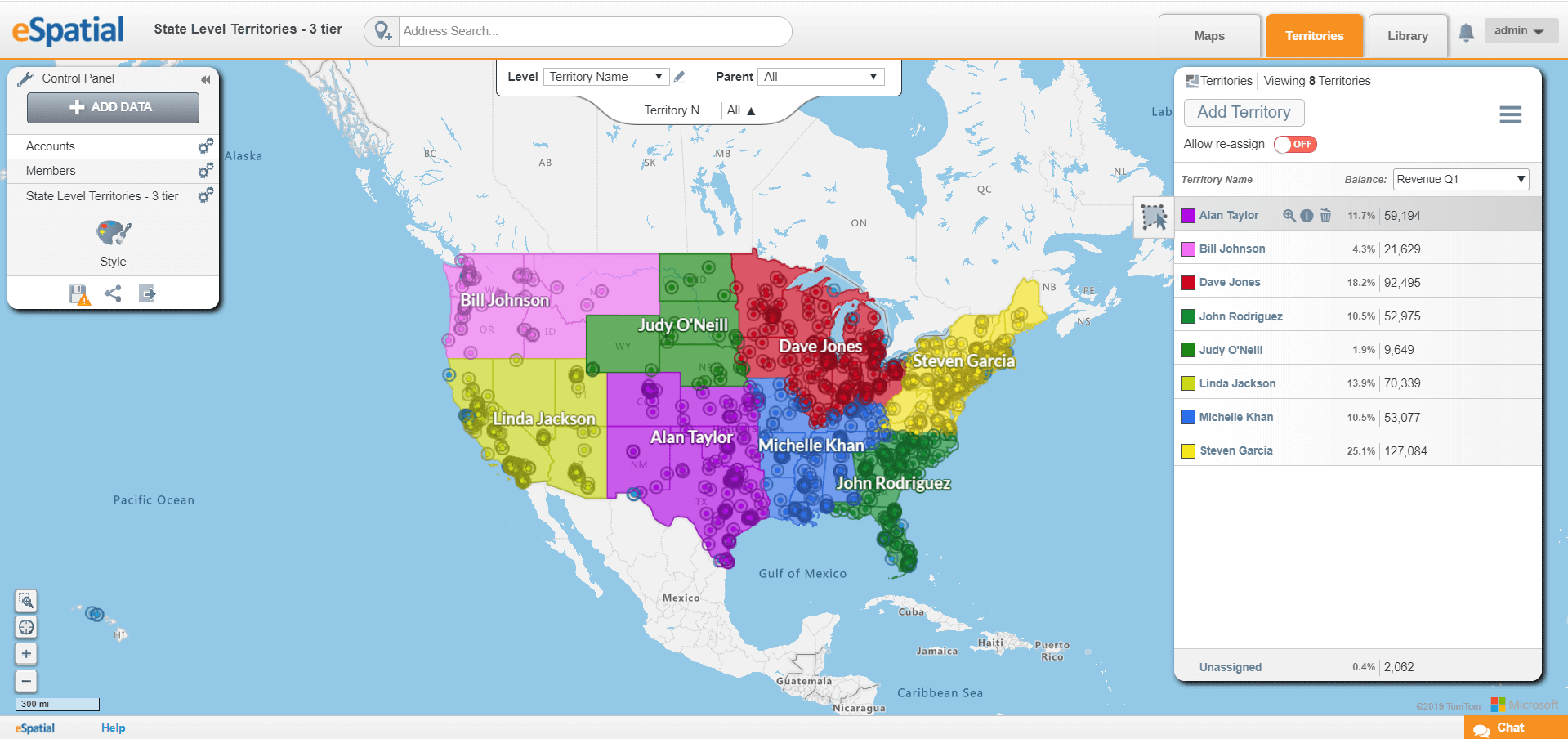 Some other ways you can use balances include:
How many key customers there are per territory?
Are some areas within a territory being targeted less effectively?
Does a territory have too much potential for one person to maximize?
---
Looks great, but now my territories are uneven. How do I rebalance them?
To rebalance your territories, you can follow the same steps as creating them manually. If you've added some balances, you'll see the impact of your changes in real time before committing to saving them. This allows you to optimize your territories, giving your salespeople the platform to maximize the full potential of each territory.
eSpatial also offers Territory Optimizer. This feature lets you create fair territories or balance existing territories in just a few clicks. Using Territory Optimizer makes maintaining your territories even faster and easier.
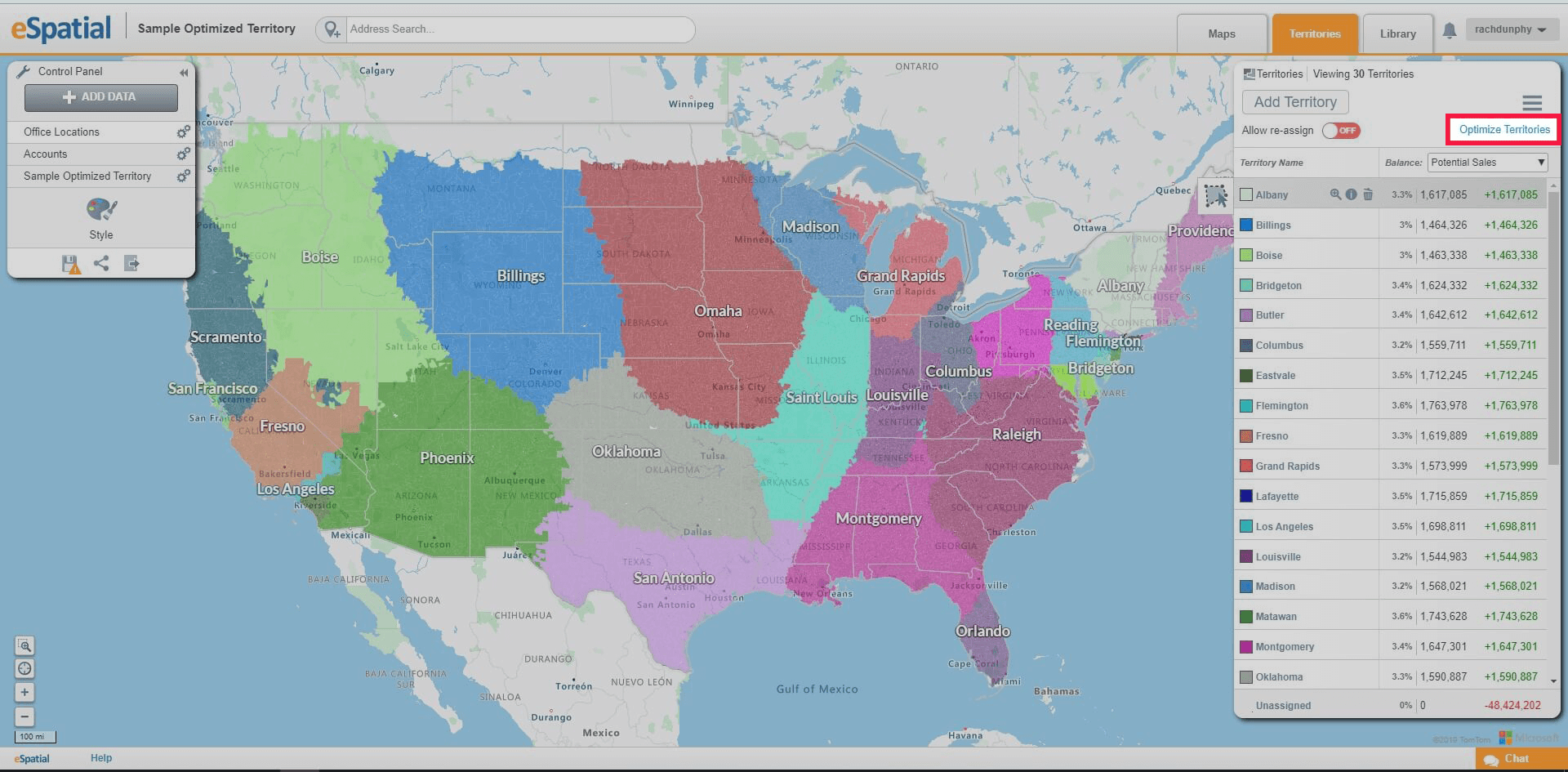 ---
How can I show my salespeople their custom territory map?
Sharing your maps is easy with eSpatial. You have complete control over who you share them with. Territory maps can be shared in four main ways.
Share an interactive map with another eSpatial user, where you have control over giving read-only or full editing access.
Share a public map with a link or by embedding it in a website
Share a Powerpoint mapbook with a page for each territory
Share a map image
---
That sounds great, how do I find out more?
Book a short call with one of our Mapping Experts HERE to discuss your priorities. Why not send us some of your data to info@espatial.com and we can build a sample map for you too.
We can even show you some other ways eSpatial can help your sales team be more efficient, such as optimized trip planning, proximity tools and heat mapping!