If you run a field sales team, you'll likely understand the benefits that effective territory management will bring to your team's productivity and profitability, but let's recap quickly anyway.
Improved customer coverage
Reduced territory encroachment
Increased productivity
Reduced travel time & associated costs
Increased sales volume/value
So how do we build great sales territories? The simple answer is to make data-driven decisions. Not always easy to do, so here are five steps to guide you.
Step 1: Analyze current customer base
You can analyze your customer data any way you want. However, if you're planning to design geographic territories, then we highly recommend plotting your customer data on a map to analyze. Maps give you a visual understanding of the data that you simply can't get from a spreadsheet.
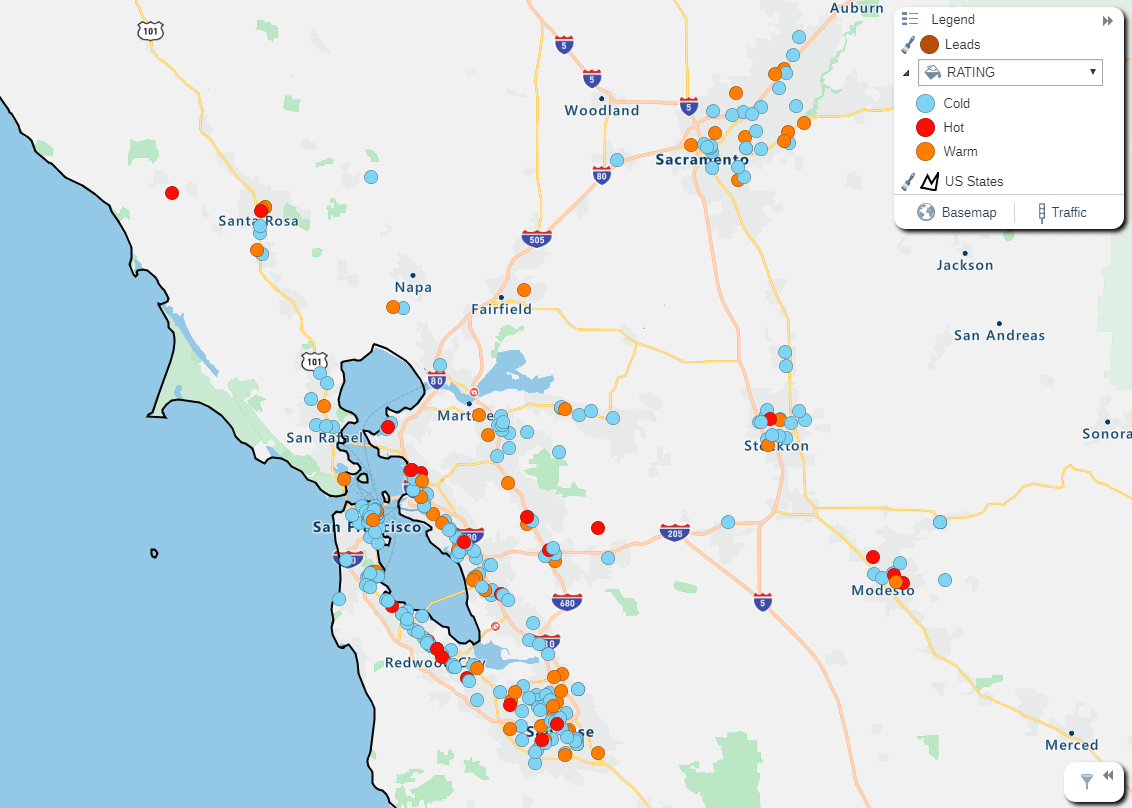 Step 2: Analyze your sales rep locations
Knowing where your sales reps' home or satellite offices are in relation to your customer base will help you build territories that are easily workable by your current sales staff.
If you've taken our advice in Step 1 above and have plotted your customers on a map, you can overlay your customer data with your sales rep locations. If Sales Rep A is more than a 90-minute drive from his current allocated customers, but Sales Rep B is only a 30-minute drive from the same customers, then it would make more sense for Sales Rep B to be responsible for them. You can quickly analyze this for all sales reps using drive time zones.
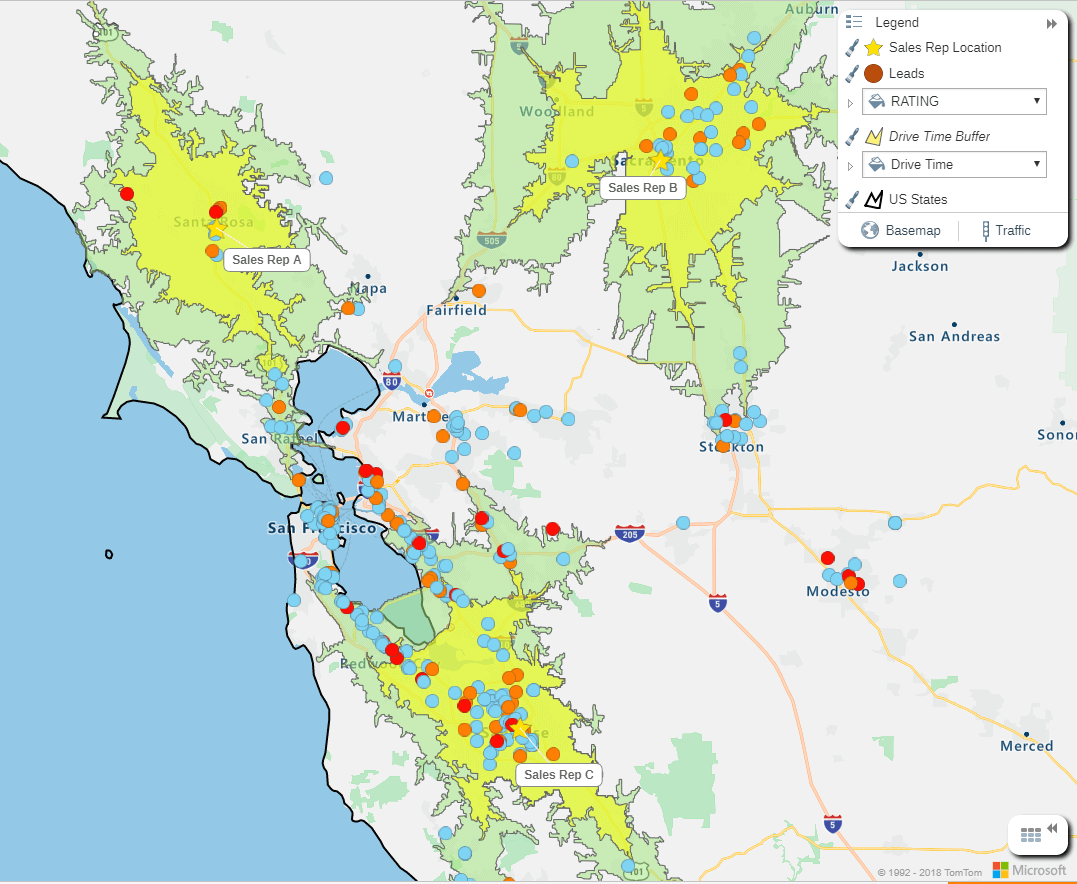 Step 3: Build them with the future in mind
Territories aren't meant to be static. They need updating at least once a year, sometimes more if you have a lot of growth or staff turnover. Build with the future in mind by forecasting for territories splitting or merging.
If you're using mapping software to build your sales territories, start with the smallest area that will suit your business. This could be a ZIP code, county or state. This gives you more control and makes small changes easier to manage during future iterations.
Step 4: Give your sales reps an equal chance
Balance your sales territories to ensure each sales rep has an equal chance to hit their targets. When sales reps know they have equal opportunity, it leads to higher morale and lower turnover. You also have balanced productivity across your field sales reps, which is easier for you to manage.
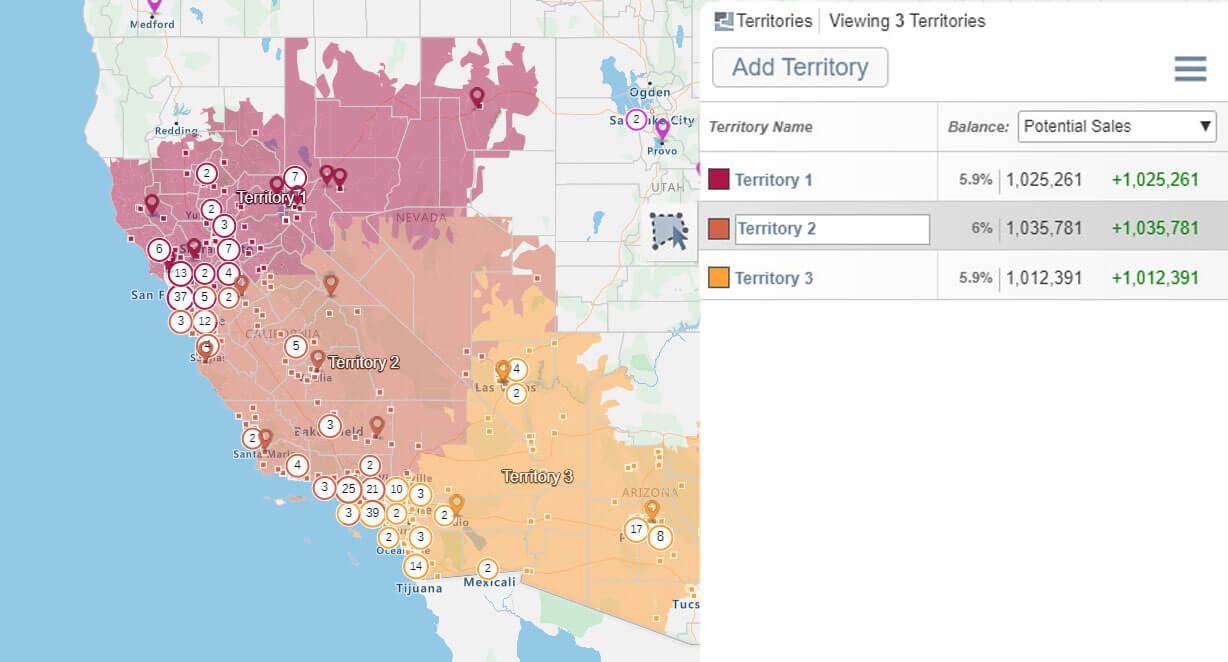 Step 5: Update sales territories regularly
As mentioned in Step 3, territories aren't meant to be done once and forgotten about. To ensure your sales territories are working, they need to be updated regularly.
Regularly has a different meaning for different companies. It might mean yearly, bi-annually, or as changes in the sales organization occur, such as staff turnover or company expansion.
---
eSpatial is a provider of sales territory management software used by organizations worldwide to manage field sales and service teams. With features such as data analysis, hierarchies, and territory balancing, we are confident that eSpatial will help you create great sales territories. Schedule a free demo with one of our experts to find out how eSpatial can help.