In one of our recent blogs, we looked at how home care agencies can balance the workloads of their caregivers. Providing a balanced workload leads to happier employees and lower turnover, which makes it easier to expand in this growing area. But where do you find new clients to fuel that expansion? The key is to understand who's driving the decision to purchase home care services.
Who's driving the decision?
Often, it's a family caregiver, not the recipient, who makes the call. Doctors and nurses can also play an important role by making recommendations about when home care is needed and at what level. Since these are the people who often broach the subject and do the research, making them aware of your service is crucial.
How do I get in front of family members?
The age of unpaid caregivers in the U.S. is broader than you may initially think, according to the 2015 AARP survey "Caregiving in the U.S."
However, household income had an impact on whether paid services were used. Households with an income below $30,000 were least likely to have paid care, at only 27%. So choosing areas based on higher household income, rather than age demographics, will likely be more effective.
Once you have an idea of the demographics you're looking for, it's time to find the areas to target with traditional advertising, like mailers and outside ads.
By using eSpatial's data library, you can look at the household income demographics in areas you serve. This can help you identify pockets that would be a good focus for an advertising push.
How do I get in front of healthcare professionals?
Another great source of business can come from doctor referrals. People trust their doctor, so a referral carries significant weight. Family doctors are a great place to start, but you can also look at nearby hospitals, as some people may require home care after an acute incident like a fall.
Hospitals often maintain a list of providers that a discharge planner or social worker will contact when a patient has home care needs. Letting them know about any specialized services you have, like staff trained in caring for people with Alzheimer's or dementia, can help you stand out from other agencies on the list.
When looking for family doctors, you'll want to find the areas with a higher density of senior residents. Since you want to get in touch with doctors who have patients that may need home care, you'll need to look directly for the older residents this time. It can also be useful to look for doctors that specialize in geriatric care.
Once you've identified the regions with a lot of possible clients, prospect for family doctors and hospitals in those areas. This can be done within eSpatial, but it's also good practice to prospect through other means. That can be Google, writing down offices you see when you're out and about, and even the Yellow Pages.
After you've collected your prospect list, add them to your pin map. If you followed along with our earlier blog on creating workload maps for your home care workers, then you can compare the locations of your prospects with your staffing levels. If you have resources to take on more clients in certain areas, start by contacting family doctors there. It's better to focus your efforts on areas where you can support new clients with existing resources.
What do I do with my prospect list?
Doctors are busy people, and usually have a full schedule of patients in their day. It's unlikely they'll meet with you during an unannounced drop-in. You'll need to call to arrange a time to speak to the doctor. If possible, try to book multiple appointments on one day to make the most of your time. This process can be challenging and may involve a lot of follow-up, but keep in mind that developing a relationship with one of these doctors can lead to years of referrals.
Once you've booked your appointments, you can use your map as a field sales planner. Just upload a list of your prospects and include a column with appointment dates. Then create a route to plan your day.
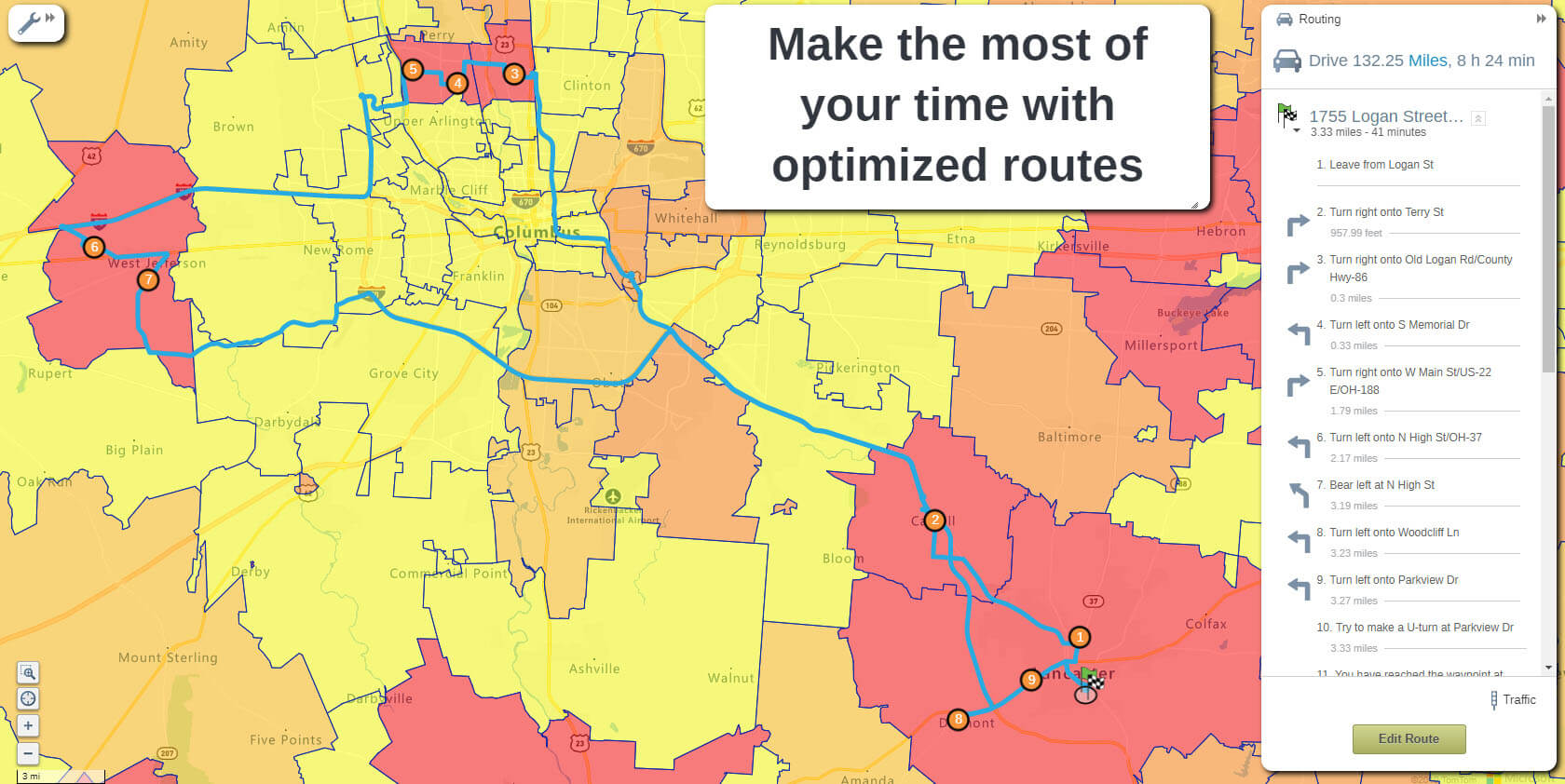 You may notice that there are nearby prospects that you haven't been able to get an appointment with yet. In that case, there's one drop-in technique that may be helpful. Add those offices to your route and bring lots of collateral with you, whether it's brochures or complete referrer information packets.
When you visit these offices, introduce yourself to the receptionist and ask if you can leave behind your brochure for the doctor to review. If the receptionist seems open and not swamped with work, have a chat and start to build a relationship. But remember, you're not trying to sell your services or take up time if the office is busy. This is an opportunity to get to know the receptionist, who is the gatekeeper, so they'll recognize your name next time. Ideally, the doctor may also have a look at your materials!
Build your network
Beyond these active methods of seeking referrals and advertising to decision makers, you should practice ongoing networking and get your agency's name out there. Charitable events supporting hospitals, Chamber of Commerce events and more are great ways to start building relationships. And you don't need to stick with doctors. Rehabilitation facilities, veteran administration programs, workers' compensation case managers and community groups for seniors can all be useful connections that generate referrals.Want to recreate these techniques for yourself?
Want to recreate these techniques for yourself? Sign up for a free seven-day trial of eSpatial to get started.