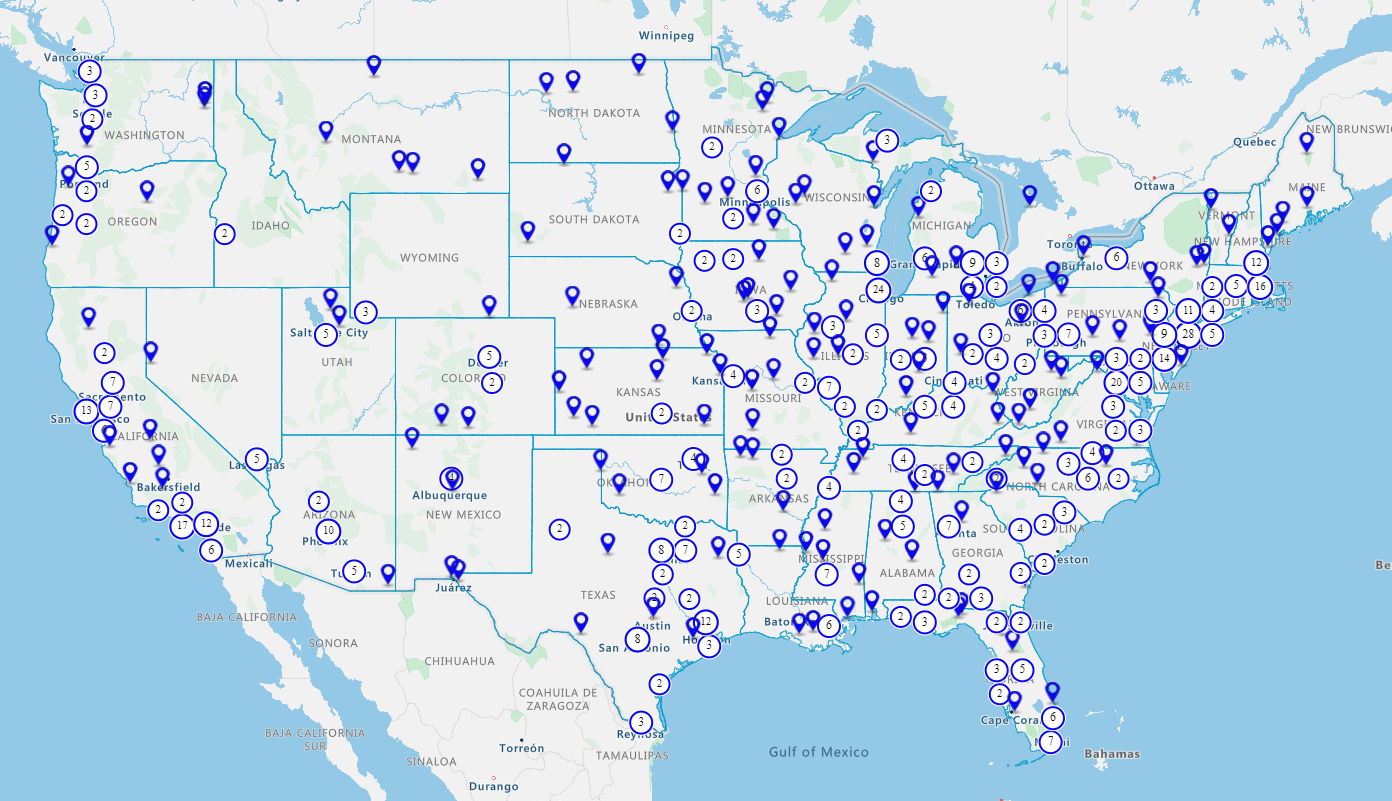 Every day in eSpatial, we help our customers gain a greater understanding of their audience. For sales teams, much of the reason why they are using our mapping software is to understand existing accounts and prospects.
One question we regularly answer is "Where are my biggest accounts located?" Each salesperson obviously knows where these accounts are individually, but where are they when thought of as a group? Grouping is typically broken down for one of two reasons:
A large account has multiple outlets, for example, if you are selling to Walmart
The sales team wants to understand where their biggest accounts are located so they can provide a different level of sales engagement
Align my biggest customers with my sales and sales supports
What sales leaders are sometimes not thinking about is how effectively they align their go-to-market planning with this customer understanding. There are two questions that the sales team should be considering:
1.

Are their sales territories balanced to allow for these larger accounts?

Sales leaders who are considering their customer locations need to ensure they align those customer locations with sales team coverage. Further, they need to ensure that sales team coverage is balanced for earning potential. Otherwise, salespeople on the ground will be either under or over-resourced to service the market opportunity. If you are interested in more details on balancing and aligning your sales territories, you can find out more about territory mapping.
2.

Is Marketing / service / support effort being matched to the locations of customers by size profile?

Marketing and other support efforts should also be aligned to the right areas. Take the example of a car manufacturer who sells high, mid, and entry-priced cars. Entry-level cars might be the most common, but they would never advertise them in Beverly Hills where their customer base is higher income and higher spend. The same is likely true of your business. Marketing effort ought to be aligned to customer reality, but how well do you and your marketing team communicate around the realities of customer location?

The same question can be applied to service and support. Are the right support resources aligned with emerging customer need? High-end customers will likely have different SLAs (service level agreements) and expectations than lower-level customers. Are the right skillsets in place on a local level to facilitate that, and do those people have the time to provide that level of service or support?
Understanding customer location – A worked example
Let's go through the steps of generating a customer location map and why it is important. First, you need to organize the data that will make up the map. This involves building or exporting a spreadsheet that includes, at a minimum, the following:
Local customer name (e.g. Walmart Supercenter El Paso)
Customer address fields (e.g. 7101 Gateway Blvd W, El Paso, TX 79925)
And then include the various datasets you plan to filter by. Some of the typical factors to be included are:
Customer group (e.g. Walmart Group)
Market segment (Small, medium or large)
Sales value – last 12 months
Sales potential – next 12 months
First, I am going to add all of these columns to a spreadsheet and import them to my map. This gives me a basic map showing the location of all customers in the spreadsheet. Next, I want to see where the biggest accounts are, so I filter by the field "sales value – last 12 months" to show only customers in the top 20% of my sales values.
That gives me the following map:
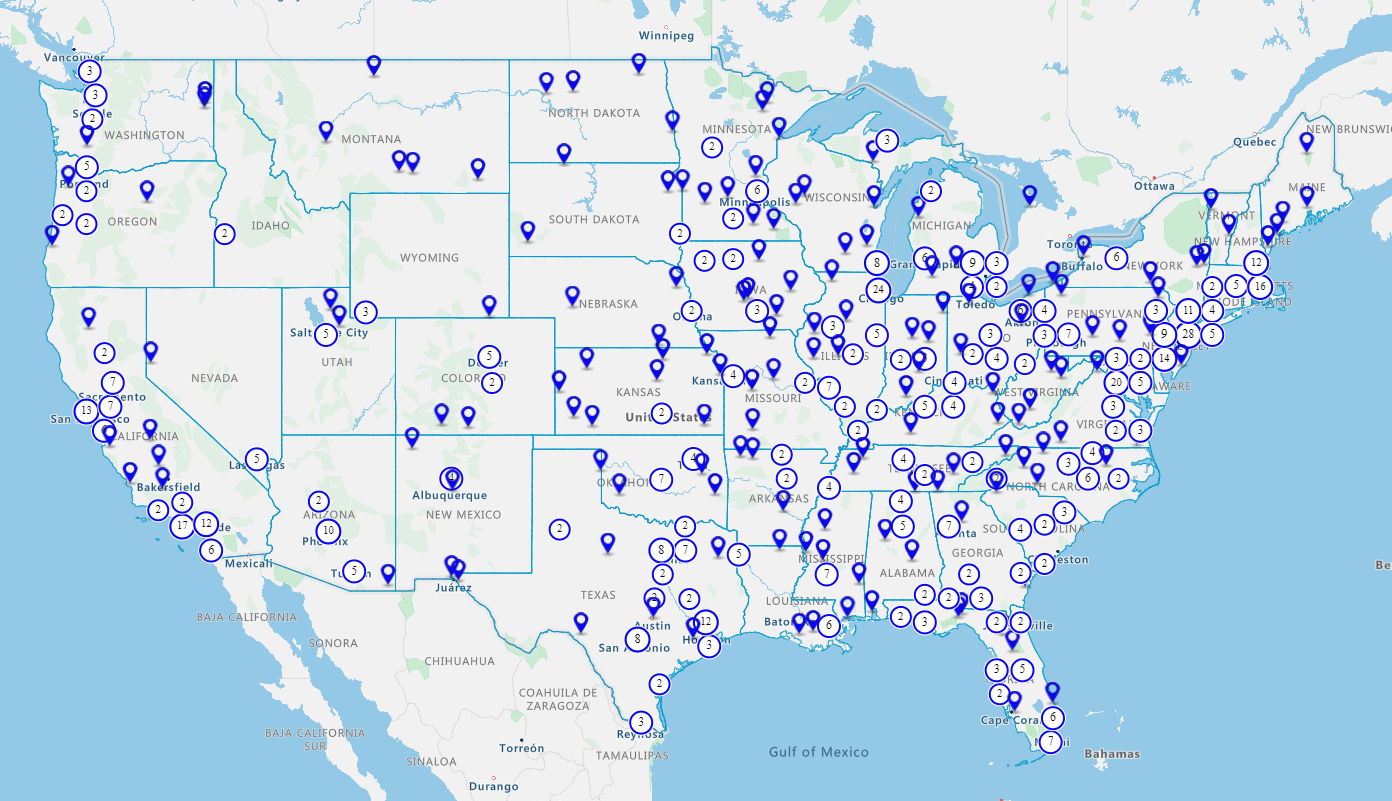 If I turn on a hot spot heat map, you can get a feel for where those accounts are located:
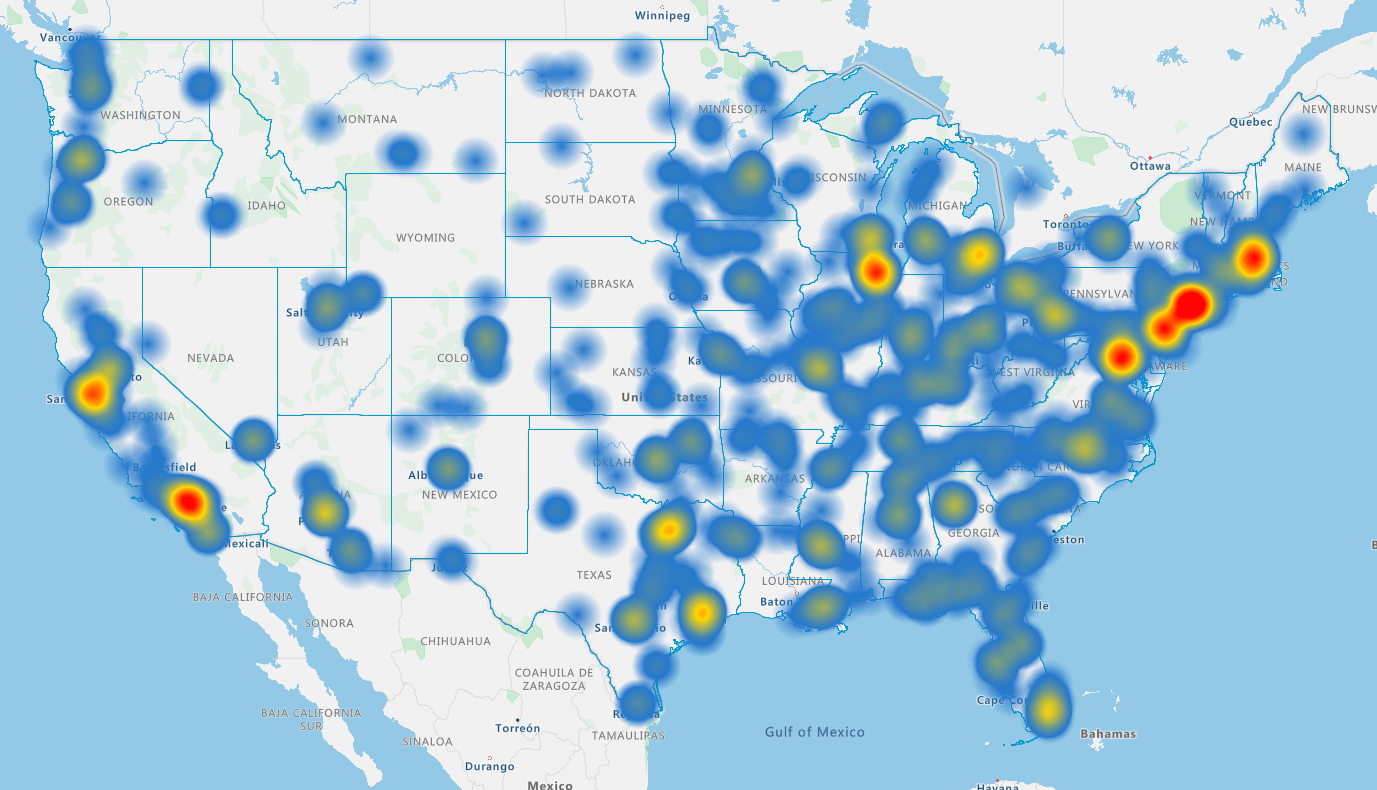 When I turn off the hot spot map and turn on a regional heat map using sales territories as the regions, I can see how this breakdown relates to the different sales territories my sales team are organized by. Let's assume we run sales by state. You can see that West Virginia only has four large accounts while Pennsylvania has 38. Perhaps some of the accounts around Pittsburgh should be served by the West Virginia team.
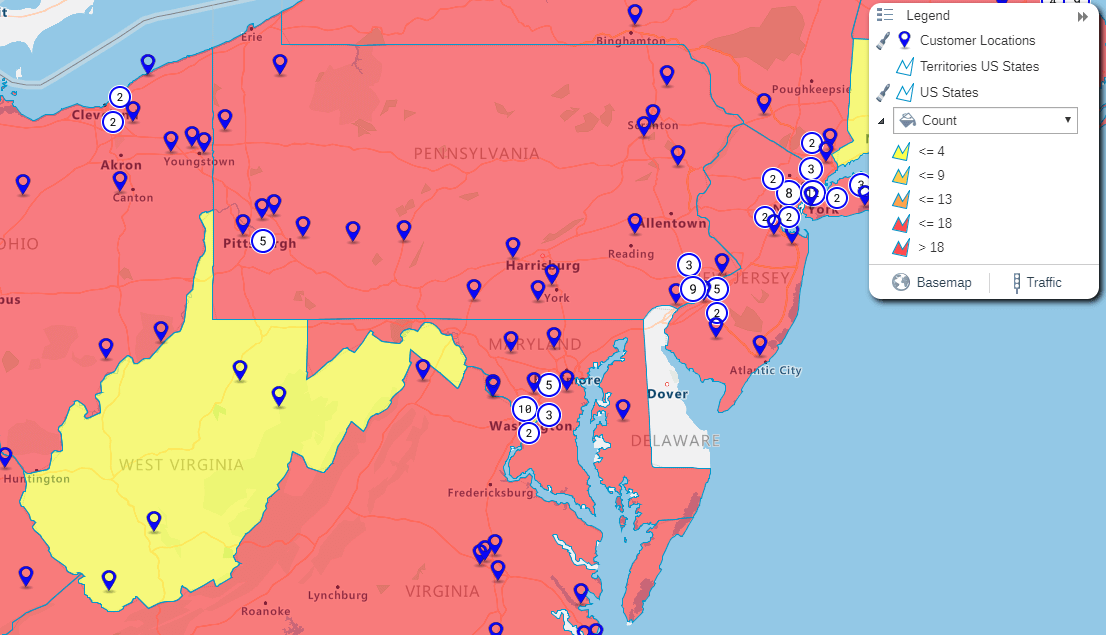 Obviously, I can go back and break out my large accounts in different ways. Filtering can be organized by sales potential rather than 12-month history. But the above is the most common process.
Share the map with other teams
Now that my map has been created, I can share it not only with the rest of the sales team, but also with my marketing, services, and support teams. That way we will all be working from the same view of the customer base and will all be able to zoom in, search, and filter through the dataset as part of our work.
That's it for now. Time for you to build your own map as part of our seven-day free trial. Don't forget to ask for help from our live chat if you need support from a mapping expert.