As the manager of your company's sales team, it's your job to oversee efficiency, effectiveness and productivity. More than that, it's your responsibility to cultivate the best sales capabilities in your workforce, ensuring all customer and prospect expectations are met and exceeded.
Improving your sales force productivity can be daunting. It can be a struggle to pinpoint where to begin. We're here to help, though, and have put together some actionable tips for you to elevate the skills and abilities of your sales team.
What is sales productivity and why does it matter?
When you examine sales productivity, you need to look at more than just sales numbers and revenue. We use the Salesforce formula for measuring productivity, which multiplies your team's sales efficiency by its sales effectiveness:
Sales efficiency deals with the allocation of your sales resources, including the tech tools you use to support your sales process. As Salesforce pointed out, a key ingredient here is time. All your reps have the same number of hours in the day, so improving efficiency gives them more time for value-adding work. This important work includes key sales metrics like the number of calls reps make in a day, as well as their overall frequency of communication with customers.
Sales effectiveness measures the ways in which your sales team puts their available resources to work, and how these resources and strategies help your team achieve their sales goals. In other words, where sales efficiency might include measuring the number of calls reps make in a day, sales effectiveness deals with the number of sales or successful interactions they make during these calls.
In order to boost your team's sales productivity, you'll need targeted strategies that help improve both efficiency and effectiveness. These efforts lead to critical advantages for your sales team, beyond just higher sales numbers.
A more efficient sales team reaps benefits like improved customer service capabilities, and a better experience for not only current clients, but prospects as well. On the other hand, a more effective sales team produces higher-value sales that come with lower acquisition costs. Finally, a more productive sales department also supports happier employees, who reflect this job satisfaction in their work with customers.
How to improve sales productivity: Top tips and best practices
There are a few key areas you can target with your sales productivity improvements, including:
Your Customer Data
The details related to your customers can be incredibly telling, and can help you pinpoint ways to improve your service with current clients, as well as how to succeed with similar prospects.
1. Examine data from various sources
First and foremost, it's key to get the most complete picture of who your current customers are. This means examining not only low-hanging and easily available customer data — like that from your internal CRM software (like Salesforce) — but also details from other sources like social media and the various sales technologies your agents use.
2. Identify where customers are in the sales funnel
The position of prospects and clients within the sales funnel is important, and affects the way your sales reps should treat these relationships. For instance, a prospect at the top of the funnel might be looking for more basic information about available services, whereas a separate client closer to the bottom of the funnel will need more in-depth information like pricing and package options.
It's key that sales managers as well as salespeople understand the various stages of the sales funnel and can pinpoint when customers have transitioned from one point to the next. This will help support efficiency as well as effectiveness and ensure your agents aren't wasting time on actions that don't match up to customers' sales funnel positions.
3. Use marketing automation to support the sales funnel
Speaking of the sales funnel, marketing automation, like the tools available through Salesforce Automation, represents a strong strategy. Automation enables managers to eliminate some of the repetitive tasks involved in customer outreach and nurturing, providing your sales reps with more time to devote to higher-value tasks.
A great example here is email marketing, and this is something that can easily be handled by a marketing automation tool. As opposed to your sales reps taking the time to individually email their prospects, and provide content and resources based on where these leads are in the sales funnel, a marketing automation tool can send pre-built messages out automatically.
Sales Rep Training and Development
Sales managers and other stakeholders should support training and development for their sales reps, through both department-wide sessions and individual coaching.
1. Enable sales leadership through skills development
Succeeding in sales often involves dealing with changing strategy and moving targets for customer needs and preferences. To better support your sales force and ensure they have all the tools and capabilities they need, it's critical to provide opportunities for sales reps to expand their skills and further develop their talent.
The process of skill development should be ongoing – sales team managers should not treat this as a one-and-done pursuit. Ongoing training and coaching are ideal ways to ensure your team members can build leadership skills and improve their sales productivity.
2. Engage in sales training to support field sales
Sales training efforts can be department-wide, and can cover key concepts that all of your sales reps should be familiar with. It's especially beneficial to focus on skill development directly related to sales, as well as certain soft skills, eLearning Industry pointed out.
One way to target both hard sales and soft skills is to walk through difficult sales scenarios that reps have either already dealt with, or are likely to experience. This might also provide the opportunity for sales leaders to share the strategies that they've found work well in the field, or obstacles that other reps should look to avoid.
3. Personalize one-on-one sales coaching sessions
Team-wide training is perfect for reviewing main concepts and building skills with all sales reps, but it's also particularly advantageous to back this training up with individual coaching sessions. In fact, the Sales Readiness Group and CSO found that teams with sales coaching programs in place regularly exceed their quotas.
Individual training also enables sales team managers to take a more personalized approach to coaching, and help each sales rep work on their individual areas of weakness. This article from Salesforce provides a few beneficial strategies that you can apply to your coaching sessions.
Drive improvement with data-backed insights
In addition to customer data, there are other sales metrics and KPIs you can leverage, particularly when it comes to defining sales targets and goals.
1. Define the sales cycle through data
Your sales cycle should be a step-by-step process that reps follow, and you can better define each part of the process with specific data points. While metric benchmarks might vary according to your unique sales cycle, you should include data points that help highlight target customers, sales territories and your sales activity plan. Check out our article here to see how this sales process works in action.
Combining this kind of data-defined sales cycle strategy with visual elements, like sales territory mapping, enables you to have a more complete picture of your activity.
2. Leverage SMART goals for sales targets
In addition to using available data to support your sales cycle, you can take a similar approach with the goals you create for your sales reps' quotas or targets.
The goals you and your sales reps establish should be SMART: Specific, measurable (this is where your sales metrics come in), achievable, relevant and time-bound. We describe this strategy further here.
3. Incorporate geographic insights through territory mapping
Sales metrics and various KPIs are incredibly important and beneficial, but visual representations – like territory mapping – can enhance your team's sales productivity as well. As opposed to simply viewing sales territory data within your CRM or a spreadsheet, a tool like eSpatial can make quick work of transforming this information into actionable and insightful territory maps.
In addition, features like heat mapping can help you identify any under-performing regions that could use added sales rep attention. Radius maps can also highlight new sales opportunities in your territories, and route maps can help ensure that your sales reps are saving time in the field.
Check out this article to learn more.
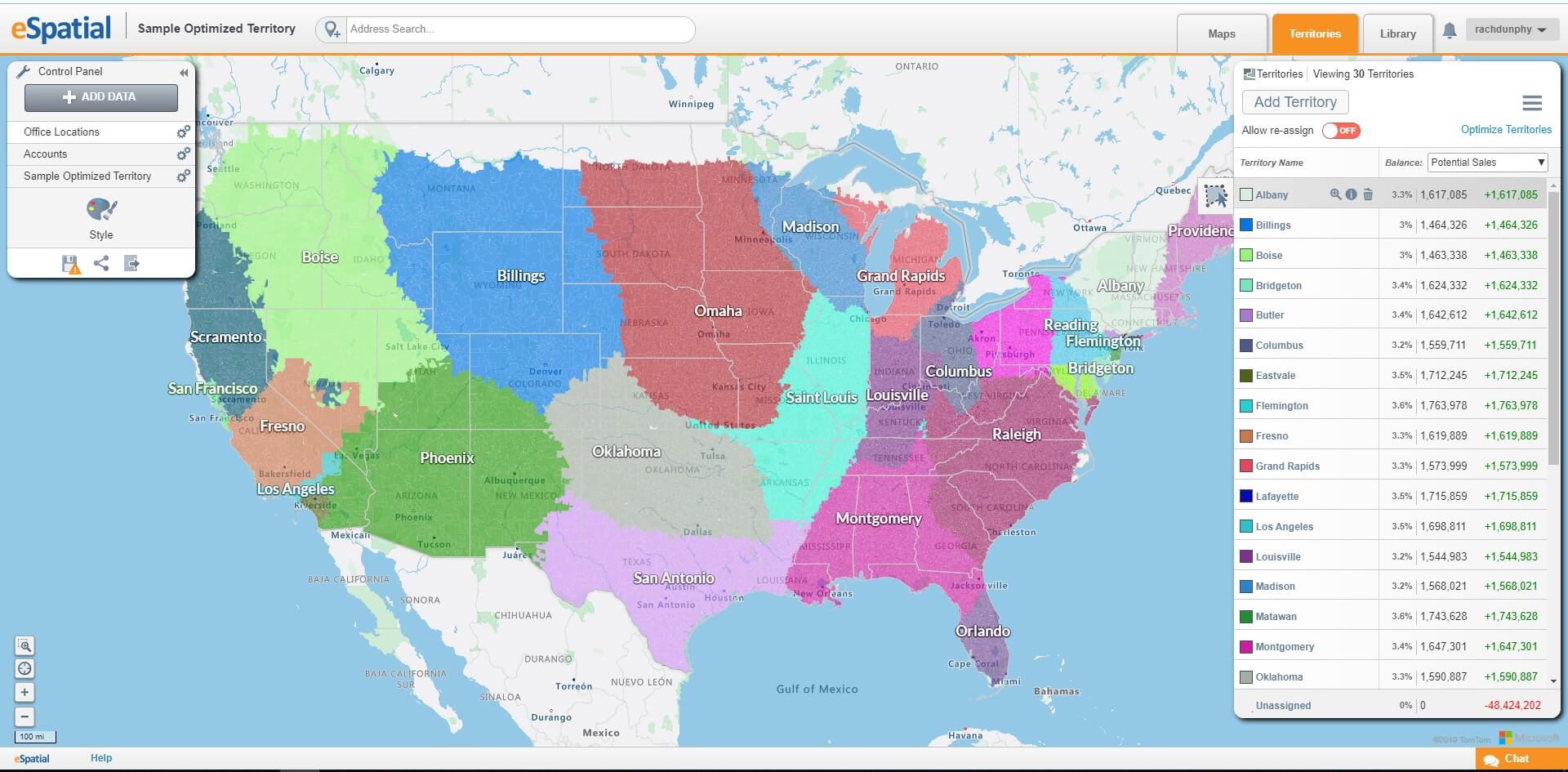 4. Continually revisit and gauge KPIs and related goals
The final piece of the puzzle here is ensuring that your efforts related to boosting sales efficiency, effectiveness, and by extension your sales productivity, are ongoing. Particularly with elements like sales training and SMART goals, it's key to revisit and review these benchmarks to support your team's improvement.
Start improving your sales productivity
Talk to us about how mapping can help