Quarter or year-end approaching? Find out how much opportunity is within reach of your field sales team so that you can maximize short-term performance.
Running a field sales organisation is often a seasonal business. Sometimes you need to crank your sales performance to achieve an under-pressure quarterly or yearly target. But how much can you actually hope to achieve, and how do you go about it?
Why is analysis important to your quarter-end push for field sales?
Doing field sales analysis ahead of time can help you to tailor your quarterly push to each sales rep. This is important because there's often a mismatch between general leadership and a field sales rep's local reality. What do we mean by that?
Sales leadership is about providing a strategy, infrastructure and opportunity for your sales reps to thrive. But it's also about motivating them for the future. This is particularly important around a quarter end. Sales leaders will wish to mobilize their team towards a final push, particularly when the target number is slightly beyond their grasp.
The sales leader's natural role is to provide motivation and guidance as part of a push for the quarter, typically to the entire organization. They'll probably offer some direction, like suggesting which products or customers to focus on. They may even incentivize that approach. The challenge is that field sales is unique to the geography. Product X opportunities may be primarily centered in a small number of territories. Customer Y may be too spread out to be reachable in time to do anything by the end of quarter.
Field sales is all about the local reality, and the ability to blend that in a way that best fits the corporate need. The more the sales leader can understand that local reality, the more effective they'll be in their leadership.
So how do I create my detailed field sales quarter end plan?
Start by mapping out the variables that feel important. These will vary depending on your market reality, but typically start with:
Your current sales rep locations or their home locations
Current customer locations and details of their buying history
Current pipeline and details around forecast closing dates and values
Prospect and opportunity locations, including targeting details like business size, and details around which products or offerings are likely to be of interest
Any other intelligence that can provide guidance on how customers might be likely to buy given recent sales trends
To work this through, let's go back to the example before and assume we're 30 days out from quarter end. Based on national performance, we know that product X and customer Y are over performing. As a result, the temptation is to use a sales call to advise the team to focus there. But is that the right plan for everyone? Here's a process that might fit your org to figure out how you should advise the different sales reps.
Understanding the individual sales rep's reality, quickly
First, let's identify all of the sales reps who are going to be too busy with existing business to add additional revenue for the end of the quarter. Perhaps this is anyone with more than $50k in pipeline forecast to close by the end of the month. These are the red territories in the map below. Our advice for those sales reps is to hold their focus.
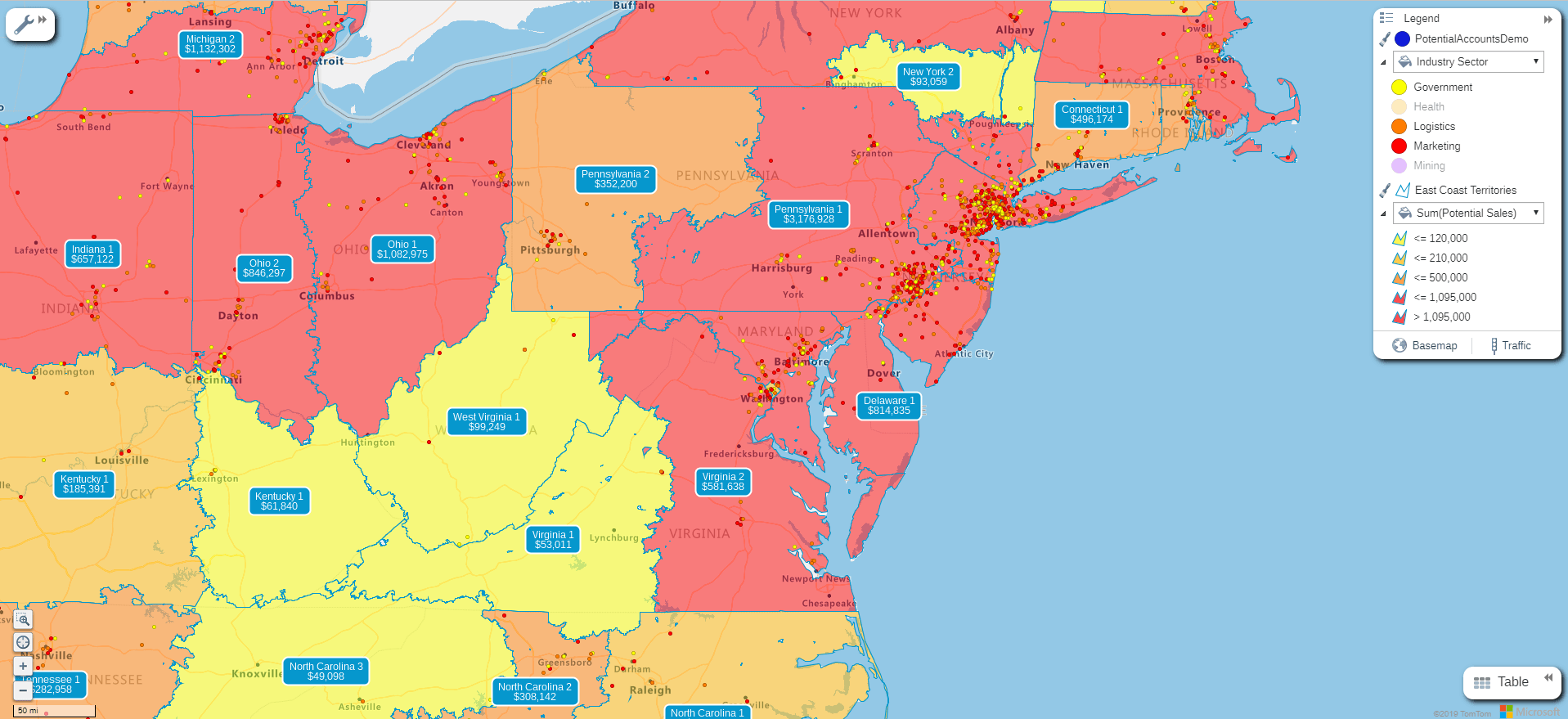 It's now time to filter the remaining parts of the map to look at the localities where product X is likely to perform. To do this, we can pick out the density of customers who are capable of buying that product. Let's assume product X is a good fit for our logistics industry customers. How many team members should pivot to product X? This map shows logistics industry prospects by territory. The bigger the bubble, the bigger the potential business. As you can see, it's a good strategy for the bottom right and left territories, but not for the territories to their north.
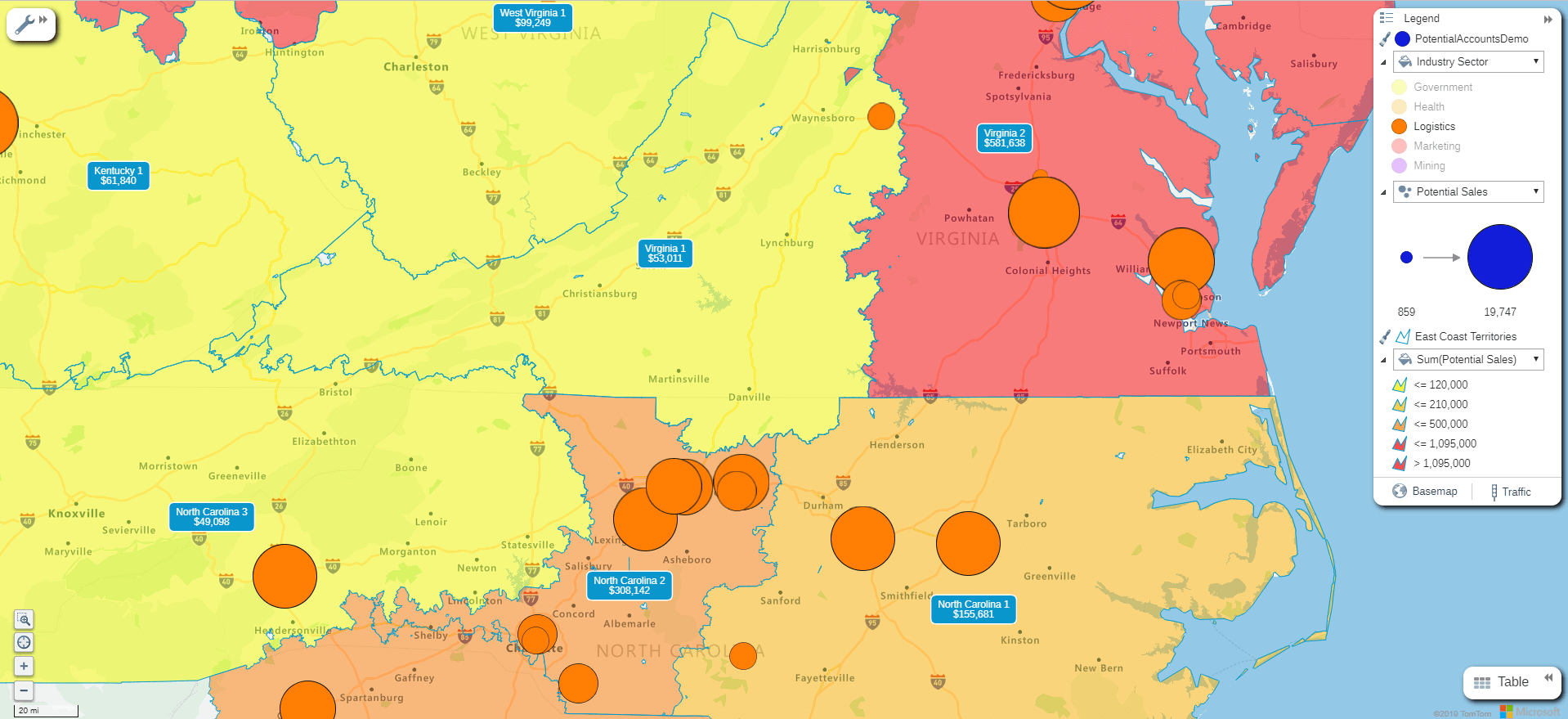 For those who aren't a fit for product X, let's consider targeting customers of profile Y. Let's assume that profile Y relates to employee count of the prospect. The map below shows employee count for the opportunities in Kentucky 1 and 2. There seems to be a bunch of large enough companies to justify effort here, and it's clear that the sales reps involved would need to base themselves in Louisville and Lexington in order to close out the quarter. Let's mark those salespeople/territories as "customer profile Y focus."
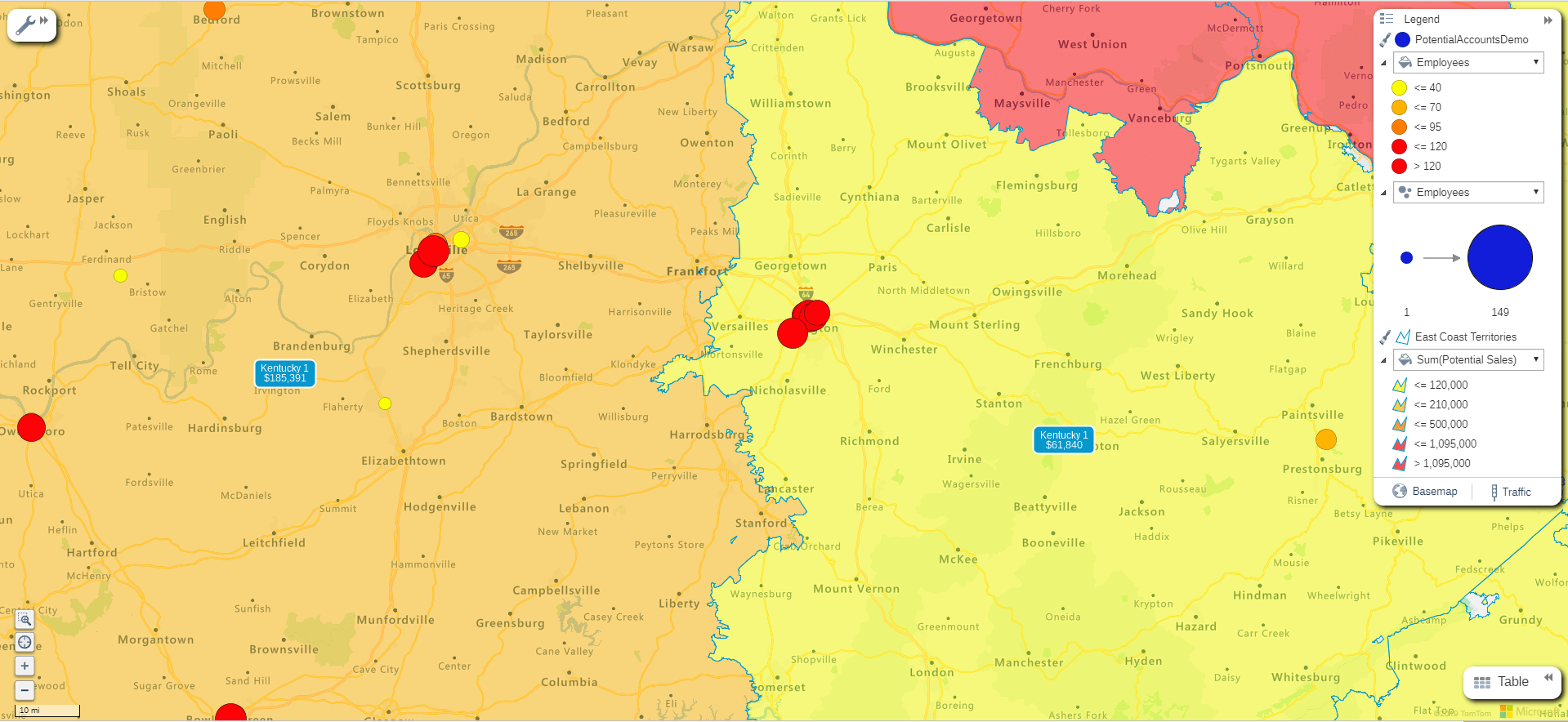 What to do when the territory doesn't fit the strategy
Now we're left with all the territories that aren't a good fit for any of the approaches outlined above. If you want to go further for these folks, you can analyze their historical performance to let them show you what might be a good plan.
To do that, let's analyze all of these remaining territories to see which ones have the strongest recent performance. We may also analyze our earlier list of customers who are closing out pipeline between now and quarter end.
Can we identify any patterns? Where are our top performers focusing? Perhaps it's a particular customer type? Perhaps it's a particular product line? Depending on the answer you identify, you'll need to check its fit with the remaining sales team.
You may also find there's no pattern, in which case you may instruct your sales reps to increase their customer opportunity volume to maximize their quarter-end chances. They can do this by choosing the areas of highest opportunity density in order to minimize travel time and maximize the number of customers visited before end of quarter. You can quickly identify where within that territory the opportunity volume exists by mapping the prospect data set. From the example, below it is clear that the sales rep needs to base themselves in the south east of the territory to see out the quarter.
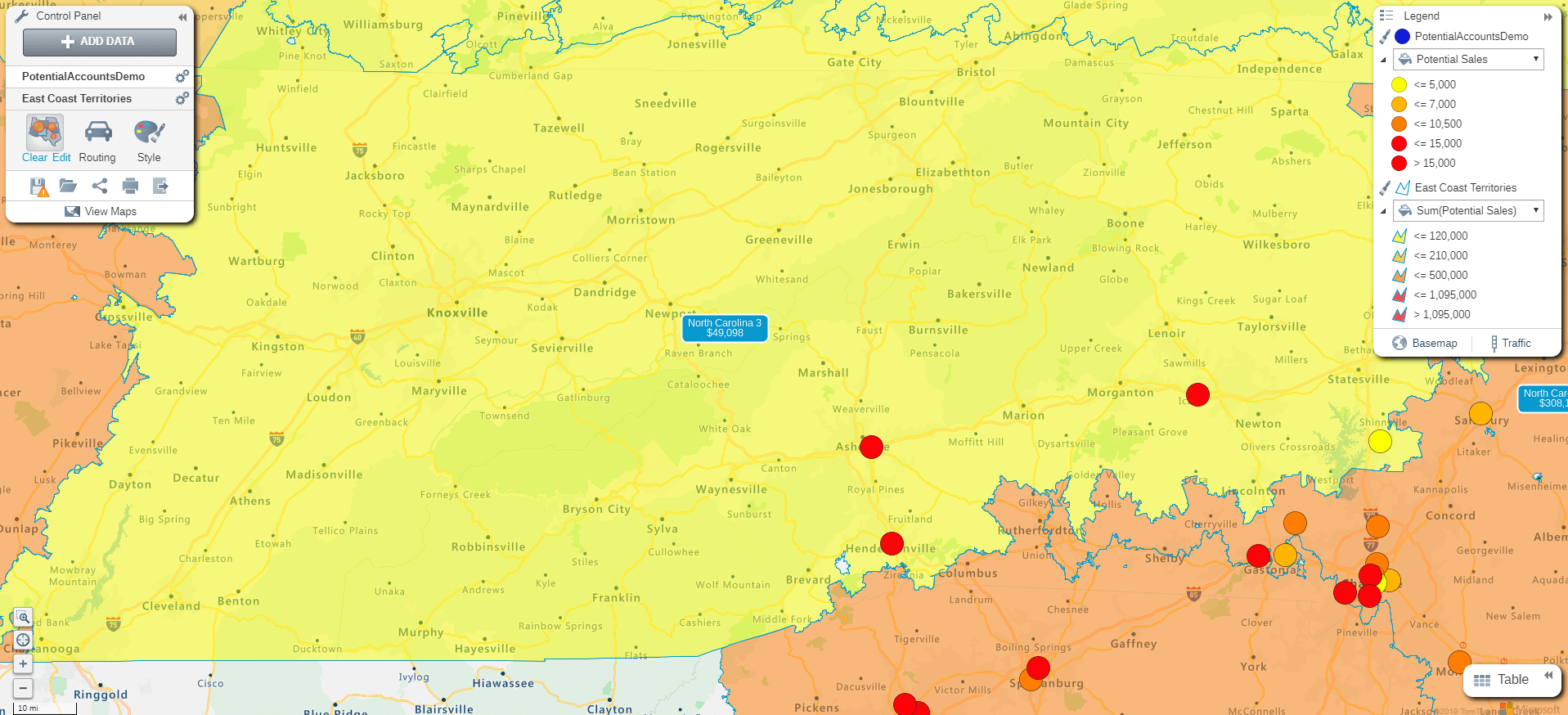 What does my quarter-end plan end up looking like?
Once you've completed all of the steps above, you'll have built a local, context-aware plan for each member of your sales team. Based on the example given above, we have the following categories:
Hold your focus
Product X focus
Customer profile Y focus
Maximize customer density and visits
We can now build and share a map showing which sales reps need to take which approach based on our analysis. Sales reps can choose the right path for them based on their local reality, and your quarter-end number just got a little bit closer.
You can get a free seven-day trial with eSpatial, which may just be enough to figure out your quarter end push. We'll also support you with a sales mapping expert to get the data installed and help you to figure out the details. Take a free trial now to get started or contact us above to book a demo.