With 61% of insurers predicting an increase in auto-insurance fraud by organized rings which mainly consist of staged crashes, it is important to identify and deal with these fraudulent claims as quickly and efficiently as possible. According to the FBI, insurance fraud costs the average U.S. family between $400 and $700 per year in the form of increased premiums.
There are many ways to commit auto insurance fraud, from quote manipulation to supplier fraud. The type of auto insurance fraud that mapping helps to detect is staged collisions. This is where fraudsters deliberately cause an accident with unsuspecting drivers. These collisions are often caused by organized criminal gangs who can stage up to 400 crashes a year.
There are many players in a staged collision for insurance fraud run by an organized crime gang:
This is the driver of the car that in this case is unaware of the fraudulent behavior.
This is the driver of the car that has caused the collision, whether it is a "Swoop and Squat", a "Panic Stop", or a "Sideswipe".
This is the person who will rush to help a crash victim and will advertise the services of specific repair shops, medical professionals, or lawyers.
This will be recommended by the Fraud Runner to the victim as a good place to get repairs done for a good price. The repair shop will submit fraudulent claims on the victim's behalf.
Likely to be a chiropractor for whiplash, these medical professionals will be recommended by the fraud runner. They will deceive the victim into undergoing unnecessary treatments in order to submit fraudulent claims.
Again, a lawyer will be recommended by the fraud runner and will encourage the victim into undertaking unnecessary lawsuits.
It is hard to prove that a claim is fraudulent without putting all the pieces together. With mapping software, you can see it all in one view.
For example, in the map below we can see;

Collision hot spots for West Denver

Law Firms In West Denver

Medical Centers In West Denver

Approved Repair Shops In West Denver
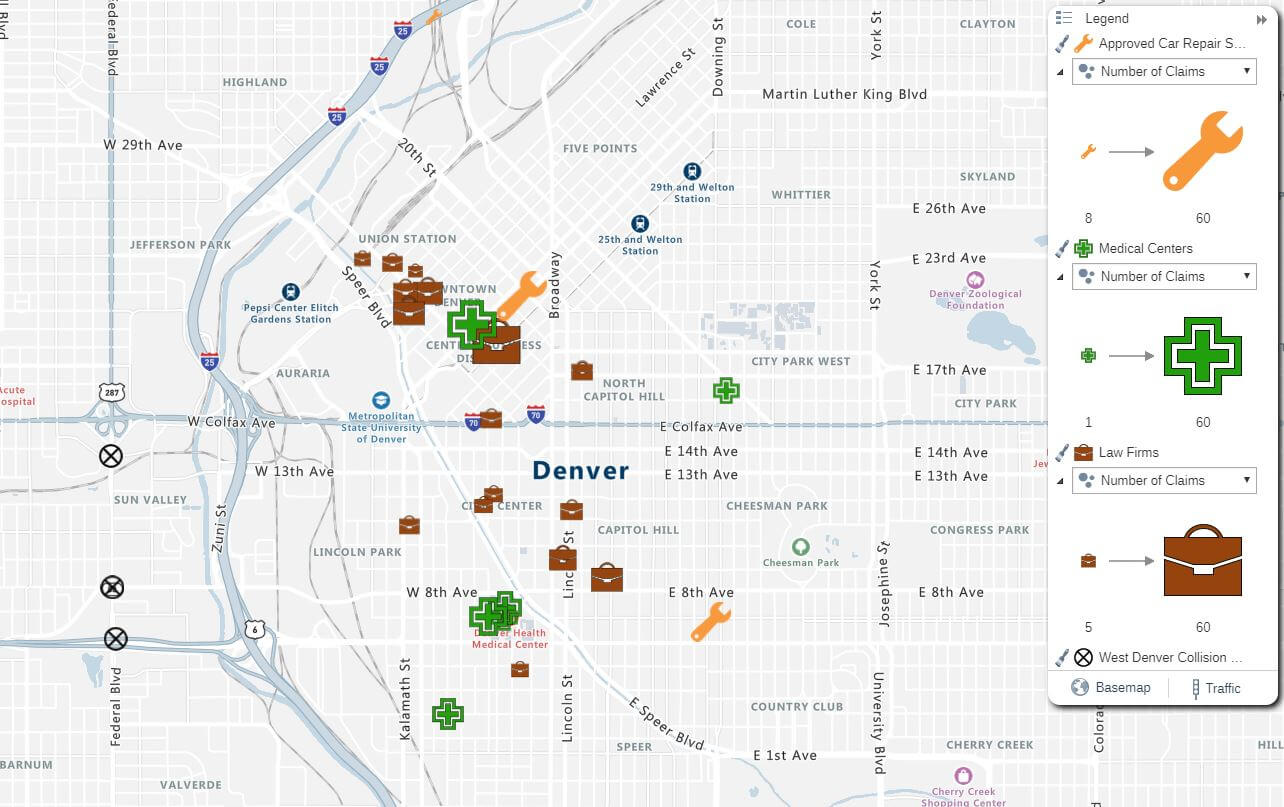 The data is organized using our Size By Value styling feature. The size of the symbols varies based on the number of claims they have submitted in the past 12 months. The bigger the symbol, the higher the number of claims. What this shows us is that there is a Law Firm, Medical Center, and Repair Shop that have all submitted the same high number of claims in this area during this time frame. This is an indication that an organized criminal gang could be staging collisions in this area.
This is Part Three of our Insurance Fraud Detection series. Read about Property Fraud Detection here.
Ready To Visualize Your Claim Data?