Mapping your excel spreadsheet transforms your location-based sales data into live, interactive maps which you can share with your team.
---
Reporting on sales performance can be gruelling, especially when you're looking at local, regional, and national figures. In addition to reporting on the final figures, you need to compare performance of over 100 sales reps across 50 states by analyzing 300,000 sales records. This results in multiple worksheets with thousands of records that you need to wade through in order to identify areas with a high growth potential.
Extracting relevant information from spreadsheets is really difficult when you are not a sales analyst. Visualizing your data makes it far more interesting, much easier for reviewing, assessing and communicating with others.
With eSpatial, you can quickly convert your extensive spreadsheet data into an easy to understand map with powerful and informative visualizations. It then takes seconds to run various analyses to start deriving insight from your data which you can share immediately within your organization using live, interactive maps. Mapping your spreadsheet data will make reporting on sales performance faster and easier.
Map Your Spreadsheet in 3 Simple Steps
Watch this quick 69 second video, or read the instructions below
1: Prepare Your Data
This is very straight forward. You can export your data to CSV format from your CRM, ERP or POS systems ensuring that you have header rows including your location information. Include any columns you want displayed in the information box attached to each map pin.
Download a sample here.


2: Sign Up or Log In to Your eSpatial Account
If you already have an eSpatial account, simply log in or if you haven't set one up yet, you can register for a free trial here.
3: Upload Your Data
Once you log into your new eSpatial account, the "Add Data" screen will appear. Click "Upload New Data" and follow the onscreen instructions.
Your Spreadsheet Data on a Map
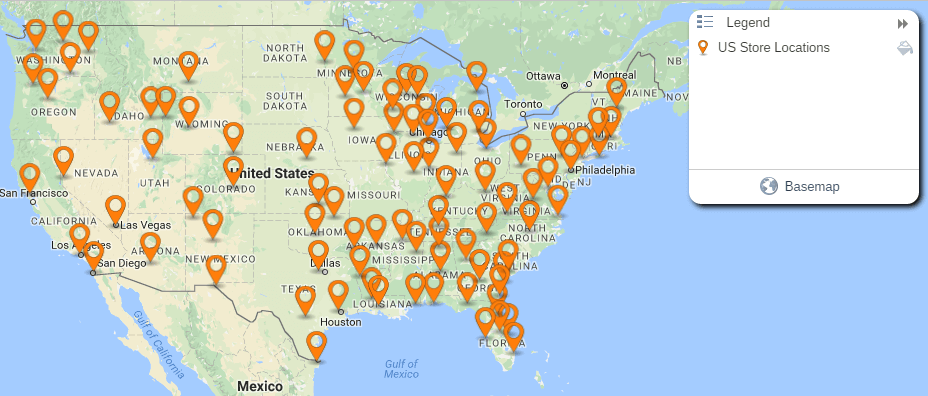 As soon as your data is uploaded, it will be plotted on a map as seen above. Each pin on the map represents a row in your spreadsheet and all this data is contained within the information box which appears when a pin is clicked. This forms the basis for your data analysis. You can style your map, run various analysis and share your map from this point.
Register for a free trial